An Overview of the Brand New ON1 Photo RAW 2019
When it comes to post-processing your photographs, every workflow is unique and every photographer has specific needs. If you've been following Contrastly for some time you may have come across some of our reviews of ON1's apps.
We've always been big fans of ON1, and this time they've outdone themselves with the brand new ON1 Photo RAW 2019. This is the latest edition of their award-winning photo editing app, and it comes loaded with new features and improvements.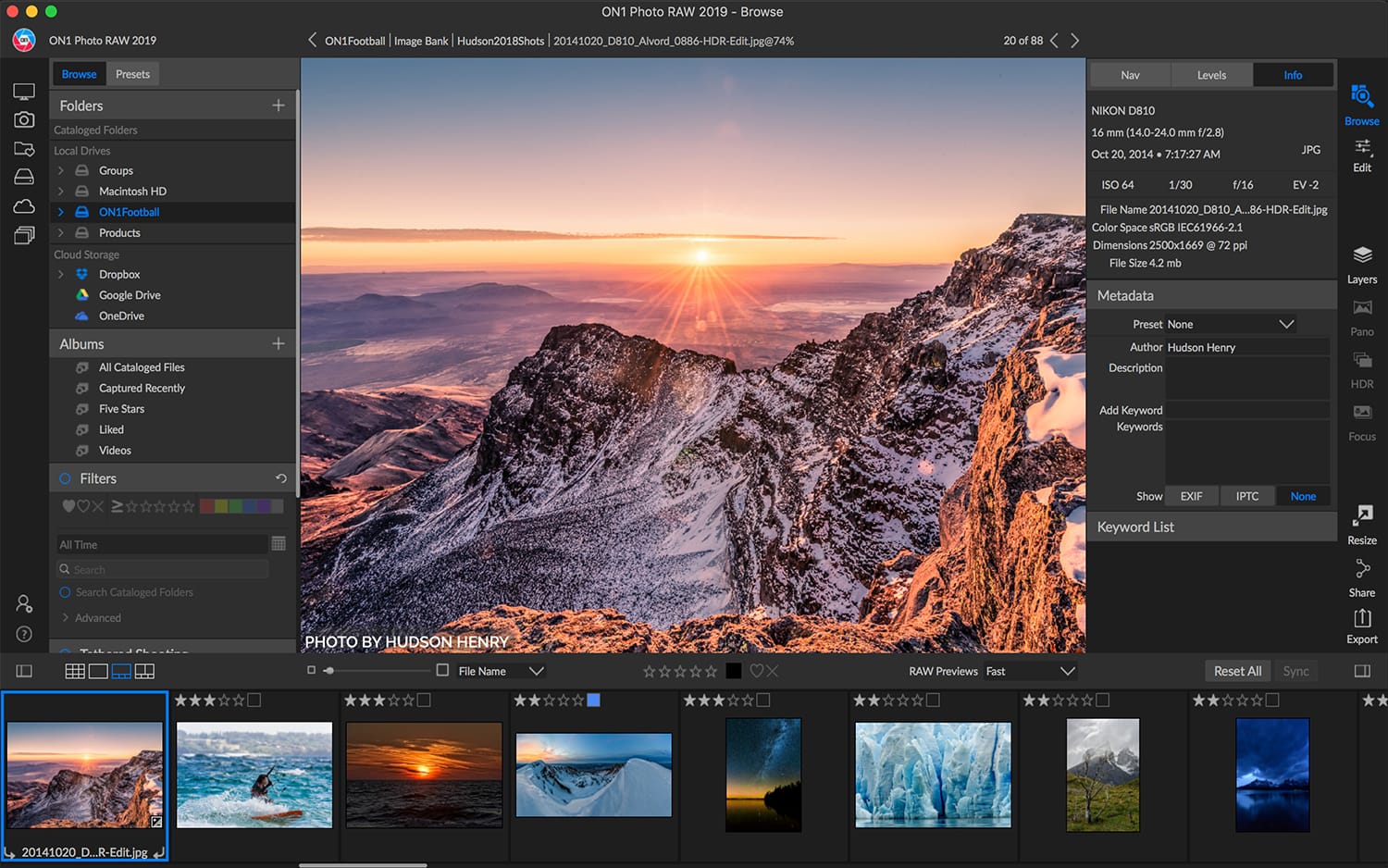 Of course, just like other versions of ON1 Photo RAW, it is compatible with Mac and Windows. And it is available as both a standalone application and as a plugin to use within Lightroom or Photoshop – your choice!
So, What's New in the 2019 Edition?
In short, a lot! Let's run down the list of new features and improvements. Make sure you download the 30-day free trial to really get a good feel for the app – I'm sure you'll love it.
1. A New & Faster Editing Workflow
All of the editing modules from previous versions have been combined into the Edit module to create a single place for editing photos. The former editing modules are now available as tabs to allow you to work in each seamlessly without changing the application appearance. These include Develop, Effects, Portrait, and Local Adjustments tabs.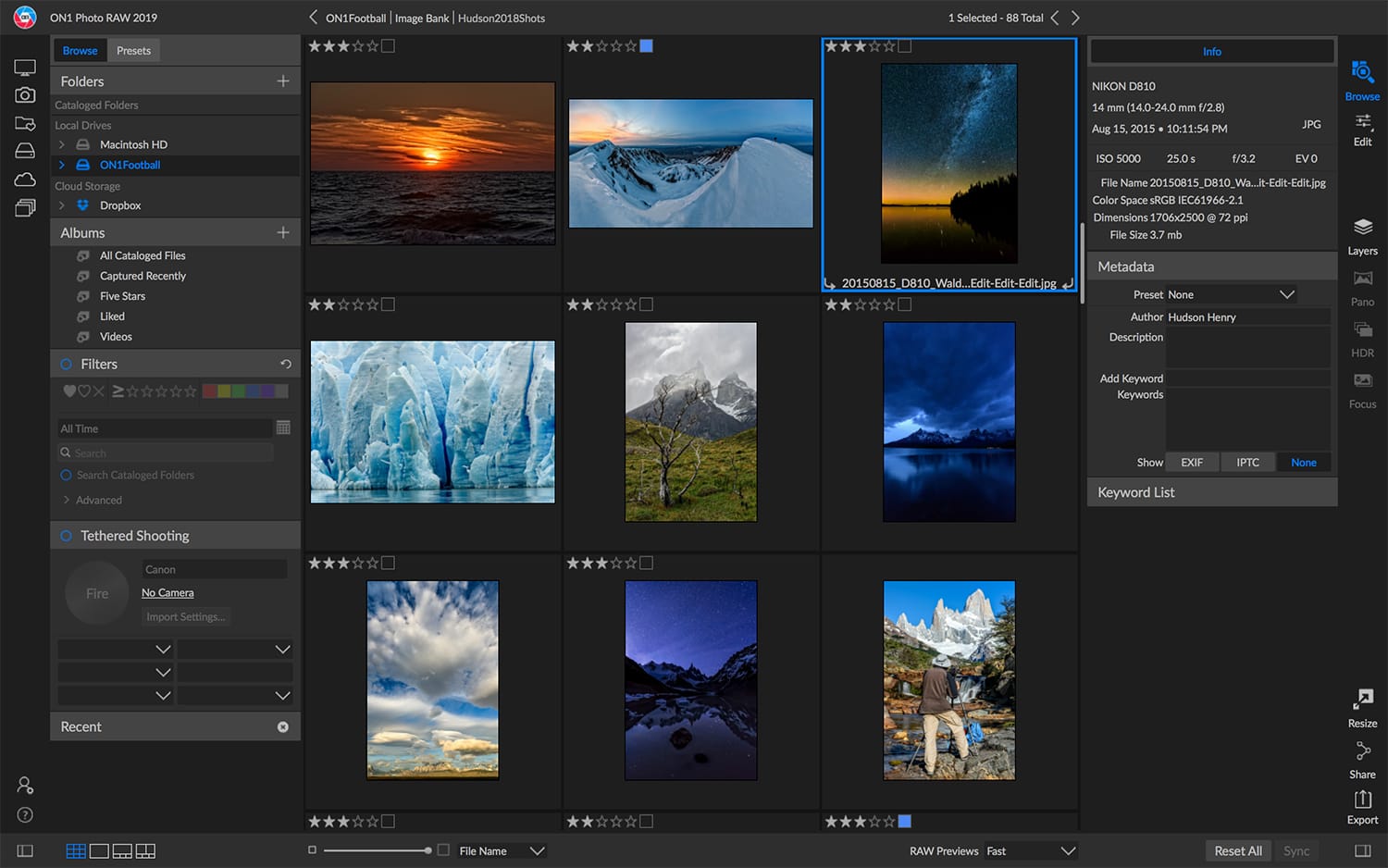 2. A New Workflow for Layers​
ON1 Layers is no longer a separate module. Instead, the power of layers is accessible within the non-destructive workflow in the new Edit module. This allows for creating or editing multi-layered files, including raw files, and keeping non-destructive settings for each photo layer.
You can also move, size and mask each layer. More importantly, and a new concept, each layer has its own non-destructive settings, all the way back to the original file. What's most exciting is if you are working with raw files, powerful adjustments like exposure, highlights and shadows can now be processed using the raw data in a layered photo workflow. All without having to change modules or applications.
3. New Lightroom Photo Settings Migration​​
New AI-powered algorithms give you the ability to transfer Lightroom-edited photos, keep the non-destructive settings, and move them into ON1 Photo RAW 2019.
The updated Lightroom Migration Tool in version 2019 transfers almost every edit you can make in Lightroom including raw processing, crop, retouching and local adjustments along with folders, photos, collections, and metadata.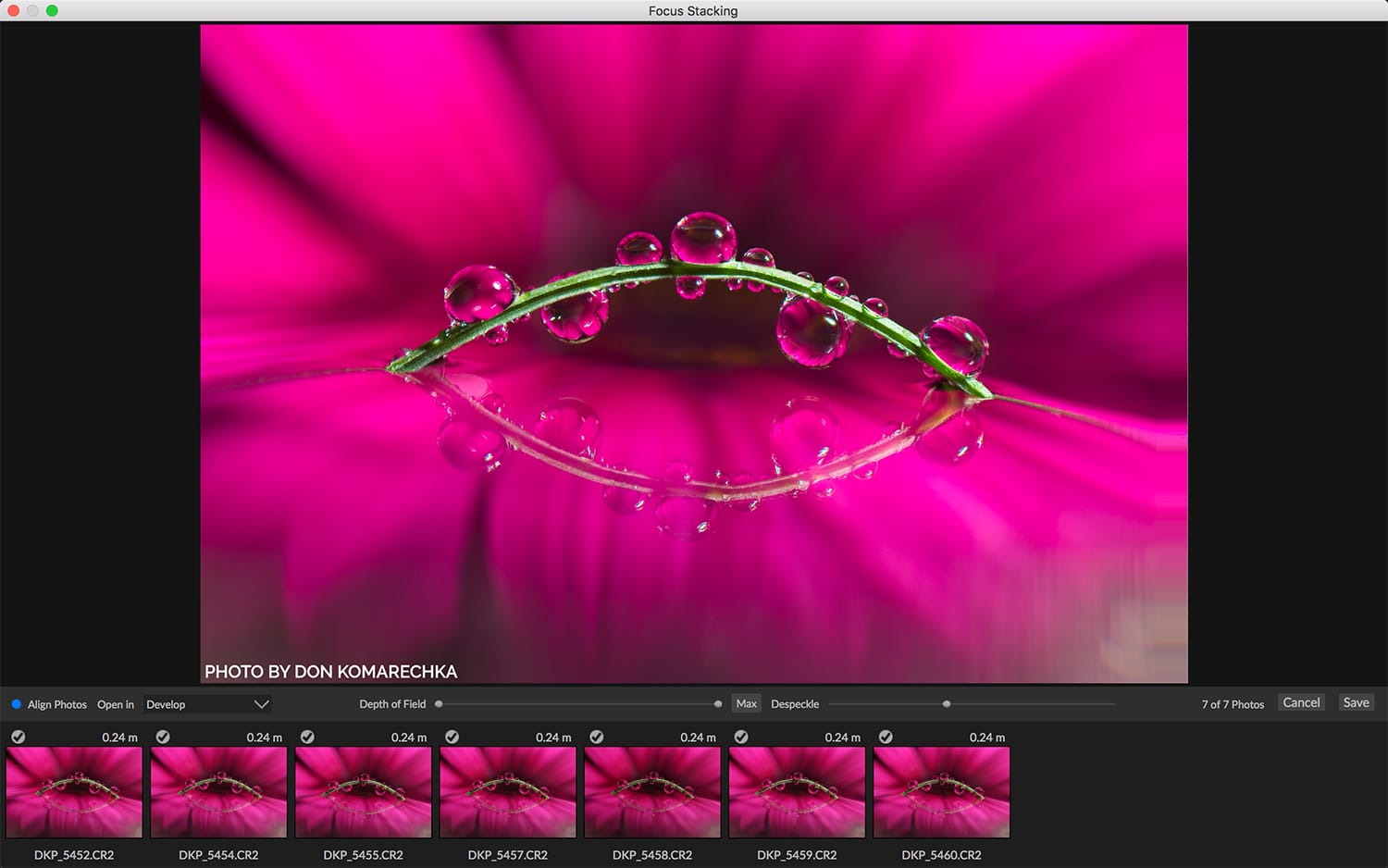 4. New Focus Stacking​
Automatically blend a series of photos at different focus distances to increase depth-of-field. It's so fast, you can adjust the focus in real-time, just like changing the focus on your lenses. Think of it like HDR, but for focus instead of exposure.
5. New Auto-Align Layers​​
Easily combine multiple photos as layers, then automatically align them based on image content, making it easy to mask and blend them together.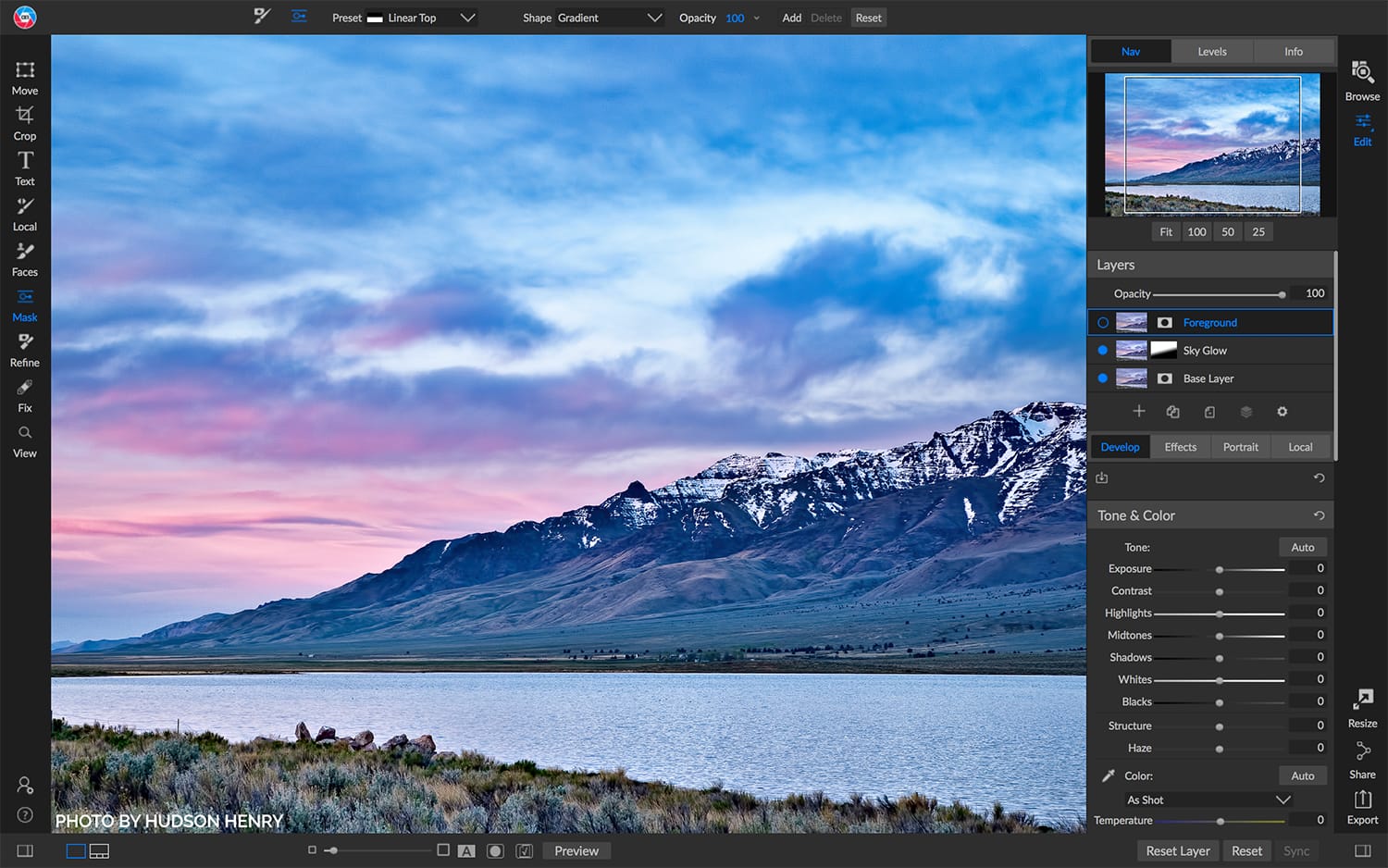 6. New AI Masking Tool (coming Winter 2019)​
This new tool, powered by machine learning, will allow customers to easily identify areas of their photos to create a selection or mask and the AI technology detects your subject matter and automatically creates a beautiful mask.
7. New Portrait Tab
The new Portrait tab automatically detects faces in your photo allowing you to easily retouch, smooth skin, brighten and sharpen eyes, and whiten teeth.
8. New Text Tool​
The new text tool is perfect for creating posters, postcards, or adding your byline or watermark. Easily control font size, color, position, and more and then save a preset to add the same text overlay to a batch of photos quickly.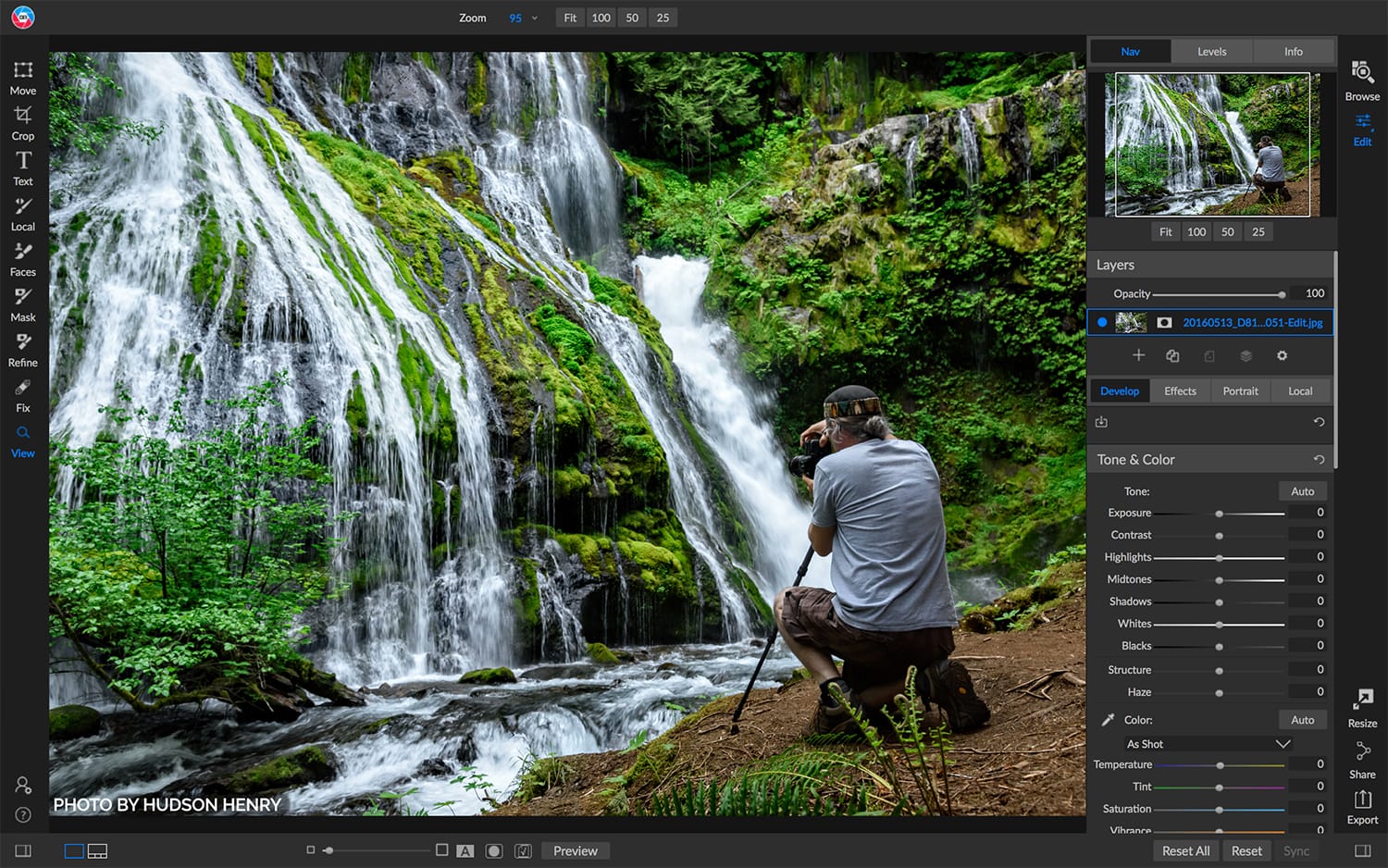 9. New Master Keyword List​​
Now you can see every keyword you use in a single, searchable list. You can quickly apply, clear, edit, or delete keywords.
10. Enhanced Local Adjustments​​
Local adjustments have been enhanced to use the raw processing data. This allows for more highlight and shadow details with more tonal range. This also includes new controls like haze, whites and blacks.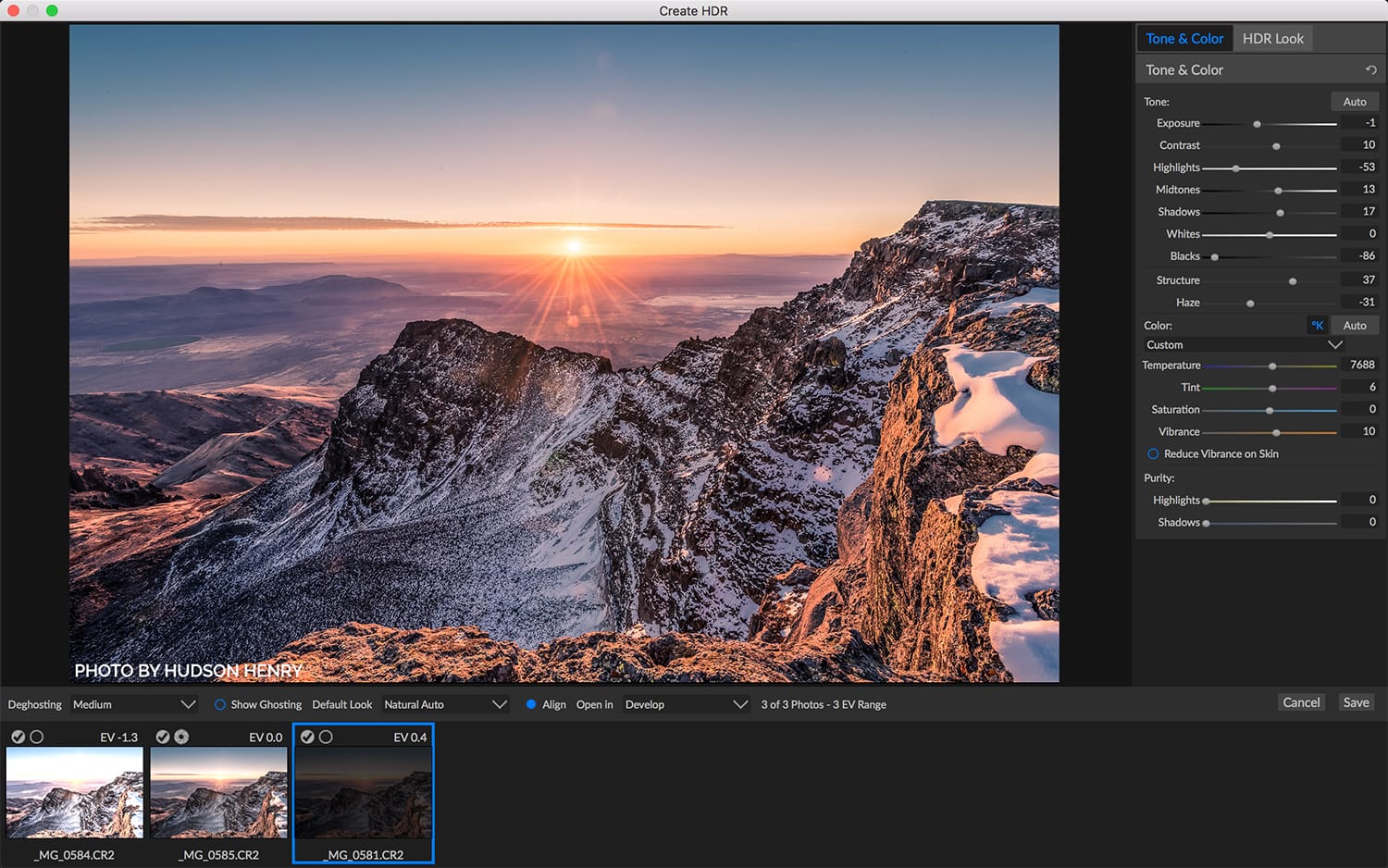 11. New Layered HDR Workflow​
With the powerful new non-destructive layers you can combine other photos, text or alternate exposures with your HDR photos. Use the powerful masking tools to combine multiple HDR renditions even.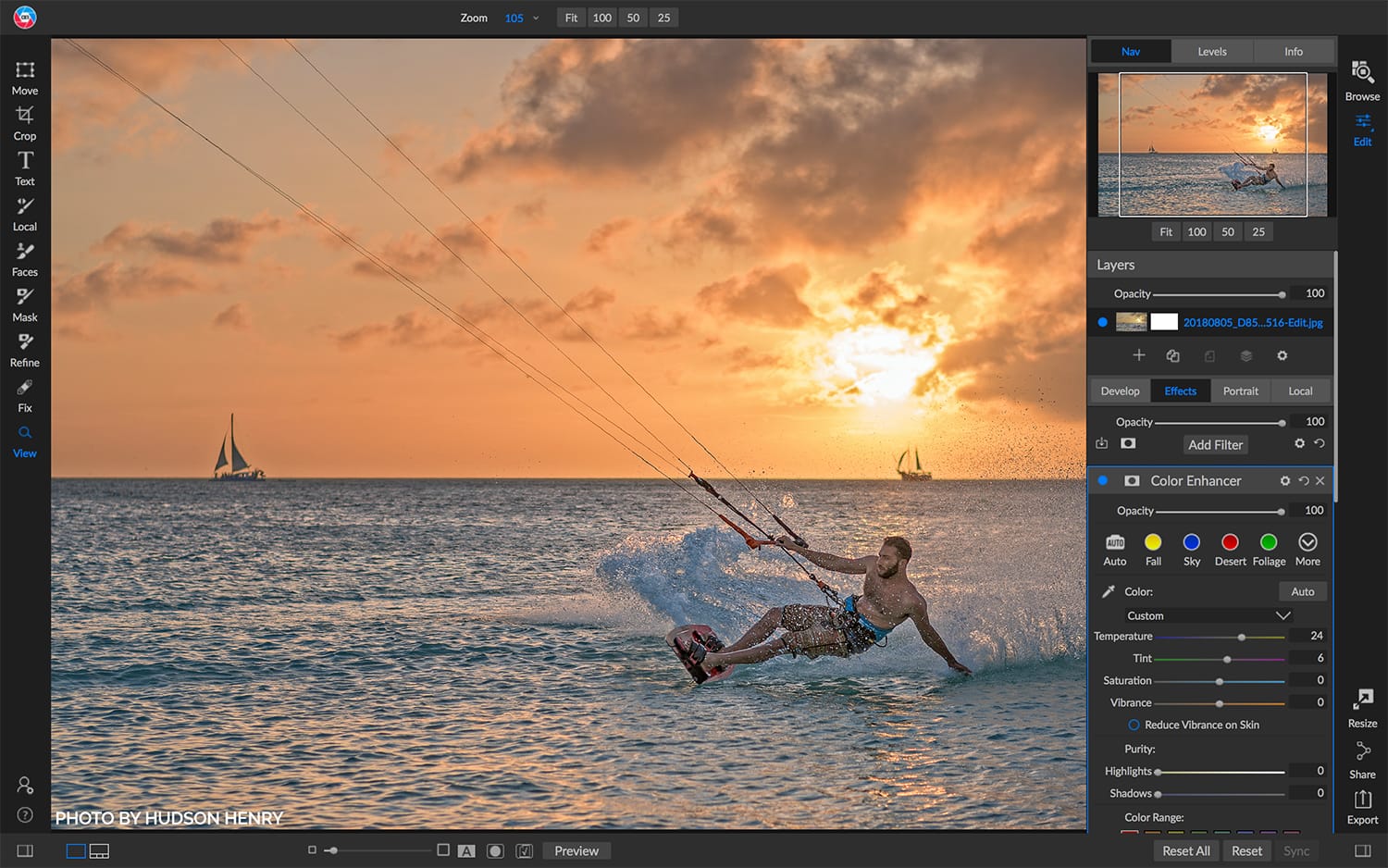 12. New Filter Options in Effects
They've added dedicated film grain, curves and color adjustment filters to Effects. These let you add film grain to color photos and make advanced, targeted color and tone adjustments faster. There's even a new filter selector that allows you to search for filters, learn what they do and even view a sample before you add them.
13. New User Interface​​
The new user interface has a fresh and modern feel. Overall contrast has been reduced to make photos stand out along with a new font to help increase readability. Updated icons, tabs, and sliders will also take up less visual space.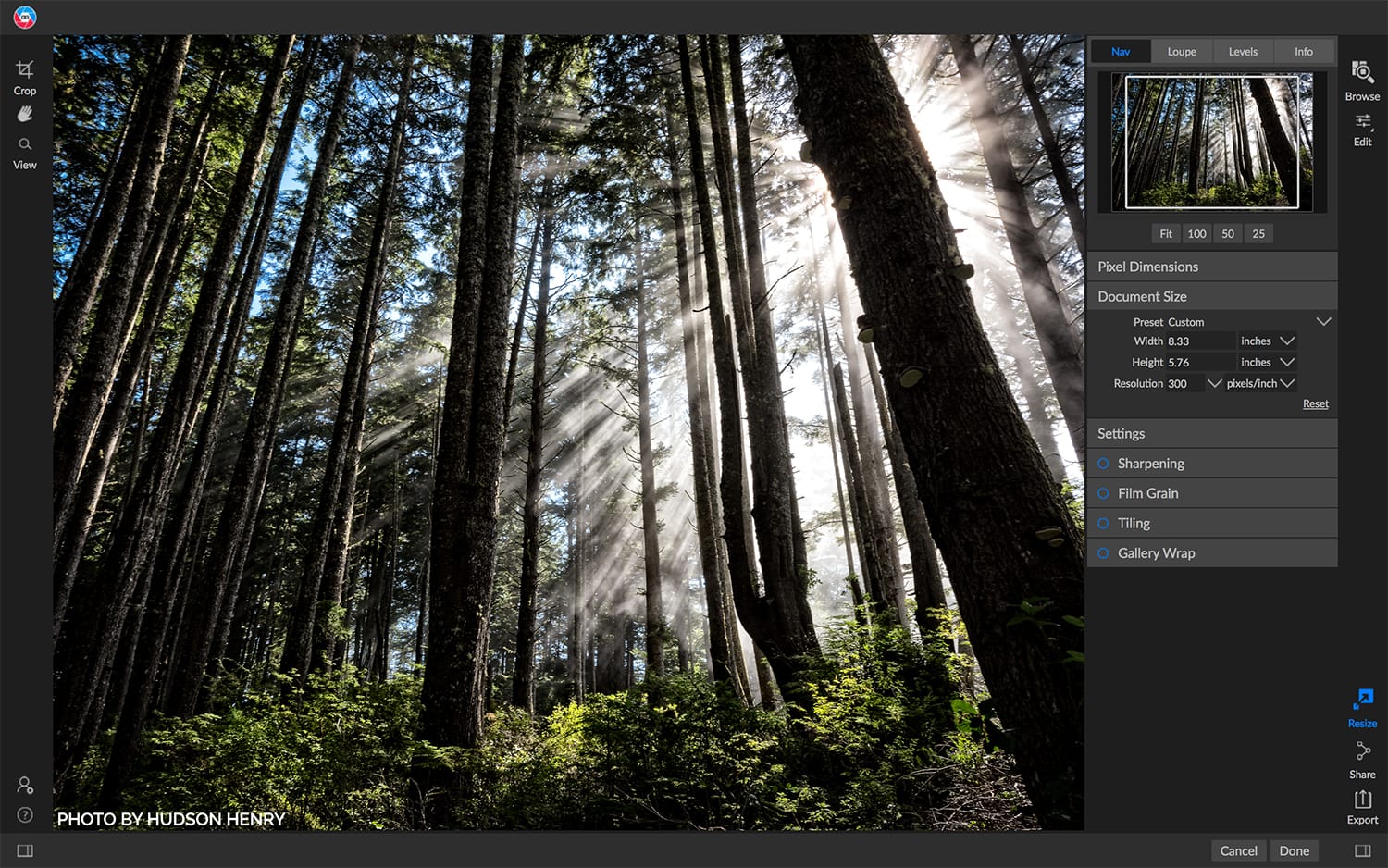 14. Other Updates
ON1 Photo RAW now has support for HEIC files, keyboard shortcuts for changing modules, more accent color options, color labels on folders and more. They also added support for many cameras like the Fujifilm XF10, Fujifilm X-T3, Nikon P1000, Nikon Z7, Panasonic LX100 II, and the Leica M10-P.
They also added lens profiles for the following lenses: Canon EF35mm f/1.4L II USM (750), Chinon Auto Chinon 35mm f/2.8, KMZ Helios-40 85mm f/1.5, Nikon 200-500mm F5.6 174, Panasonic LEICA DG 8-18/F2.8-4.0, Panasonic LEICA DG NOCTICRON 42.5/F1.2, Pentax Pentax SMC Takumar 50mm f/1.4, Sigma Sigma 17-50mm f/2.8 EX DC HSM, Sony FE 24-105mm F4 G OSS, Sony FE 50mm F1.8, Tamron 14-150mm F/3.5-5.8 DiIII C001, Tamron SP 24-70mm F/2.8 Di VC USD G2 (A032), Voigtlander Super Wide Heliar III.
Conclusion
This brand new version of ON1 Photo RAW (2019) is packed to the brim with new features and improvements. ON1 offers a free trial, but of course if you already own a preview version of ON1 Photo RAW, you can upgrade to 2019 at a discount.