First Impressions Review of the New Fujifilm X-T1
Fujifilm's mirrorless cameras are as visually interesting as the images they capture. With Leica rangefinder style, the X100 emerged in 2010 as Fujifilm's mirrorless superstar. Four years later, the X-T1 is rewriting the boundaries of "cool" by borrowing the style of digital's 35mm film ancestors.
The Fujifilm X-T1 breaks out of the mirrorless camera comfort zone. Instead of focusing on easy to understand features and marketing to amateur photographers, the X-T1 takes direct aim at high-end DSLR users with features and controls familiar to 35mm photographers.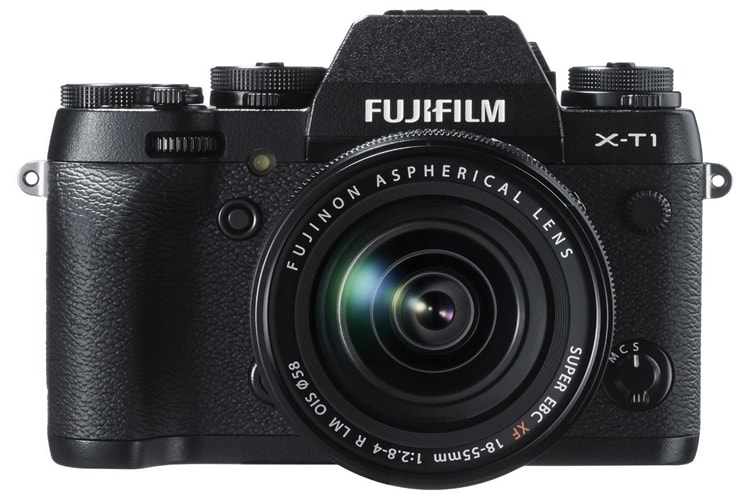 Key Specifications:
16MP X-Trans CMOS II Image Sensor
EXR Processor II
Weather-Resistant Body
ISO 200-6400, expandable to 100-51200 (JPEG mode only)
8 frames-per-second continuous shooting with auto-focus
1080/60p Full HD Movie Recording
Built-in Stereo Microphone
OLED Electronic Viewfinder with 2.36N dot resolution and 0.77x magnification
3-inch 1.04M Dot Tilting LCD
Top-Plate ISO, Shutter Speed, Exposure Compensation, and Metering control knobs
Programmable Function Buttons
Wi-Fi and Smartphone/Tablet Remote Control Capability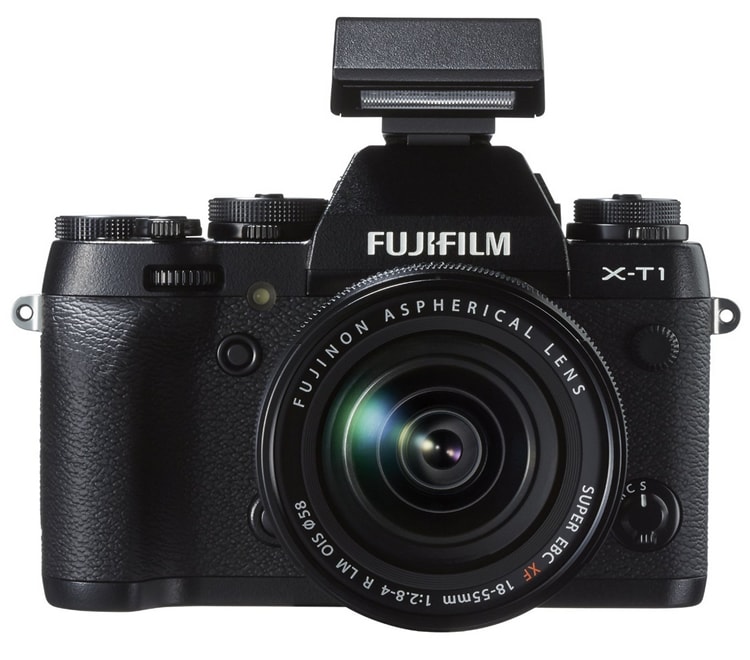 Design
I am avid 35mm film advocate. Admittedly, it's mostly about style and function. The old-school form of the X-T1 has me excited. Borrowing notes from SLR styling, Fuji included a mirror hump on top of the camera body to improve ascetics. Manual dials for ISO, Shutter Speed, and Exposure Compensation are right where 35mm enthusiasts expect them to be, you don't have to dig through a menu or press a special button sequence to get to them. The dials are made of machined aluminum; they feel just like an old-fashioned SLR.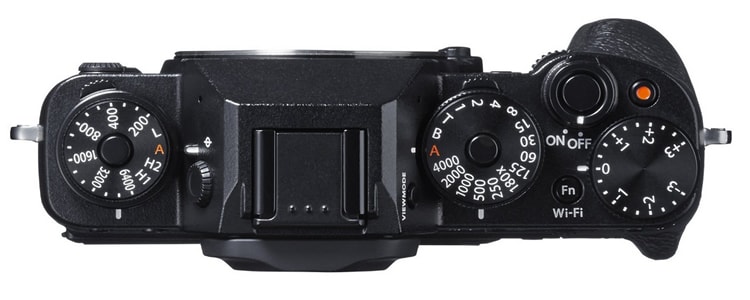 The X-T1 is the first Fujifilm X series camera with weather sealing. There are 80 seal points that protect against dirt, dust, water and temperatures as low as -10 Celsius. Currently, however, there are no weather-sealed lenses to complement the camera. Fuji plans to release several weather-sealed lenses soon.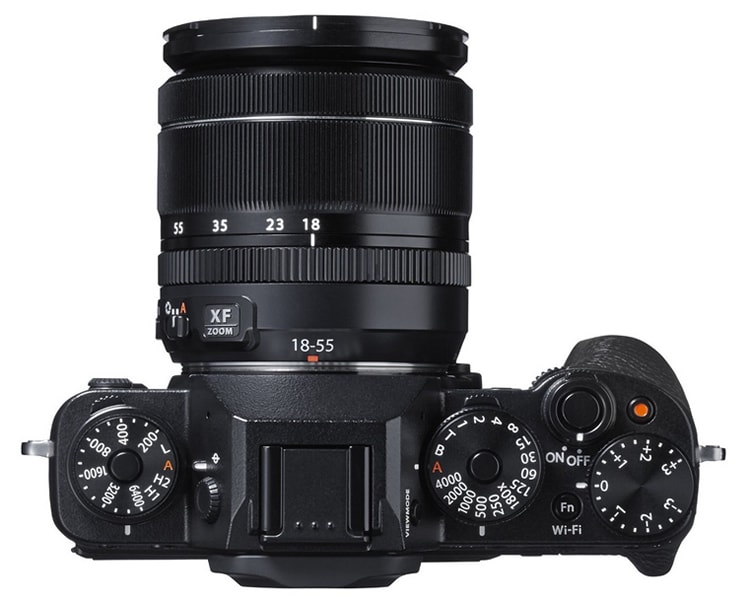 Viewfinder and LCD
Fujifilm understands the importance of a quality electronic viewfinder. The X-T1's 2.36 million dot OLED viewfinder is one of its best features. With a magnification of 0.77x, the EVF tops the size of the Canon EOS-1DX. Because lag is a big complaint with EVFs, Fuji reduced it to one-tenth of the lag time experienced on older models—a reported lag time of 0.005 sec.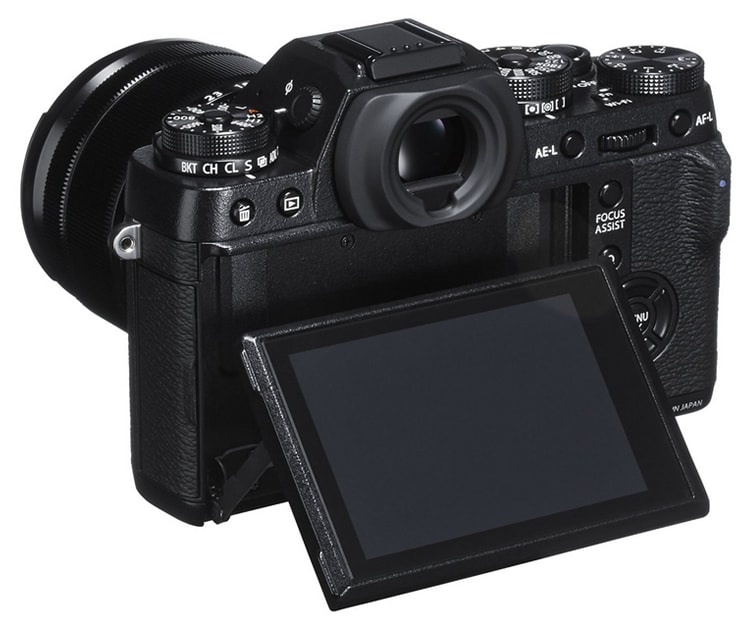 The EVF sports four viewing modes. "Full view" uses all of the EVF display area to show the image. "Normal view" uses a smaller area of the EVF so that you can see the edges of your image better. A "portrait" mode is engaged when you turn the camera to take a portrait image. In this mode, all of the data rotates with the image. Finally, "Dual Mode" provides a helpful focus feature, displaying an enlarged view of the image you are compositing alongside the full image. "Dual Mode" is helpful for fine tuning focus.
Image Sensor, Processor, and Autofocus
We've seen the X-Trans image sensor before—it is in the Fuji X-E2—and at 16.3MP the resolution isn't exactly groundbreaking, but photographers agree that the X-Trans produces excellent images.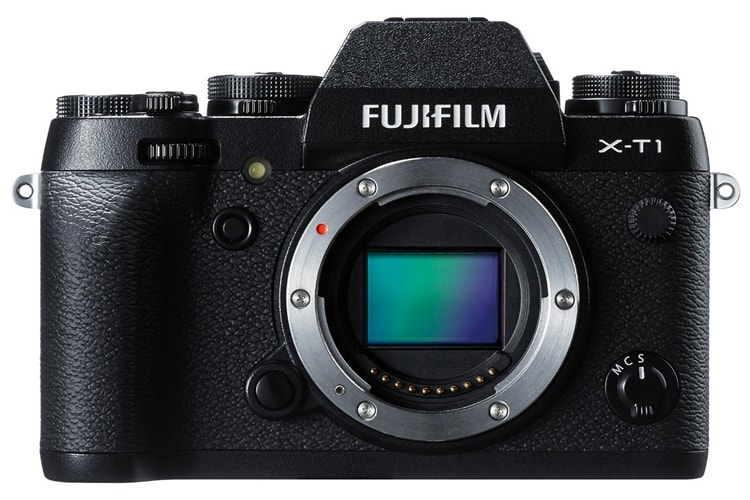 It's APS-C sized, which means that it is larger than the Micro Four Thirds sensors found in most Olympus and Panasonic mirrorless cameras. Phase-detect autofocus is built into the sensor and Fujifilm claims an AF response time of 0.08 seconds. Combined with the EXR Processor II, the X-T1 can shoot at 8 frames-per-second with AF tracking. The processor also yields a quick start-up time of half a second, and a 0.05 second shutter time lag.
Conclusion
Fuji built a camera that looks like it should compete with the SLR market, but what they have really done is cashed in on the concept of "cool." Instead of making a mirrorless camera that caters to amateurs looking to upgrade from a point-and-shoot camera, Fuji developed a platform that is full of advanced features, simplistic in execution, and stylish.
Photographers who love the feel of a 35mm camera will appreciate the physical control dials that fall into just the right place.
Fujifilm got a lot of things right with the X-T1 and their entire mirrorless system. The best part? Unlike many other systems, Fuji has already developed lenses and platform accessories. While weather-sealed lenses are projected a bit down the road, the current lens lineup is full of useful ranges and fun prime lenses that help foster creativity and fun.
You can order the new Fuji X-T1 on Amazon.