Hands-On Review of the Tamron 35-150mm f/2.8-4 Di VC OSD Camera Lens
Over the years I've evaluated numerous Tamron lenses, mainly due to the fact that the company has been one of the most prolifically innovative manufacturers of affordable pro-grade lenses I have ever seen.
Of those lenses, most I've liked, some I've really liked and only a sparse few have left me flat. Then we have those magical lenses which seem to strike some distant photographic chord that borders on true love; the Tamron 35-150mm f/2.8-f/4 is one of those lenses.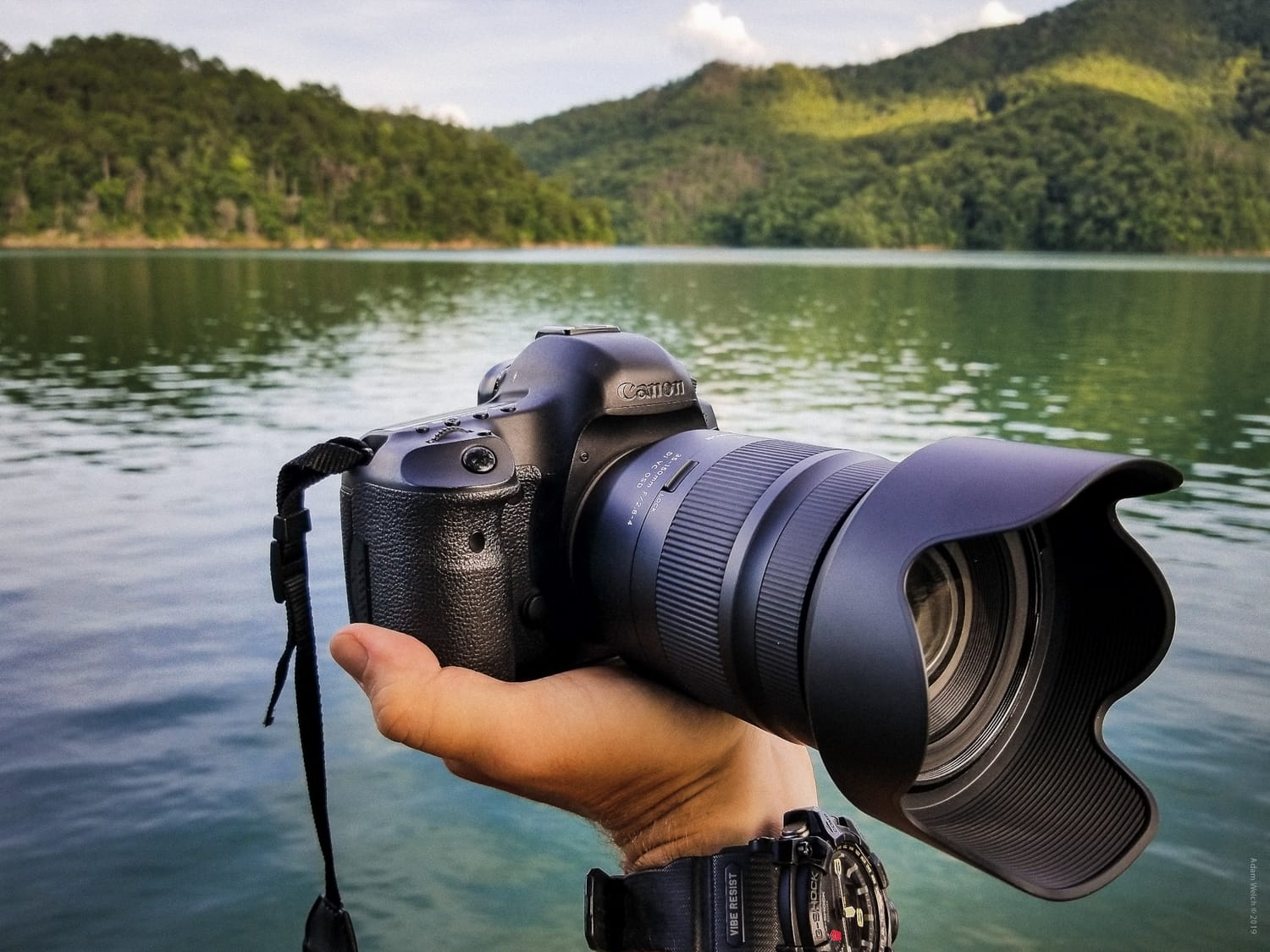 The 35-150mm is an all-in-one telephoto lens that was intended to be a one-stop-shop for portrait shooters but it is so much more than that.
Not being a regular portraiteer myself (though it happens) I can say that no matter what you find yourself photographing, this new offering from Tamron will almost certainly not disappoint. It's a lens that makes you want to go out and shoot, well, absolutely anything. At the risk of spoiling the review I must say this new telephoto from Tamron is one of my favorite lenses to date. Let me show you why.
Out of the Box
The 35-150mm is the standard matte black flavor that you're likely used to seeing. It features well executed white lettering with Tamron's signature metallic band finishing off the base of the lens.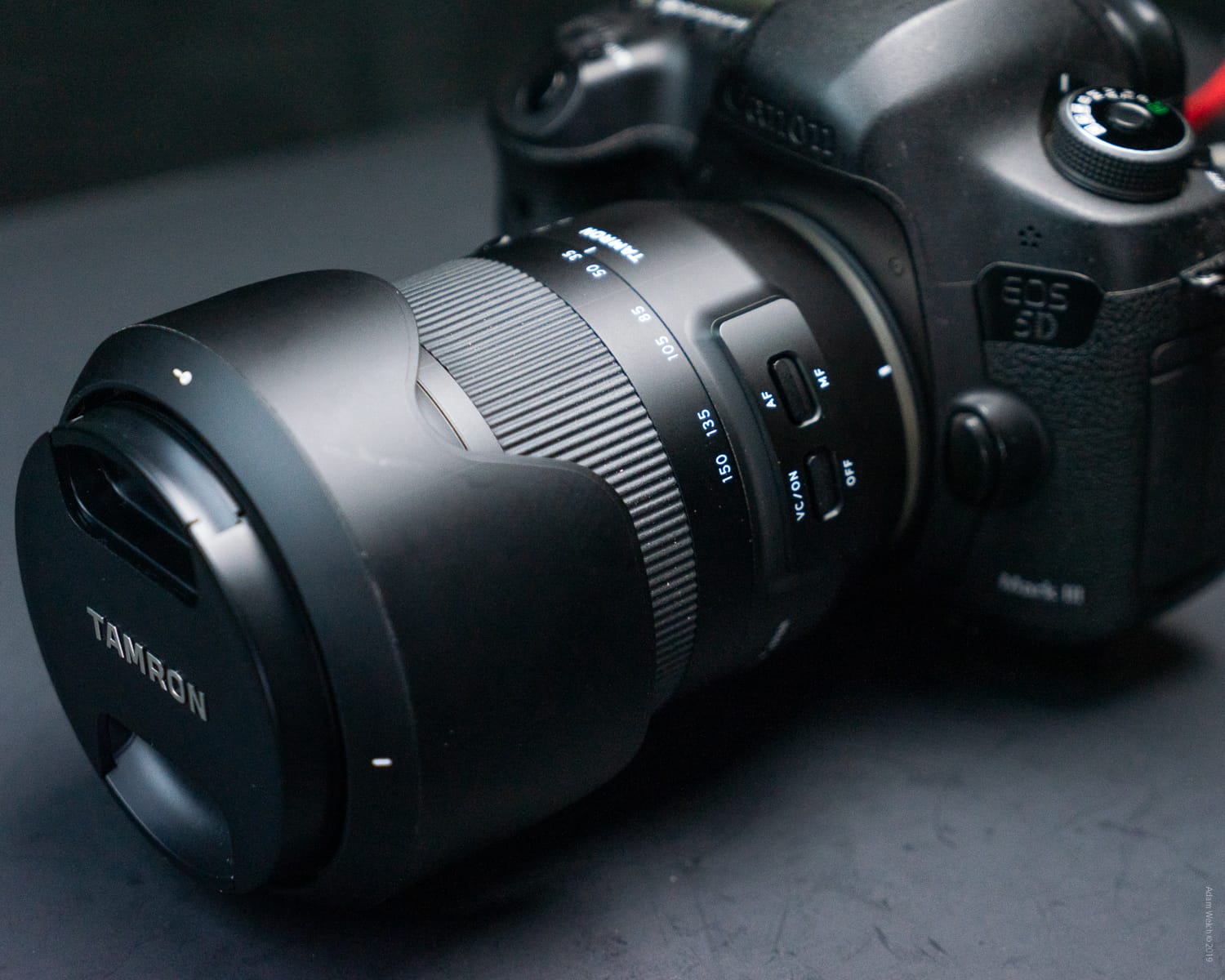 I'm happy to observe more and more manufacturers including a zoom-lock switch even on lenses of this modest size. It helps considerably if you carry your camera slung over your shoulder for extended periods of time.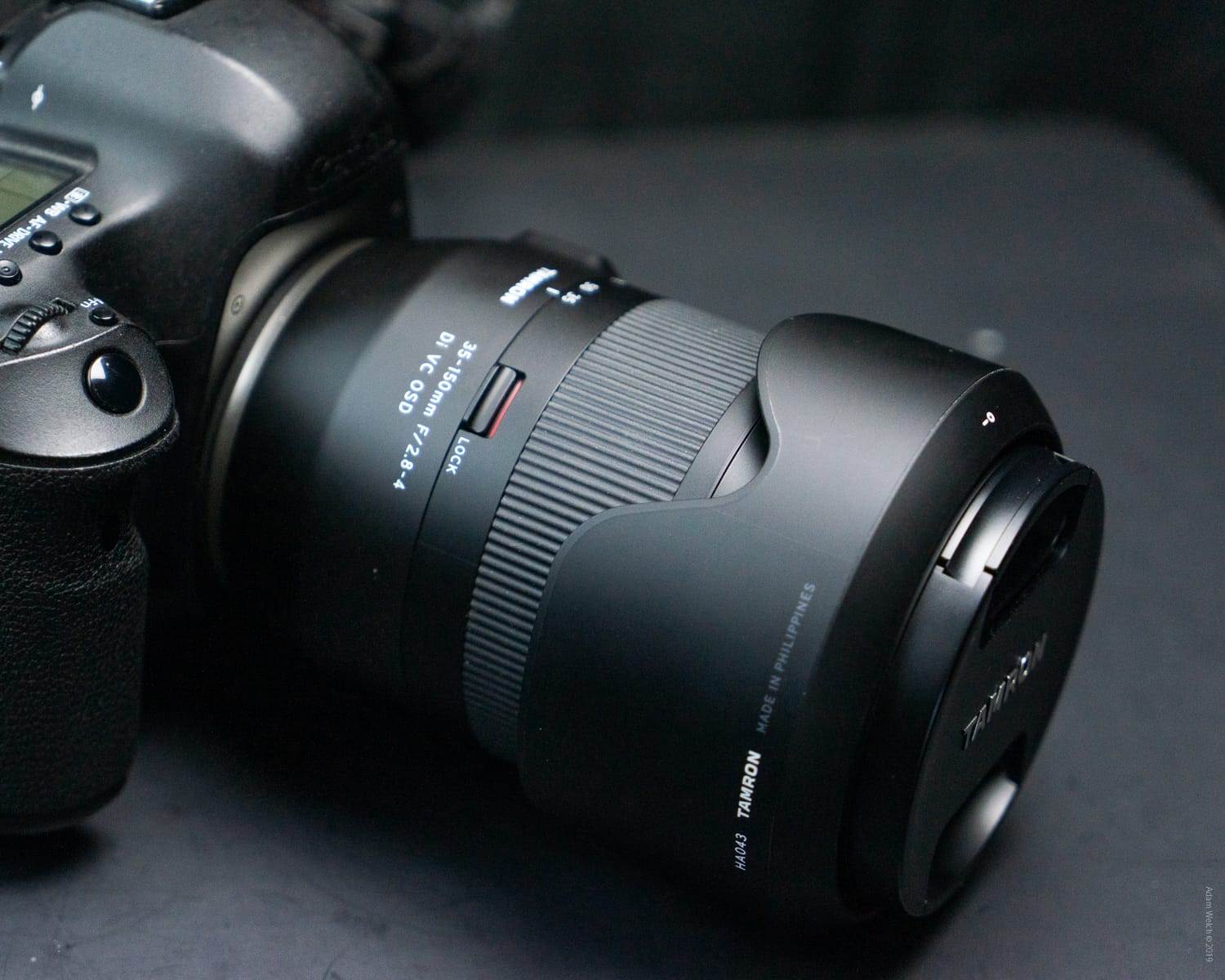 The action of both the zoom and focus rings are acceptably smooth and have just the right amount of resistance, both are rubberized. A few other small points to mention are of course the petal-style lens hood which fits perfectly and attaches/detaches with ease.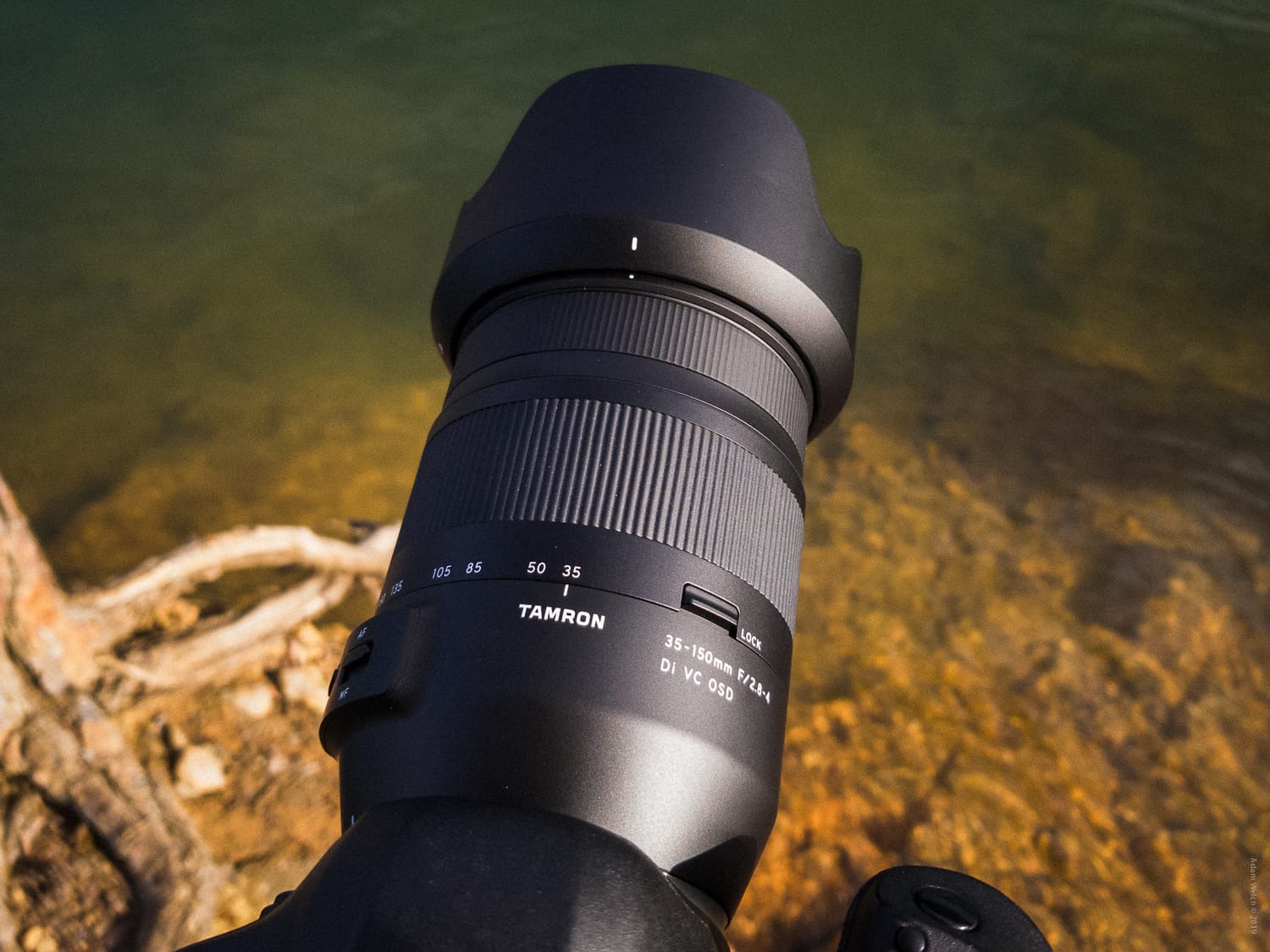 It might very well be my imagination but I feel as if Tamron has perhaps slightly relocated the VC and AF/MF switches to be situated more towards the top of the lens and also added thickness to the mount for the switches. In any case, I found that they both parked themselves delightfully well for easy thumb reach.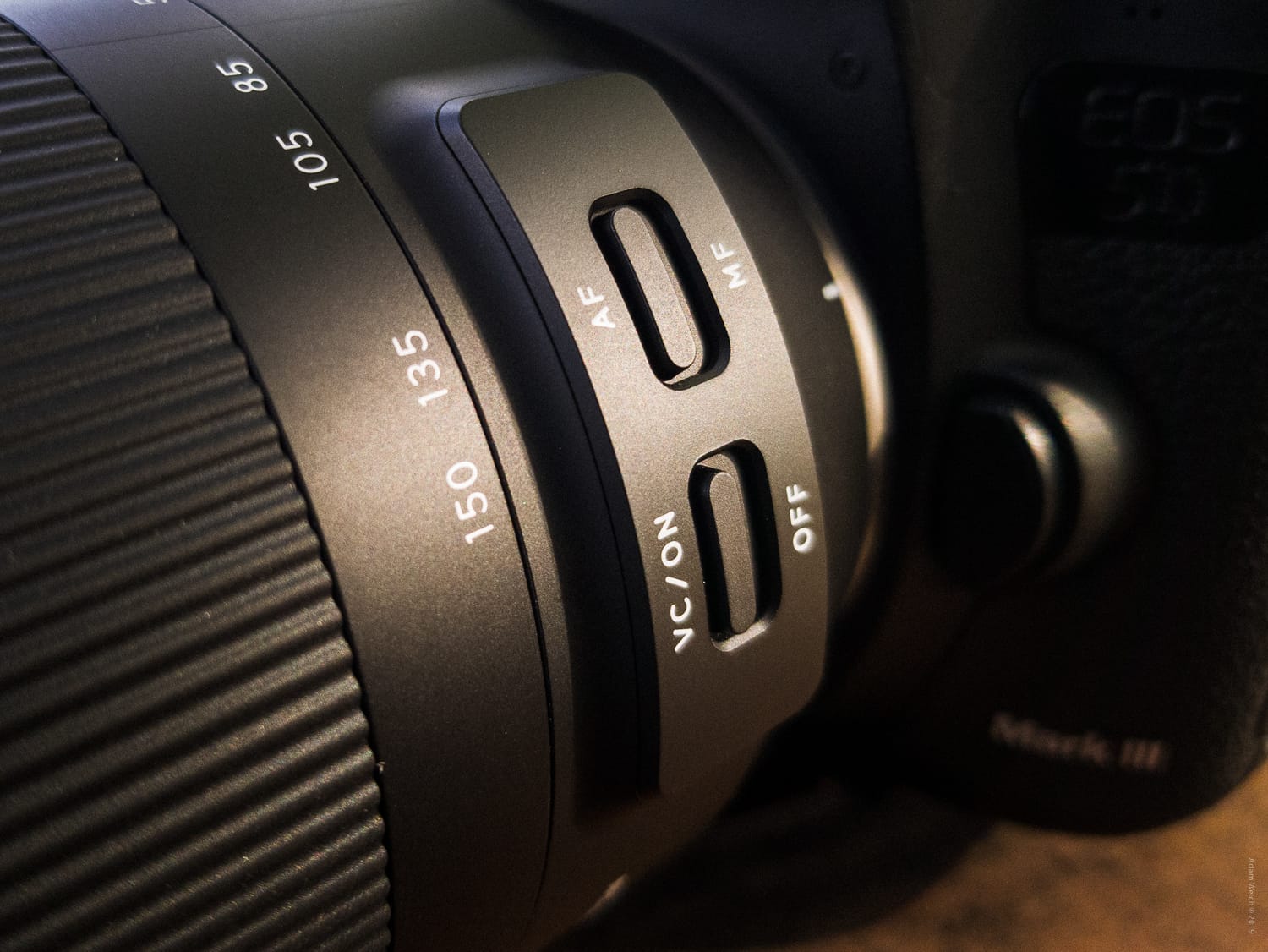 The lens itself isn't heavy at all, weighing just over 28oz (796g) for the Canon mount. Nikon shooters will enjoy a slight trim in body fat at 27.9oz (790g). It is also relatively compact for a lens that packs in 19 optical elements in 14 groups. Yes… 19 elements. It measures 5 inches (126.8mm) and 4.9 inches (124.3mm) respectively for Canon and Nikon when at 35mm.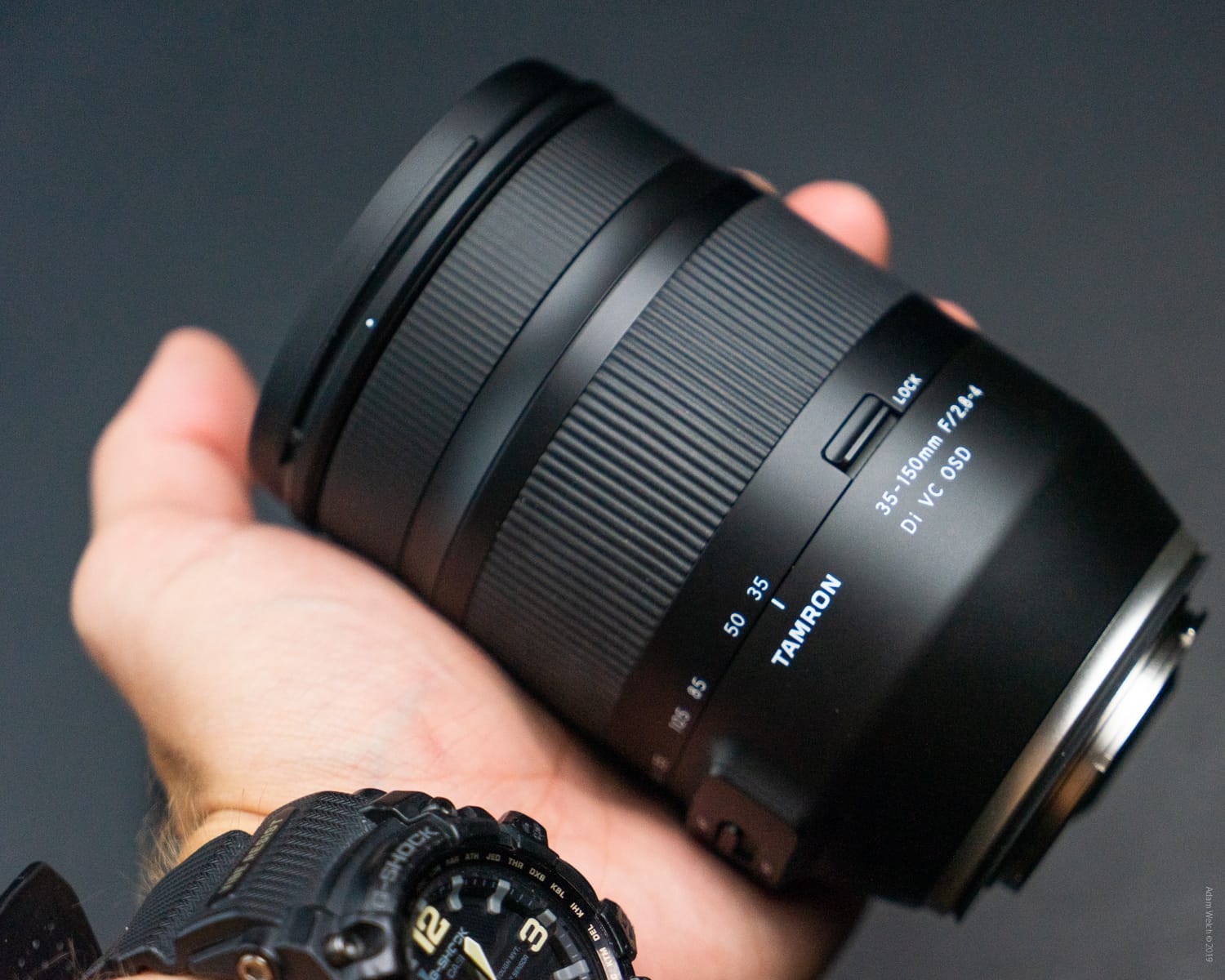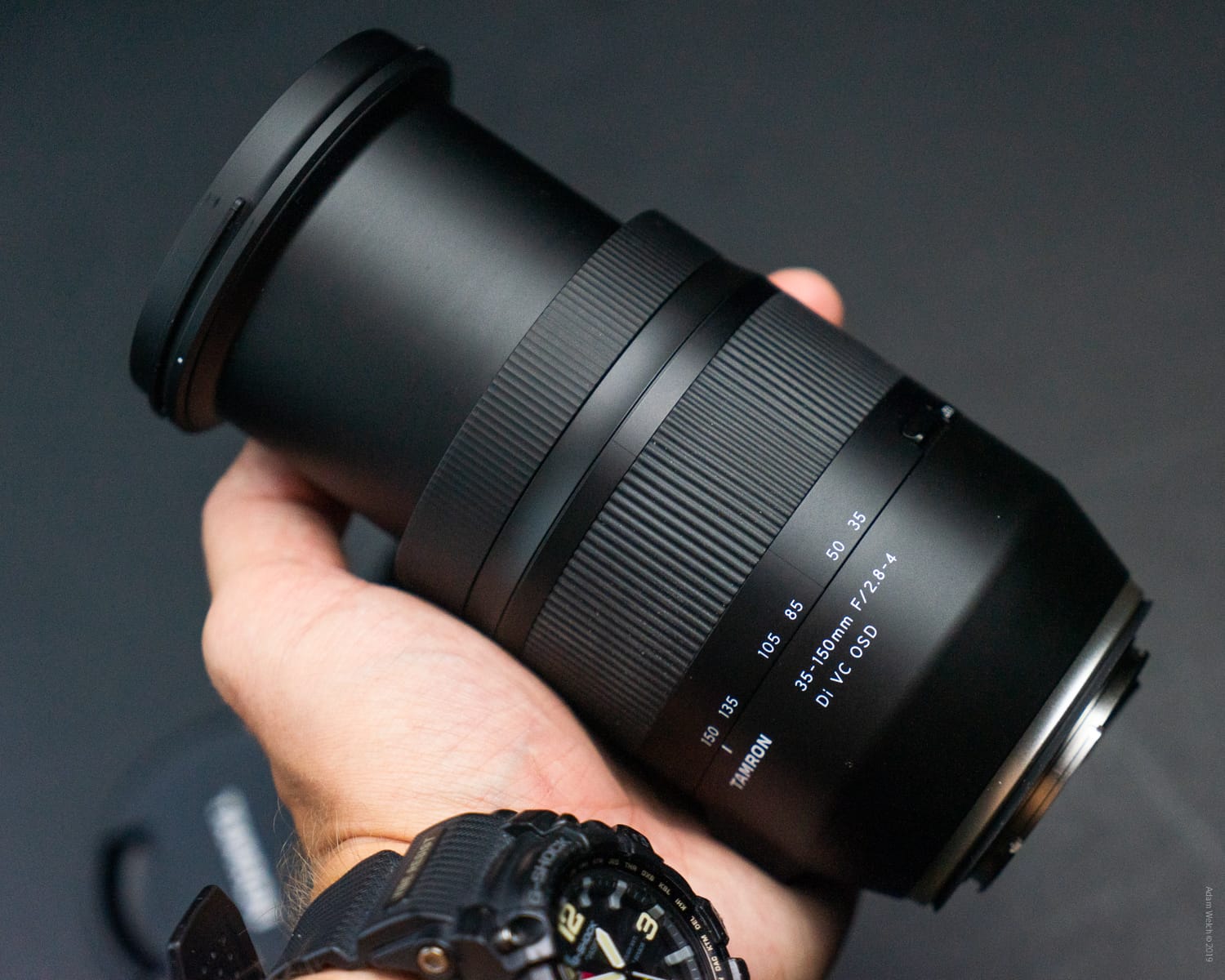 Here is the complete list of specifications courtesy of Tamron:
| Information | Values |
| --- | --- |
| Focal Length | 35-150mm |
| Maximum Aperture | f/2.8-4 |
| Angle of View (diagonal) | 63°26′-16°25′ (for Full-Frame DSLR Cameras) |
| Optical Construction | 19 elements in 14 groups |
| Minimum Object Distance | 0.45m (17.7 in) Full zoom range |
| Maximum Magnification Ratio | 1:3.7 (f=150mm) |
| Filter Size | Φ77mm |
| Maximum Diameter | Φ84 |
| Length* | 126.8mm (5 in) Canon, 124.3mm (4.9 in) Nikon |
| Weight | 796g (28.1 oz) Canon, 790g (27.9 oz) Nikon |
| Aperture Blades | 9 (circular diaphragm) ** |
| Minimum Aperture | f/16-22 (5 stops, CIPA Standards Compliant) |
| Standard Accessories | Lens cap, Flower-shaped hood |
| Compatible Mounts | Canon EF Mount, Nikon F Mount, Nikon Z compatibility, Canon EOS R compatibility |
Practical Focal Lengths
One of the many aspects of this lens which I enjoyed the most was it's cozy focal length span. A 35-150mm zoom range offers enormous possibilities for most situations. You have a semi-wide angle 35mm when you require a wide field of view for those night sky images and landscapes while still being able to reach out and touch your subject with that relatively long 150mm capability.
This will give you a better idea of how the zoom range appears in real-life. Both images are unprocessed aside from a slight exposure adjustment.
The first image is at 35mm, f/2.8.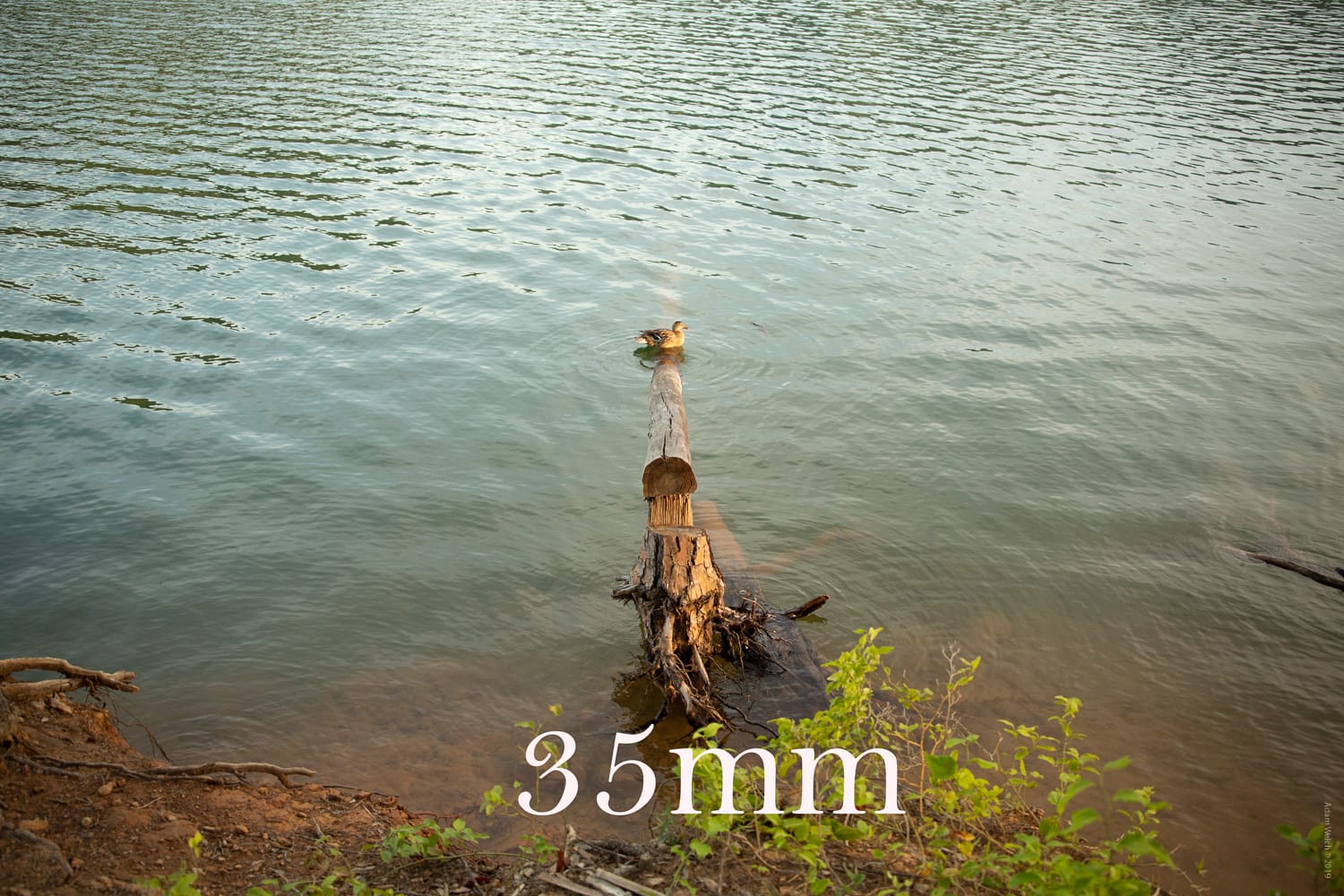 Next we have the same subject (Dorthy the Duck) up close and personal at 150mm, f/4.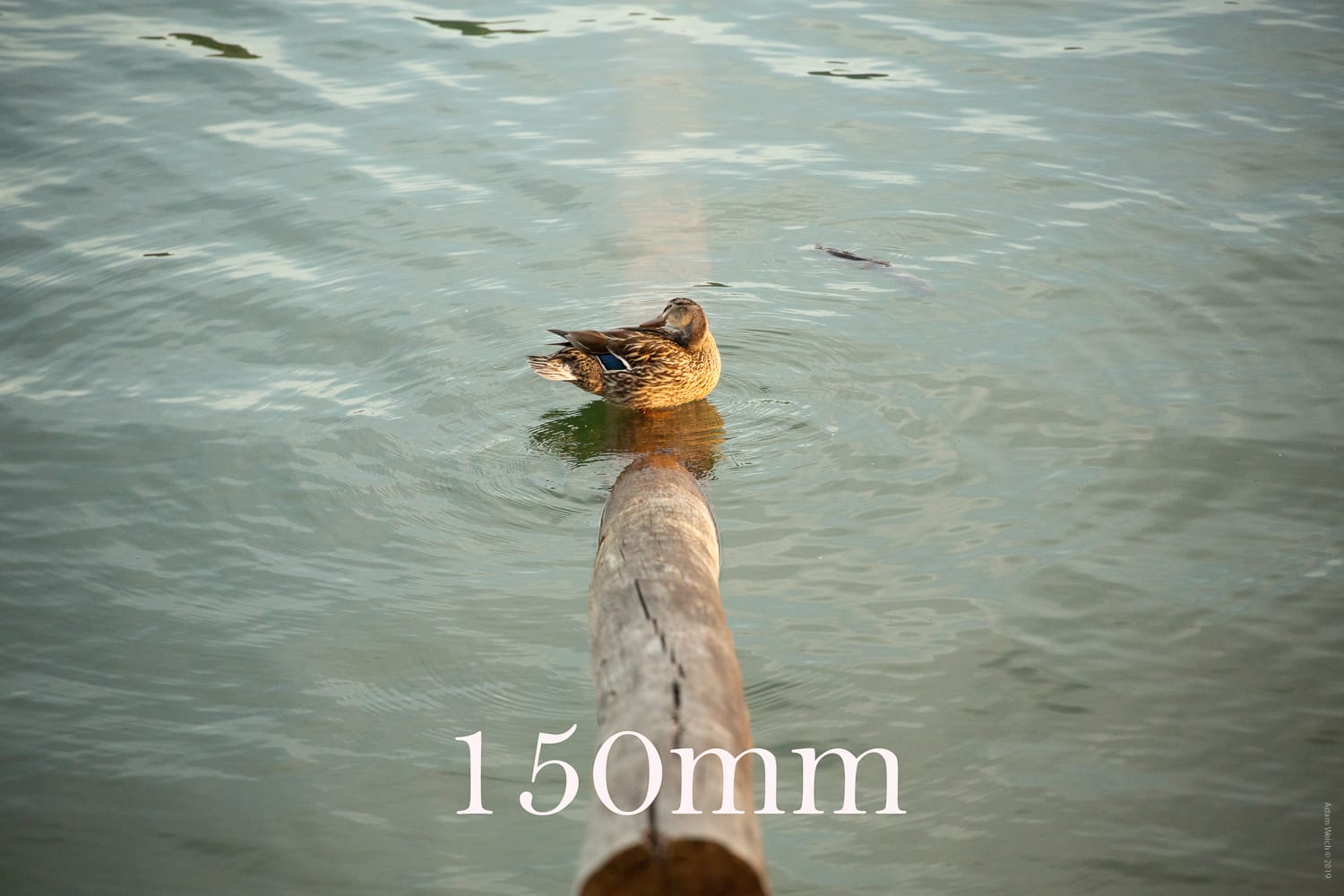 This is an excellent zoom range in my opinion for most any situation. Oh, and I'll also mention that with my test model (mounted to a Canon 5DMK3) the fast f/2.8 aperture extended to approximately 50mm.
Image Quality and Autofocus
Of course, what we're all curious about is "how does the 35-150mm perform?"
I hesitate to even say this, but it could very well be one of the sharpest/contrasty mid-range telephoto lens I've ever used.
Image Quality
The sharpness at f/2.8 really is quite remarkable. Here's another image straight out of camera, shot at 35mm and wide open aperture (f/2.8):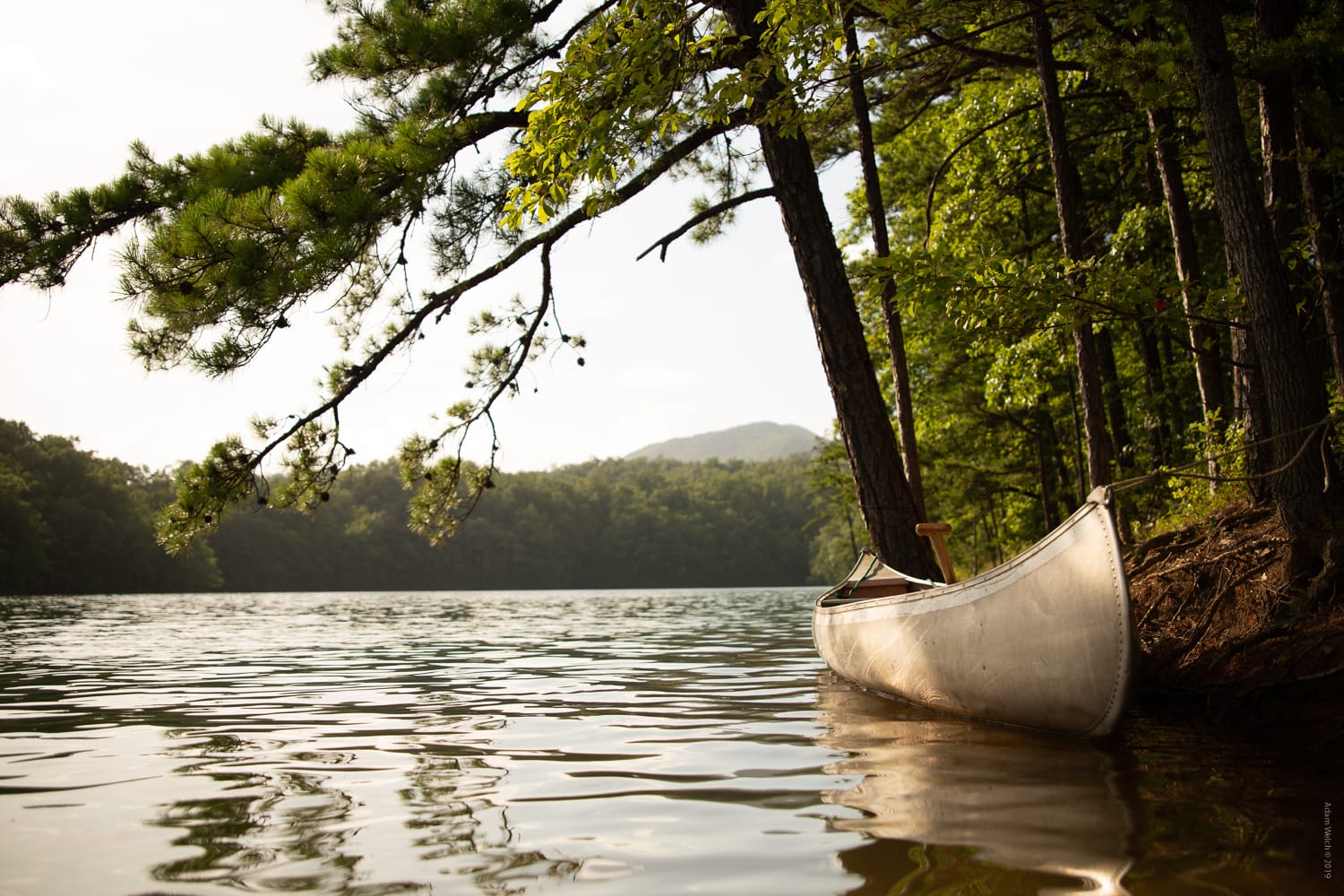 And now cropped 1:1 at the point of focus: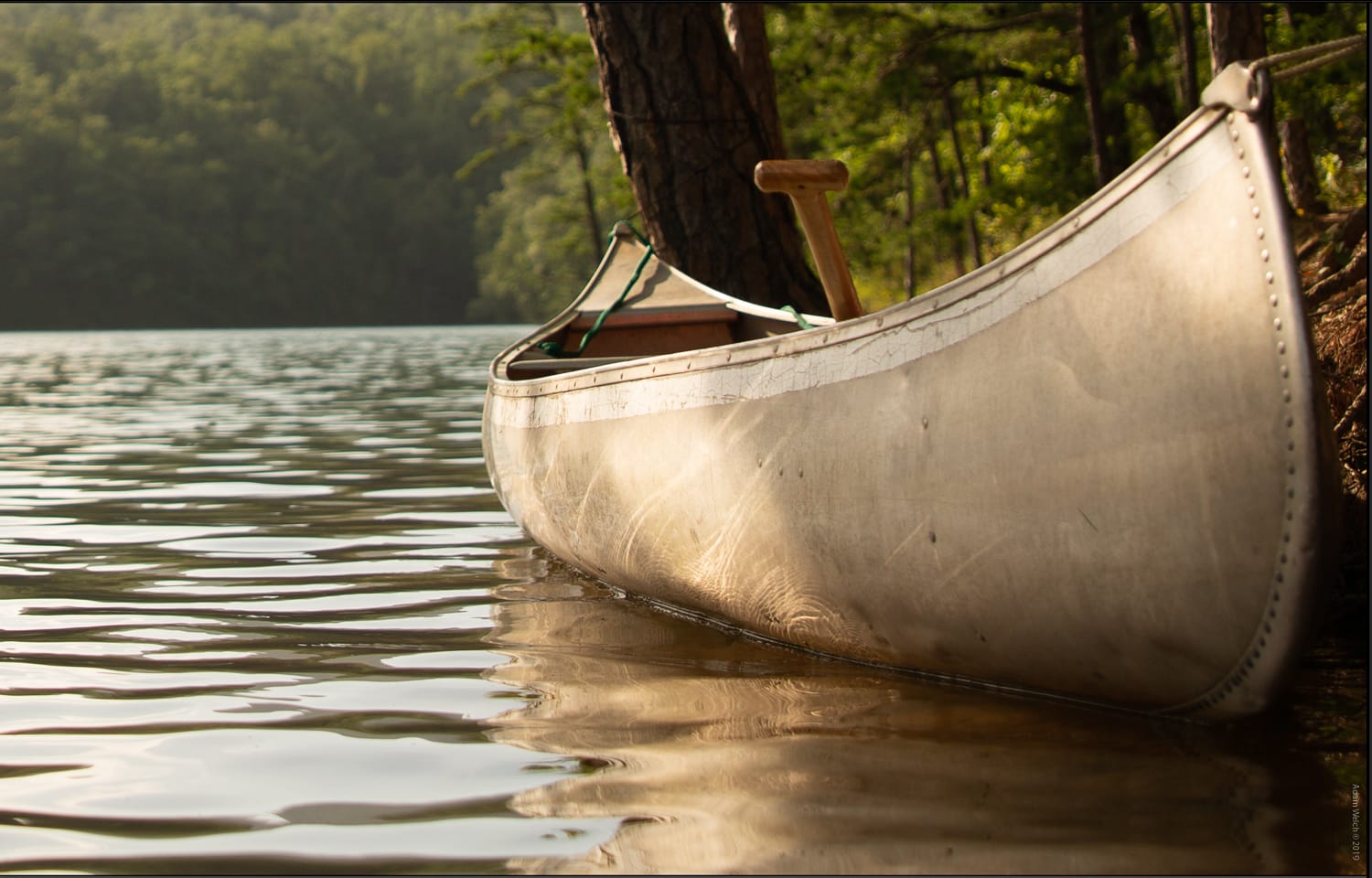 Stopping down to any aperture smaller than f/2.8 and things get scary sharp. Next is another RAW image shot at the widest available aperture of f/4 when at 150mm.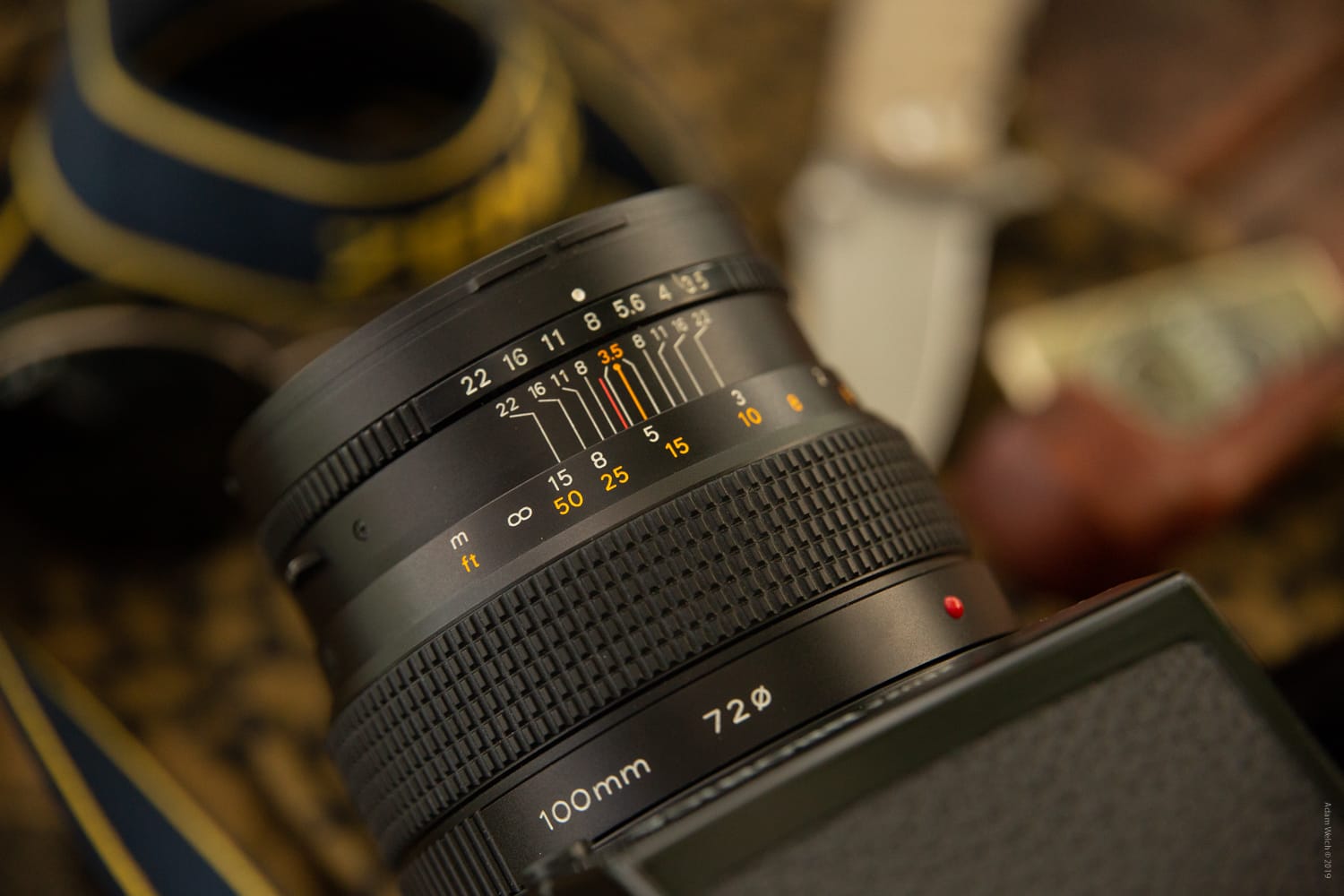 And zooming in on those numbers at 1:1, we see just how well this lens performs in terms of sharpness.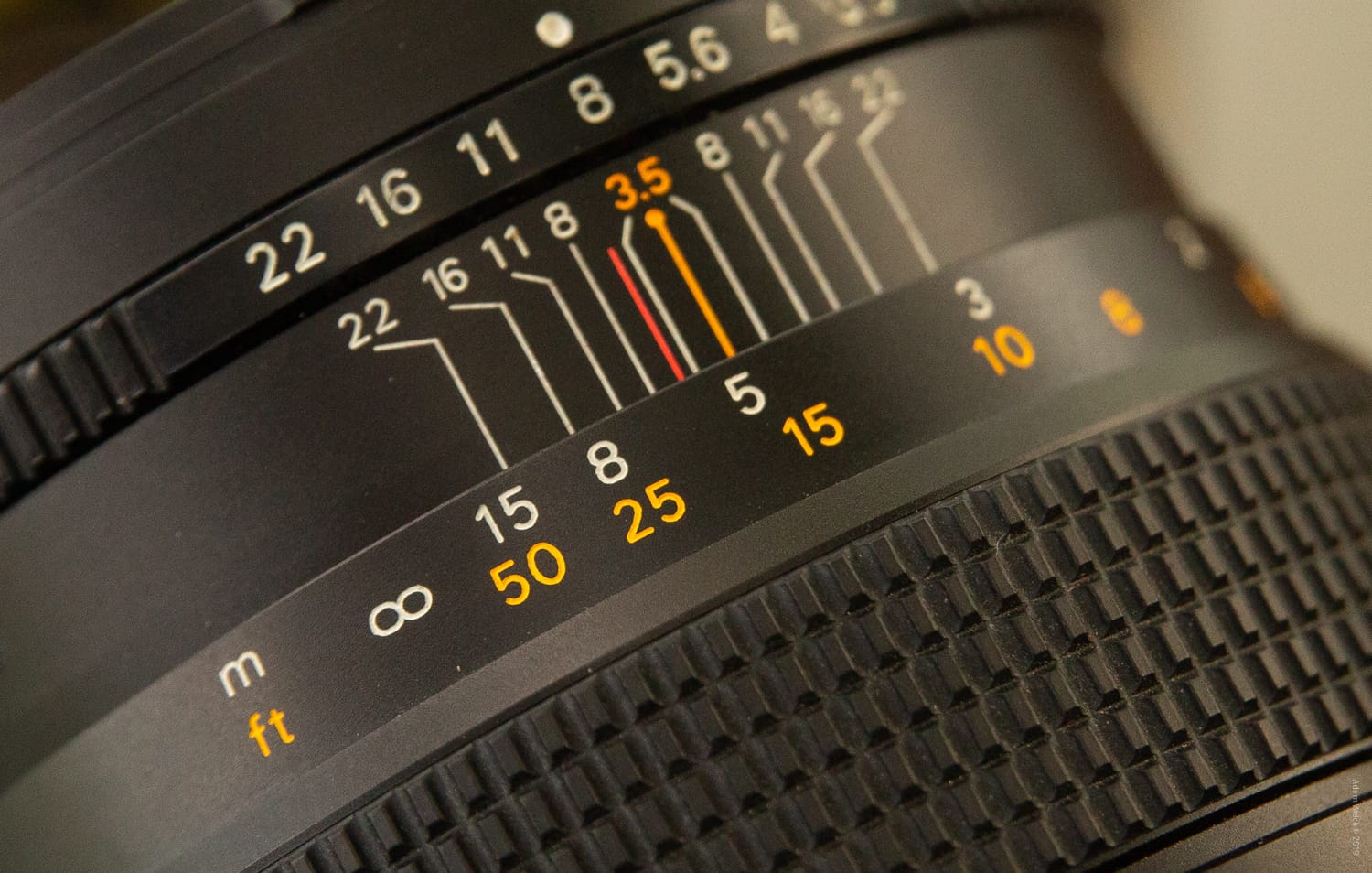 Color rendition is superb and the bokeh is absolutely gorgeous, creamy with a nearly detectable swirling. Distortion and chromatic aberrations were non-existent in my tests with only a slight vignetting at its widest respective apertures. Going back to the massive number of lens elements packed into this lens I am quite surprised at just how sharp the images from this 35-150mm lens were.
Autofocusing Performance
Before I had delved into the research for this lens I immediately noticed how perceptively quiet the AF operation seemed to be. Words such as ghostly, stealthy and catlike spring to mind.
As it turns out, Tamron has incorporated a revamped AF drive system called the Optimized Silent Drive (OSD) which apparently works quite well to not only quiet the autofocus action but also dampen the vibrations from the motor.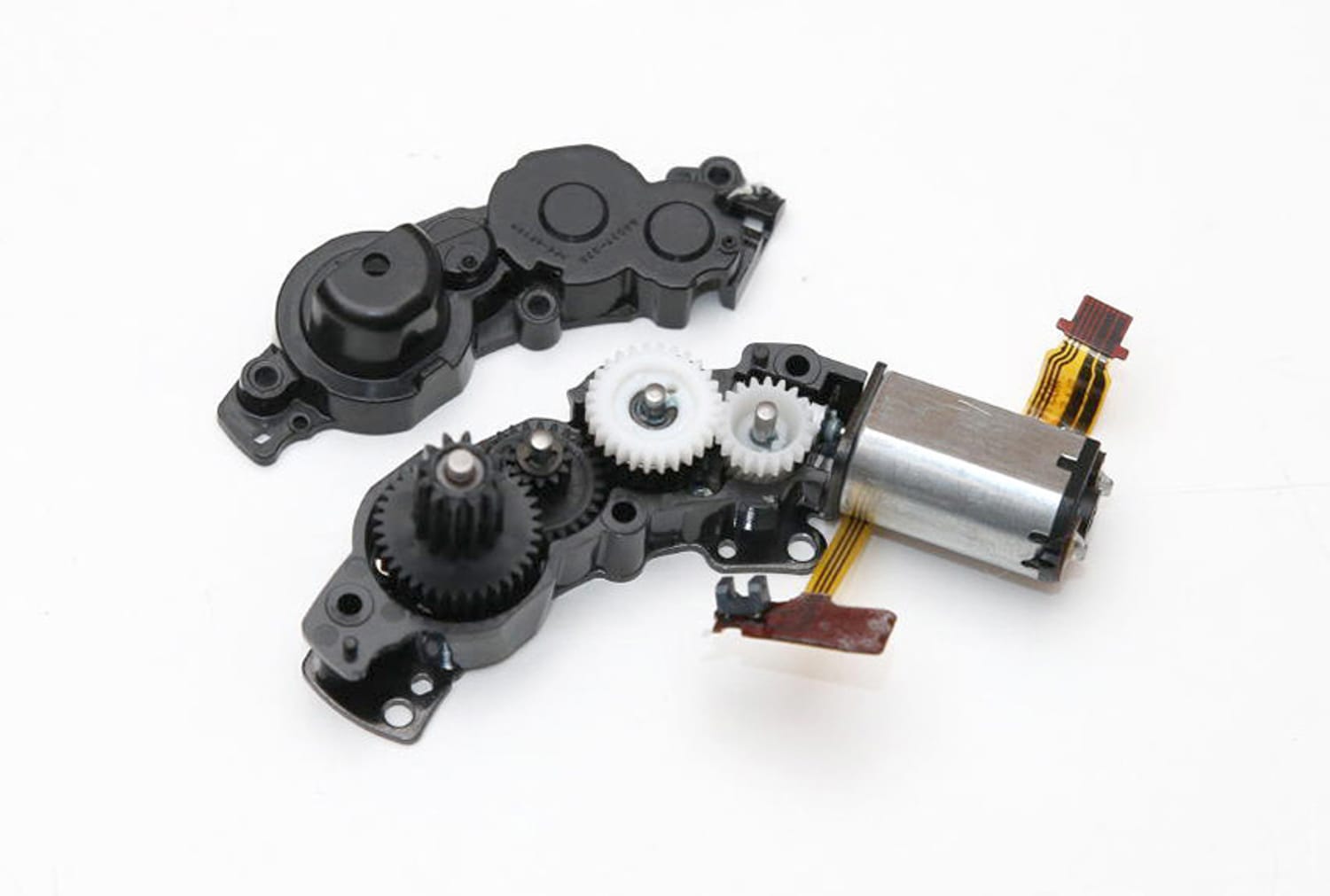 In short, using the 35-150mm in AI Servo Mode with the Canon 5DMK3 was an absolute joy.
Superb Weather Protection
I don't intentionally abuse my gear, but I'm also of the mind that my tools should be able to go where I go and remain fully functional. Most times, the places I shoot are full of dirt and moisture, so weather sealing is one of my most prized features for any lens. Tamron has put some impressive sealing into their lenses in recent years and the 35-150mm is no different. It features sealing gaskets throughout the lens body to help prevent moisture and other nasties from finding an easy route into your precious lens.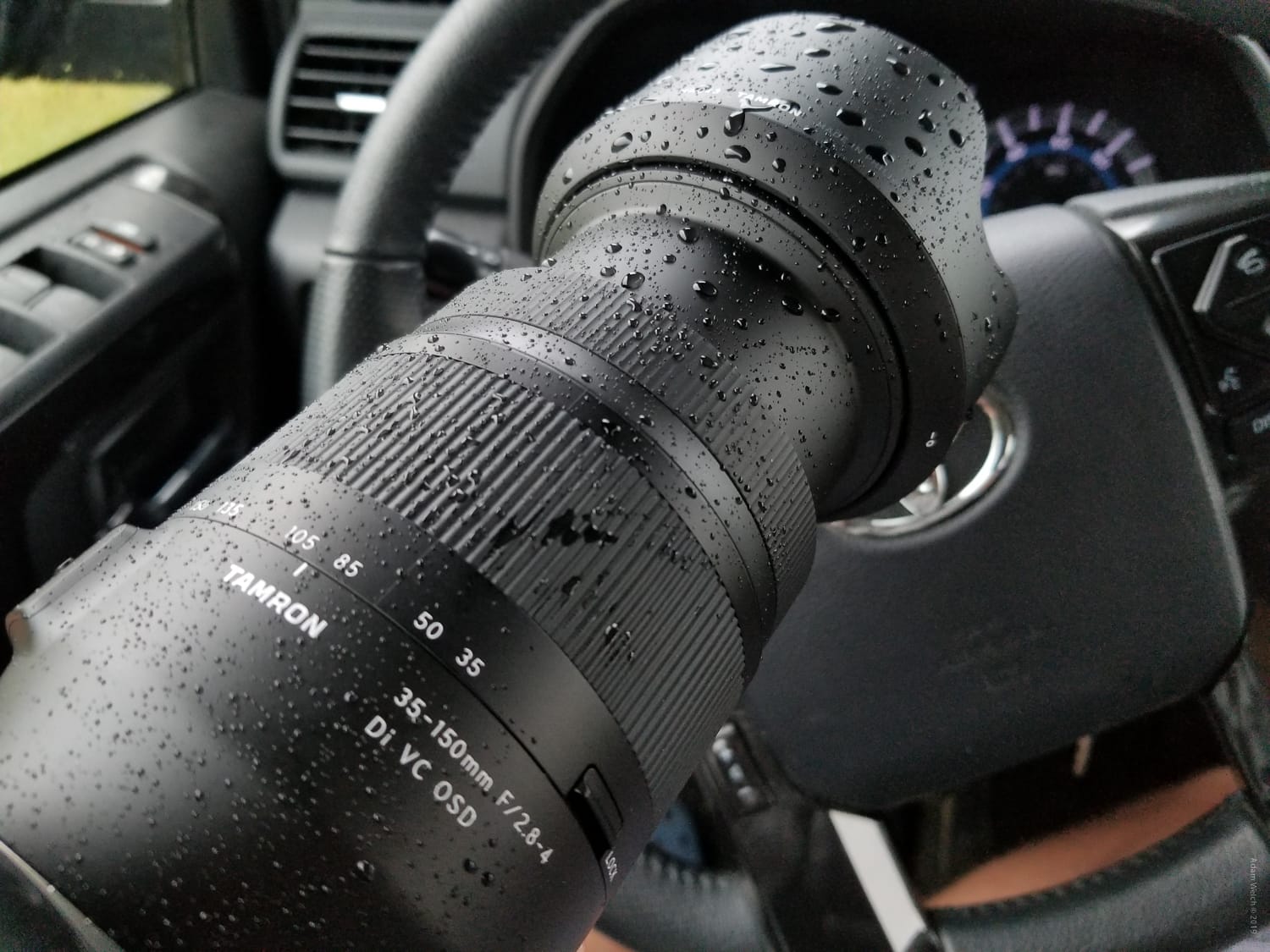 To date, I have never had a moisture sealed Tamron lens fail even when shooting waterfalls or during the occasional unexpected downpour. Of course, always avoid endangering your gear, but let's face it… these things happen and it's great to know you've got a little extra protection for when they do.
Dig a Little Deeper
Want to learn a little more about my experience with the Tamron 35-150mm f/2.8-4 with some real-world insight? Check out this quick video where I cover more about the lens share some thoughts on my time shooting with this awesome piece of glass.
Closing Thoughts
It's my opinion that there should be no set intentions for camera lenses, no uses that we should limit one particular lens to and never take it out of the bag for any other reason. A great lens is a great lens and the Tamron 35-150mm f/2.8-4 is certainly one.
I was shocked at the wide open sharpness and even more impressed with the absolute cream of the bokeh. The autofocusing performance is perhaps one of the most quiet mechanisms I have ever encountered and tracks beautifully. Factor in that this lens covers some extremely usable focal lengths while keeping an impressively close minimum focusing distance and you're left with a lens that I would choose to tackle virtually any job.
It would have been great to have a constant f/2.8 aperture but for a lens at this price point (just under $800 USD at the time of review) you won't find me complaining about the loss of a couple of stops at 150mm.
I'm not the type to believe that one lens can truly do it all but I must admit the 35-150mm from Tamron seems to come close. Above all, perhaps it's best feature is that its shear usability sparks creative drive and makes you want to go take photographs. That is truly a great thing.