In-Depth Review of Tamron's SP 70-200mm f/2.8 Di VC USD G2 Lens
So many times it occurs to me what a wonderful time we as photographers operate in today. We find ourselves constantly being introduced to new and better gear… cheaper cameras, faster glass. That last bit about lenses is particularly true.
Today, it's not just that high-grade lenses are becoming more affordable, it's that these aftermarket non-native lenses are beginning to rival their more expensive cousins in terms of sharpness, aperture capabilities, and build.
Enter the Tamron SP 70-200mm f/2.8 G2.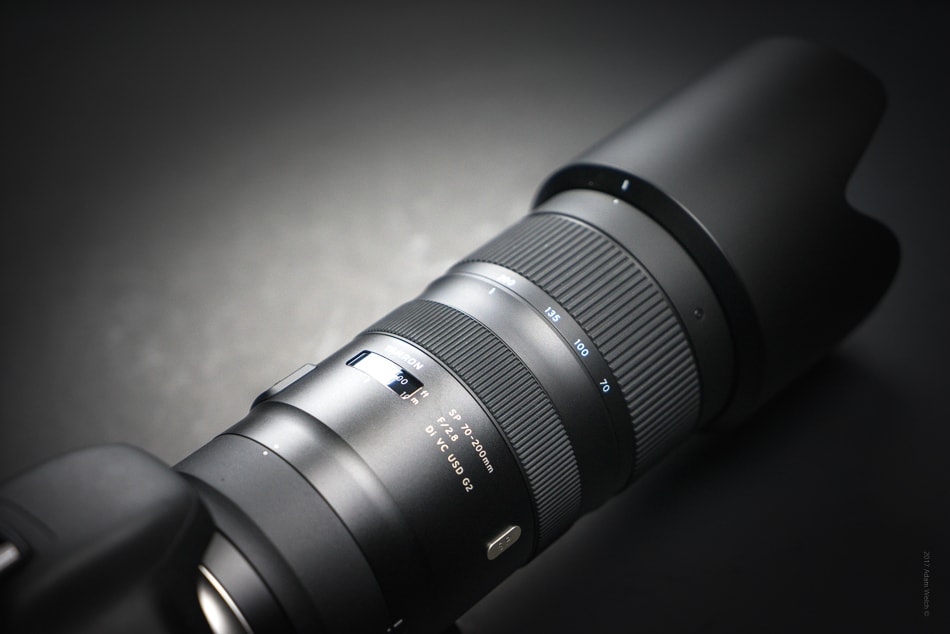 This robust fast telephoto lens is Tamron's updated version of the of their first generation (model A009) 70-200mm f/2.8 and offers upgrades that make that this new comer a powerhouse in the world of fast telephoto glass. Wildlife and sport photographer… get in here.
First Impressions
The SP 70-200mm G2 offers a heavy hitting package of style and function which is evident right out of the box.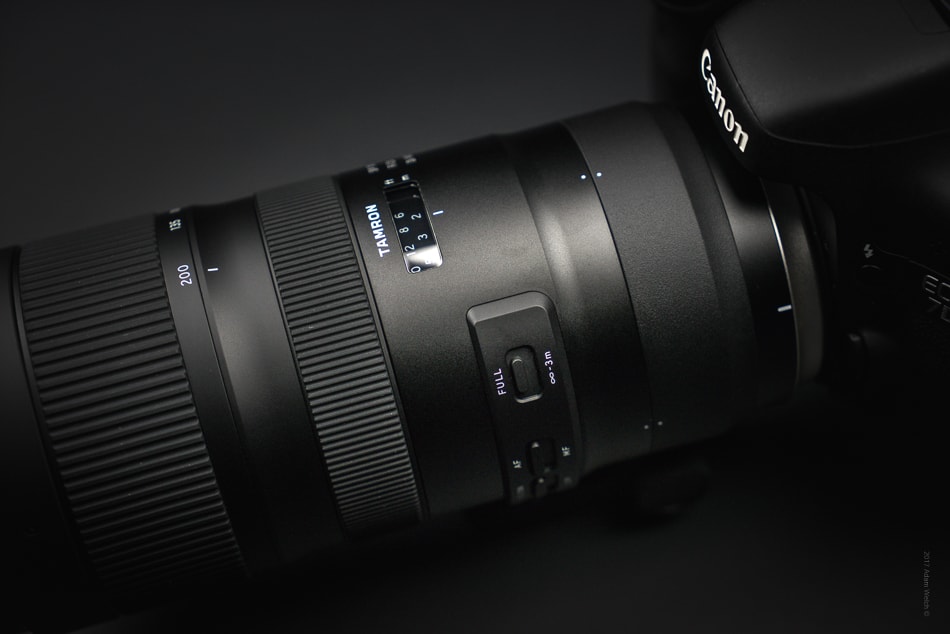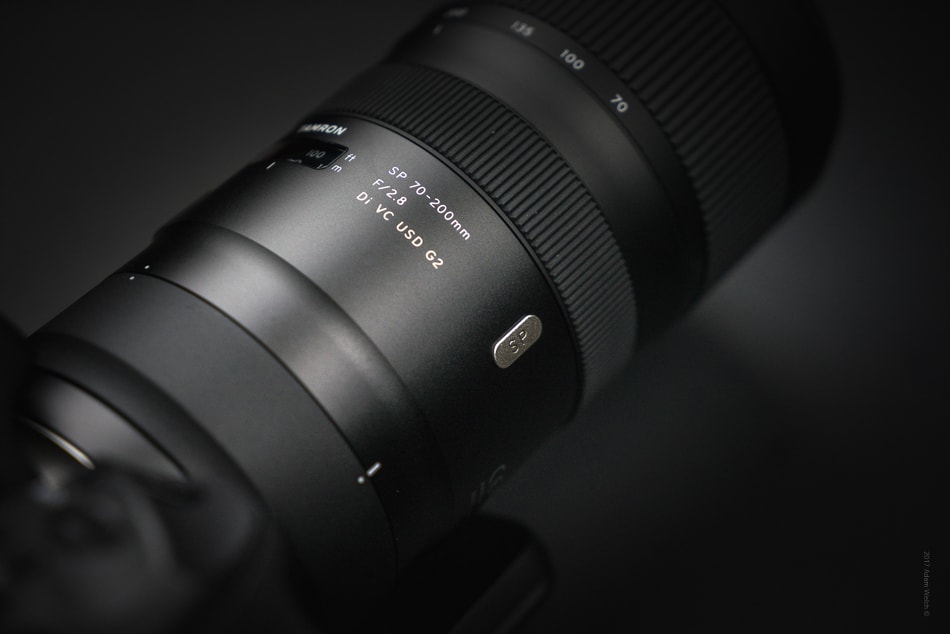 The lens itself looks wonderful with it's flat, matte black finish and contrasting bright white lettering. A great thing about updated versions of the SP line is the readily apparent attention Tamron has paid to improving not only the form, but also function of their reimagined lens offerings. The entire lens looks sleek and professional grade.
Here's a full spec sheet from Tamron:
| Information | Values |
| --- | --- |
| Model | A025 |
| Focal Length | 70-200mm |
| Maximum Aperture | f/2.8 |
| Angle of View | 34°21′ – 12°21′ for full-frame format, 22°33′ – 7°59′ for APS-C format |
| Optical Construction | 23 elements in 17 groups |
| Minimum Object Distance | 0.95m (37.4 in) |
| Maximum Magnification Ratio | 1:6.1 |
| Filter Size | φ77mm |
| Length | 193.8mm (7.6 in) Canon, 191.3mm (7.5 in) Nikon |
| Weight | 1,500g (52.9 oz) Canon, 1,485g (52.4 oz) Nikon |
| Aperture Blades | 9 (circular diaphragm) |
| Minimum Aperture | F/22 |
| Image Stabilization Performance | Stabilization Performance 5 Stops (CIPA Standards Compliant) Using in VC MODE 3 |
| Standard Accessories | Lens hood, Lens caps, Lens pouch |
| Compatible Mounts | Canon, Nikon |
Overall, the 70-200mm is substantially built but not at all overly weighty for a lens of this focal range and speed. The Canon version weighs in at 3.3 pounds (1,500g) is just tips the scales of Canon EF 70-200mm f/2.8L IS II USM which weighs 3.28 pounds (1,490g). Nikon shooters will enjoy a .5oz shedding of body fat with their model at 52.4oz (1,485g). In general, I was pleasantly surprised at how well the the 70-200mm balanced in the hand.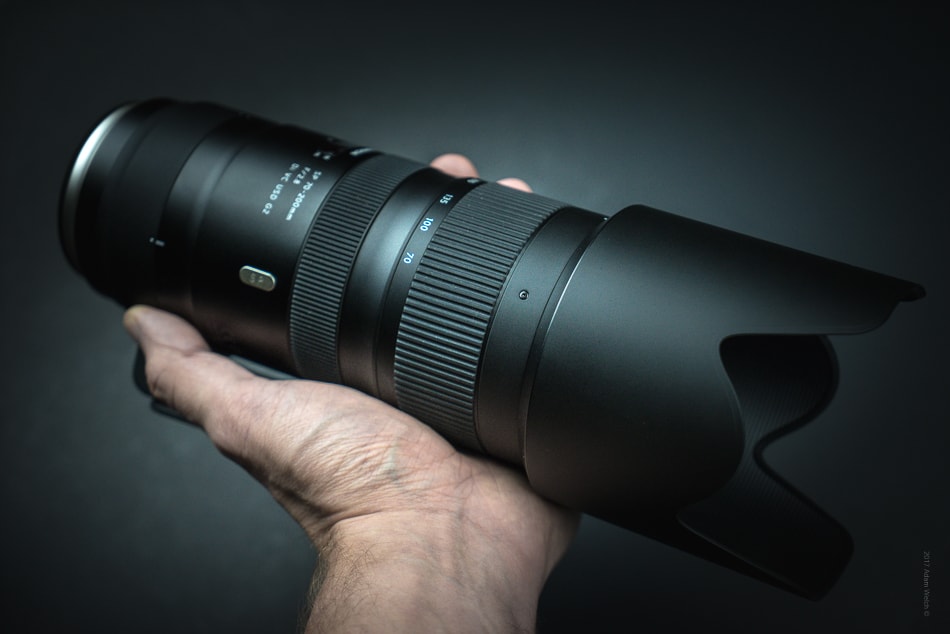 Something that I noticed once I zoomed for the first time with the SP 70-200mm was that it internally articulates; meaning that as the user zooms in and out, the lens remains the same length. I admit I was not aware of this prior to the review but was elated to find out. That feature alone goes a long way with this author.
Quality of Build
As we mentioned, the lens is a substantial telephoto which means the idea of feathery delicacy isn't expected and shouldn't be for a lens intended to get into the thick of sporting events or wildlife photography. The SP 70-200mm feels extremely solid. The lines are elegant and the design of the lens flows well… that being said, you can definitely be sure that this is a tool meant to be used. It isn't going to have trouble handling the elements or the demands of rigorous photo outings.The zoom and focus rings feel great and turn smoothly but firmly; nice and gripping without feeling overly rubbery. The zoom ring especially is easy to manipulate for a lens of this size and doesn't feel as if you're going to twist the lens right off the camera while zooming.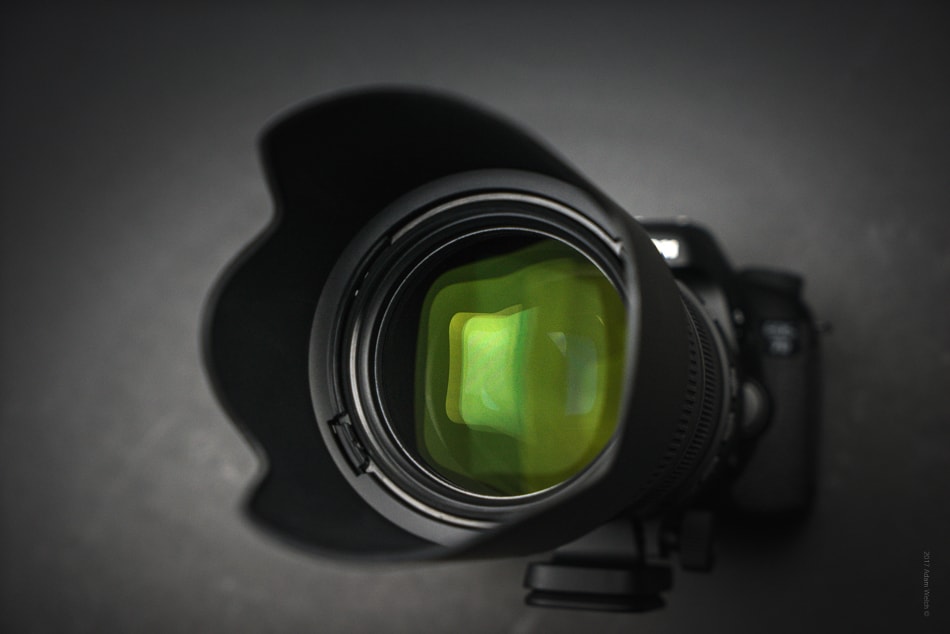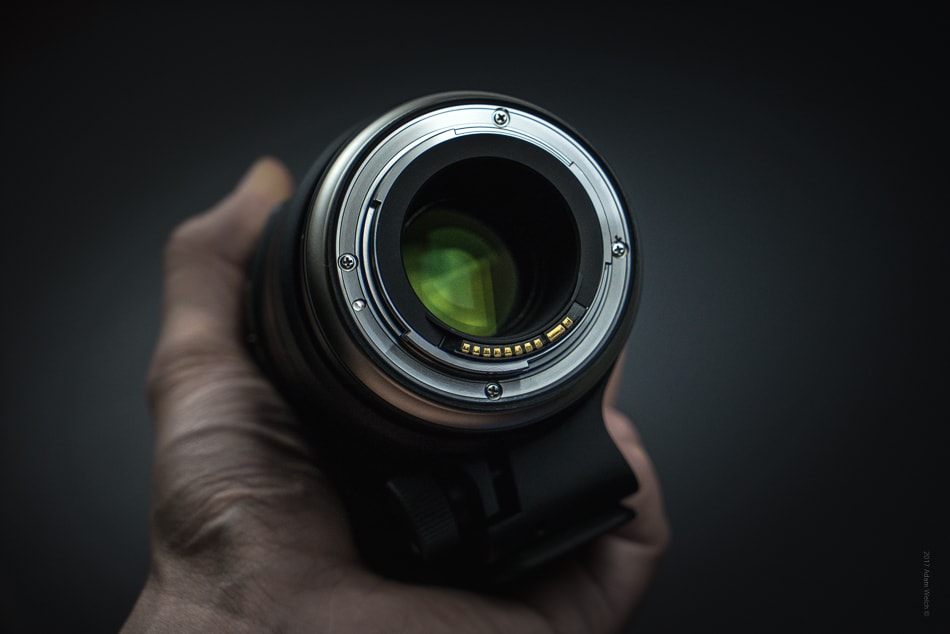 The mode switches, of which are numerous (AF/manual/distance & vibration compensation), all are crisp and well placed for easy operation. As with most lenses of this long focal length the barrel is fitted with a tripod ring (Arcaswiss). The ring clamps down tightly and serves its intended function but is otherwise unremarkable.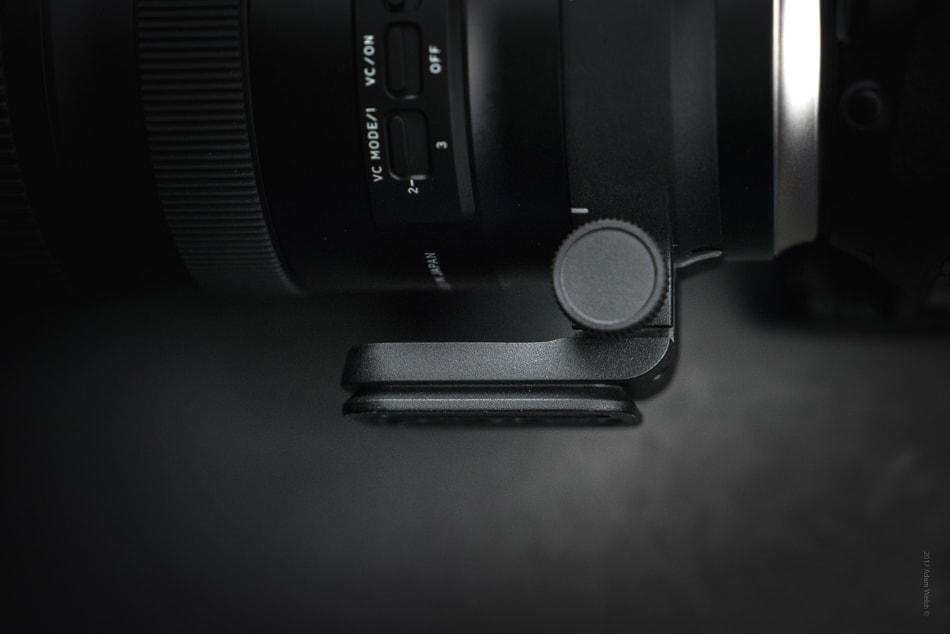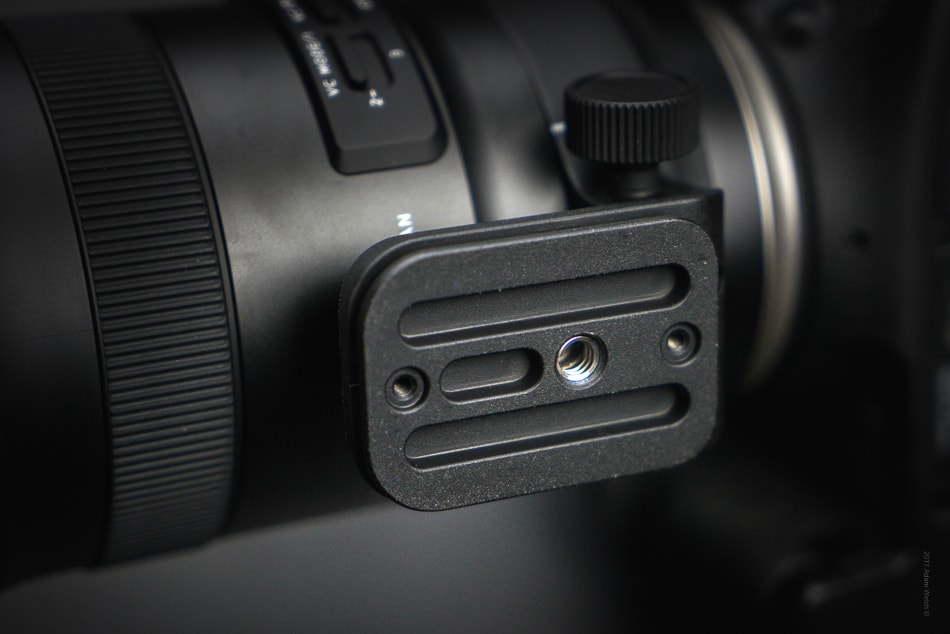 A petal-type lens hood is included and fits snugly, matching the lens perfectly.
Champion Weather Sealing
If you've happened to have stumbled across any of my other reviews of Tamron's SP line you may have noticed the high regard in which I address the advanced weather sealing of reinvigorated SP lens series. And with good reason. The moisture and dirt shielding of these new lenses from Tamron is second to none, in my opinion.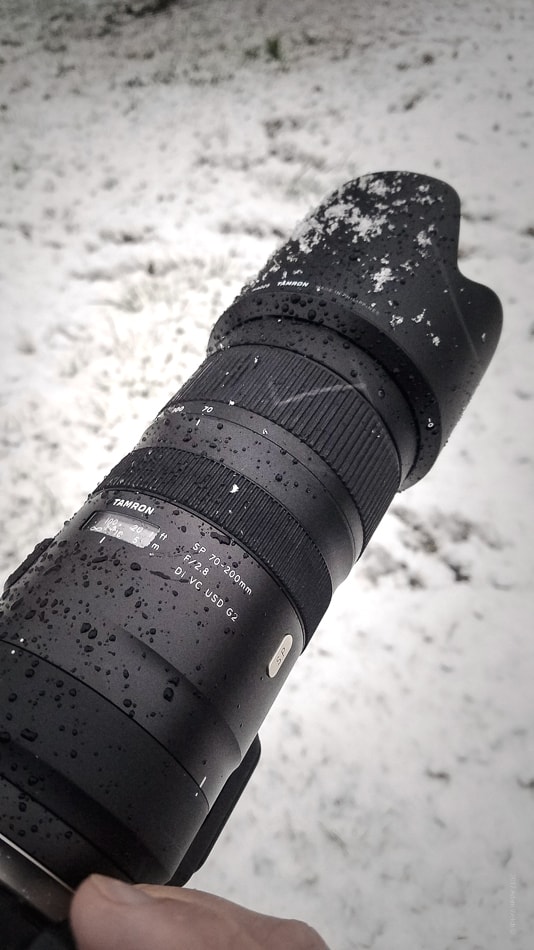 The zoom and focus rings are sealed as well as all entry points. Of special note is the gasket seal placed around the lens bayonet.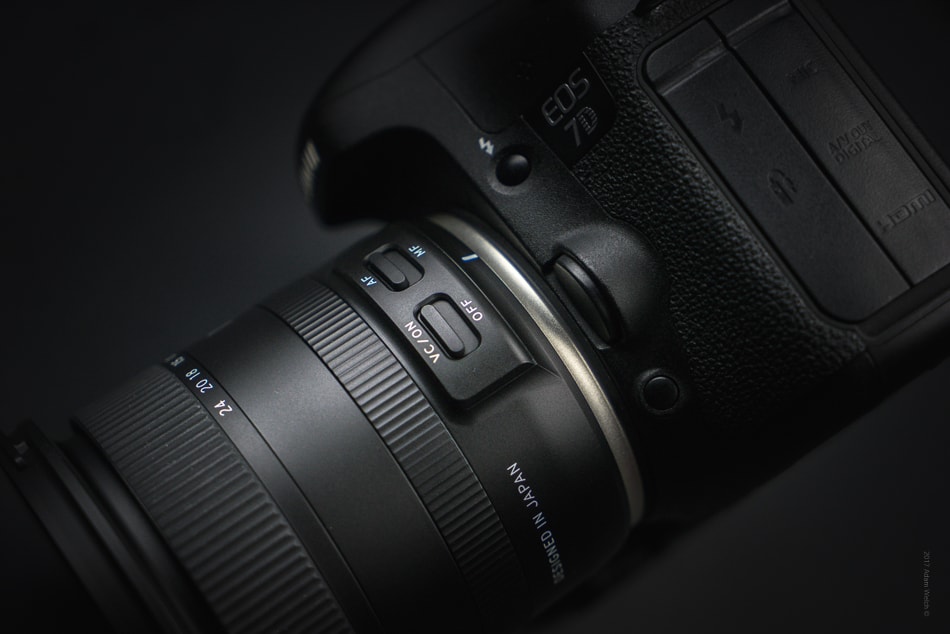 This protects not only the lens itself but also your camera from the elemental detriments often encountered in the field.
Sharpness and Image Quality
Tamron boosts of improved performance of the G2 70-200mm in regards to its reduced tendency for chromatic aberration and more pleasing bokeh performance due to the 9 rounded aperture blades. In my testing, I to agree that the claims made by Tamron are inescapably true. The XLD (eXtra Low Dispersion) and LD (Low Dispersion) glass works great to subdue the dreaded fringing often found at wide apertures and background blur at f/4 and wider is absolute cream.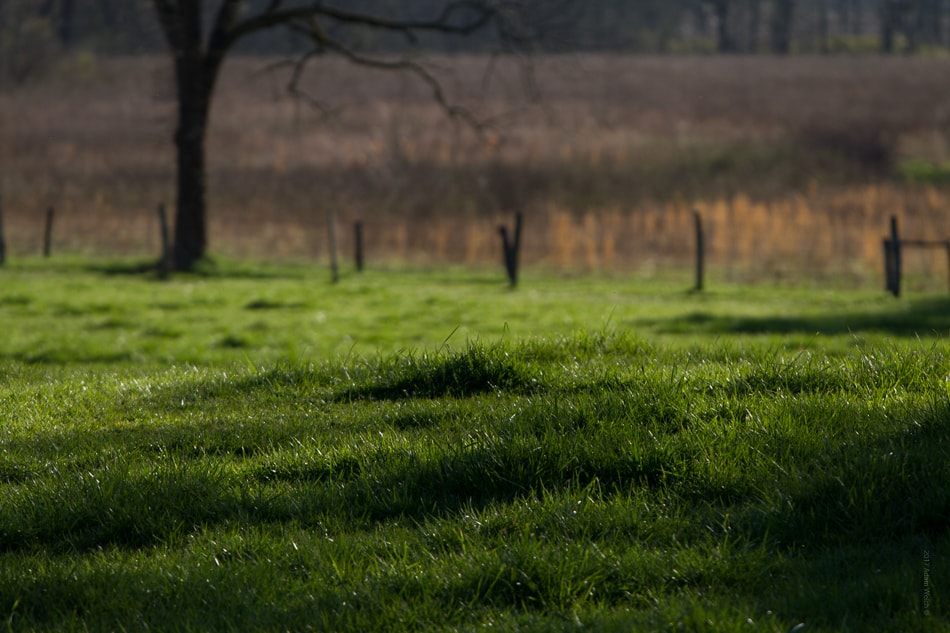 Sharpness of the lens at f/2.8 is good. I wish I had a more abrupt adjective to describe the quality but without sounding disingenuous. For a lens with this much reach the sharpness is more than passable and I'll let the images speak for themselves but don't have unrealistic expectations for 200mm at f/2.8.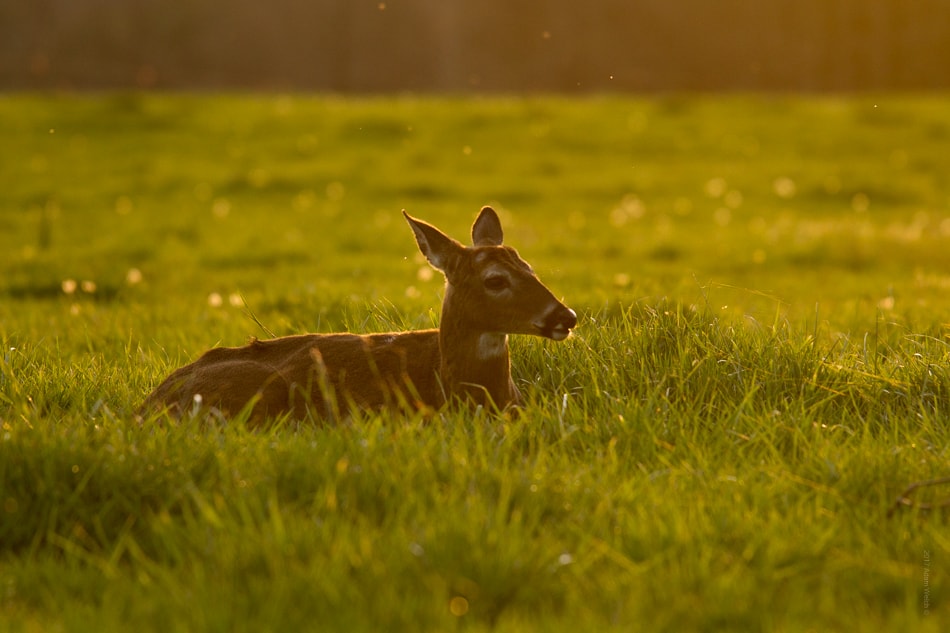 That being said, the 70-200mm shines after f/4 and still offers top tier performance in low light. This sample shows the moon, first shot at 70mm and f/4.5.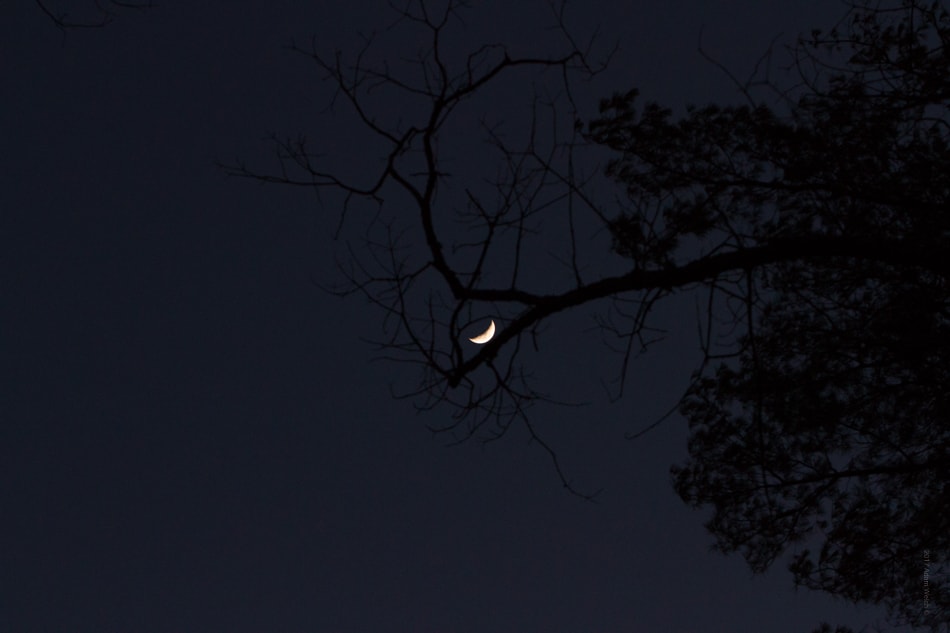 And now at the full zoom of 200mm at the same f/4.5 aperture…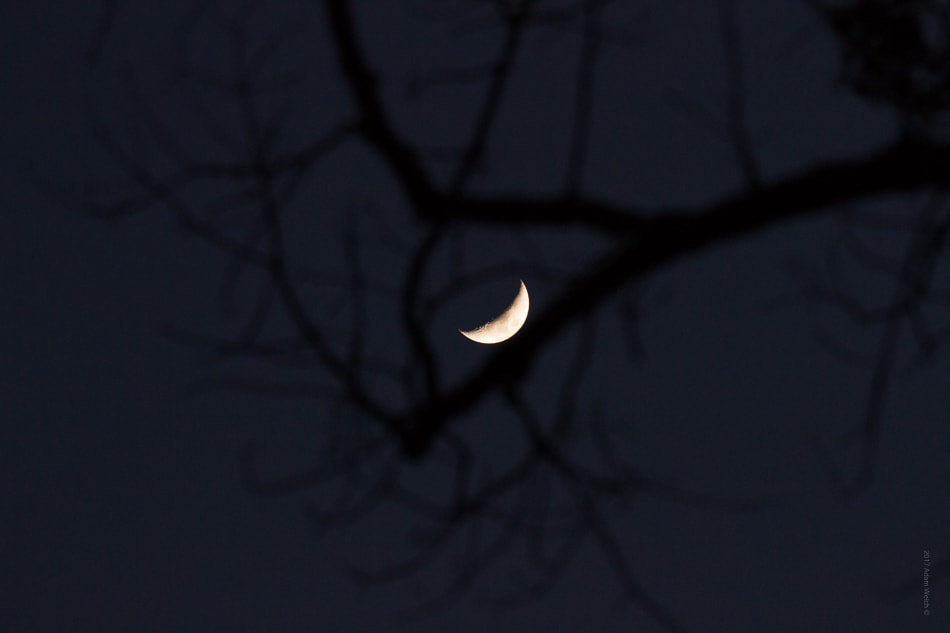 Autofocus and Image Stabilization
Even fast aperture telephoto lenses seldom reach their full potential without a high-performing AF system and image stabilizer and Tamron hasn't fallen short in this respect with the SP 70-200mm. The G2 offers fast and accurate AF with full time manual focus override which means that the shooter can adjust focus manually even while remaining in AF mode. Auto focusing outstanding albeit slightly audible.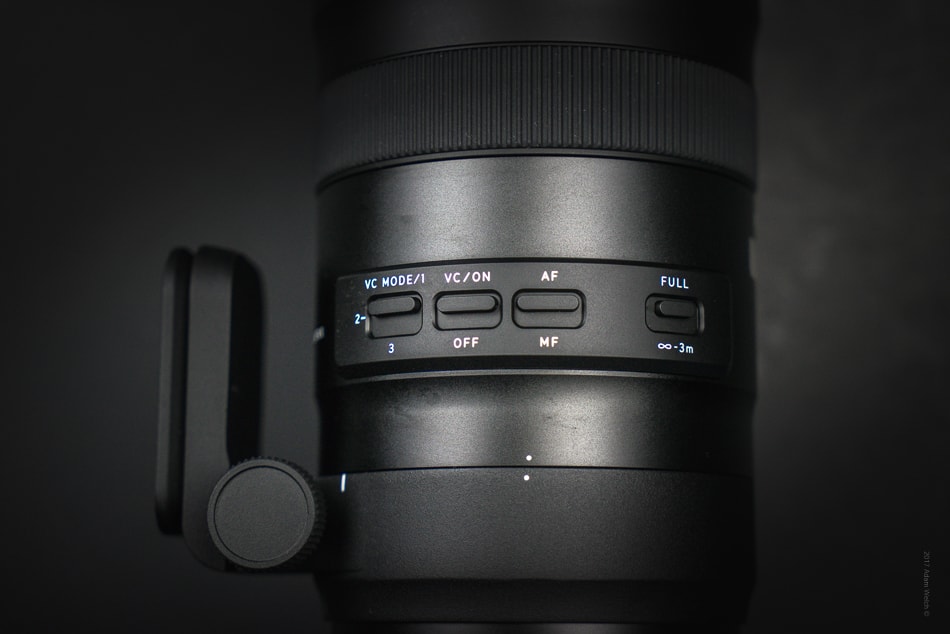 Tamron's image stabilizer or vibration control(VC) is on par with their weather sealing for capturing fast moving and sporadic subjects like Leia here.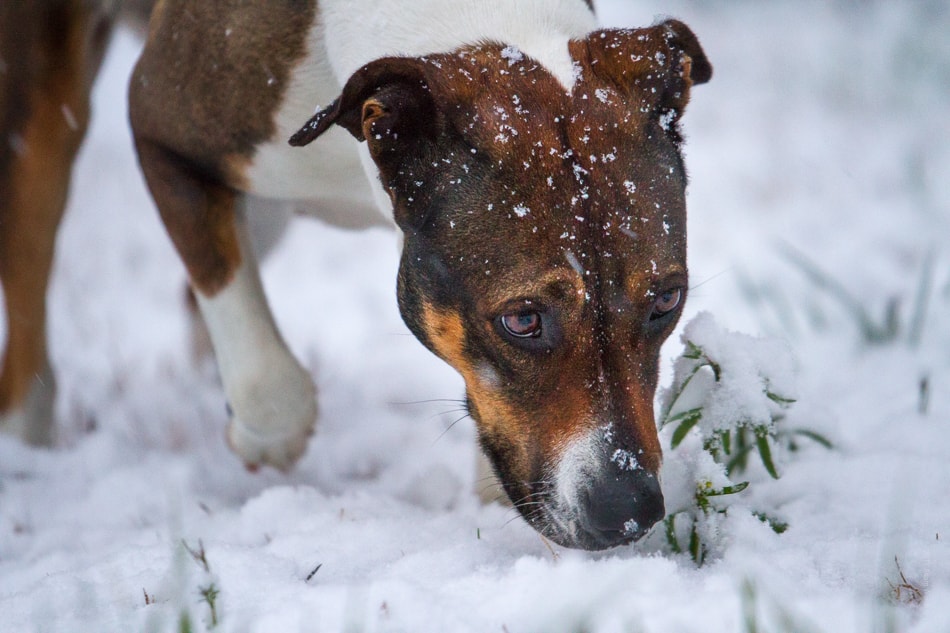 The 70-200mm G2 offers three separate VC modes from which the shooter may select: V1, V2, and V3. The V1 mode is the all-around standard vibration control option. V2 is great for single plain stabilization useful in planning. The V3 mode focuses (pun intended) all the VC reduction towards the finished image and not the live view. Tamron states that the VC provides up to a 5-stop exposure cushion. Here's a real-world hand-held hyphen-laden sample of the V1 vibration control setting. First, handheld at 1/10 second without the V1 stabilizer…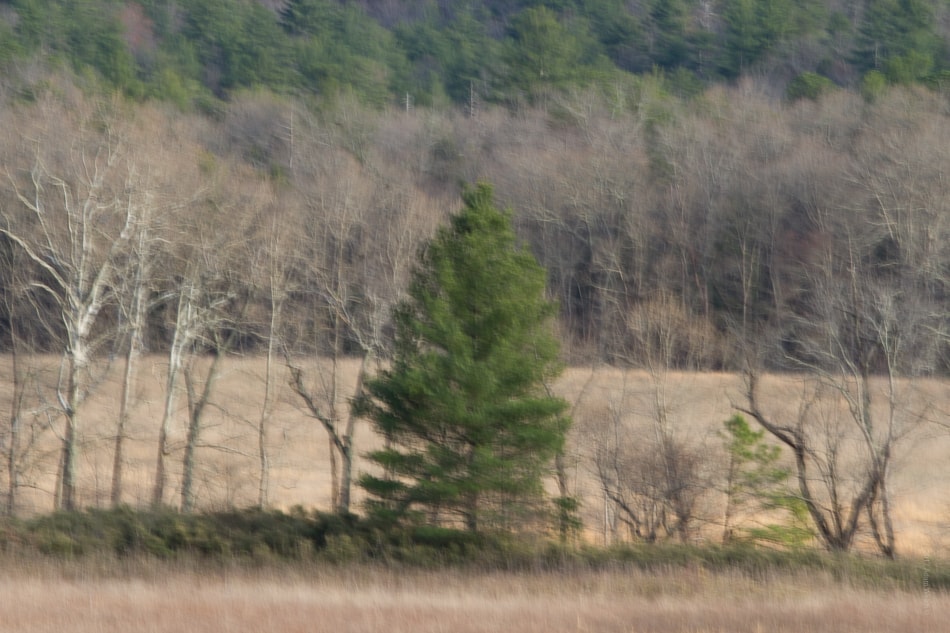 And now at 1/10 seconds with the V1 enabled…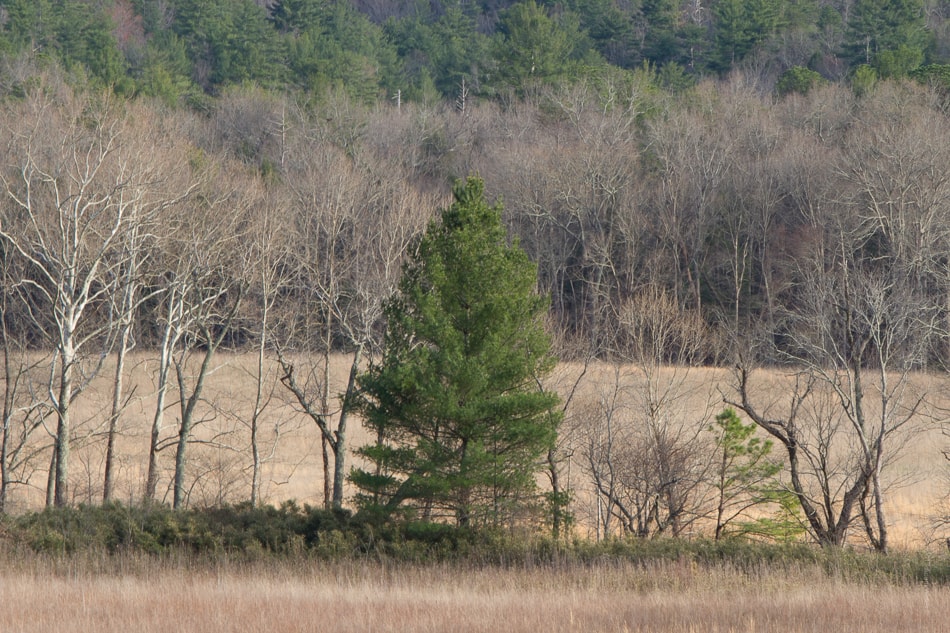 Overtly impressive.
Another nifty tech incorporation is the ability to select the focusing range of the lens. When shooting with high-zoom lenses such as the SP 70-200mm G2, it's helpful to be able to select what objects will be available to focus on based on distance.
If the photographer is shooting in a wide range of scenes, say from 70mm to 200mm… the focus distance switch can be set to full. This means anything and everything can be focused on while in AF mode. However, if the user is shooting from cover or otherwise has objects in the immediate foreground that might interfere with far range focusing, the focus selector switch can be set to "∞-3M" which will ensure that elements within three meters of the lens will not cause problems for the AF system.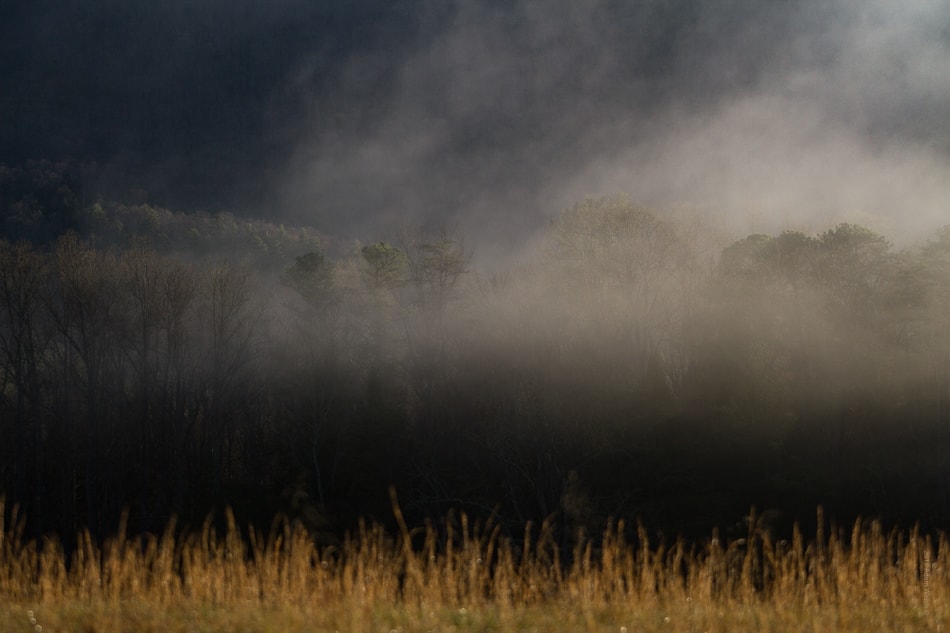 It's a great feature that photographers who shoot at far distances can take advantage of using this lens.
Some Final Thoughts…
The progress of high performing camera lenses is progressing at a welcomingly progressive rate. We now lenses being produced that not only fit themselves into a wide range of categories but also present themselves at price points that the enthusiast photog can afford. Like the majority of Tamron's new rebooted SP line, the Tamron SP 70-200mm f/2.8 Di VC USD G2 has genuinely made an impression.
Considering the obvious operational merits, good sharpness in low light, beefed up weather sealing, stabilization and tankish construction, I have no issue recommending this lens to those searching for a sport and wildlife optic that is capable of so much more.
Now, here are a few more sample images made using the Tamron SP 70-200mm f/2.8 Di VC USD G2…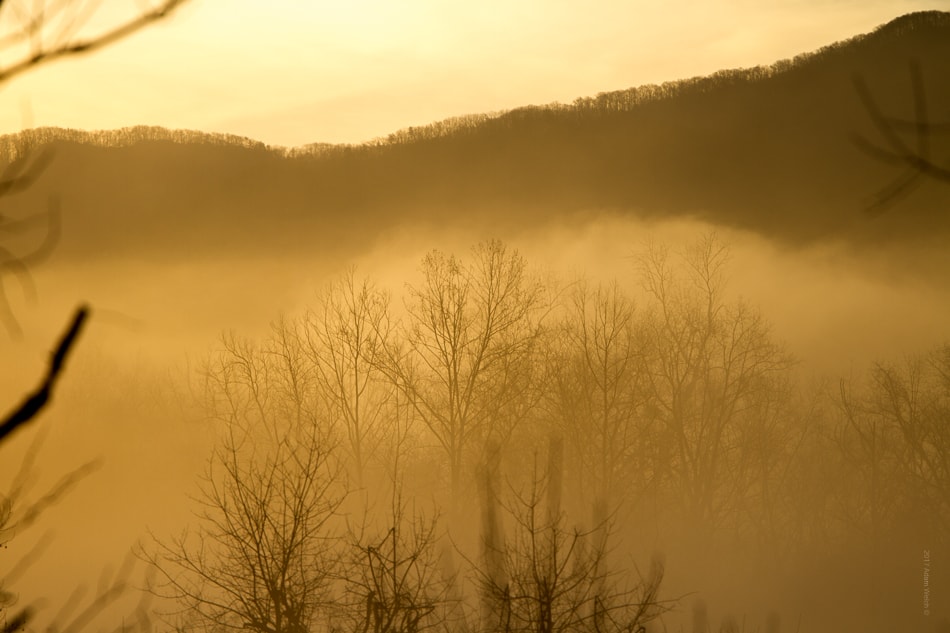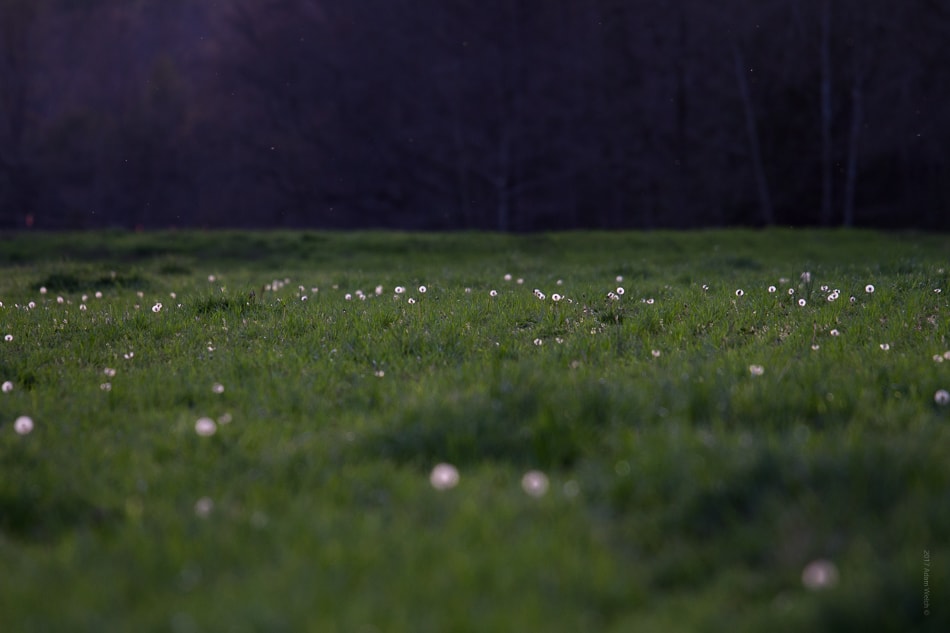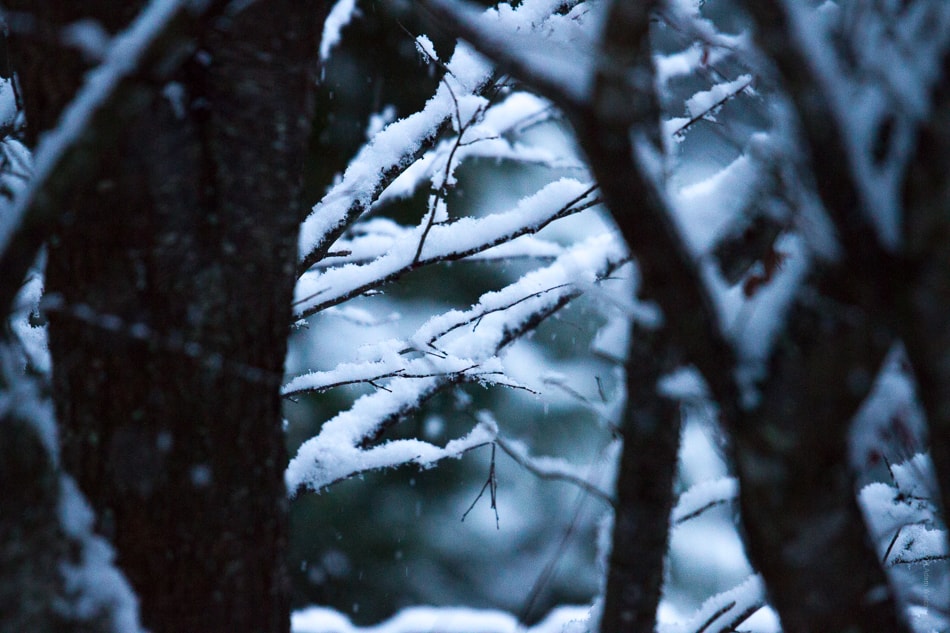 You can find the Tamron SP 70-200mm f/2.8 Di VC USD G2 lens on Amazon as well as via Tamron's website.