In-Depth Review of the Sigma 17-70mm f/2.8-4 DC Macro (OS) HSM
The Sigma 17-70mm f/2.8-4 DC Macro (OS) HSM is a refreshingly unique lens in a market of "walk around" lenses. While some standard zoom lenses (not all) have apparently decided to opt for a 24-70mm focal range, Sigma has decided to dip a toe into the wide-angle end of the focal length pool.
The 17mm allows the shooter to shoot at the fastest aperture available with the lens at f/2.8 and to also capitalize on the lenses wide-angle capabilities at the same time.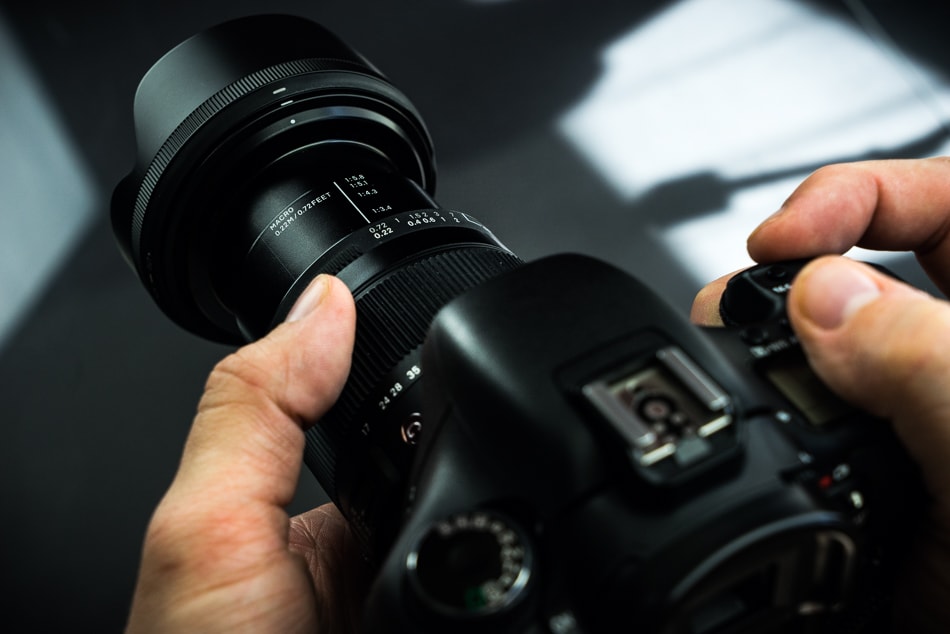 Build Quality
The first thing I noticed about the 17-70mm was just how minimal it seemed to present itself when attached to the front of my camera. It's small, lightweight, and generally well balanced for a lens of this focal length. Coming in at a feathery 16.4 ounces (465g) the 17-70mm truly doesn't feel like there's much weighing you down. The overall build of the Sigma feels solid with all switches being very crisp and well executed. The focusing ring turns quite smoothly as does the zoom ring. I will say that the zoom ring is just right when zooming in but when zooming back out from 70mm it does hint at being slightly over-tight. This is not a problem as I'm sure once the lens sees regular use the zoom ring will be more easily turned.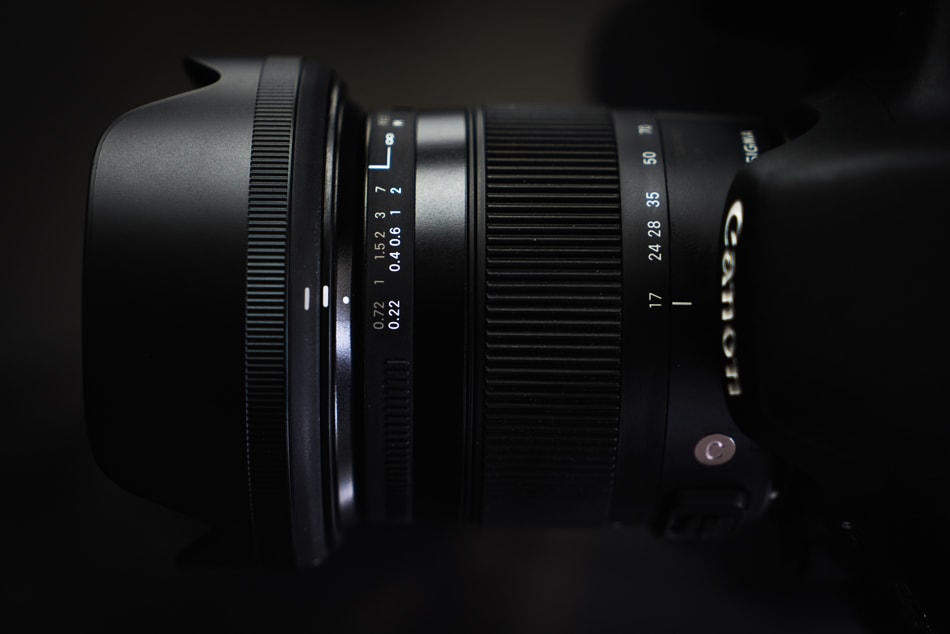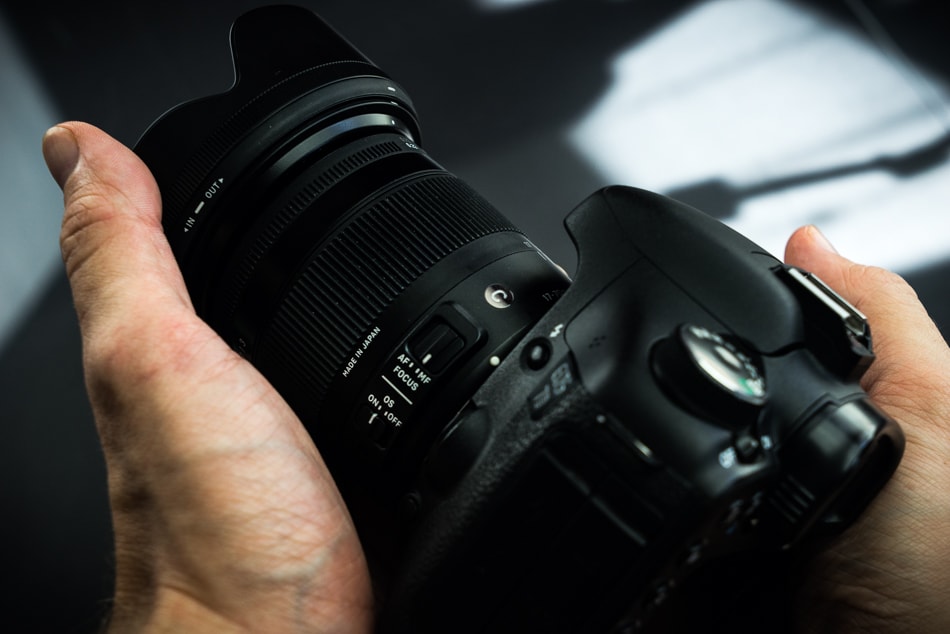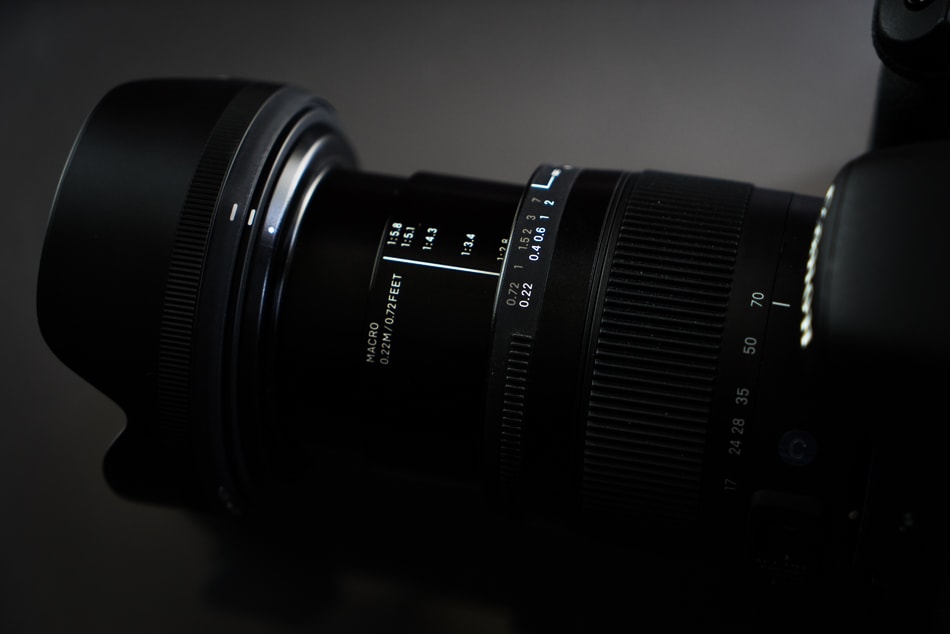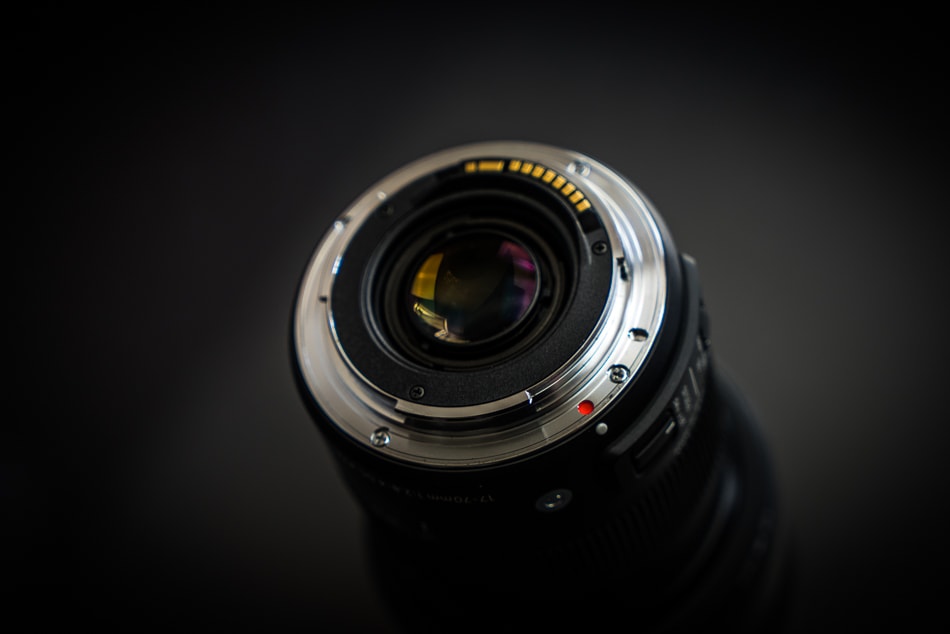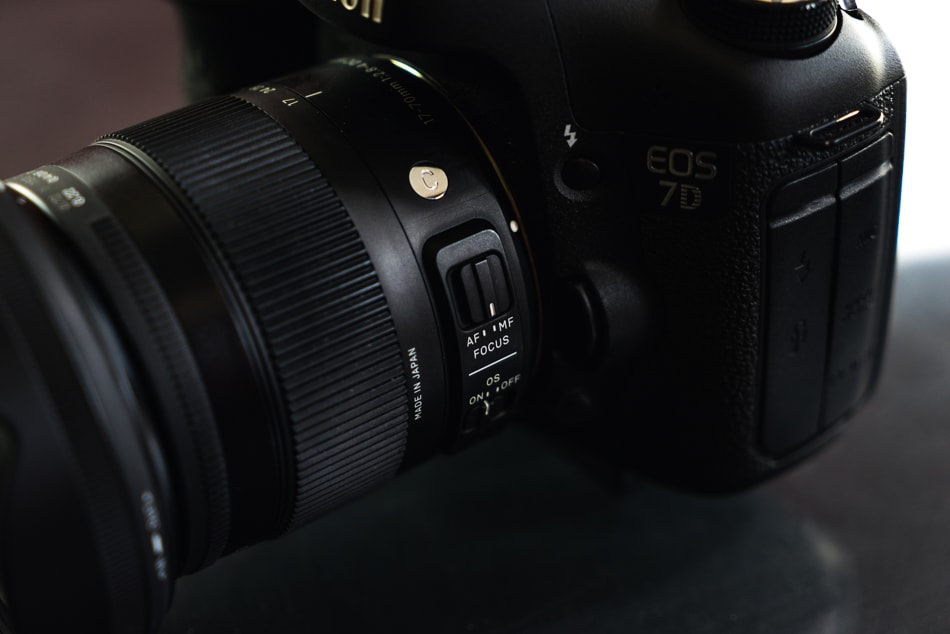 The looks of the lens are on par with what I've come to expect from newer models in Sigma's "Contemporary" line; the aesthetics are very clean and understated while still being a fine lens to behold visually. The markings are well done and easily readable. A flower-style lens hood is also included with the lens and finishes off the entire package with style.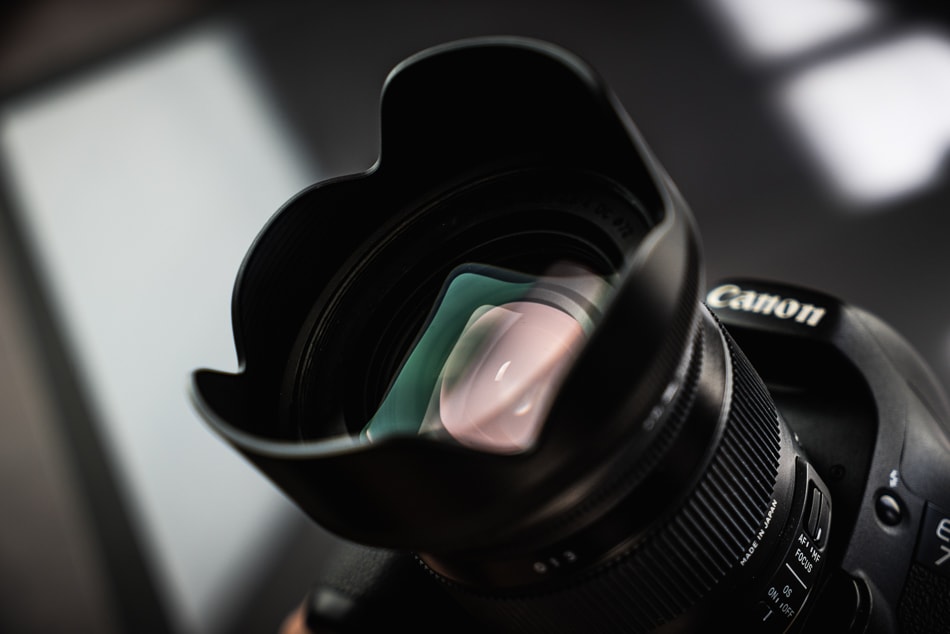 Here's a complete list of specifications from Sigma for your viewing pleasure.
| Information | Values |
| --- | --- |
| Lens Construction | 16 Elements in 14 Groups |
| Angle of View | 79.7° – 22.9° |
| Number of Diaphragm Blades | 7 |
| Minimum Aperture | f/22 |
| Minimum Focus Distance | 0.22m (8.6in) |
| Filter Size | ø72mm |
| Maximum Magnification | 1:2.9 |
| Dimensions (diameter x length) | 79mm x 82mm (3.1in x 3.2in) |
| Weigth | 465g (16.4oz) |
| Mount | Sigma, Canon, Nikon, Sony, Pentax |
Image Quality
The Sigma 17-70mm is not a fixed aperture lens. This means that as the focal length is increased the maximum aperture is reduced. At the widest focal length of 17mm, the maximum aperture is a nice and fast f/2.8. At this maximum aperture the center image sharpness is surprising good. I would nearly call it great, in fact. There is noticeable fall-off of the sharpness at the corners with some purple fringing aberrations but again, nothing that is overly disrupting.The barrel distortion is evident but not unacceptable especially considering this image was shot at the lenses minimum focusing distance of approximately 8.6 inches (22cm). I also noted that on the model I tested the minimum focusing distance was less than the listed measurement.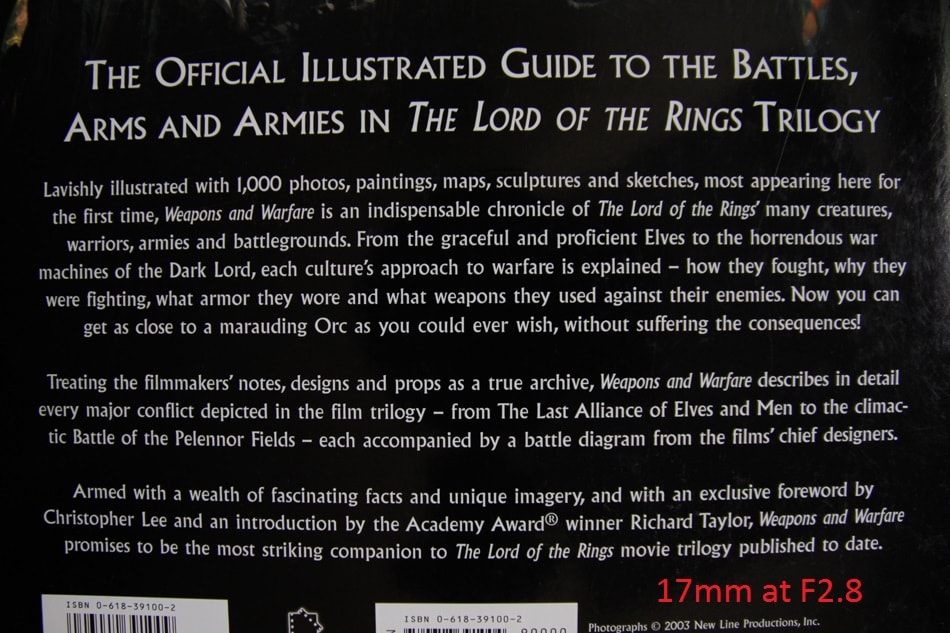 As you zoom in, the maximum aperture of the lens decreases to f/3.2. Overall sharpness is still very good and the distortion decreases dramatically. The corner sharpness improves and so does the appearance of the purple chromatic aberration.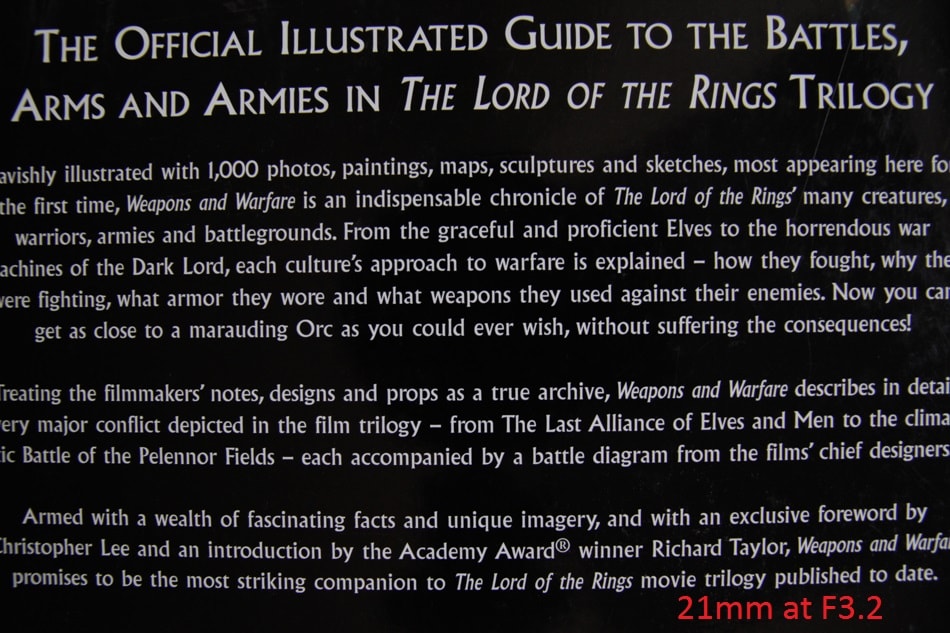 Which brings us to the maximum aperture possible with this lens after zooming in further than approximately 45mm, which is f/4. Sharpness is excellent even at this still relatively workable low-light f/4 aperture. The edge sharpness is even more improved and so is the chromatic aberration.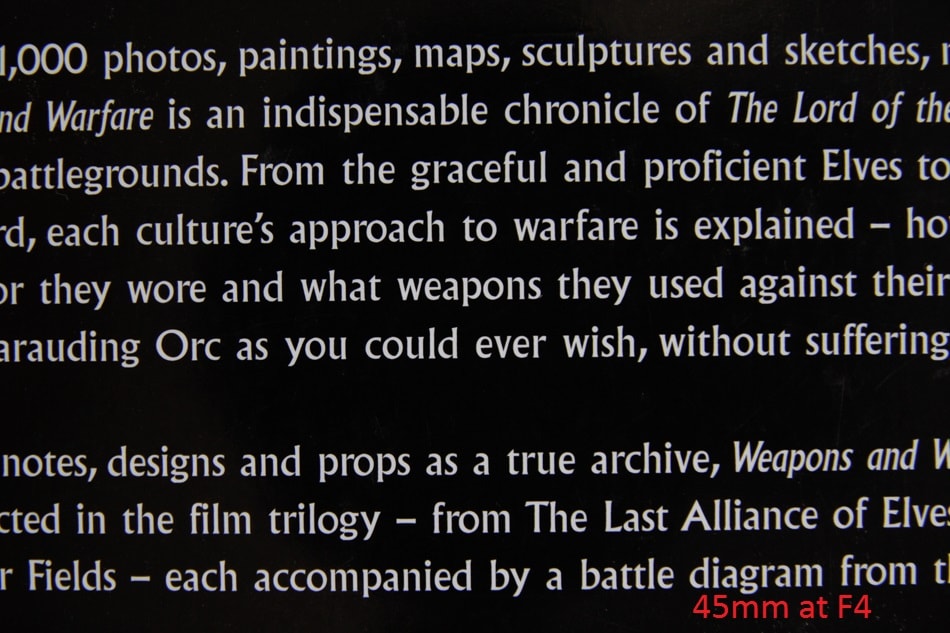 From here, the test images were shot at the maximum focal length of 70mm as the images progress through the aperture range of f/5.6 to the minimum aperture of this lens at f/22.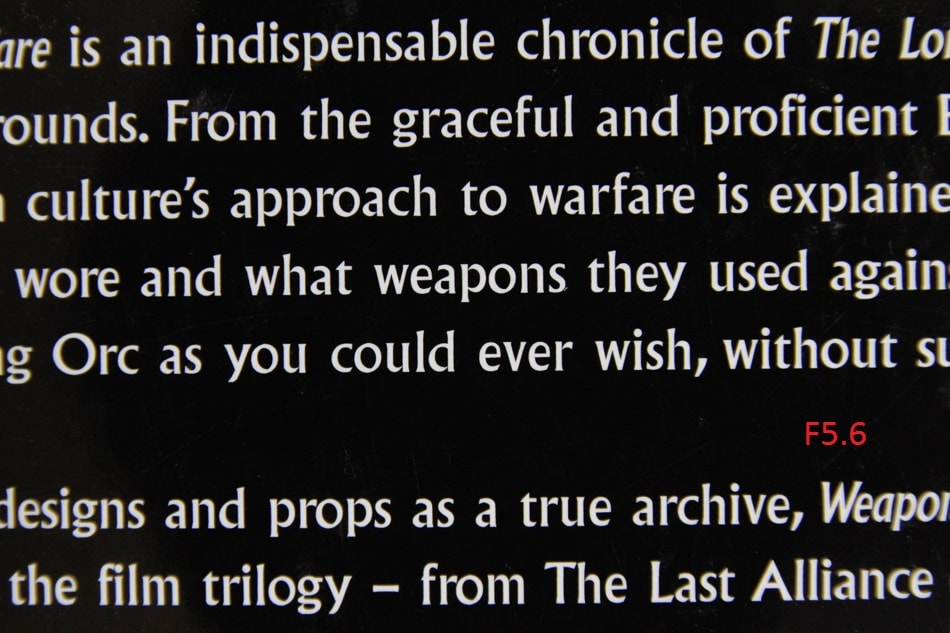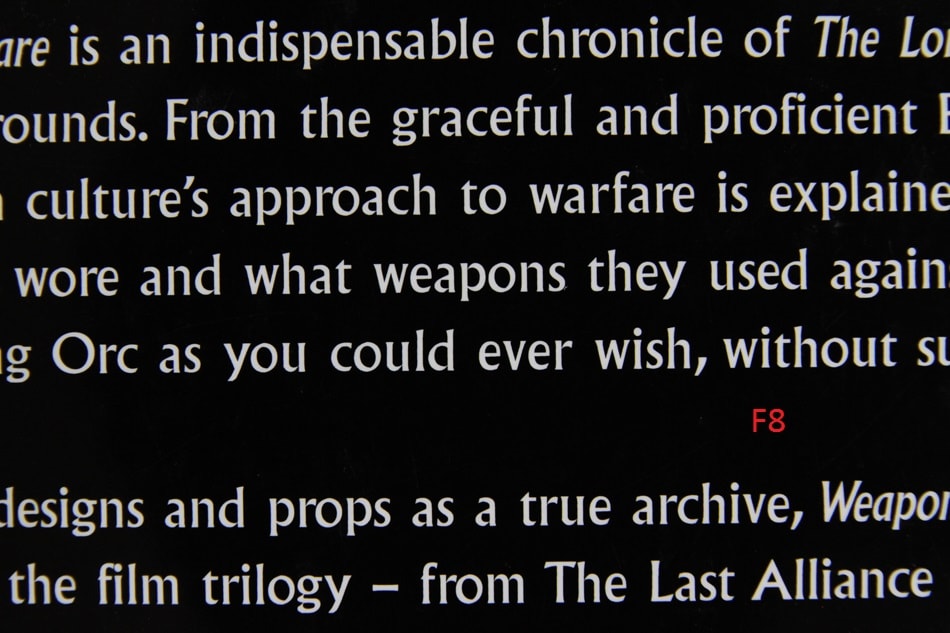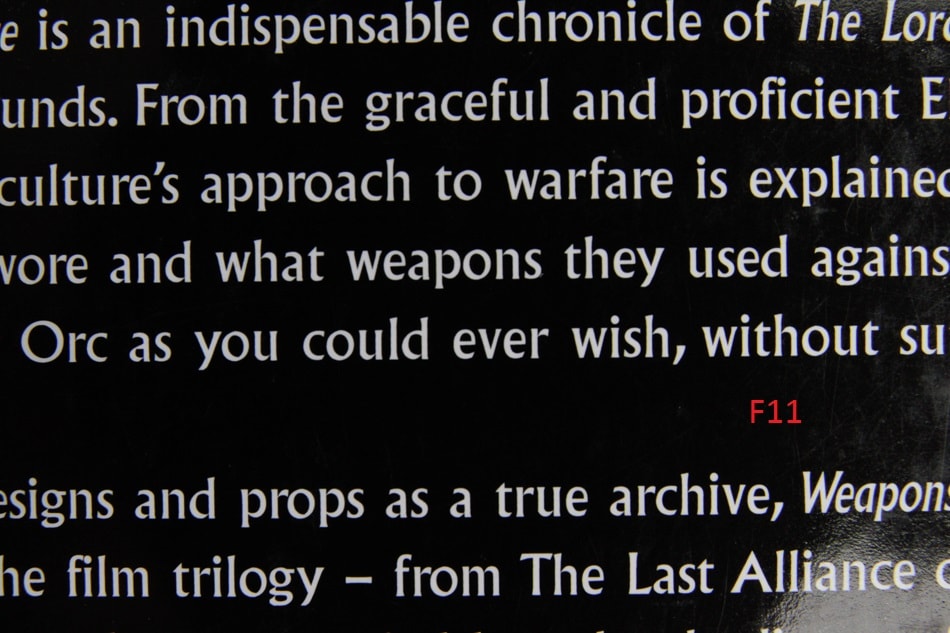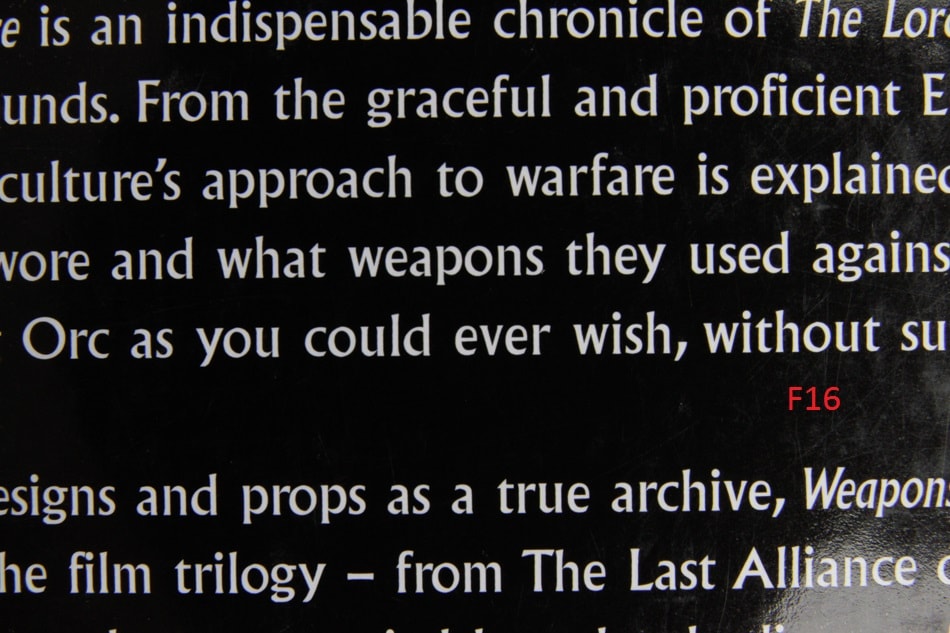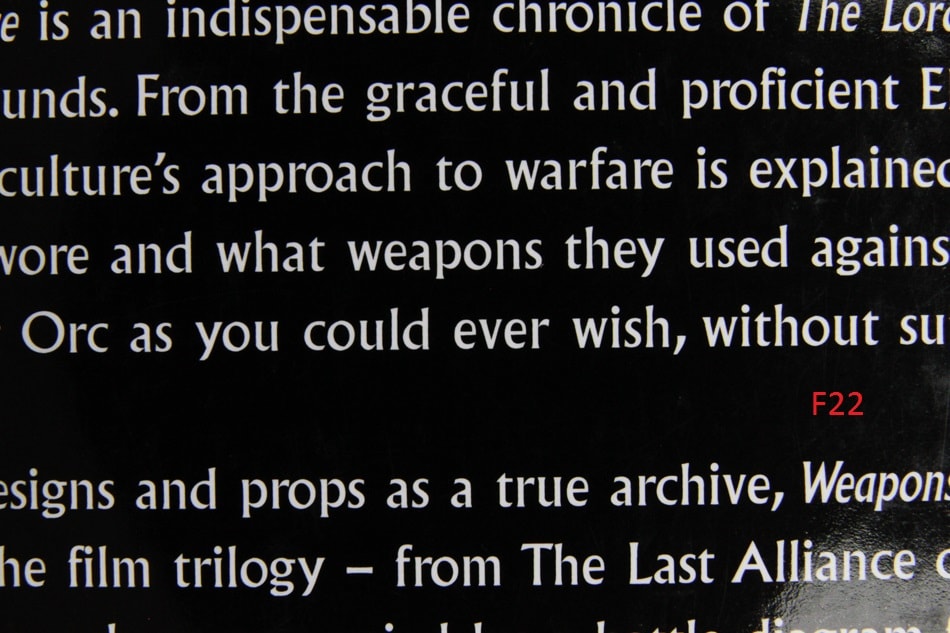 Oddly enough, the corner sharpness seems to degrade slightly at f/5.6 before gradually improving until it reaches it's apparent maximum overall sharpness at f/11. This aperture also shows us the minimum overall chromatic aberrations. In general, the Sigma 17-70mm shows wonderful sharpness from f/2.8 to f/22. Just keep in mind that those faster apertures of f/4 or greater are only possible at shorter focal lengths such as 45mm or less.
Optical Image Stabilization
Whether it's referred to as vibration reduction, vibration control, or shake reduction, the incorporation of some type of optical image stabilizer built into a lens is quickly becoming more of an expectation than a luxury. Sigma uses the designation "OS" (optical stabilizer) for their image stabilization technology. The 17-70mm certainly does not fail to deliver in this area. However, it is of note to Sony and Pentax users that those lenses will not have the OS option built into the lens itself.
Generally, I subscribe to the Reciprocal Rule when it comes to determining the minimum acceptable shutter speed to reduce camera shake when shooting off-hand without a tripod. This rule simply states that your shutter speed should be no longer than "1/focal length" when no camera rest is available. So at 70mm, my shutter should remain open no longer than 1/70 seconds. But with an effective image stabilizer, like the one used in the Sigma, this rule can be stretched quite a bit.
Here we have two images shot at 70mm but at a relatively long shutter speed of 1/10 second. In the first photo, we see the obvious effects of shooting at this shutter speed without the benefits of the optical stabilizer.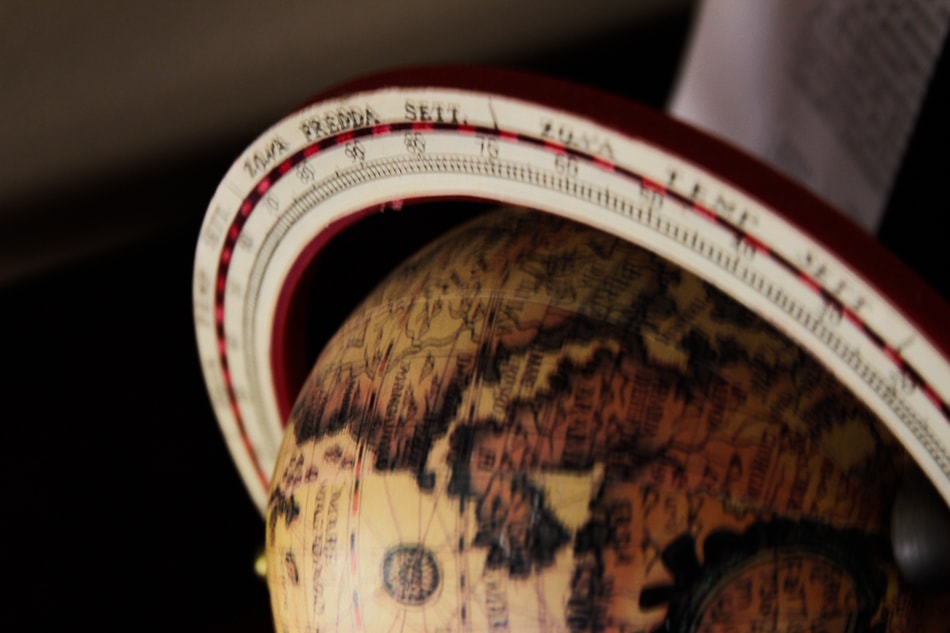 Next, I switch on the OS function of the 17-70mm and the results are readily apparent.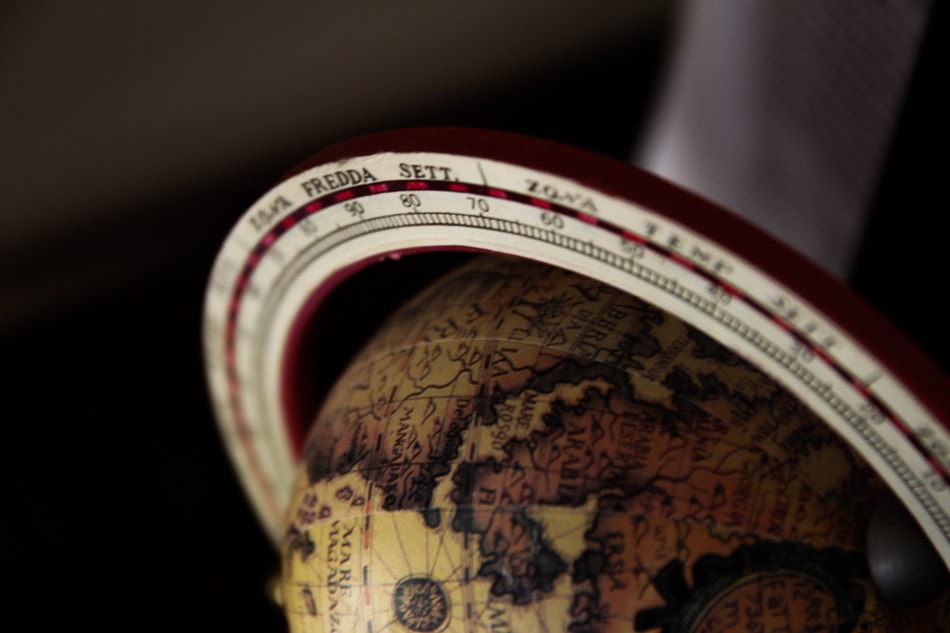 Remember that these two images were shot at the exact same shutter speed. The OS of the Sigma did an amazing job of reducing the camera shake even though I was shooting at a shutter speed much slower than I would have normally dreamed of using without the shake reduction technology.
Final Thoughts
The remarkable thing about many lenses being produced today is that there isn't an enormous gap between both ends of the quality spectrum as there might have been not more than ten years ago. Now, photographers chose lenses based on the little things which come together to fit their needs most fully.
Sigma has got so many things right with the 17-70mm f/2.8-4 while squeezing them all into a very compact, well made, and lightweight lens body. The large focal length range offers ample compositional wiggle room so that the photog can shoot relatively wide-angle photos when space gets tight or they can zoom in to 70mm to bring the subject in just a little closer if need be. Even though the 17-70mm is a variable aperture zoom, the aperture range is still very usable for most situations which are encountered during all manner of shooting whether it be portrait, event, street, or landscapes. The sharpness is very acceptable even wide open at f/2.8 with chromatic aberrations being apparent but easily resolvable in post processing. At the price point of about $499 USD at the time of writing, the value of the Sigma 17-70mm is very appealing for those who need an economical option for a standard zoom lens that is, in fact, anything but standard.
Here are a few real-world images shot using the Sigma 17-70mm f/2.8-4 mounted on the Canon 7D.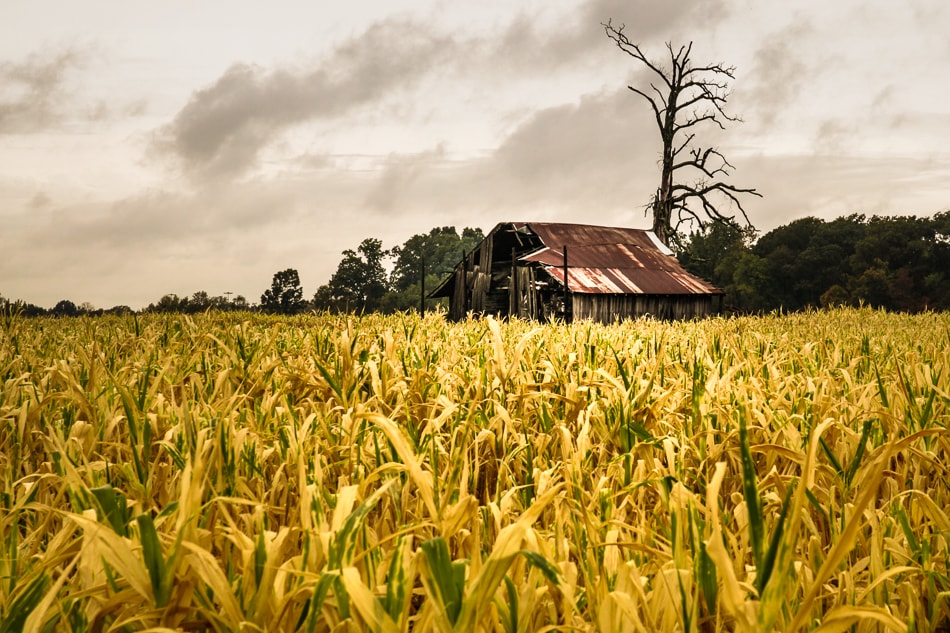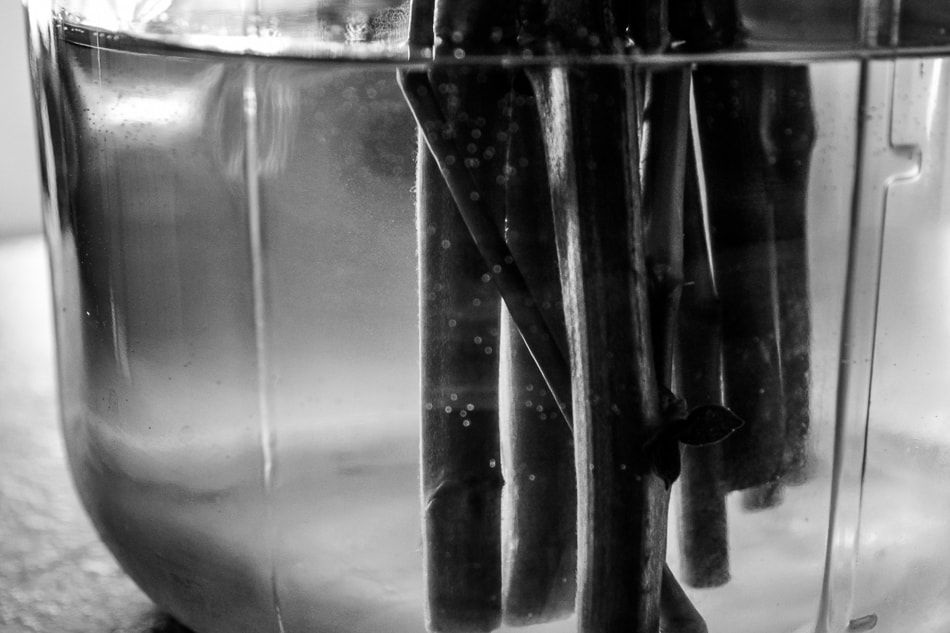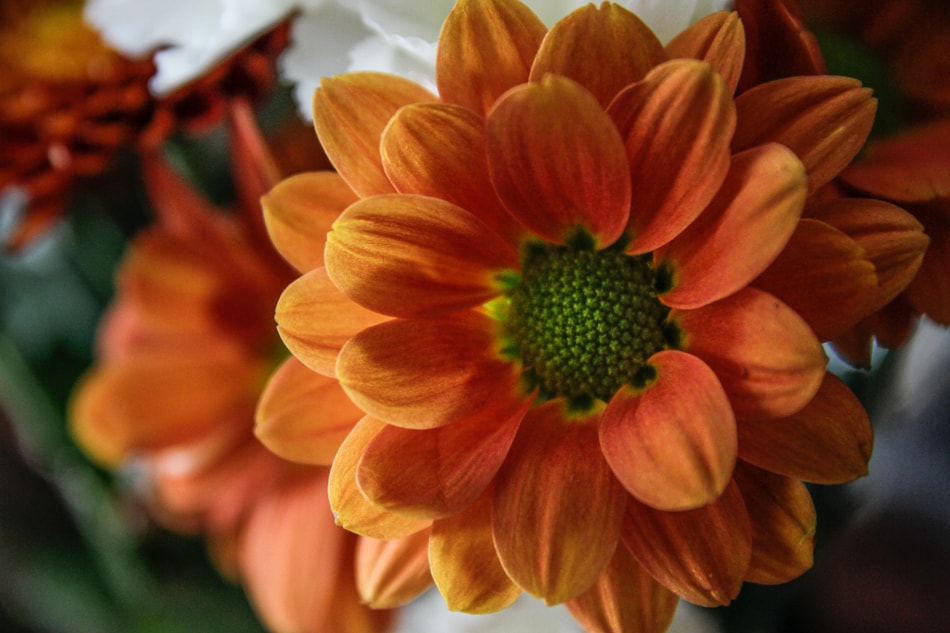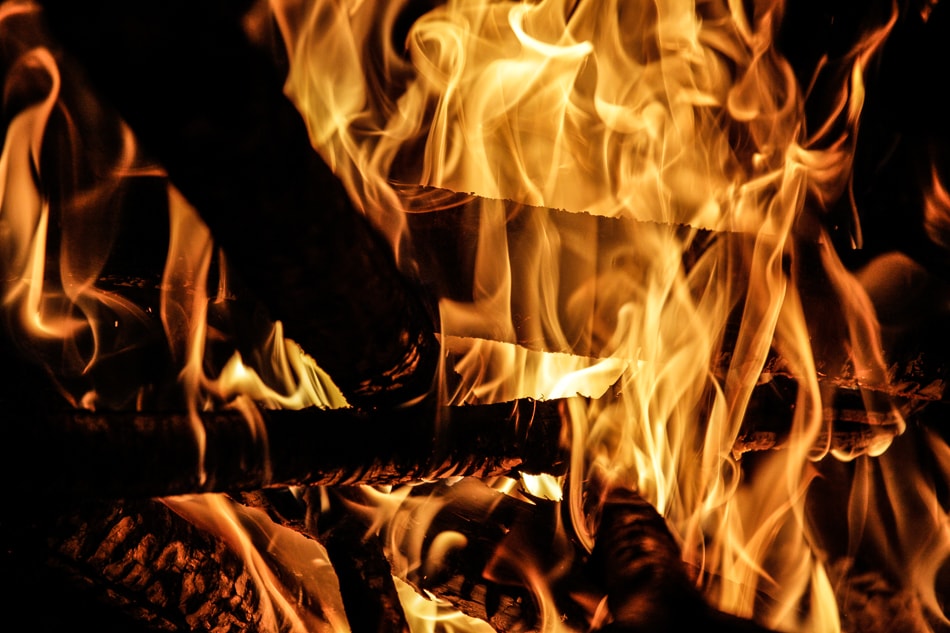 You can find the Sigma 17-70mm f/2.8-4 DC Macro (OS) HSM on Amazon.