The Top 8 Most Photogenic Beaches In The World
The beach is a place for rest, relaxation and rejuvenation. It's where the sand meets the sky; where the birds fly free and the trees sway with the winds. It's also where you'll find some of nature's best kept secrets. With its pristine and crystal clear blue waters, sparkling white sand and breathtaking sunsets, the beach is also a favorite photography subject.
Not all beaches, though, give off the same effect when photographed. There are some that look good in pictures, while there are those that appear plain and simple no matter how many photography tricks you use. Photographers love a subject that can tell it as it is; a subject that tells the truth. So if a beach is truly magnificent, all its majestic glory and splendor will show when it is photographed.
Eight of the Most Photogenic Beaches in the World
A picturesque beach can be a photogenic beach. But photographers actually look for something more when choosing a beach to photograph. There has to be some kind of soothing effect; something that calms the mind; something that's cool to the eyes.
Here are eight of the world's most photogenic beaches. Each one is as picturesque as a beach can be. Each also has a distinct effect on the photographer and his or her viewers. Each one has some sort of a "magical" and unique element that's hard to resist.
1. Anse Source D'Argent, Isle of La Digue, Republic of Seychelles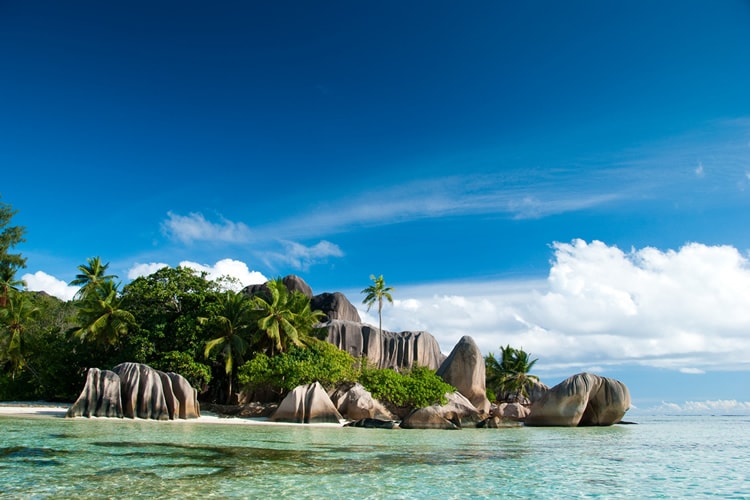 The most photogenic beach in the world is in the island nation of Seychelles, particularly in the island of La Digue. Anse Source D'Argent, which has a total area of 10 km2, is covered with palm trees that are about forty feet long, coves and pink granite boulders that are said to change colors. It's not easy to go to the beach, though, especially since La Digue has no airport. Your journey starts 7 minutes away, at Praslin, where you board a boat. You'll get off at Passe jetty and from there; a variety of public transport is available. You can also choose to bike around the island.
Anse Source D'Argent is like a postcard picture, everything about it is simply breathtaking. It's been called the Garden of Eden and is considered as the world's best beach. It is also the world's most photographed beach and has often been used for advertisements and as background or setting for weddings.
2. Cóte D'Or, Praslin, Republic of Seychelles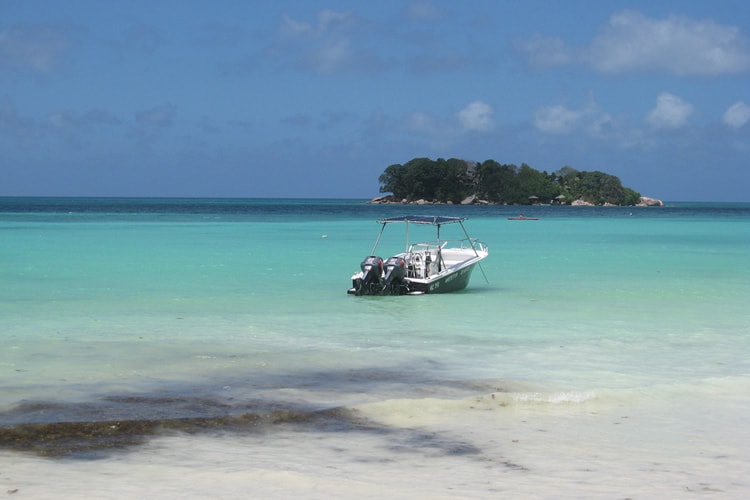 Another picturesque beach in Seychelles, Cóte D'Or, is located in the island of Praslin. This white sand beach is surrounded by turquoise blue calm waters. The beach, which stretches to two miles, is home to some exotic birds and trees. So while there are a lot of hotels and tourist huts in Cóte D'Or, nature is still in full bloom. The crescent-shaped beach is perfect for photographers who love the peace and quiet effect of nature.
Also known as Anne Volbert Beach, Cóte D'Or has a panoramic view of Buccaneer, Chauve and St. Pierre isles. You'll find snorkeling, kayaking, diving and windsurfing enthusiasts enjoying the beach.
3. Pansea Beach, Phuket, Thailand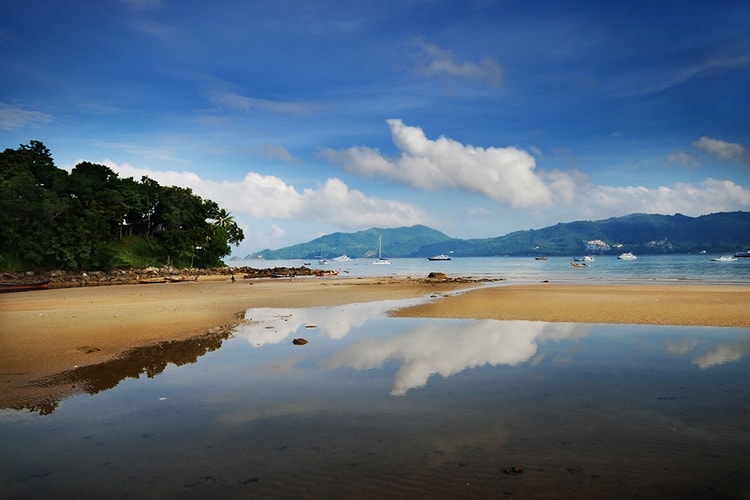 Phuket is one of the places in the world where you'll find the best beaches and resorts. Pansea Beach, which is situated in the west coast of Phuket, is embraced by soft sand and clear beach waters. Although it's a scenic place, it's quite secluded. But you'll find a lot of interesting "life" to photograph at Pansea: the white sand that glistens, the various rock formations and the coral reefs are just some examples. It's a tropical beach paradise, so it paints an idyllic picture on a photographer's camera.
This 250-meter beach attracts a lot of tourists, especially celebrities who want privacy while relaxing.
4. The Baths, Virgin Gorda, British Virgin Islands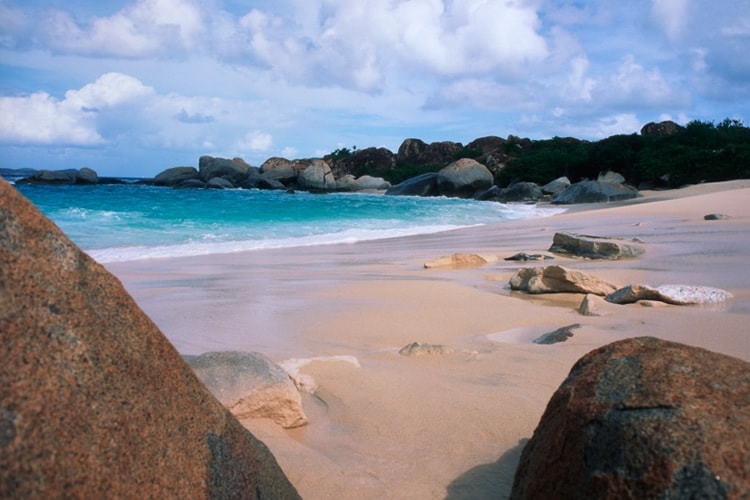 This wouldn't be a legitimate list if The Baths is not in it. The British Virgin Islands' The Baths is a world famous beach. Located in Virgin Gorda, the third largest island in BVI, it has huge granite boulders (about 40 feet long) that frame its white sandy beaches. These boulders form the tidal pools that visitors troop to for a relaxing experience. There are also scenic grottoes, tunnels and hidden caves to explore. All these are open to the sea.
The Baths are said to be of volcanic origins, so they make for a really breathtaking photograph.
5. Cabbage Beach, the Bahamas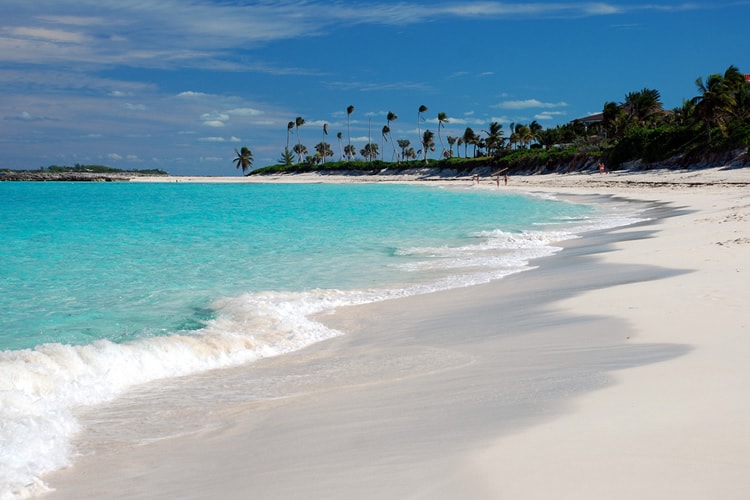 The Bahamas, no matter which beach or resort you are in, is one of the world's most photogenic places. Cabbage Beach is a popular beach in the island that's surrounded by lush tropical trees (coconuts and sea grapes, mostly). The clear blue waters and the cool breeze are totally relaxing.
This 2-mile long beach located on Paradise Island (northern side) has been described by many as "aesthetically" pleasing. Its white powdery sand stretches far and is a favorite for building sandcastles. If you want action, this is the beach to go to in the Bahamas. You'll find a lot of photogenic subjects to photograph in Cabbage Beach.
6. Whitehaven Beach, Central Queensland, Australia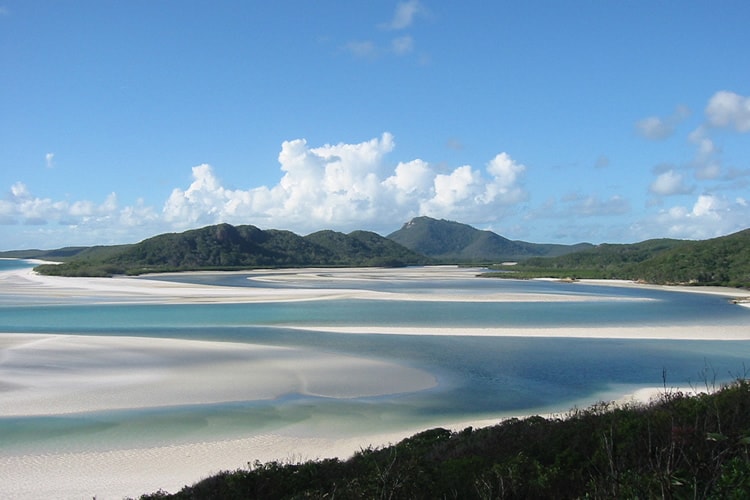 Located on Whitsunday Island, which is situated off Central Queensland, Whitehaven Beach is a sight to behold with its 98% pure silica fine white sand. The incredibly bright and pure sand stretches to 7km. Walking barefoot is a popular practice in Whitehaven because its beautiful sand is soothing and comfortable, not hot.
Whitehaven is perfect for photographers looking for interesting beach subjects because it opens a lot of fascinating ideas. An example is the cove known as Hill Inlet, where beautiful colors are created by the water and sand as the tide shifts.
7. Thulhagiri, Maldives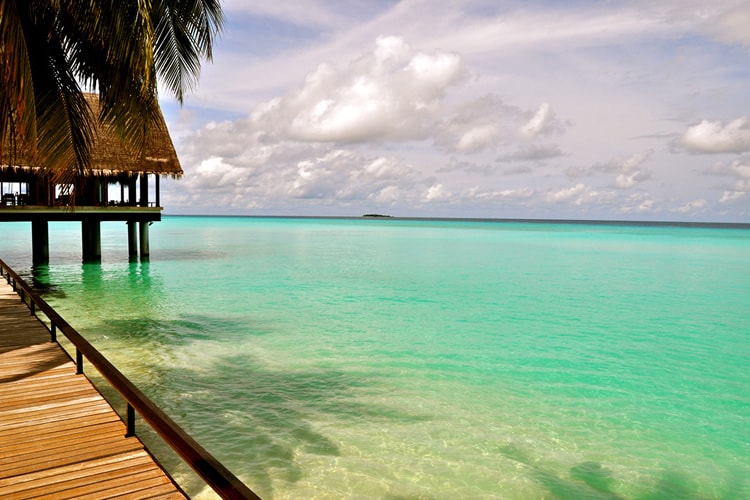 This small island in the Republic of Maldives is a beach with a lot of beautiful coral reefs. Its fine white sand and tall palm trees add life and color to the beach. Thulhagiri is approximately 220 meters in length and is surrounded by a crystal clear blue lagoon. It's the best picture of an unspoiled tropical beauty. You'll even hear birds chirping throughout the day!
8. Waikiki, Hawaii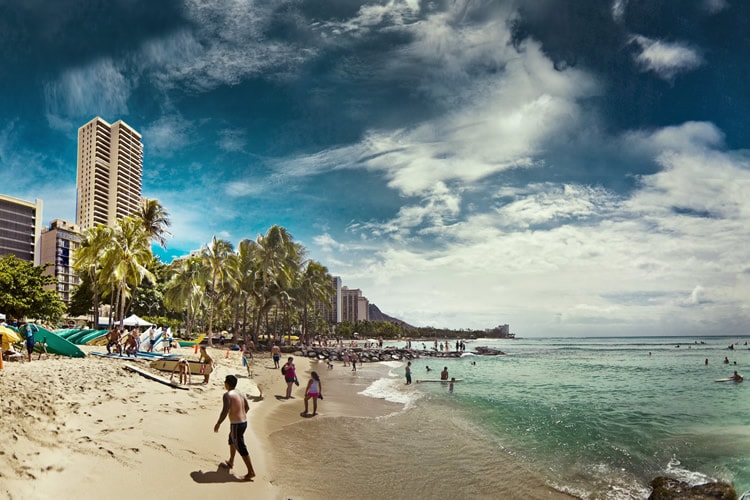 This list wouldn't be complete without a Hawaiian beach and the top choice would be the world famous Waikiki Beach. The phrase "spouting waters" is a fitting description for Oahu's most popular tourist destination. Waikiki's waves are some of the best in the world, that's why surfers frequent the place no matter what season it is. And the water's cool, too! Tourists who keep going back to Waikiki love the fact that the minute they walk out the door of their hotel, their toes are welcomed by soothing sand.
Some photographers may not find Waikiki an ideal photogenic beach because of the crowd, but it's precisely why it is an interesting photography subject. Taking photos of beaches with actual people in it is a good idea. It adds life to the scene. Besides, it will be challenging to capture the beach, the hotels, the people and the skyline in one magnificent shot, don't you think so?
These are just eight of the most fascinating and photogenic beaches the world has to offer. As sure as the sun will rise, there are still many undiscovered ones out there. To find them, you'll have to have an adventurous spirit and an eye for unique natural beauty. Well, you're a photographer; you can't be one if you don't have these traits. Happy beaching and clicking! Enjoy!