The Photography Show UK Roundup 2016
Every year, The Photography Show runs at the N.E.C in Birmingham, UK and is the biggest trade show for photographers in the country.
I went up to the show to catch up on the latest developments in the industry and this article is a roundup of some of the things that caught my eye. The show was particularly impressive this year, so I must extend my apologies to anyone I haven't managed to include.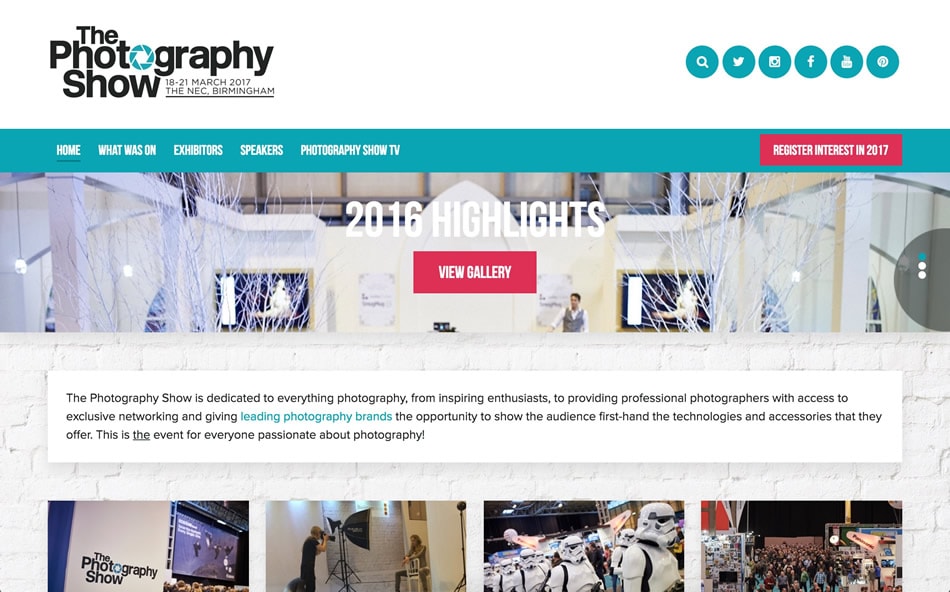 Fuji X-Pro 2
Right by the entrance to the show was the impressive Fuji stand, which I made a beeline for to admire the new X-Pro 2. I was a big fan of the original X-Pro 1, but felt it lacked a few features to allow it to play alongside the big boys from Canon and Nikon.
The X-Pro 2 is a different beast – features have been considerably improved and it's now, in my eyes, a viable alternative to traditional DSLRs. The camera has 24.3mp on an APS-C sensor and an improved sensor and processor means faster autofocus and less shutter lag.
Autofocus now has a choice of 273 selectable focusing points, with 40% of the imaging area covered by high-speed phase-detection sensors. There are lots of other cool features, such as improved film simulation modes, a weatherproof body and a nifty 'joystick' control that allows quick access to a range of controls. This is a much faster camera than its predecessor and it's definitely one I'll be adding to my Christmas list!
Gillis London
New kid on the block, Gillis have just started producing a range of beautiful camera bags. There are a range of designs, made in either vintage leather or a waxed canvas and leather trim. I was attracted to these bags as they're very elegant and beautifully made – these are high quality pieces.
They're also a step away from the standard camera bags that we're used to seeing and, because of the quality and design, allow users to conceal the fact they're carrying an expensive photography kit. Increasingly, I think that camera bags that don't necessarily look like camera bags are becoming more popular!
Currently, I think the range is best suited to mirrorless kits and smaller DSLRs, although you could fit a pro DSLR in some of their bags. I had a long chat with the delightful owner of the company and it's obvious that a lot of care and thought has gone into the design of these bags. I'd happily buy several and expect them to easily last a lifetime!
Elinchrom
Elinchrom continue to impress with their fantastic range of studio lighting. Standouts for me were their new collaboration with Sekonic on the L-478DR-EL light meter and the ELB 400 portable flash system. The L-478DR-EL light meter has been specifically designed to work with all EL-Skyport (radio triggering system) enabled Elinchrom flash units. It offers wireless triggering and full power control, as well as giving highly accurate metering. It's a fantastic idea, which makes using studio and location lighting all the easier.
The ELB 400 portable flash system is an amazingly lightweight battery system (weighing in at 2kg) complete with Quadra heads and a full range of accessories. It's also compatible with all pre-existing Elinchrom accessories.
Offering a power range of 1/1 – 1/32 and a joule rating of 424 Ws/J, this is a professional kit. Extremely fast recycling times and the capability of 350 flashes (at max power) to 6000 flashes (at min power) out of one charged battery allows users to take this kit absolutely anywhere! It also has built in EL-Skyport with 20 frequency channels and 4 groups. You can buy the system with one or two heads and batteries, and there are three variations of Quadra head – Pro, Hi-Sync or Action. This is another system that's definitely on my wish list!
Print Foundry
When it comes to producing wall products, there are a lot of companies on the market. One that stood out at the show as Print Foundry who offer a beautiful handmade range of fine art products.
I particularly liked their HD Acrylic products, made from a 5mm crystal clear Plexiglas. The quality and clarity of the acrylic range is second to none and the images produced are extraordinarily sharp. Both the owner and staff of the company are clearly passionate about their work, and the dedication put into each piece of work is obvious. They ship round the world for very reasonable prices, so well worth checking out as a premium option for your clients.
To Conclude
I hope you've enjoyed this article and are as excited as I am by this small selection of some of the fantastic products that are available on the market!