The Top 7 Website Builders for Discerning Photographers
Appreciation for beauty is inherent to humans. No wonders, photography services have never been out of demand and never shall be; just that with the stratification of niche digital business tools, offering photography services across the web has become convenient like never before.
An online portfolio is infinitely more powerful than your photography studio, and can literally make your service expand manifolds within a very short time. Moreover, with website builders and platforms specifically catering to the expectations of photography experts, the potential of encashing one's expertise behind the lens has become massive.
A contemporary website for a professional photographer is nothing like the conventional portfolio website that hobbyists and local service providers have to live with. Apart from swashbuckling portfolio pages that showcase the best of your clicks, your photography website can act as a dedicated point of sales with advanced functionalities such as high quality image downloads, image protection, client folder sharing and integration with printing labs.
Redefine the way you monetize your photography skills and hit the highway to unmatched success, all courtesy sophisticated photography websites. We give you a head start by pulling together 7 irresistible platforms that you'd want to base your digital studio upon. Also check this post here where this is described in even more detail.
Format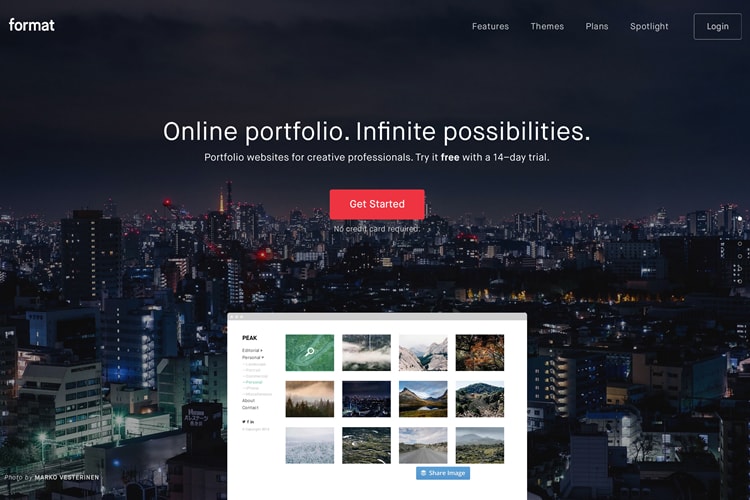 Format is a fully customizable portfolio builder that includes modern features such as custom templates, high-definition, responsive, and retina themes – all you need to create a successful photography portfolio website.
With Format, themes are 100% mobile-ready and the interface is a joy to use so you can create your site in record time and have a completely customized theme without coding. There are various page templates you can use such as, private pages, simple content pages, galleries, resumes, etc… again, every is fully customizable, from your logo down to the footer.
Format also has an intuitive, powerful and great looking blogging interface. You can now share your work and your words, all in one place without having to resort to an external or 3rd party blogging system.
SquareSpace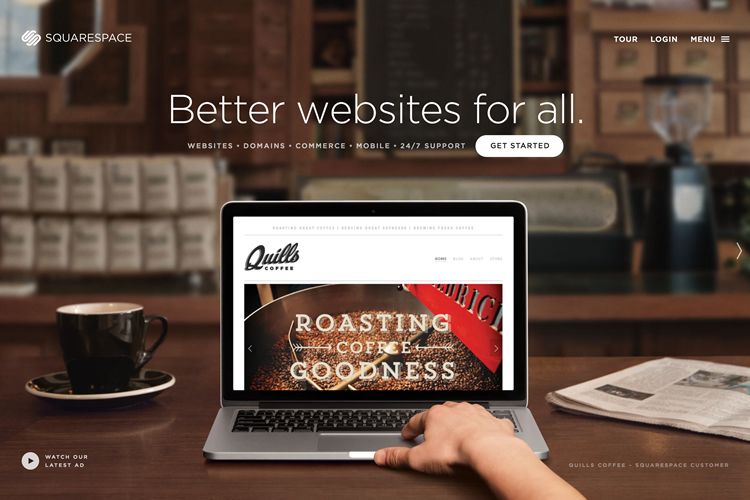 SquareSpace is a well renowned name in the website building platform market, and you hardly need more than a glance over the list of the features it offers to appreciate that.
Photographers in particular have to gain a lot from this platform, particularly because it encapsulates all those amazing features that can make a photography website successful. The most professional designers have created the free-to-use templates that are spread over multiple categories, making it easier to SquareSpace users to get started.
Switching templates mid-way is possible, as is the customization of content layout; so, you have the complete freedom of tailoring your website to exactly what you want it to look like. In particular, SquareSpace has a lot to impress photographers; for instance:
Drag and drop of images from your desktop to the browser window.
Responsive image uploading for seamless and uniform viewing of digital content across screen sizes.
Integrated image editor with effects such as brightness, rotation, resizing and cropping.
Image SEO is an integral aspect of website proportion for local photography services, and SquareSpace pays ample heed to the same. With full control over image naming and importing of meta data information of or images, you can speed track your image SEO. Full browser size imagery makes for added impact on the viewers, and SquareSpace uses Lightbox presentation, which you can enable with a single click. With dozens of variations in presentation, you can literally add galleries everywhere on your website without making it a monotonous affair for visitors.
Also, there are some superb social media connection, blogging and layout control features that help you explore the complete spectrum of possibilities with your website. Then, the eCommerce capabilities of the platform add the killer punch to the package, including flexible product variant creations, payment gateway integration, and post-sale marketing features.
ZenFolio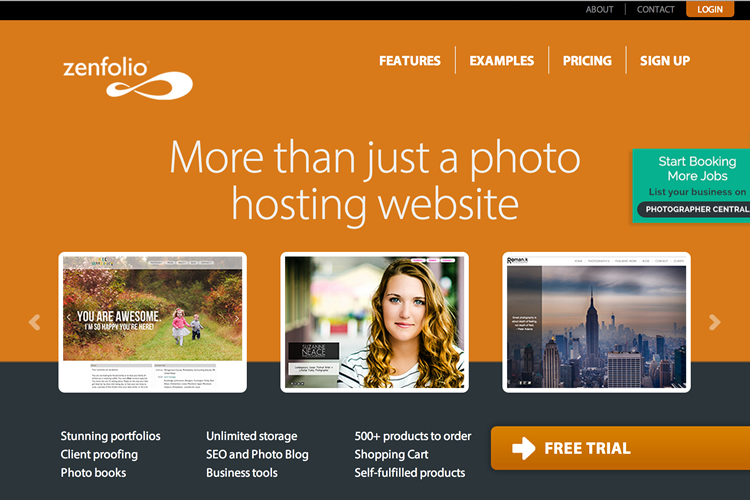 If there's one thing that puts photography websites apart from each other, it's the beauty of the galleries, and ZenFolio pays ample heed to ensuring that you get the advantage you deserve.
With automatic adjustments to fit the images to browser screen size, amazing auto-dim effects that make browsing through the collections a pleasure, and image optimized for presentation, ZenFolio gives you a head start over several of your competitors.
Fast and responsive pages add additional aplomb to the website. Unlimited storage is a boon for all you who're used to working with massive cameras that create bulky files. Also, the video presentation features of ZenFolio will motivate you to upload all those abstract videos you'd have sot with your favorite camera. Image security is never a problem with ZenFolio, as your files are stored in geo distributed data centers with state of the art security measures.
Watermarking and image protection are among the other specialized features that make ZenFolio the preferred website building platform for photographers. Selling your image collections is a breezy affair with ZenFolio, as it comes with integrated payment processing, top notch photo book tools, unlimited price variants, easy product package creation, effortless order management and support for multiple currencies.
Photoshelter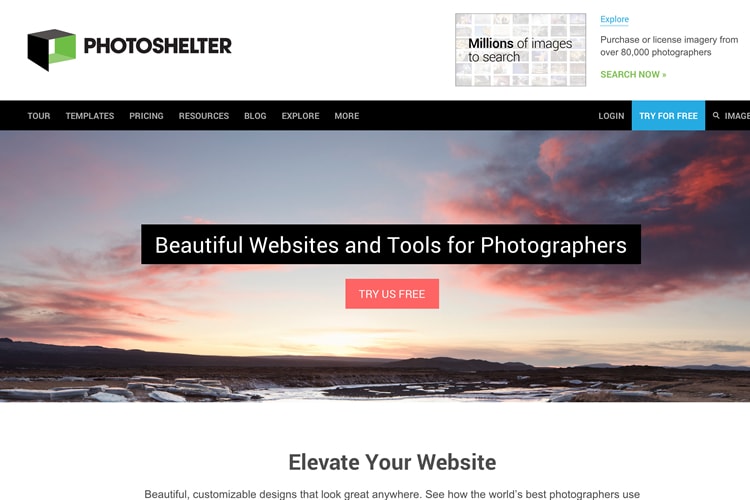 It hardly gets any better than this; with more than 100 practically useful features packed into one swanky platform for website building, PhotoShelter is everything that a photographer can ask for, and more.
Right from coming up with a website that showcases design brilliance to effortlessly managing multiple clients using the selling capabilities of the platform, everything you wish to do with your photography website is amazingly simple and effective with PhotoShelter. There's a world of flexibility when it comes to designing your website, as you have some terrific templates that you can use to base your website's design on. Then, real time editing helps you fine tune the look to what you want. With photo walls, slideshows, individual image displays and other content showcasing tools, PhotoShelter allows you to use your website to present superb content in a superb way, thus enhancing the impact. You can also use your own color and font options to personalize the website.
Most image file formats are supported, and you can enjoy cloud storage that facilitates anytime and anywhere access. Moreover, you have a simple desktop file uploader, web browser upload and easy inter-gallery movements to help you populate and organize the photography store quickly. However, what sets PhotoShelter apart from anything else is the selling prowess that it blesses you with.
With a dedicated shopping cart that's suited for selling digital photographs, integrated payment processing, flexible pricing mechanisms and advanced management of attributes such as rights management and royalty definition for images – all are amazing and powerful features to have with your photography website. What's more, you can even create discount codes and manage marketing campaigns that help you expand your business.
Also, PhotoShelter integrates SEO and analytics features such as image level sitemaps, image tags and integrated Google Analytics.
Wix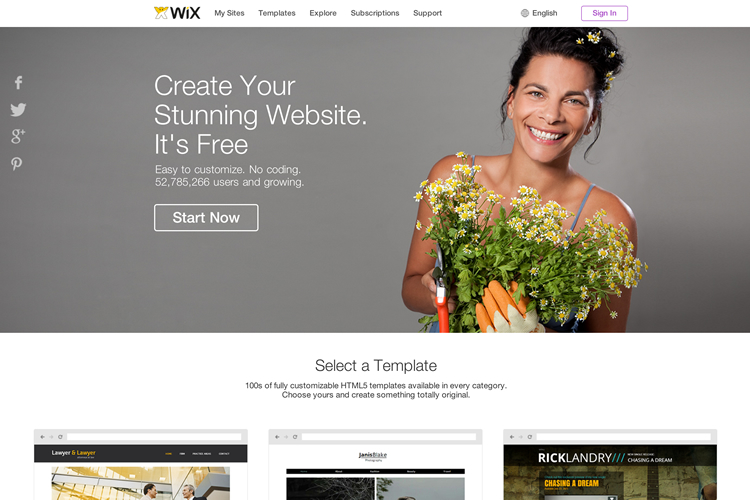 It's hard to keep Wix out of the contention when compiling a list of the best website builders even for niche categories. With its awe inspiring templates that can win hearts in a moment, preset palettes and color schemes, and free resources such as images and fonts, Wix is a dream come true for all those who're venturing into the realms of website creation for the first time.
There's no dearth of differentiating features with Wix; for instance, you get access to thousands of free images spread across multiple categories, so that you can create a visually appealing website, stunning photo galleries with superb transitions and skins, facility to add YouTube and Vimeo videos that can create long lasting impressions on the viewers, and others. Transforming your hobby into a fully fledged business is possible with Wix, courtesy its advanced selling features.
With integrated payment processing, detailed product configuration options, marketing tools such as coupons, and the availability of a mobile accessible website, Wix surfaces a top pick for all those who wish to sell their image collections. Wix lays added emphasis on ensuring that you do not commit your time to website administration and development, and can focus on clicking memorable photographs with your camera.
In this direction, Wix facilitates the most reliable customer support system that you can fall back upon anytime, with a massive repository of guidance, tutorials, walkthroughs and 24×7 functional support center.
Video Tutorial – How to step-by-step build your free website on WIX:
Pixpa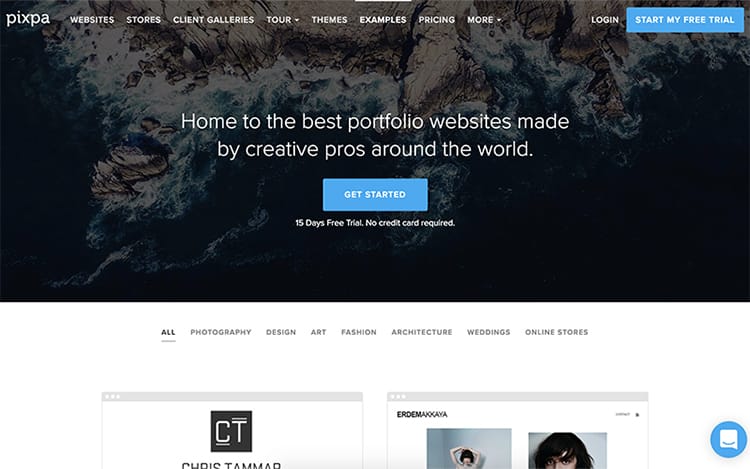 Pixpa is not just a website builder, it aims to be a complete suite of tools for the modern creative. It allows you to create your online portfolio website with integrated e-commerce, client proofing and blogging tools. And best of all, no coding needed with their easy-to-use drag & drop website builder.
With Pixpa, you website will be user friendly, mobile-ready, and have all the features and tools you need to grow your creative business. You can even proof, sell and share your images with your clients easily.
It may very well be one of the most complete website building platforms out there – and their pricing structure is well-defined. In other words, you get a stunning portfolio site without breaking the bank. If you're a photographer looking for a rather easy website builder that has all the bells & whistles you could need, check out Pixpa.
Virb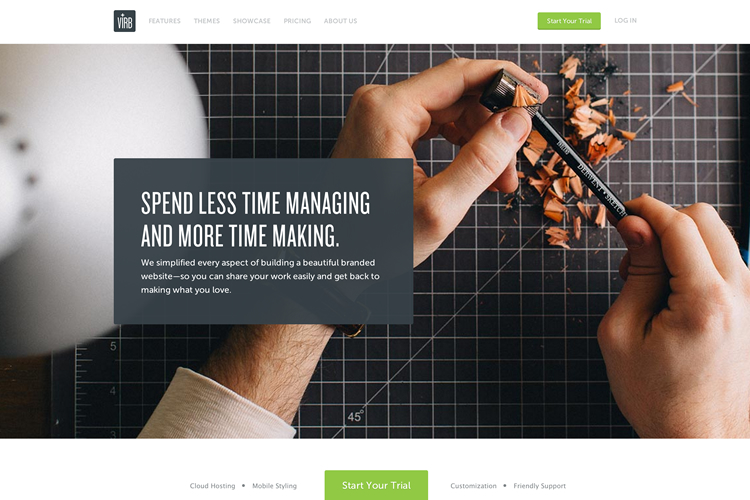 Working with Virb is bound to be a pleasure for first time experimenters, as it offers unlimited storage and custom domain addition, so that you can create your photography website without feeling held back at any instant.
The collection of themes put together by Virb is enough to blow you over, and the fact that you can then customize the same to support your style and niche is just the added seasoning. Virb offers you a preset Gallery page with everything that you can hope for in terms of presenting your best photographs in the most alluring styled.
Among the other preset pages are Menu, index, store, about and listing. Creating and managing multiple galleries, customizing the look and feel of the web pages, storing filed and establishing connection with DropBox – everything is the matter of a few clicks, courtesy the intuitive interface that Virb offers you. If you're already prominent on Instagram, Vimeo, Flickr or Dribbble, you'd love the fact that Virb offers easy integration with all these platforms, thus helping you populate your new website with content in a jiffy. Integration extends to other important platform such as Tumblr for blogging, Twitter and FaceBook for the social media leverage, Bandcamp and SoundCloud for audio, and Etsy and Big Cartel for e-stores.
Conclusion
I hope you enjoyed this post. Please discuss this via Twitter or Facebook and let us know which platform you use for your portfolio site; whether it was included in this post or not, we'd love to hear about your experience building your portfolio site!