10 Great Websites & Blogs for Landscape Photogs
Landscapes are a favorite subject of many photographers, professionals and hobbyists alike. Whether you are an experienced pro or a beginner looking to learn more, following the right website and blogs can be extremely helpful to your own growth, and if you love landscapes it can be very enjoyable as well.
In this article we'll highlight 10 websites and blogs that are great resources for anyone who photographs landscapes. These sites will provide you with inspiration, education, tips, resources, and more. You probably already know about some of them while others are not as well known, yet still very helpful.
The Luminous Landscape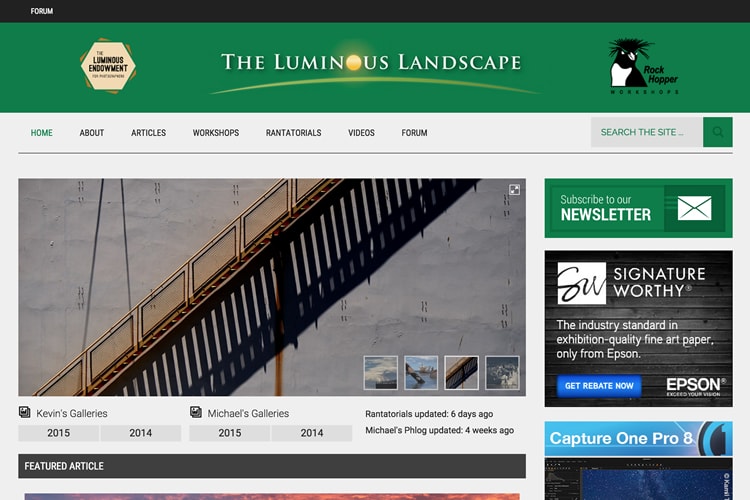 For almost 15 years The Luminous Landscape has been a go-to resource for landscape photographers. At the site you'll find articles, inspiration, and an active forum where you can get answers to your questions, help others, or just connect with other landscape photographers.
Visit The Luminous Landscape.
Outdoor Photographer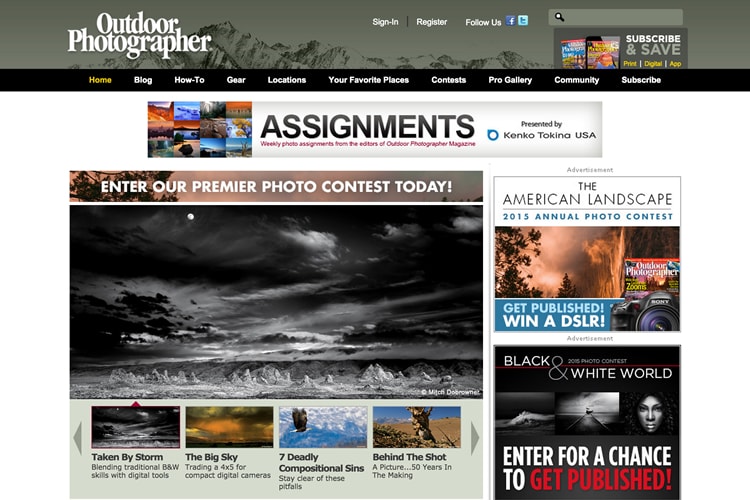 Outdoor Photographer is a magazine for landscape and nature photographers, and their website is an excellent resource as well. You can find articles, info on gear, discussions of locations, an active blog, and community features as well. You can enter photo contests, submit your favorite places, and more.
Visit Outdoor Photographer.
Loaded Landscapes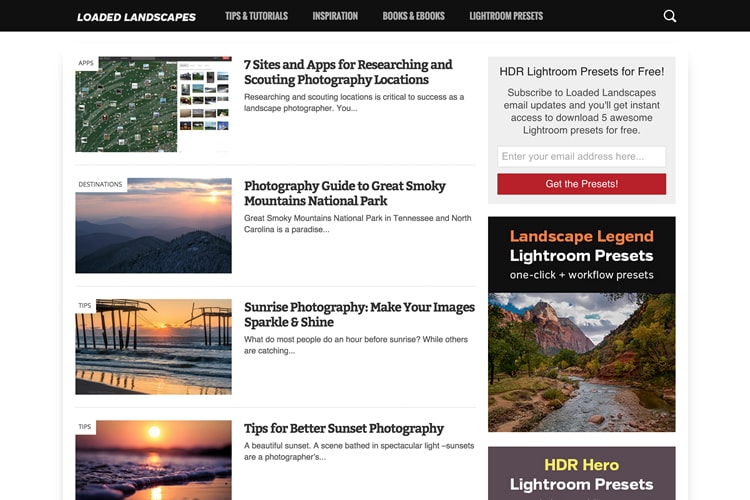 Loaded Landscapes is a blog that covers topics related to landscape and nature photography. You'll find articles, tutorials, inspiration, gear recommendations, and more. Topics covered include post processing as well as photo techniques and detailed location reviews and guides.
Visit Loaded Landscapes.
Photo Naturalist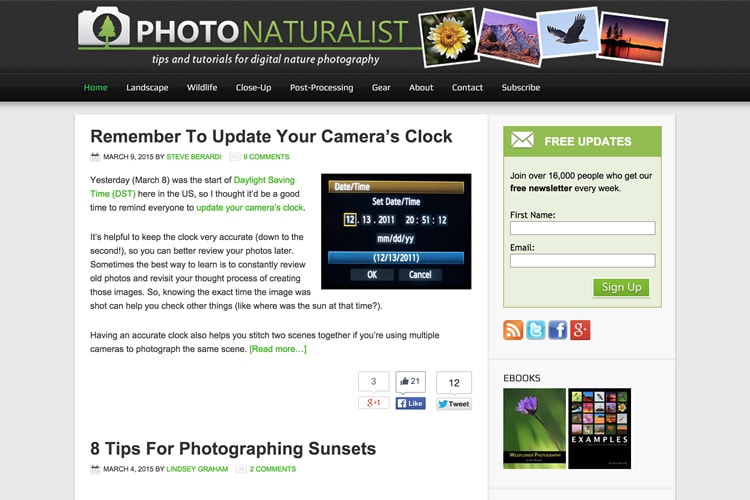 Photo Naturalist is a blog covering landscape, nature, and wildlife photography. Only a few new posts are published each month, but the archives are packed with helpful articles and tutorials on a wide variety of topics relevant to landscape and wildlife photography.
Visit Photo Naturalist.
Outdoor Photo Academy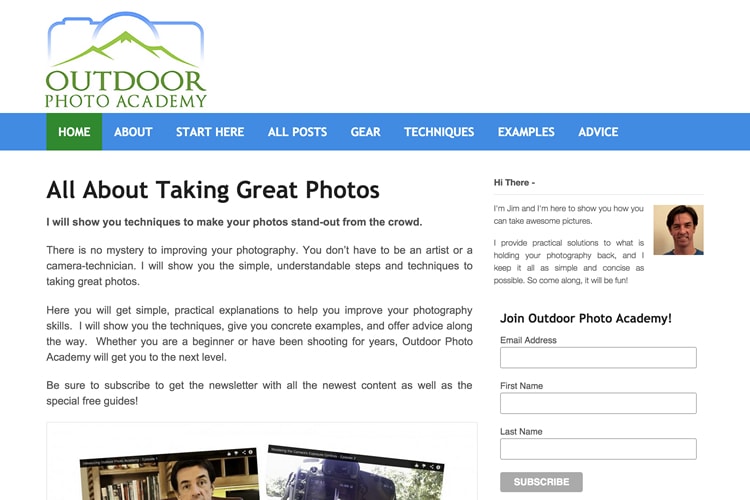 Outdoor Photo Academy is a blog by Jim Hamel that includes articles and some video tutorials and training. You'll find information on gear, photo techniques, as well as post processing.
Visit Outdoor Photo Academy.
Visual Wilderness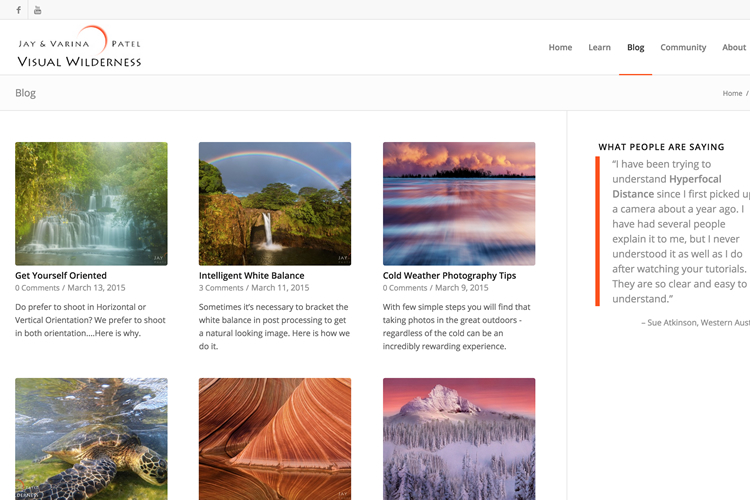 Visual Wilderness includes a blog as well as several different courses from Jay and Varina Patel that will teach you various aspects of photography. The Ultimate Landscape Photography Course (currently priced at $197) is a great option for anyone looking to learn more.
Visit Visual Wilderness.
NatureScapes.net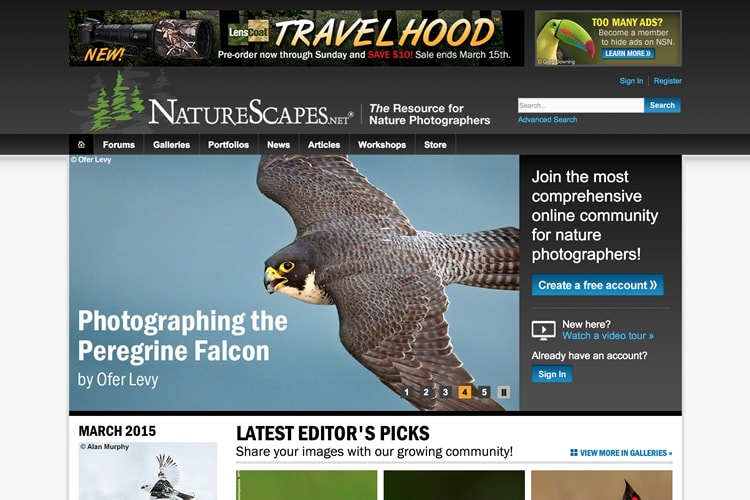 NatureScapes.net publishes articles on wildlife and landscape photography. The site also includes galleries that you can submit your own photos to, forums, workshops, a store, and more. NatureScapes.net is more focused on wildlife photography than the other sites mentioned in this list, but there is also plenty of content specifically on landscapes.
Visit NatureScapes.net.
Nature Photography Simplified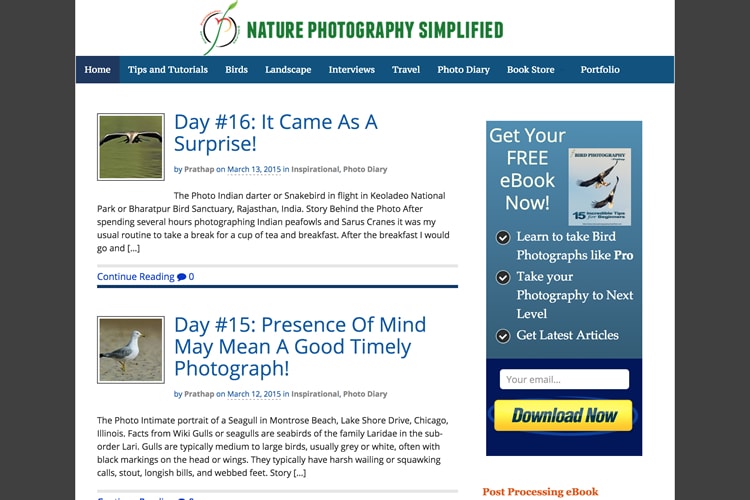 Nature Photography Simplified is a blog that covers landscape and wildlife photography. The blog is quite active with new posts being published regularly, and there are also some ebooks available for purchase or download.
Visit Nature Photography Simplified.
Landscape Photography Blogger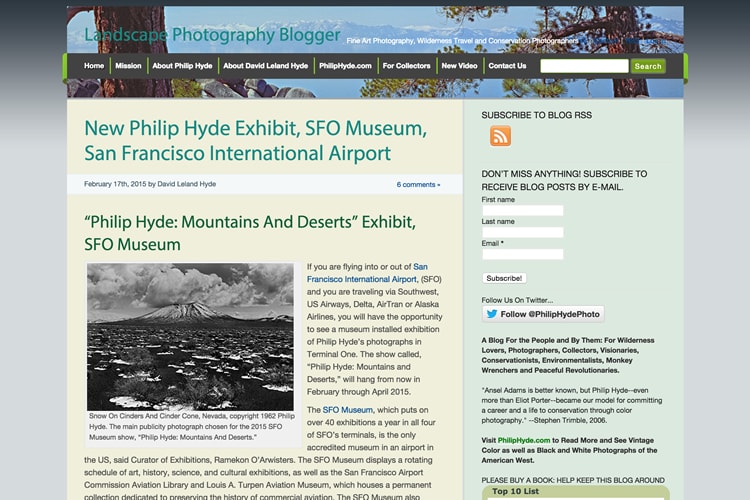 Landscape Photography Blogger is the blog of David Leland Hyde. You'll find plenty of inspiration as well as articles on locations and more.
Visit Landscape Photography Blogger.
Landscape Photography Magazine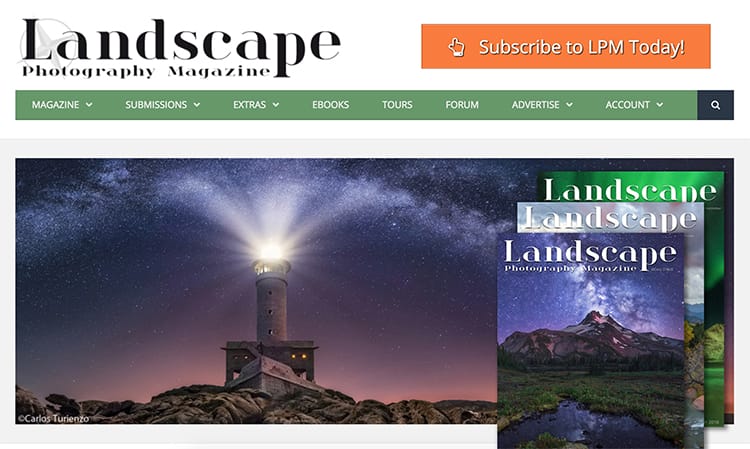 Landscape Photography Magazine (LPM) is a publication focused on bringing photographers advice, inspirational photography, tutorials, tests, the latest news and more.
Visit Landscape Photography Magazine.
Check Them Out Now
If you love landscape photography take some time to visit these sites and see what they can offer you. I think you'll find that each can help you in one way or another.