7 Tips For Capturing Gorgeous Boudoir Photos (And Making Your Client Feel Like a Million Bucks)
Boudoir photography is a fun way to capture sexy yet classy images. To produce pictures that reflect a client's intimate and sensual sides, here are tips for nailing boudoir photos that you and your clients will love.
Capturing boudoir photos involves using lighting, composition, and poses to highlight the subject's features, mood, facial expressions, and angles.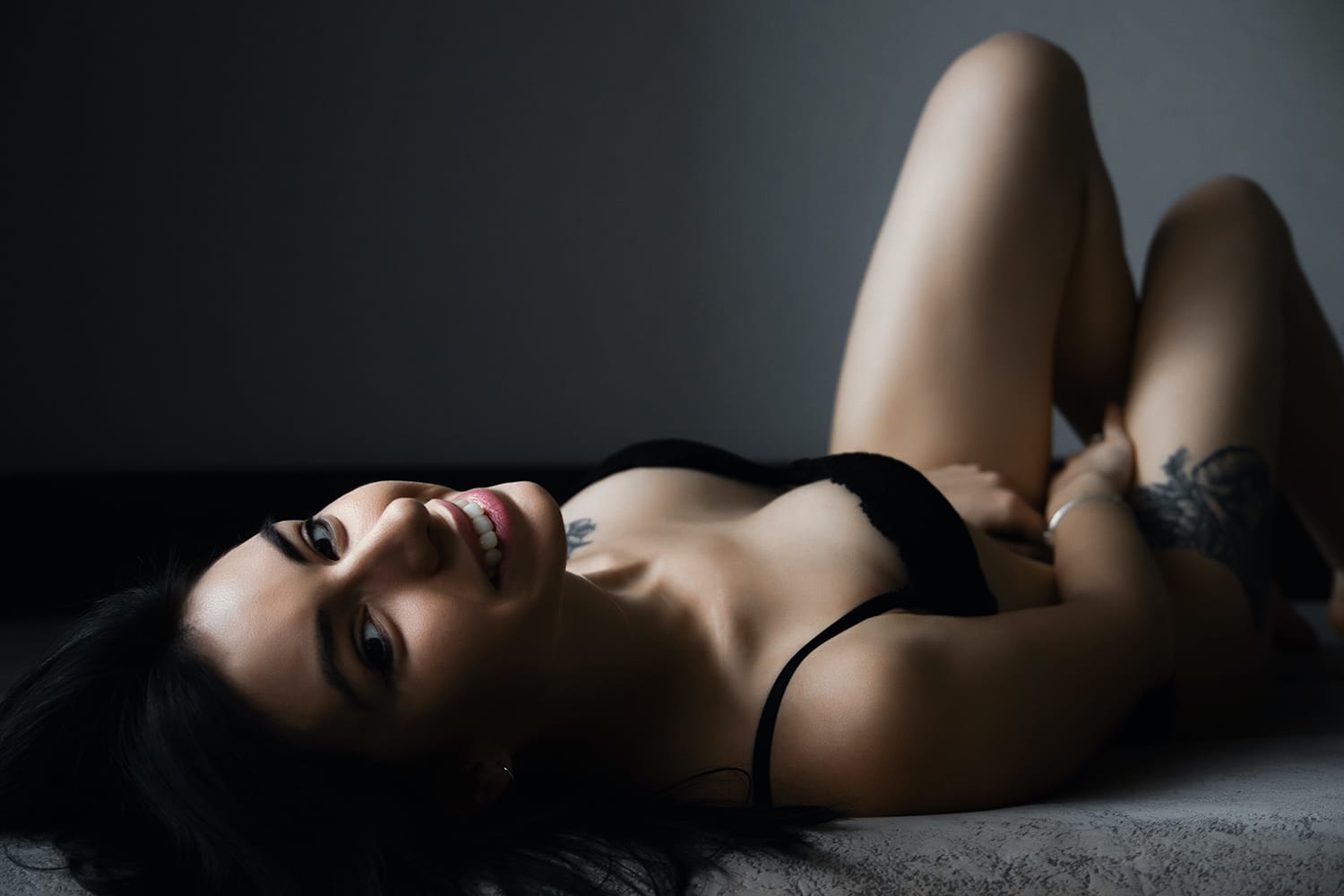 Here are 7 tips to use when taking boudoir photos to make your client feel like a million bucks.
1. Communicate With the Client
Due to the intimacy of the setup, it's vital that you connect with clients to help them feel more comfortable. This is crucial both before and during the session!
Proper communication prior to the shoot can allow you to get to know the client better and be aware of any insecurities they might have going into the session. During the shoot, the last thing you want is awkward silence as you're taking photos of someone that's half naked in front of you, so having some easy questions to ask is really helpful here.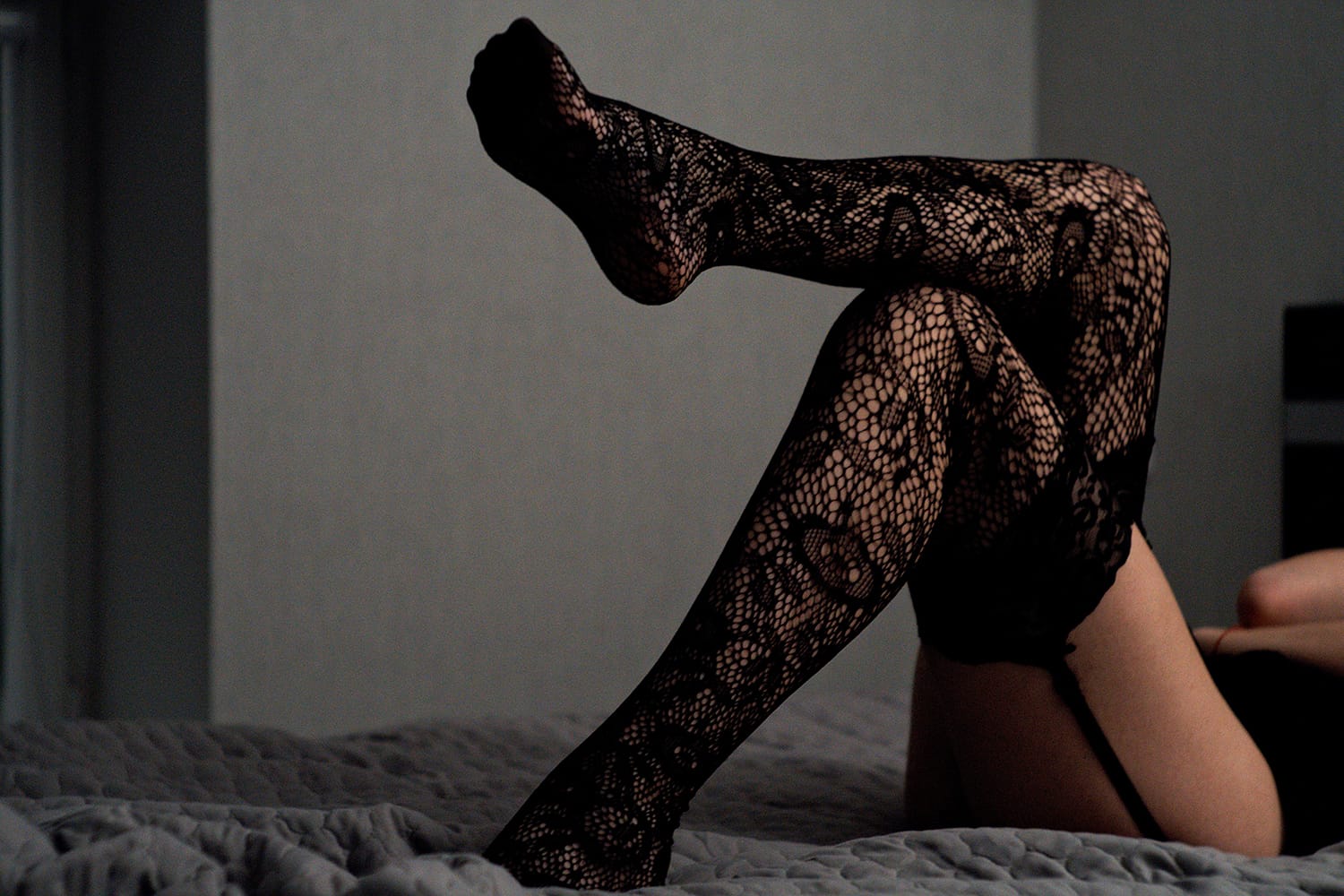 Here are some questions to ask prior to the session:
What do you love most about your body?
What type of outfits are you planning on bringing?
What's your favorite type of music that gets you pumped up?
Are there any props you'd like to incorporate?
Who are you doing this session for (yourself, significant other, etc)?
Here are questions you can ask during the shoot:
Do you have a preferred side? (This will play a big role in how you pose them, which we talk about below)
What piece of lingerie are you most looking forward to wearing?
What are you planning on doing with these photos?
Find the balance between the client's needs and limitations. Knowing these details let you think of the right strategy to move forward.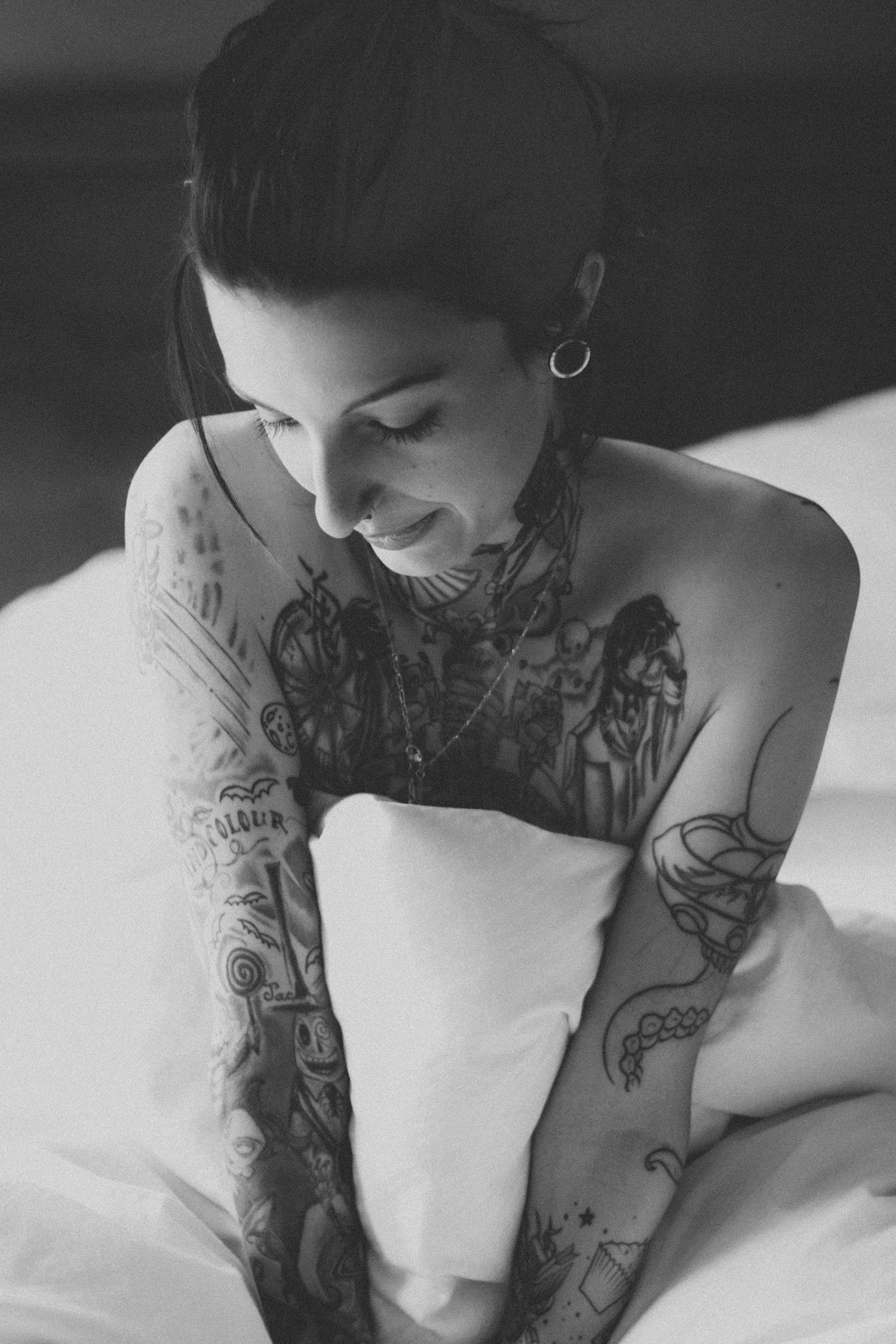 2. Guide the Posing
Some people can pose naturally, while others need assistance. This is why it's crucial for photographers to know how to instruct the subject of what to do with specific parts of the body.
You can assist clients in achieving attractive poses by using the subject's arms and legs to create shapes or symmetry. Remember that posing doesn't have to be over the top; what's important is that the client feels natural and confident.
Make sure to check for distortions as body parts closer to the camera may appear more prominent.
One of the best ways to help your client feel amazing is by asking them this question before you even start shooting: "Do you have a preferred side of yours that you love?" Oftentimes, women will have a side of their face and body that they like more than the other. By finding this out immediately, you can tailor the poses to highlight that side.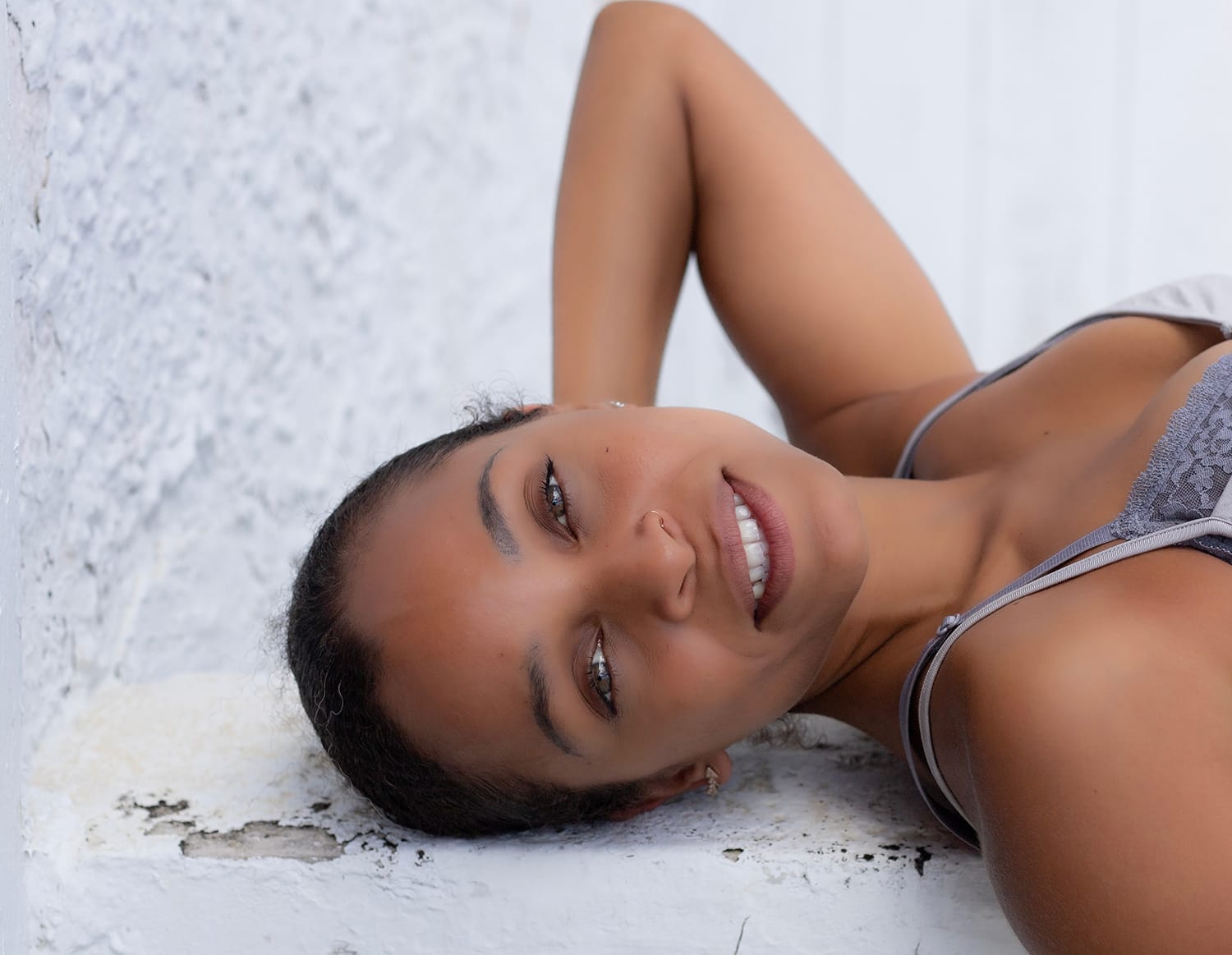 3. Play Music
Before the shoot, ask your client what their favorite type of music is (along with a few favorite songs), and create a personalized playlist for them based on their preferences. Music can give you an array of feelings, and playing tunes your client loves is a great way to make them feel comfortable and relaxed during the session.
It's also really easy to ask your client to dance as certain songs play, allowing you to capture some fun candids.
Here's the key, though – if you're not familiar with their favorite type of music, take time and listen to some of the songs! This way, as the music is playing, you can sing along and your client won't feel like they're the only person jamming out to the tunes.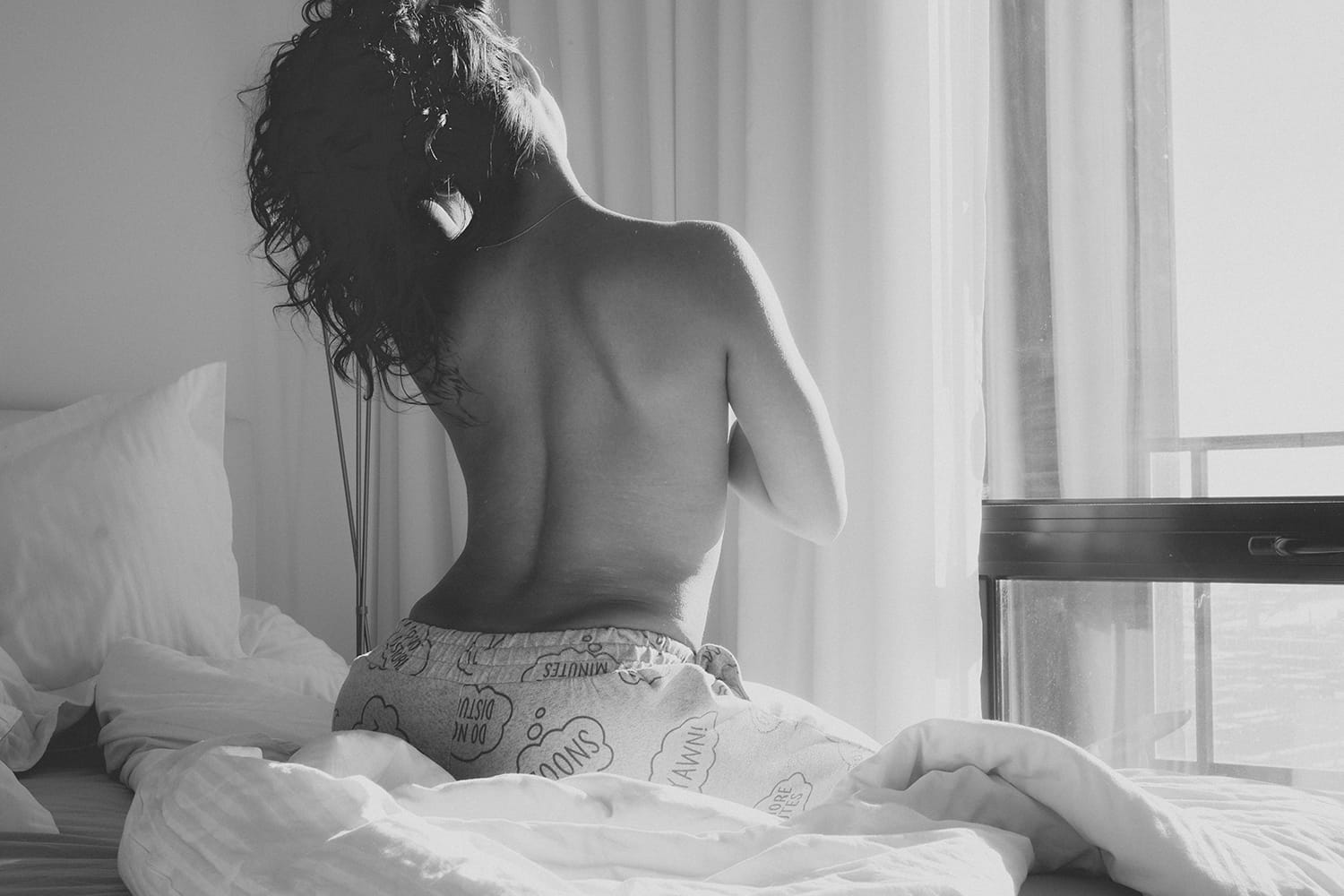 4. Fix Hair and Wardrobe Malfunctions
If you're used to shooting other types of sessions like weddings or even family shoots, then you've likely heard clients request to have you Photoshop fly hairs or a random bra strap that was showing.
When it comes to boudoir shoots, those types of requests are generally asked much more. This is typically because there is only one main subject to look at, and when you're not wearing much clothing, it's easier to point out perceived imperfections.
Because of this, don't be afraid to actively tell your client to fix part of their lingerie or move a piece of hair out of the way. Be hypercritical when it comes to these items, because if you don't point it out, there's a chance your client will! This will help you save time, especially when it comes to editing.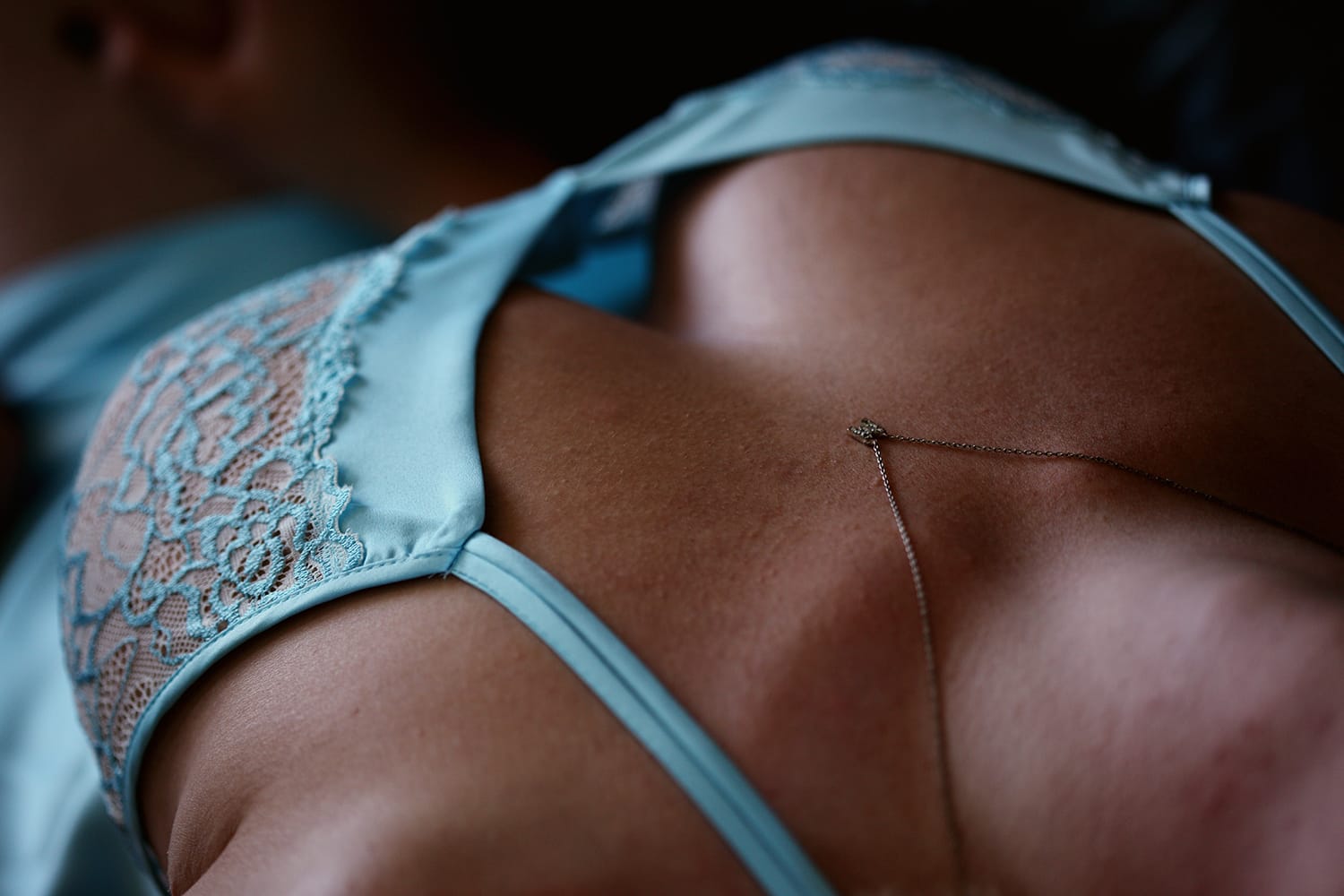 5. Use the Right Lenses
Your lens choices can make or break the boudoir photoshoot. As a rule of thumb, when in doubt, go with a 50mm or 85mm lens. These will have minimal distortion and will produce a beautiful bokeh, especially when you shoot at f/1.4 or f/1.8.
If you go with something wider than a 50mm (such as a 35mm or you're using a wider range on a zoom lens like a 24-70mm), you need to pay close attention to where you're positioning your client in the frame.
Distortion starts to happen on the edges of the frame with lenses like this, which can work to both your advantage and disadvantage, depending on how you position your subject. A wide angle can help give the illusion that your subject has long, flattering legs, but it can also completely distort her face and make her look awkward.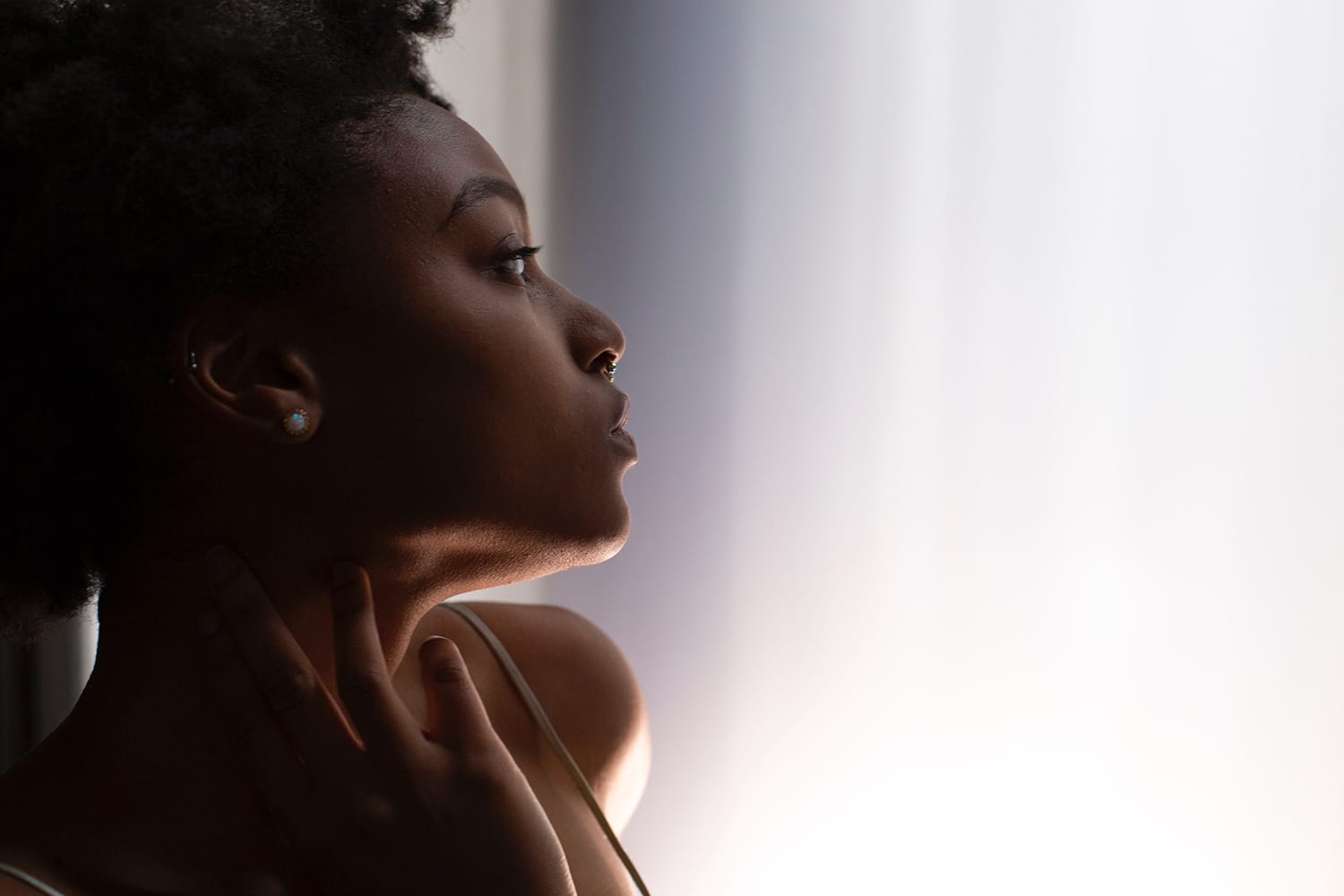 6. Start with Clothing On
For a majority of clients, this will be their first boudoir session. If you start the shoot by asking them to strip down to their underwear, they could be extremely nervous! Your goal is to make them feel comfortable and confident, so try starting the shoot by having them wear their least revealing piece of lingerie.
This gives them time to warm up, get to know you a little bit, and become comfortable showing some skin. Use this time to teach them some basic poses that might be used throughout the session, rather than trying to explain complex poses while they have little to nothing on.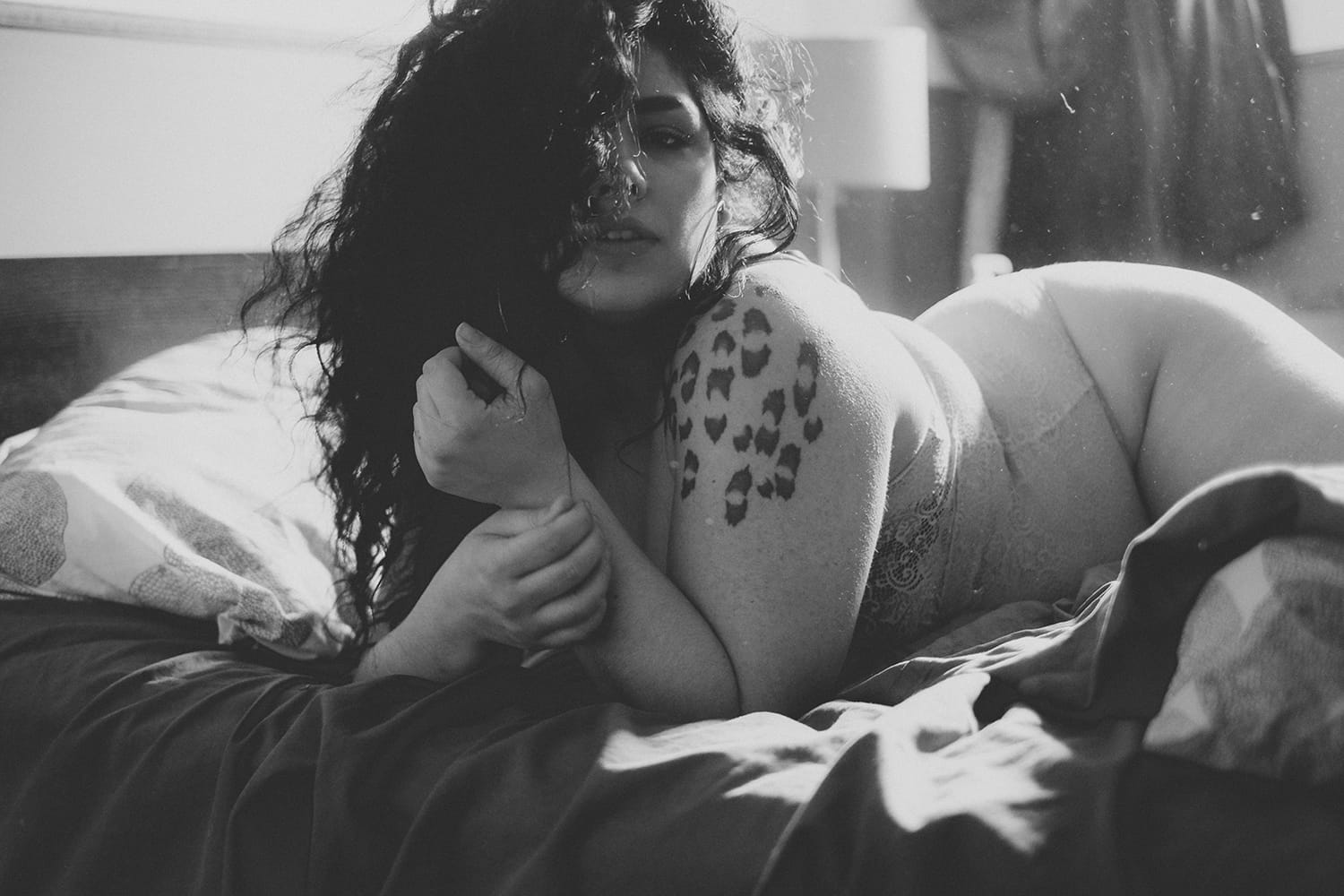 7. Get Details
While capturing full-body photos of women is great when taking boudoir photos, take time to capture the details. If your client ordered an album, having these detail shots can help tell a more robust and complete story.
From intricate lace detailing, to a bra strap falling off her shoulder, to her peeling off a piece of clothing, these are all photos that can place the focus on something other than her face. Taking detail photos is another way to get your client feeling more comfortable in front of the camera because they don't have to worry about their face in the frame.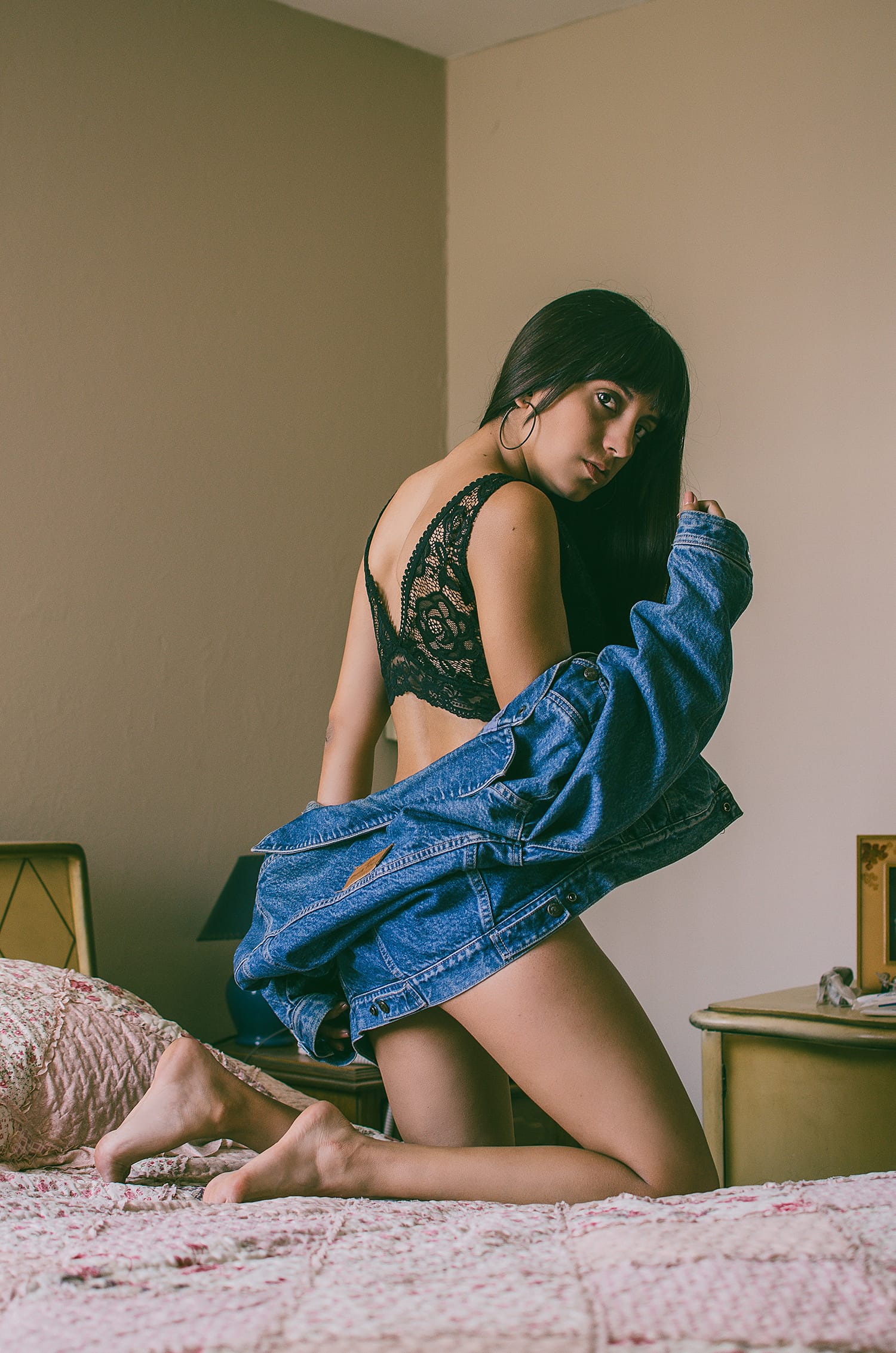 Bonus Tip: Take Your Own Boudoir Photos
To nail boudoir photos of your clients, practice by taking boudoir photos of yourself! If you're a male, you can adjust slightly by practicing self-portraiture. This helps you experience what your client might feel when they're in front of the camera, and it also allows you to practice different poses and find flattering angles.
Conclusion
Whether you're a newbie or a seasonal boudoir photographer, go into a boudoir session with a positive attitude, open mind, and creativity to make your clients feel and look their best.