Camera Rumors & Wishlist For Photokina 2016
Come October, the photography industry will be gathering in Cologne, Germany for Photokina. If you haven't heard of it, Photokina comes round every two years and is the photography industry's biggest trade fair.
It's also traditionally the place where many manufacturers showcase their latest kit, so by this time of year industry gossip is rife with what we might expect to see at the show. Let's have a look at what the major manufacturers might release, and what's on most people's wish lists.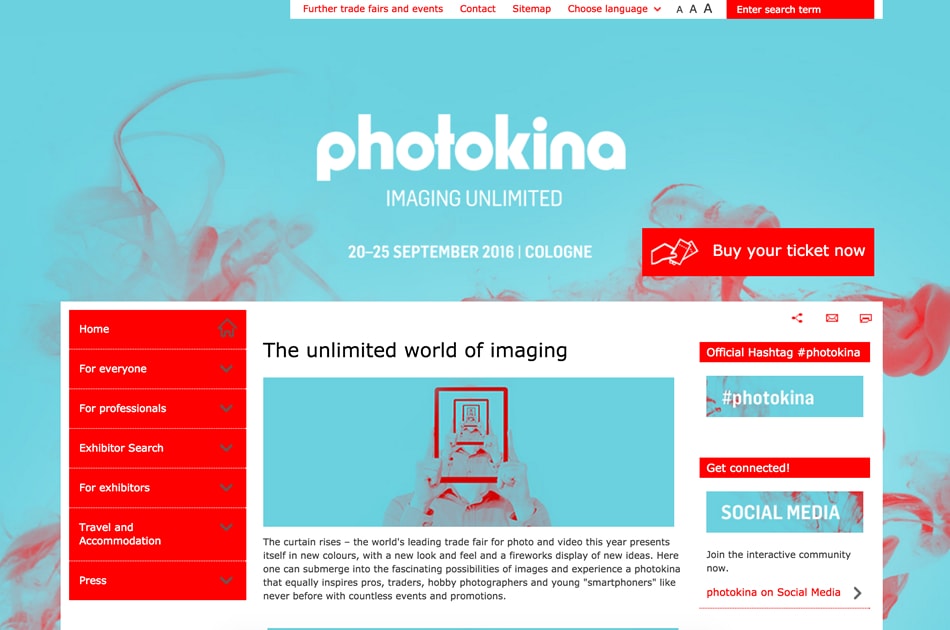 Canon
Canon have just announced the 5D Mk IV, but I think it's highly likely that we'll see a EOS 6D Mk II released at Photokina.
The original 6D is now over four years old and is looking quite tired in comparison to its rivals. This is Canon's entry-level full frame camera so it's vital for the company to keep it competitive. I think we'll definitely see an improved AF system, as the current model only has 11 focusing points, and faster continuous shooting. In keeping with modern advancements, it also seems likely the camera will have Wi-Fi and possibly even a vari-angle touchscreen.
The big question mark is whether Canon will play conservative with the pixel count – many people will be happy with a jump from the current 20mp to 24mp, but getting existing 6D users to upgrade may require Canon to push the count to nearer 36mp to compete with Nikon.
Canon have stuck their toe into the mirrorless market but, with these style of cameras becoming increasingly popular, could this be the year they put some serious work into their EOS M range? An M4 could be on the horizon but will need a built-in viewfinder, improved AF system and an extended lens range to make it a serious competitor.
Nikon
Nikon's admittedly superb D800 and D810 were the cameras to beat for a long time when it came to resolution and detail. However, since Canon released the 5DS/R cameras and Sony the A7R II they've been surpassed. So I'd expect to see Nikon release a D820 (or it might be called the D850) with at least a 42mp sensor (although it could be higher if the rumours that Nikon have acquired Samsung's camera technology are true). Also expect 4k video recording capabilities and an improved AF system possibly utilizing that of the D5 with 173 AF-points.
There's also likely to be an upgraded entry level DSLR from Nikon to replace the D3300. Expect the D3400 to have an upgraded AF system with 39 AF-points and possibly some touchscreen functionality and improved Bluetooth image transfer. This camera could even be announced before Photokina.
Rumour has it that Nikon are working on a full frame mirrorless camera, but it's more conceivable that this will be announced in 2017 as it's Nikon's centenary year.
Sony
Sony has the high end mirrorless market tied up at the moment but we may well see an even higher spec camera at Photokina in the shape of the Alpha 9. The rumours are that this camera will be more DSLR based in its design, in order to rival the Canon EOS 1D X Mk II and will have a full frame sensor with an incredible 80mp.
There are also rumours that it will have an unlimited RAW buffer and dual XQD card slots. If all this is true, then this camera could be a real game changer for digital technology.
Fuji
Looking at Fuji's current range, I'd say that the obvious choice for an upgrade is Fuji's flagship compact camera, the X100T. Fuji play their cards pretty close to their chest, but expect the X200 to increase its pixel count from 16mp to 24mp and offer an improved AF system.
It's likely Fuji will stick with the popular fixed 23mm lens, which has an equivalent focal length of 35mm, but they may increase the maximum aperture to f2 to help the camera cope better in low light conditions. Hopefully the continuation of Fuji's improvements to their autofocus system will also help the X200 to focus more quickly.
There are also rumours that Fuji plan to release their first mirrorless medium format camera (although Fuji denied this as recently as January). With Hasselblad releasing the first mirrorless medium format camera in the shape of the X1D, there's a lot of interest in the format. Remember that Fuji manufacturer lenses for Hasselblad medium format cameras already. Expect the camera to have a 50mp medium format sensor in a rangefinder style body, with three lenses launched alongside it. But, of course, this is all very much hearsay at present.
Conclusion
Of course, only time will tell whether these cameras appear on the market, and some of them may even appear before Photokina. But exciting developments are definitely in the pipeline!