How Can Digital Backgrounds Benefit You as a Photographer/Editor?
Photography is much more advanced than it used to be. There are new lenses, cameras, and lighting equipment surfacing constantly.
Technology, especially photography-related, has become so advanced and has opened a whole new world of creative outlets for photographers. Not only is the gear constantly progressing and improving, so are post processing/editing tools and software.
Whether just using editing software for basic everyday edits, or for more in-depth creative edits, pretty much every professional photographer has editing software. One of the most popular and widely ranged used softwares is Photoshop. Photoshop, in a nutshell, is a beast.
It has many capabilities that other editing tools can't handle. Many use more "user friendly" software, such as Lightroom, for the basic edits, then use Photoshop to really transform images and give them a whole new look, such as digital composites.
One of the most popular components of composites are digital backgrounds. These are stock images, or images purchased to merge with other subjects or images of your own to give your images an entirely different setting. This allows many creatives to take ordinary images and turn them into pure art!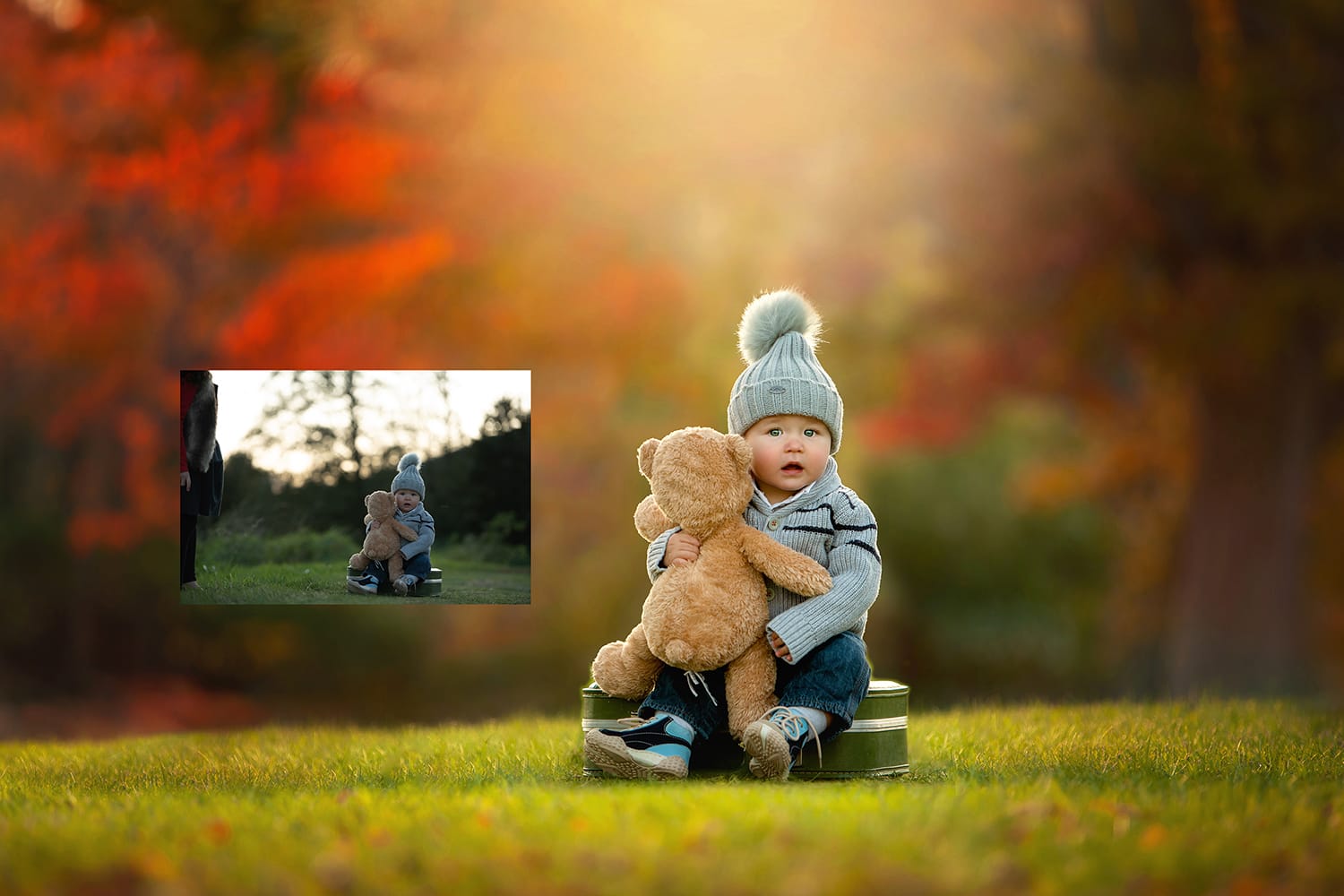 Change Seasons
You can literally change the season of your images by using digital backgrounds. This can come in handy for photographers for many reasons.
Mini Sessions can be marketed earlier in the year. If you offer seasonal mini sessions throughout the year for different holidays or themes (Fall, Halloween, Christmas, Winter, Spring, Easter, Summer themes, etc.) you can begin creating example images to use for marketing purposes. So, if you want to begin filling up your Christmas time slots in the Fall, you can use digital backgrounds to completely transform your settings to fit the theme.
Perhaps your seasonal settings just aren't working in your favor? A prime example of this are fall/autumn sessions. For starters, there is a short window of time for you to do sessions when all of the beautiful fall colors are abundant. Also, sometimes leaves change colors earlier or later than predicted. With digital backgrounds, you can get the most out of your seasons to increase sales for your business.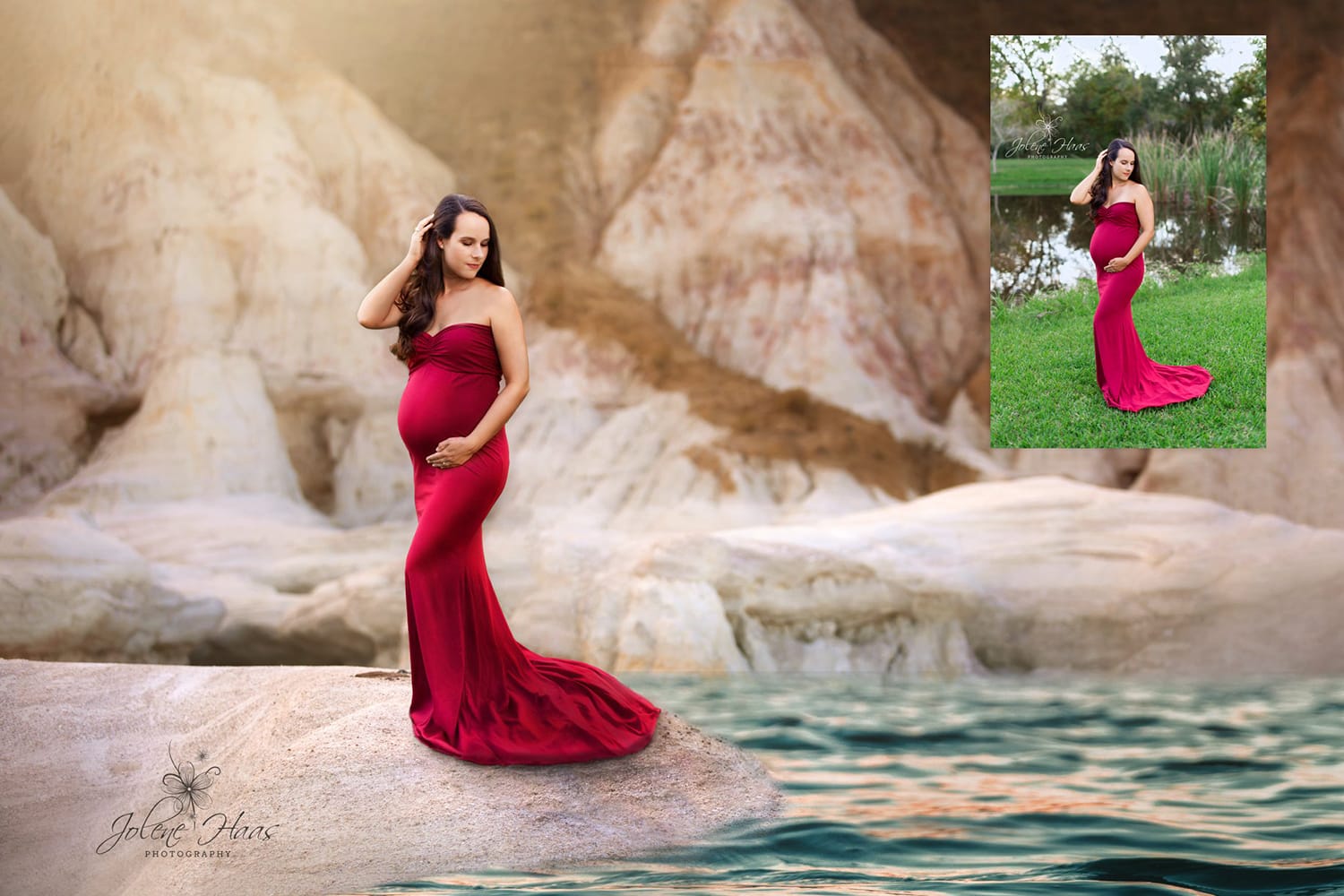 Can't Find an Ideal Location
Let's face it, unless you are a destination photographer who can travel to gorgeous locations for clients, there is a chance that you may live an area where it is just plain difficult to find locations that are photo worthy.
Digital backgrounds allow you to place your subjects in almost any environment you can imagine without having to actually be there. Some examples of things you can do with digital backgrounds are:
If you are shooting a wedding at a venue or church that simply does not have backgrounds worthy of that extra "wow" factor, you can take an image of your bride and groom and place them in a setting wherever their hearts desire!
Maybe you have a client who would love to be photographed in a forest or wooded area, yet you live in the city and that just isn't possible. You can take a photo of your client standing outside on a sidewalk, and with some Photoshop magic, place them in a setting with beautiful trees and greenery.
If you have a maternity session booked, and the days are limited before mom-to-be gives birth, however, the weather hasn't cooperated for two weeks and you simply running out of time, digital backgrounds can be the answer! You can take a few images indoors, and in post-processing, place your subject in a completely different outdoor setting, rain or shine!
Creative Outlet Unleashed
Even if weather, seasonal, or location issues aren't a problem for you, you can use digital backgrounds to simply unleash your creativity! Most editors/photographers that do digital composites do it simply for the pleasure of making ordinary photos extraordinary in a creative and artistic way.
All photographers are artists in their own way. We see things such as light, composition, and perspective in a whole new way. Digital backgrounds allow us to let our imagination run wild and create gorgeous images that would otherwise, be realistically impossible.
Tuning into our inner creative sides can help us really learn and grow as a photographer. Digital composites may not be something we do for every client at every session, because let's face it, they can be time consuming. However, using digital backgrounds and transforming images completely during the editing process can be a great teaching tool. It can teach you to become better about noticing and understanding things like light, shadows and highlights, perspective, composition, and all of the other elements that make any image appealing.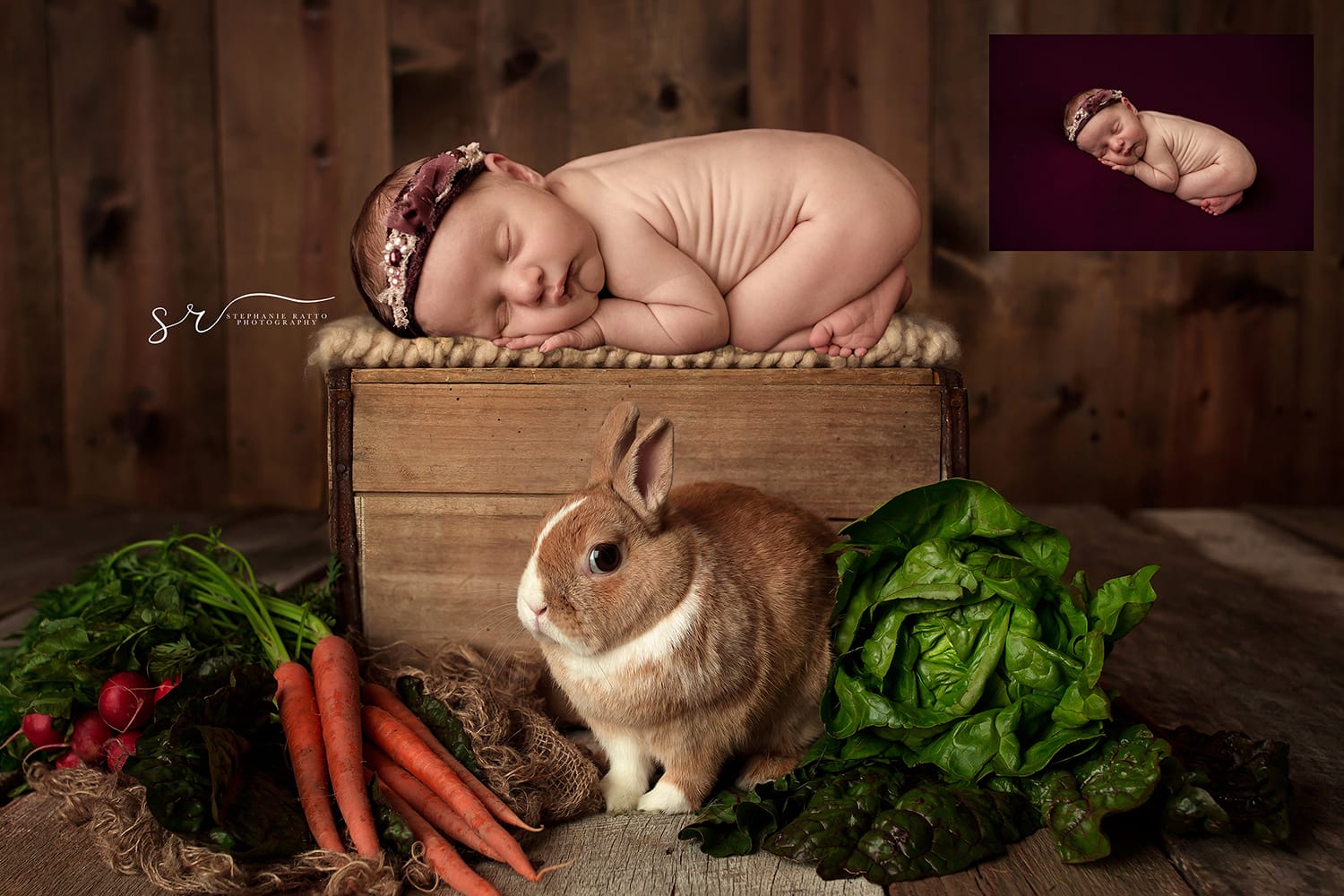 Newborn Photography
Many of the gorgeous newborn photos you see are composites. For health and safety reasons, newborns simply can't be in certain environments, weather conditions, or placed on certain props.
The last thing you want to do is try to hang a newborn in a hammock beneath two trees only to have a horrible accident happen. Newborn photographers need to be very cautious of the situations they place tiny fragile babies in.
With digital backgrounds, you can take an image of a newborn inside a warm environment and then in post-processing, place them in a winter wonderland. All without the risk of them getting sick in an actual brisk winter setting.
Digital backgrounds also allow you to take a photo of a newborn and place them on props or backgrounds that are either unavailable to you, or simply unsafe to do in real life.
As a newborn photographer, you can also save money on props or studio backdrops. Any time we can save money that goes out of our business, we should take advantage. If you need a specific holiday or seasonal backdrop for your newborns, digital backgrounds can save the day.. and save you money!
There are many ways digital backgrounds can save you money and allow you to create images that would simply be impossible. There is a slight learning curve to digital composites, but, with the plethora of workshops, videos, and resources, you can learn how to take your images from basic to beautiful!
If you are ready to take your creativity to a whole different level, you should definitely consider exploring composites and digital backgrounds. It may not be something you do on a day to day basis, but when you learn to let your creativity run wild, you can begin to take your work to a different level that will leave your clients and followers very impressed!
Images are courtesy of Mynt Photography, Jolene Haas Photography, KS Photography, and Stephanie Ratto Photography.