In-Depth Review of the Garmin VIRB 360 Action Camera
While Garmin is probably best known for their GPS units, their VIRB 360 camera is one that definitely packs a punch.
And even though the 360° camera market is admittedly still relatively small in comparison to other photography niches, Garmin has crammed some great technology in the VIRB 360. Its closest competitor would be the GoPro Fusion. Let's have a look!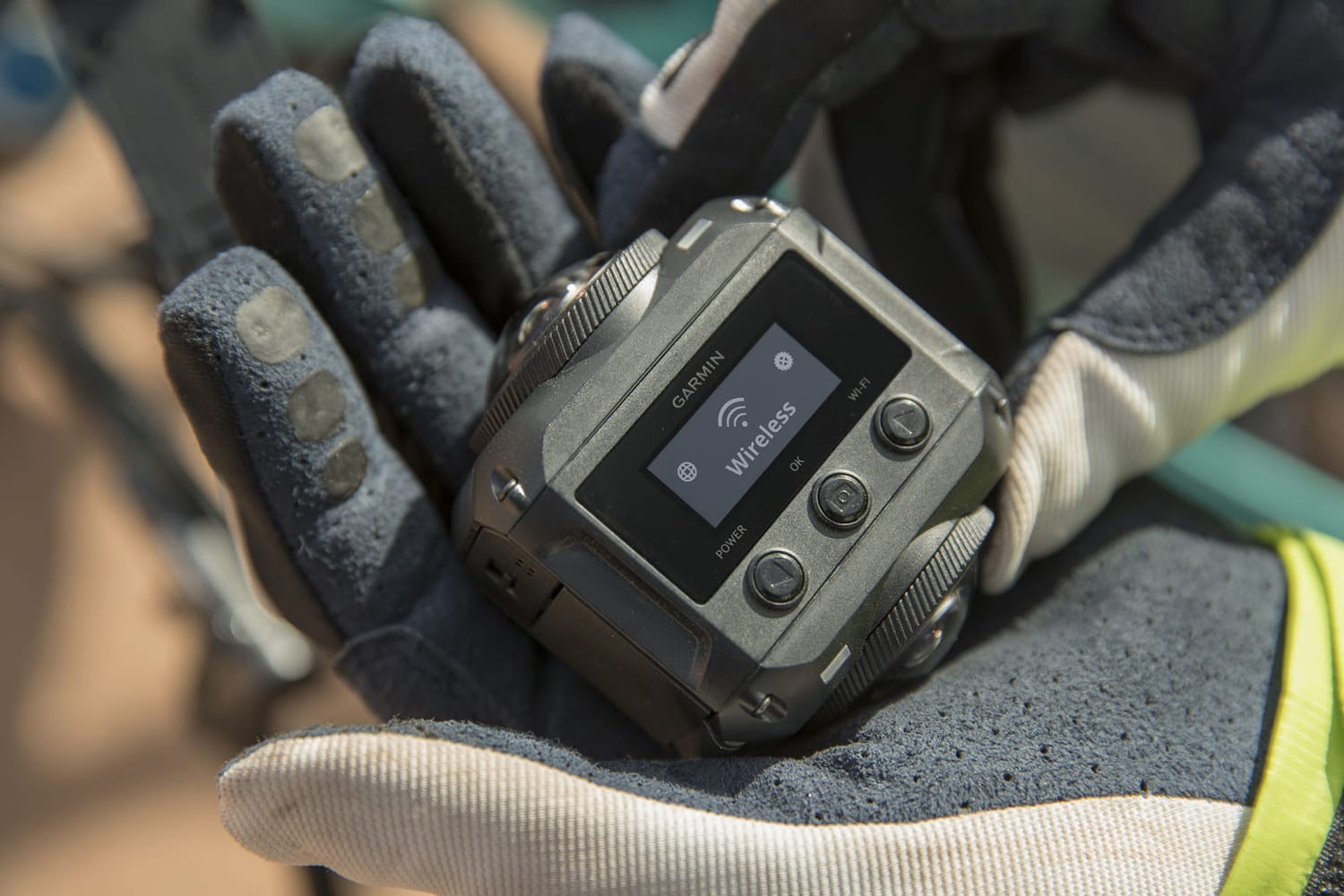 Design
First impressions from the camera's body are that it is solid and well-built. It has one lens on each side, a monochrome information LCD and control buttons on the top. When unboxing it, you will see that the camera comes with a small tripod that also serves as a grip when folded.
The camera ships with two clips: one that has a GoPro mount, which means that it is compatible with many third-party accessories, and a standard tripod socket for the possibility to pull-up to a higher perspective. Both clips are fixed onto the bottom of the camera, blocking access to the battery compartment. One positive side to this is that it could be seen as extra protection for the battery. The downside though is that if you run out of battery, it will take longer to change it.
However, there is also an easily accessible micro USB port along the side of the camera that could be used to provide external power.
Footage Quality
The VIRB 360 camera offers several options for capturing footage. The default format is 4K at 30fps for auto-stitching through the mobile app or the desktop software. It is possible to record at 1080p with a constrained 16:9 frame, at your choice of 60 or 120 fps.
That means that the camera offers twice the capacity of a traditional camera. Garmin stands out for its 5.7K capacity which is captured in a RAW capture mode, which is a separate video file for each lens that is recorded simultaneously and that should be stitched with the desktop software before exporting the content. 5.7K videos double the resolution of 4K footage, with 16MP per frame, instead of 8MP with clearer, crisper and sharper results.
A downside for photographers is that still images can be captured and exported only as JPG and not RAW files which limits the possibility post-processing.
Memory
The camera has a micro HDMI port and micro SD slot. In order to make the most of its capabilities, it is recommended to use a fast writing speed card, like the SanDisk Extreme that won't stop when recording in 5.7K.
Controls
On top of the camera, there are three buttons: Power, OK, and Wi-Fi. All of them are menu navigation controls, but the OK button also takes pictures. You can even set a self-timer in the menu, up to one minute in length before shooting. This option is handy for gaining stability.
On the shorter side, there is a switch to start and stop recording. That's to say, you can control the camera directly from the device or through your phone. Another outstanding feature is voice control that wakes up the camera, starts, pauses, or stops recording by dictating commands.
Battery
Battery life varies based on video quality. Experience shows that battery life lasts on a full charge up to 40 minutes when recording in 5.7K and extends to 70 minutes with 4K footage. I tested the camera at the beach, in temperatures over 35°C, for periods of up to 45 minutes and it didn't overheat or stop recording.
Waterproof
One of the highlights is that the sealed body of the camera guarantees is that it can be used in water to depths of 10 meters without needing an extra case. For most of us, this distance is more than enough for common use. Deep-water divers might need to confirm this information twice with Garmin before compromising the camera.
App
The VIRB 360 can be controlled via Wi-Fi. The Garmin VIRB app is available for Android and iOS. It displays a live preview from the different type of available lenses: 360, front, back or RAW.
The app also lets you start, pause, and stop video recording through various modes, such as time-lapse or slow motion. The same goes for taking pictures as a single shot or in burst mode. The best takeaway is sharing directly to social media and platforms like Facebook or YouTube.
It is fair to say that the app is somewhat slow at times, it sometimes crashes, and connection with the camera isn't very reliable. There is plenty of room for improvement through future software updates though.
One of the most important points for Garmin is the camera's accuracy in stitching videos up to 4K directly from the phone automatically. For doing the same with 5.7K, transfers should be done via the desktop software.
Software
A desktop application called VIRB Edit is available for Mac and Windows and it is recommended to use this for more detailed edits such as stitching 5.7K videos or creating new videos with different clips.
The camera's integrated GPS and motion sensors can overlay data on the video and can give context to the recording, like displaying a speedometer, altimeter, gyroscope, compass, or accelerometer among other data. The software allows you to edit this information for a more visual impact – the mobile app has the same capabilities. Those types of edits are not possible with still images, only video.
Conclusion
The Garmin VIRB 360 delivers impressive 360-degree video at 5.7K, something that stands out among similar cameras in the market. On top of that, the sensors are capable of adding information that will enrich the content of the video for creative purposes.
For stills photography, there is still a long way to go in terms of improving the camera and platform, but the constant software updates are definitely improving and the VIRB 360 camera is quickly becoming a camera that action shooters and should consider, especially if you're into 360 videos.