In-Depth Review of the New 70-300mm f/4.5-6.3 DI III RXD Lens from Tamron
The Tamron 70-300mm f/4.5-6.3 DI III RXD is an absolute joy. Now, I know that, especially for me, leading into any review with an unwordy, straightforward declaration like that is a bit out of character.
Simultaneously, beating around the bush about how I feel about Tamron's new telephoto for Sony E-Mount would somehow cheapen just how much I've enjoyed making photographs with this beautiful lens.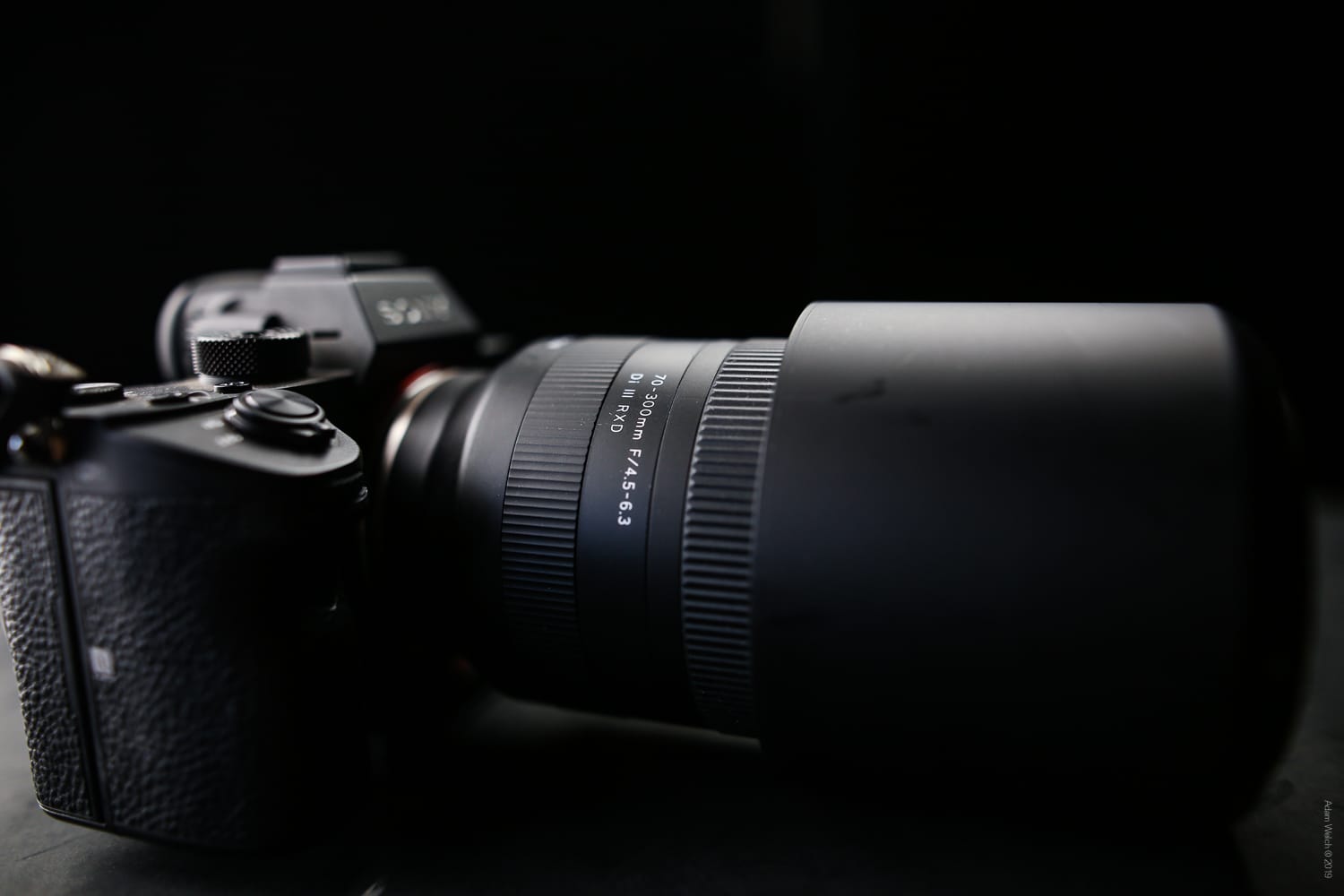 If you're a Sony shooter, either full-frame or crop sensor, you will more than likely love this lens for its reach, portability, and, dare I say it, for its low light capabilities. Now, I know I know… but how can a lens with a MAXIMUM aperture of f/4.5 be a champion of the night? I was just as surprised, but I promise, I have the photos to back it up.
But first, let's dig into the basics of what you need to know about the 70-300mm /4.5-6.3 Di II RXD from Tamron.
Out of the Box
First things first, the 70-300mm is extremely lightweight for a lens of this focal range. We'll get into the build's specifics in just a second but know that this lens weighs only 19.2 ounces (545g).* That makes it the lightest yet highest zooming lens I've tested from Tamron's recent line of telephotos for Sony full-frame mirrorless cameras.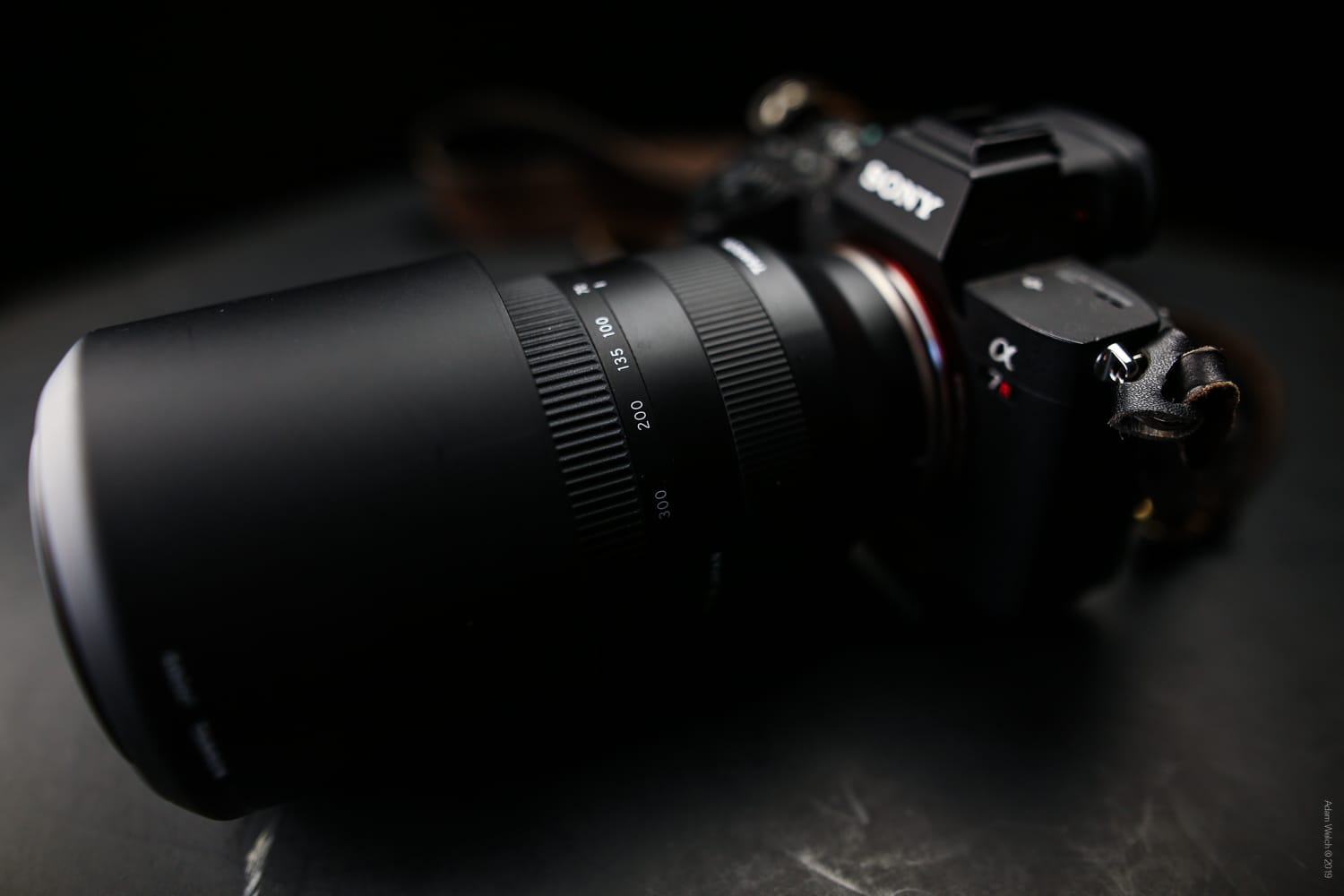 Other than the obvious featheriness, the sterile refinement of the overall aesthetics makes the lens shine on Sony cameras. It matches, for lack of a better word, perfectly with my Sony A7R MK3.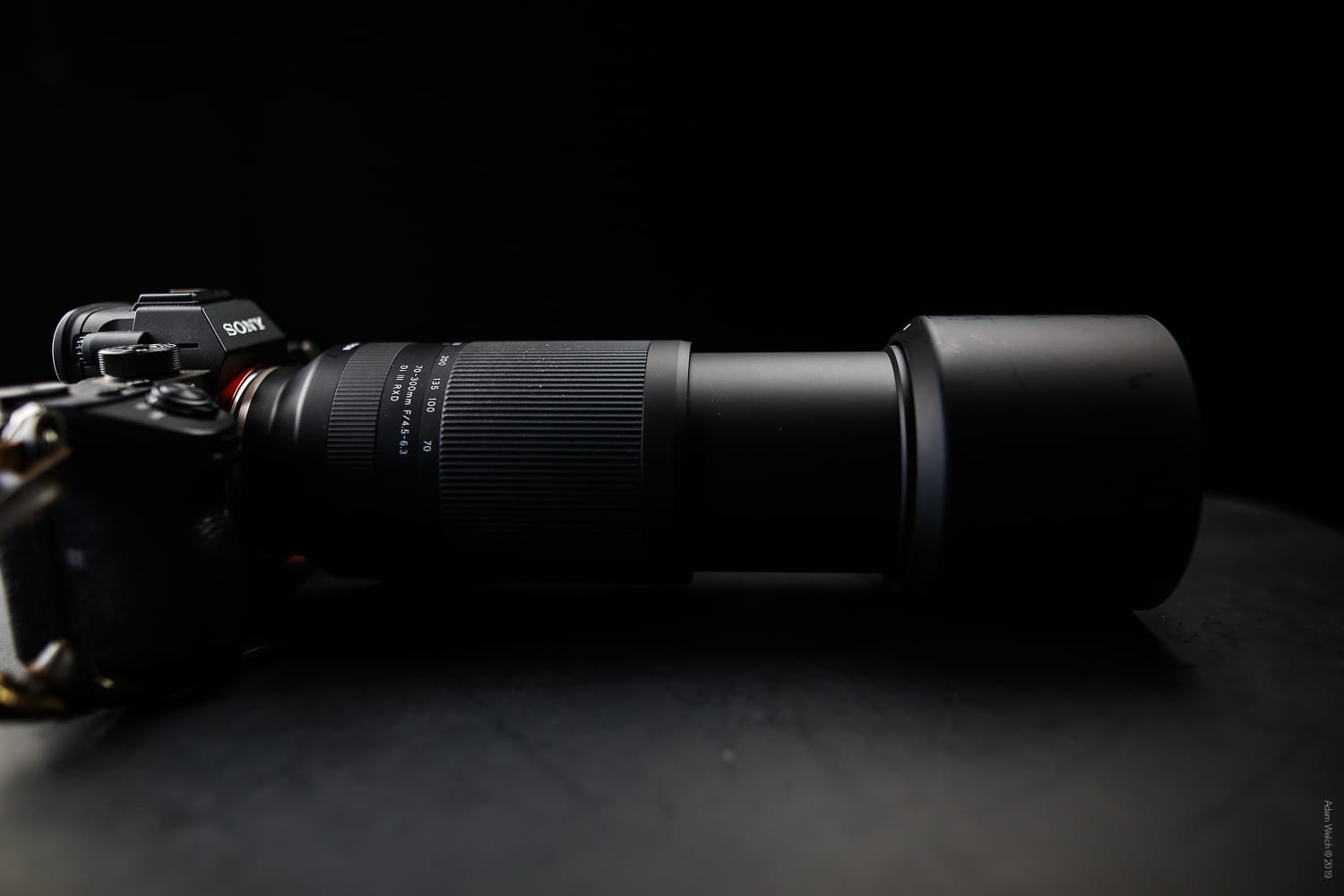 Of course, the 70-300mm features Tamron's wonderful moisture and dust protection. The lens also uses Sony in-camera lens corrections and image stabilization and both eye and hybrid autofocusing. This means there is no external AF/MF switch and no image stabilization switch. Speaking of switches…
Conspicuously, one thing that makes this lens appear so understated in appearance is the omittance of a zoom-lock switch. This is a feature I've often touted in lenses of longer focal length if one is intended to employ it for all-day carry. There is quite literally nothing on the barrel of this lens. That being said, I would have truly loved to have had a zoom-lock, which is another point we'll touch on a bit later down the list.
For now, enjoy a few more photos of the beautiful Tamron 70-300mm f/4.5-6.3 Di III RXD.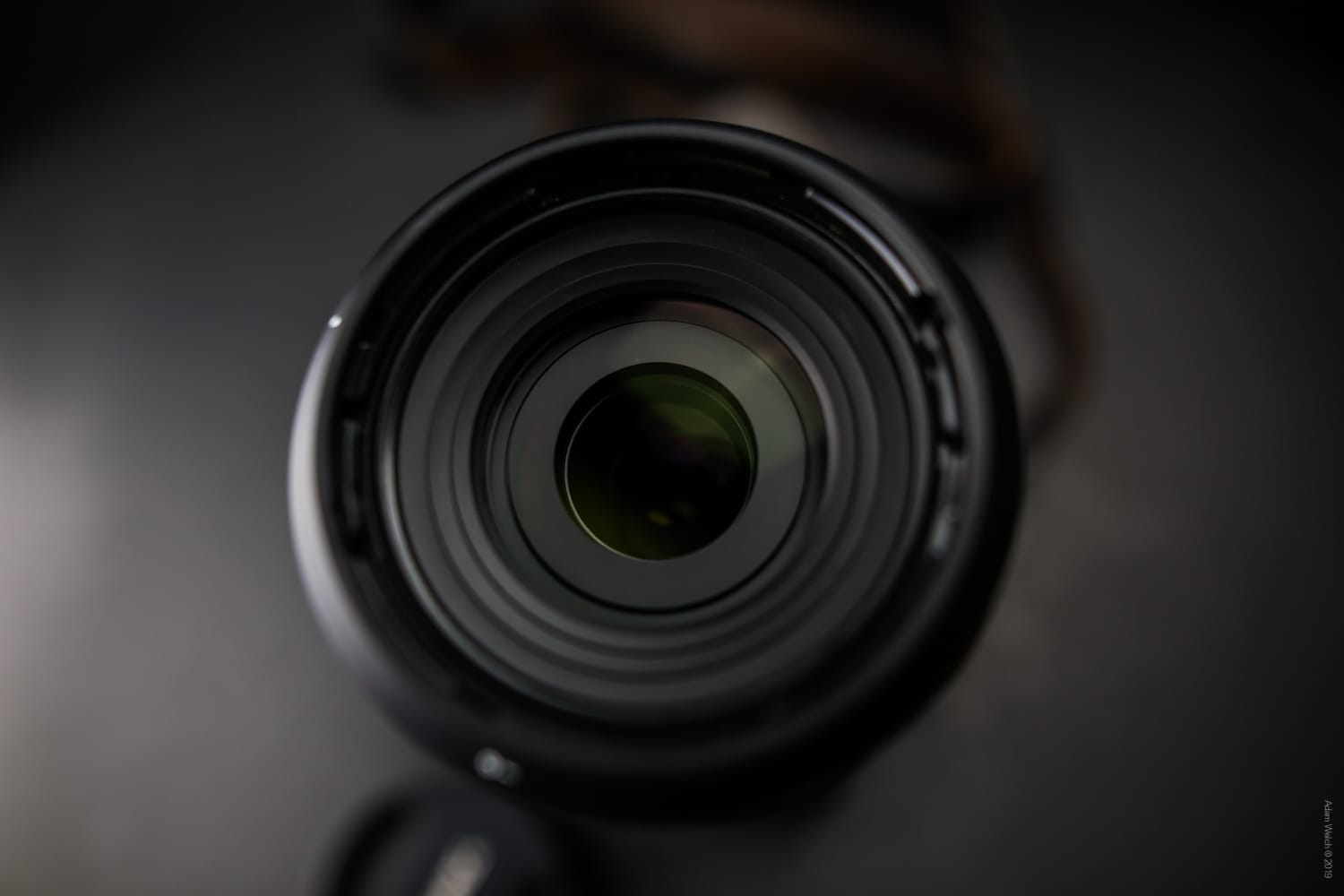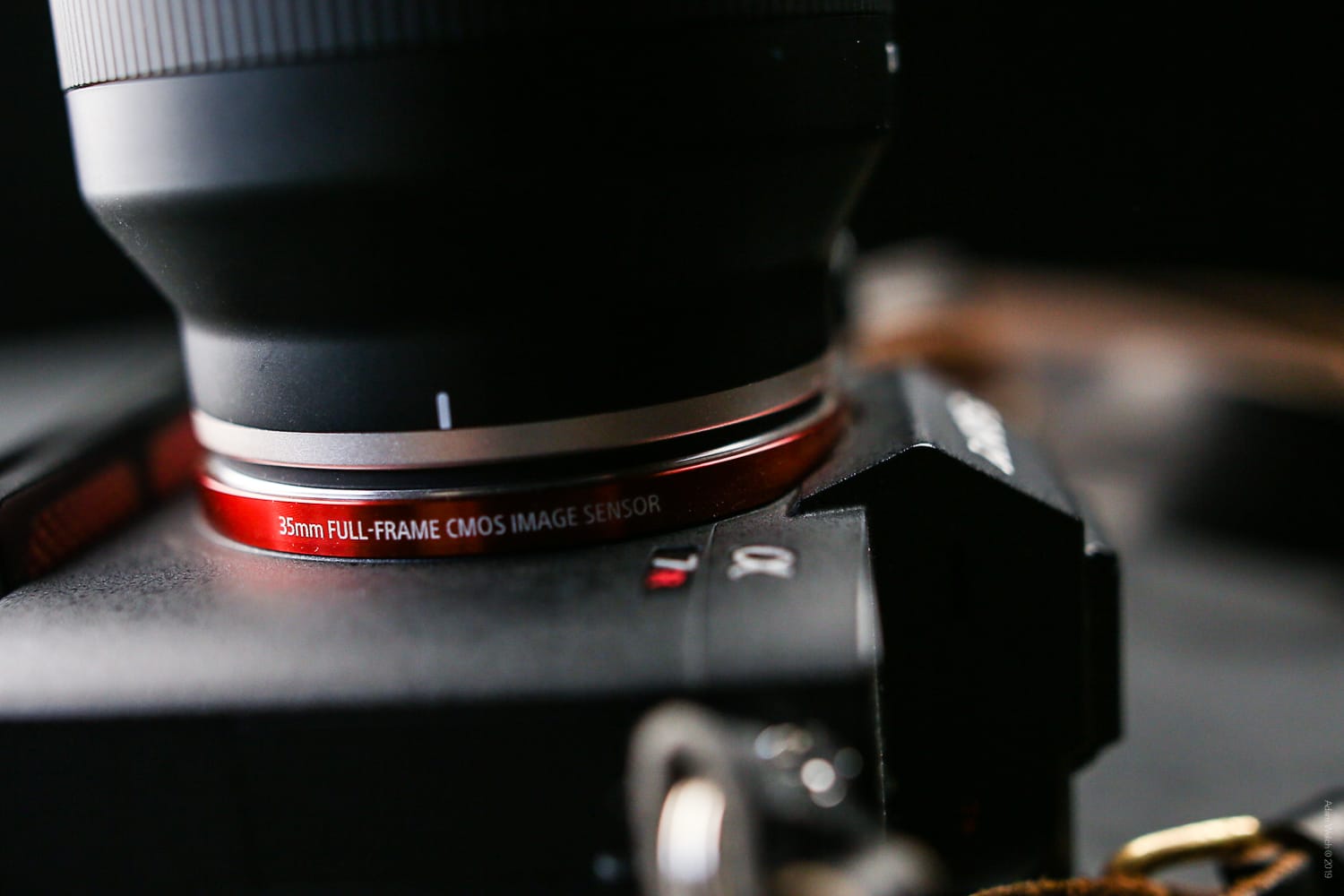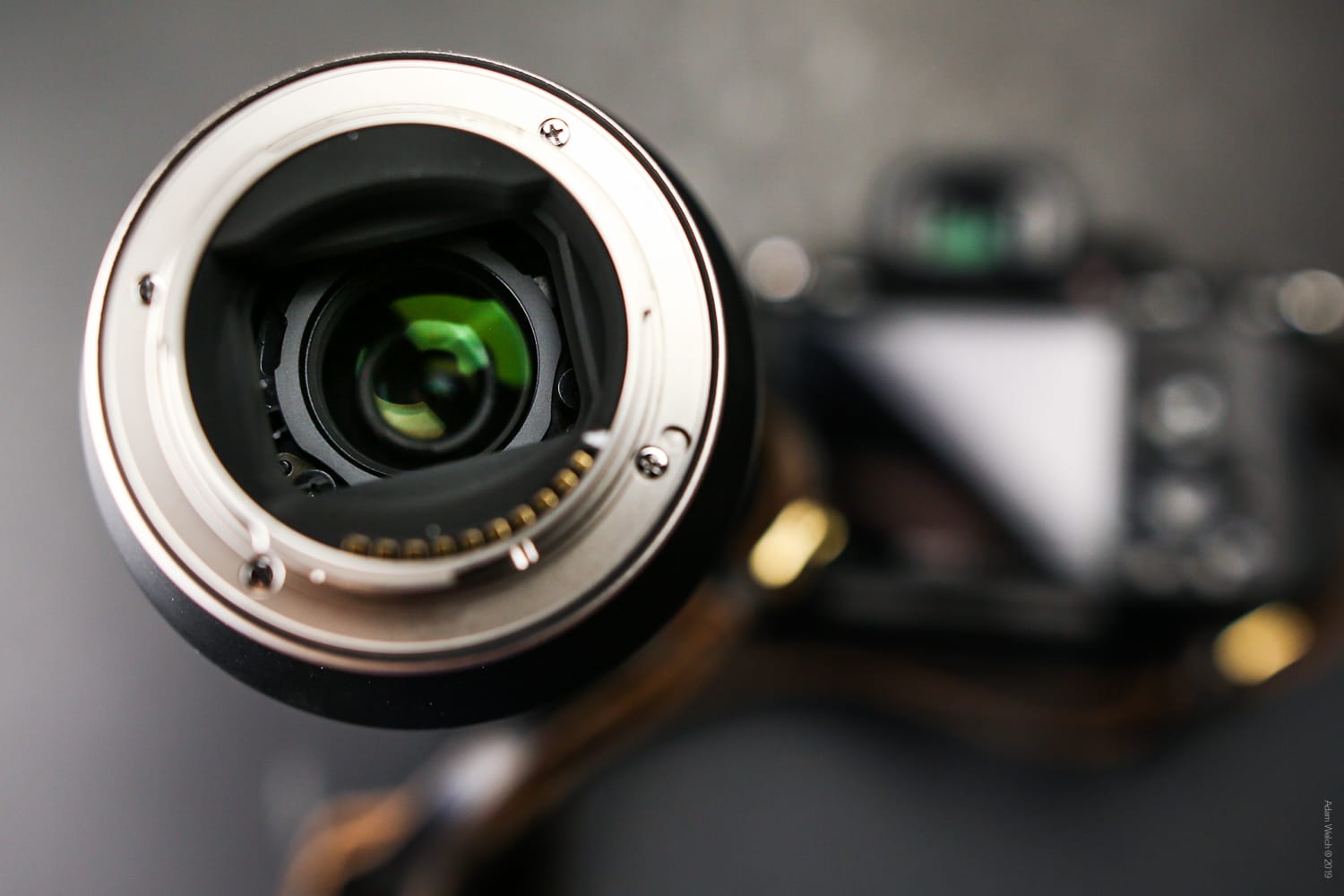 Before we move on, here is a list of official specifications for the 70-300mm /4.5-6.3 Di III RXD courtesy of Tamron:
| Information | Values |
| --- | --- |
| Model | A047 |
| Focal Length | 70-300mm |
| Maximum Aperture | f4.5-6.3 |
| Angle of View (diagonal) | 34°21′-8°15′ (for full-frame mirrorless format) |
| Optical Construction | 15 elements in 10 groups |
| Minimum Object Distance | 0.8m (31.5 in) (WIDE) / 1.5m (59.1 in) (TELE) |
| Maximum Magnification Ratio | 1:9.4 (WIDE) / 1:5.1 (TELE) |
| Filter Size | φ67mm |
| Maximum Diameter | φ77mm |
| Length | 148mm (5.8 in) |
| Weight | 545g (19.2 oz) |
| Aperture Blades | 7 (circular diaphragm) |
| Minimum Aperture | f22-32 |
| Standard Accessory | Round-shaped hood, Lens caps |
| Compatible Mounts | Sony E-Mount |
* It's interesting to note that I weighed the lens using my scales, and in "shooting configuration" (front and rear caps removed, hood attached), it was 21.06 ounces (597g). Yet, with the hood removed, the lens weighed 18.87 ounces (535g), making it slightly more and less hefty than Tamron's stated figures. Of course, my scales could not be accurate.
Performance in the Field
Admittedly, a lens of this focal-length and modest maximum aperture range doesn't immediately drum up the opinion that it would be a solid performer for night photography. However, that was one of my favorite uses of the 70-300mm from Tamron. Carrying it for an early morning jaunt down Route 66 in Tucumcari, New Mexico, made for a wholly enjoyable experience.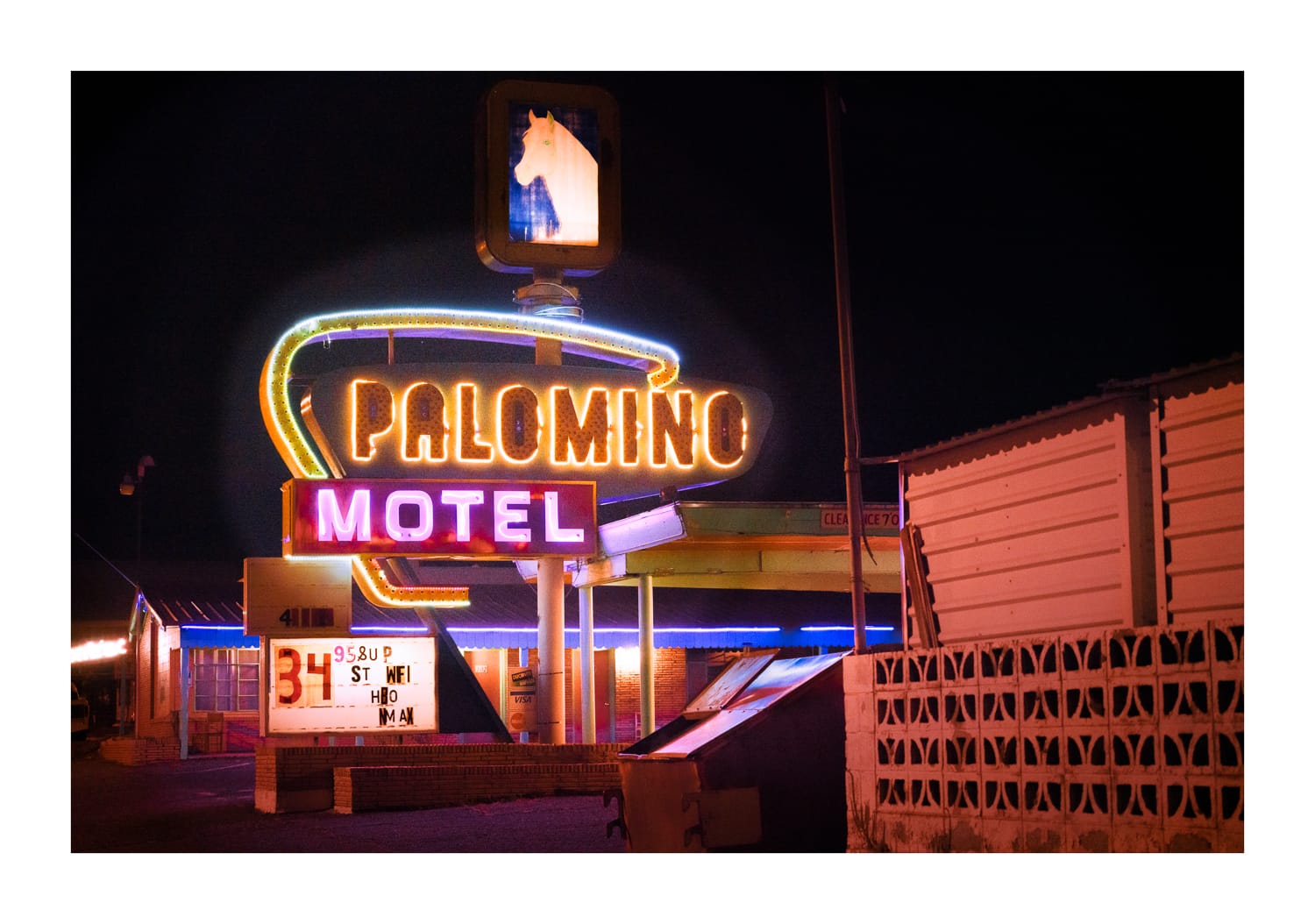 Granted, the five stops of in-camera image stabilization from the A7R MK3 made things quite a bit more manageable. Still, the long reach of that 300mm maximum focal length was such a joy to use under these conditions. Being able to zoom in and still achieve passable, if not superb sharpness in such low-lighting was absolutely wonderful.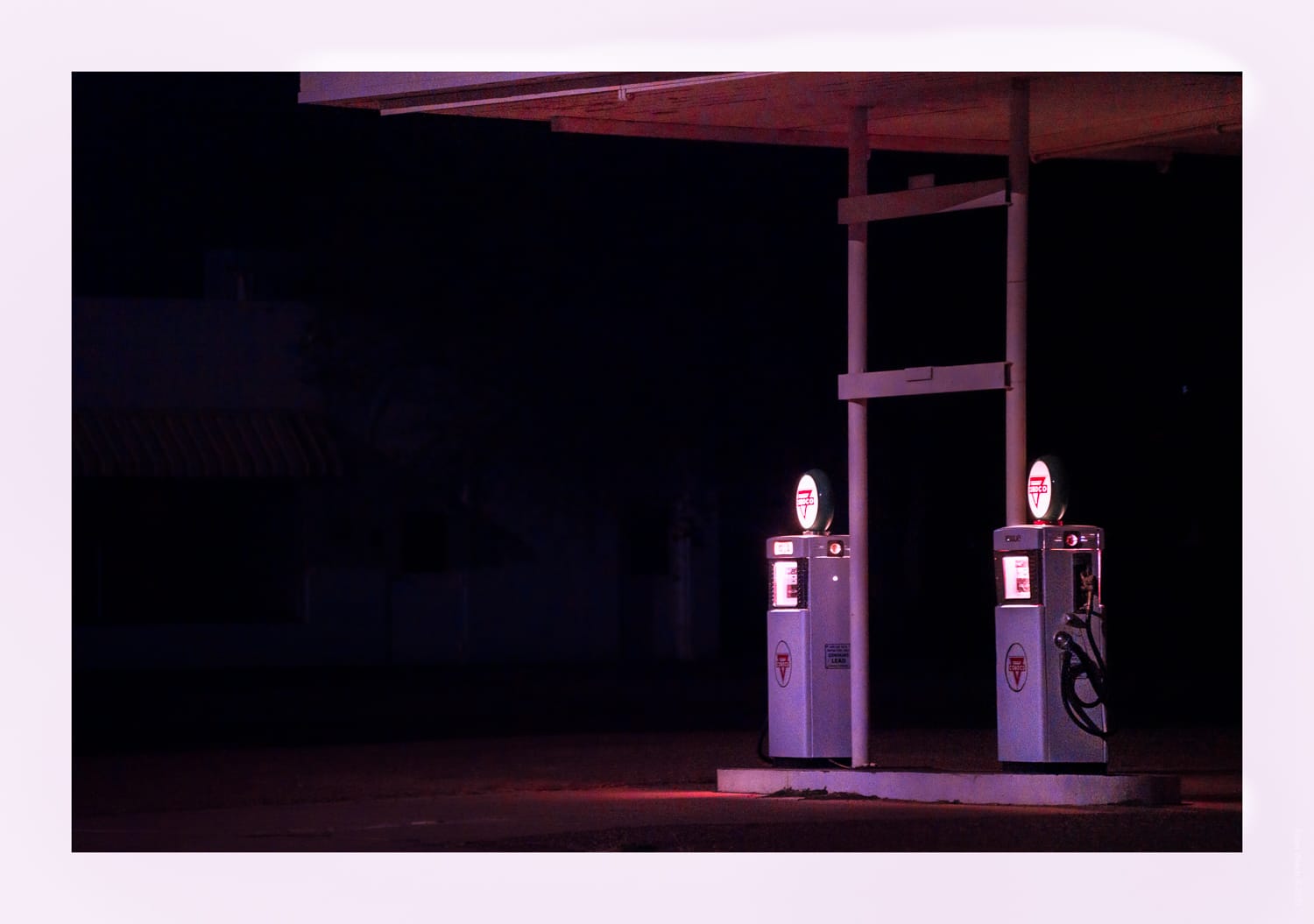 Now, back to that zoom lock… or lack thereof. I did experience drift of the lens barrel during an especially long and vigorous hike in the Arizona desert. While there is, of course, sealing on the lens to help prevent the entry of dust, I would have preferred to keep the lens as tucked in as possible in the dirty desert conditions. A zoom lock would have been of great use in this case.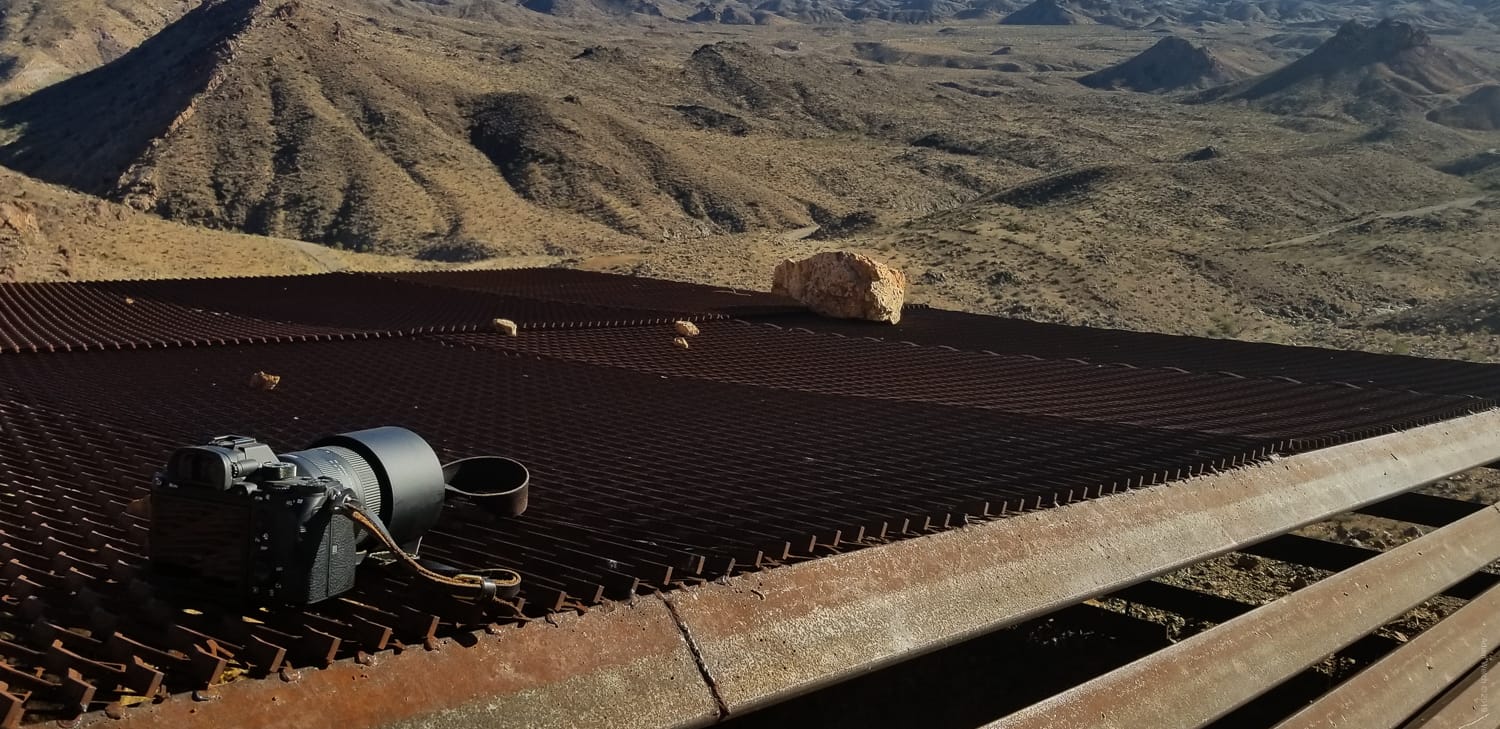 Sharpness, Contrast, and Color
And yes, let's talk more about the sharpness, color, and contrast produced by the 70-300mm /4.5-6.3 Di III RXD. In short, it's beautifully sharp and renders images from the high-resolution sensor of my Sony marvelously. In most cases, I was shooting at the maximum apertures for the giving focal-lengths. This means that even shooting wide-open apertures seemed to present no real concerns in terms of sharpness.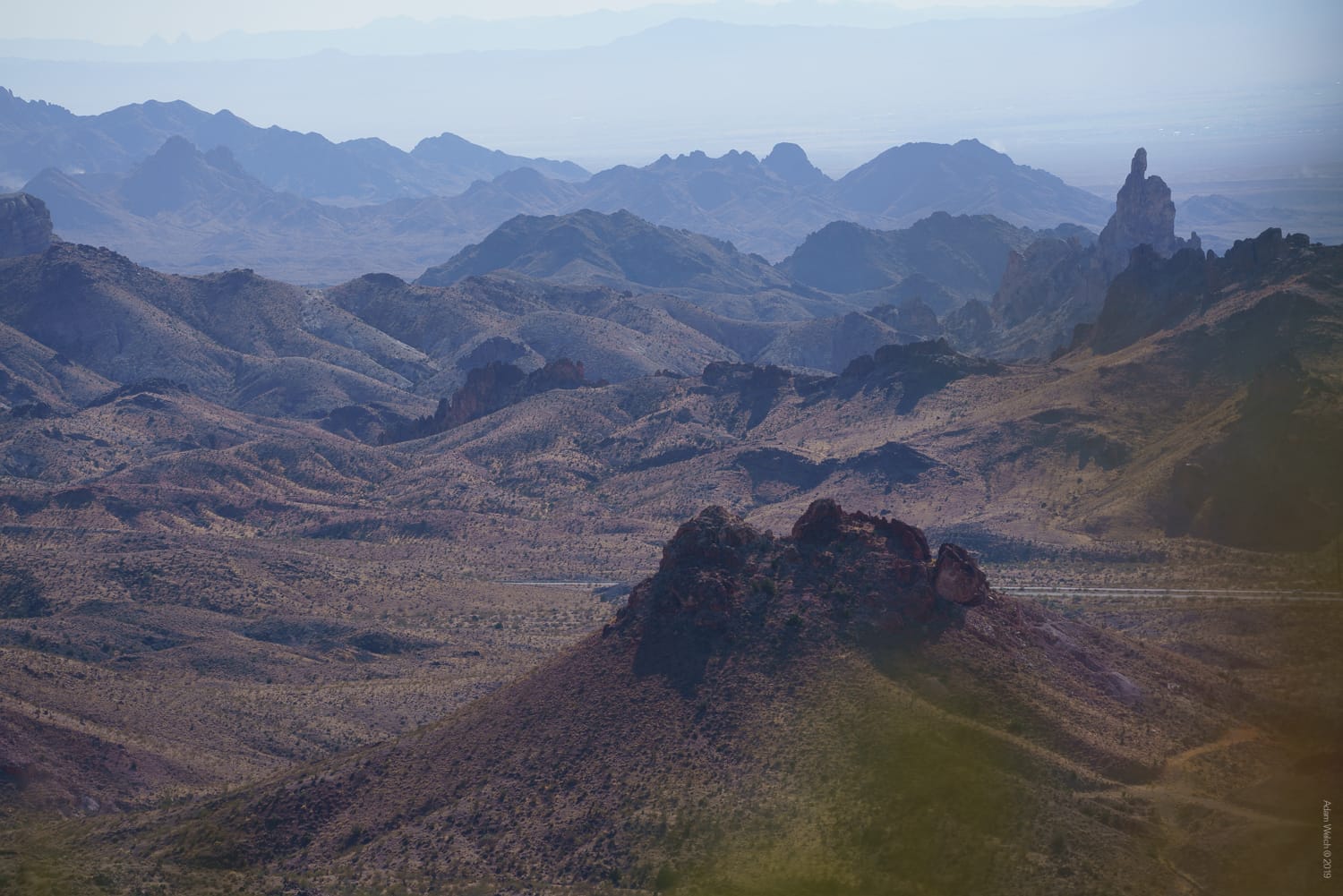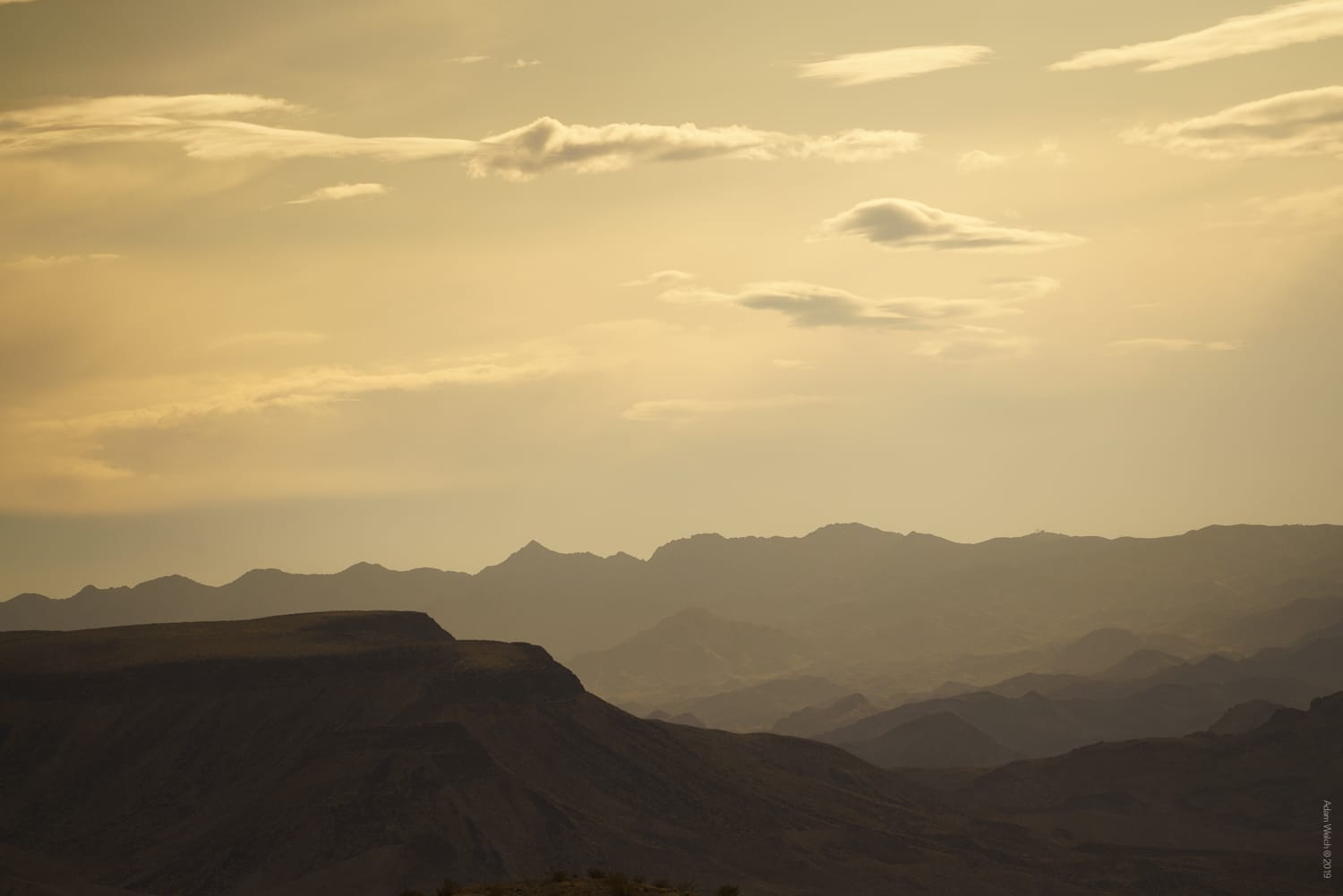 It's much the same for the contrast and color rendition. Colors are beautiful and saturated, with the contrast being perhaps a bit on the heavy side for my tastes. I would even go as far as naming the 70-300mm to be a "contrasty" lens. In most cases, this worked to my advantage and personal tastes. However, a few images required me to actually decrease the contrast depending on the inherent contrasts within the scene.
As far as vignetting and chromatic aberrations are concerned, these issues are becoming more difficult to quantify due to the more commonplace implementation of in-camera lens corrections. Withstanding, I noticed a small amount of vignetting at focal lengths ranging below 100mm and above 200mm, but this has become less and less of a concern for me. It's worth noting that as of the time of this review, there was no correction profile available in the current v10.0 of Lightroom Classic, but the profile for Tamron's 70-300mm f/4.5-5.6 seems to work quite nicely.
There was virtually zero barrel or pincushion distortion observed at focal lengths below 250mm during my tests at any focal length and only a slight barrel distortion over 250mm.
Autofocus
In my opinion, one of Tamron's greatest achievements of the last five years has been the development of their RXD (Rapid eXtra-silent stepping Drive) AF system. The RXD AF functioned beautifully, even in low-light shooting, with only a handful of instances when the AF failed to lock on to the subject quickly. The AF is virtually silent and vibration-free and seems to be even less noticeable on larger lenses such as this. While I personally prefer that wonderful VXD drive present on the 70-180mm f/2.8, I feel that the RXD system is incredibly sufficient for most shooters and most shooting situations.
For a more in-depth analysis of both the processed and RAW image samples made with the 70-300mm, as well as my thoughts about the shooting experience with this lens, check out our video review below.
Closing Thoughts on the Tamron 70-300mm Di III RXD
How to sum up my experience with the Tamron 70-300mm? Well, I was pleasantly surprised at just how easy the lens was to carry even for extending periods of time.
It's extremely lightweight for its size. I would have liked the inclusion of a zoom-lock to avoid the lens drift I experienced on longer treks when the lens was carried nose-down. Aside from this small issue, the overall performance in terms of sharpness, color, and contrast, as well as solid AF performance, makes the 70-300mm somewhat of an unexpected pleasure to wield.
Taking into account it is the most budget-friendly of Tamron's current telephotos for Sony E-Mount, priced around $549US at the time of this review; it makes this lens an incredibly attractive option for those looking for a high-performing telephoto for their full-frame or even crop sensor Sony mirrorless cameras.