Six Spectacular Nature Spots for Photographers Visiting Iceland
Sparkling spring fountains, sprawling mountainous landscapes and the impossibly beautiful aurora borealis – these are just a few features all found in Iceland. This diverse range of unparalleled and breath-taking scenery makes this country the perfect destination for photographers.
From the rumpled and rough-hewn volcanic vistas to the plethora of unique Nordic natural beauty, there is so much to capture with the click of a shutter button. Whether you're visiting Iceland to increase your professional portfolio or just to add to your holiday album, there are six top spots that no photographer will want to miss.
Thingvellir National Park
Thingvellir is home to some of the most photogenic spots in Iceland which are easily accessible from Reykjavik – perfect if you're planning on booking a short break in Iceland. Highlights include the craggy tectonic rifts where the Eurasian and North American continents divide. There are even two submerged rifts (known as Silfra and Davíðsgjá) which you can dive or snorkel in – pack an underwater camera to capture what lies beneath.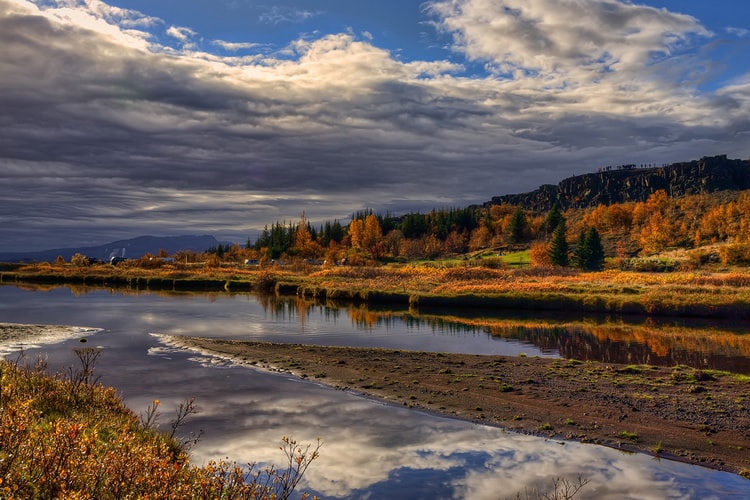 Where is it? Thingvellir National Park can be found on the Golden Circle Route, which is not far from Reykjavik (approximately a 42 minute journey).
Geysir and Strokkur Geysers
Geysir and Strokkur are both erupting hot water fountains located in an area of geothermal activity in the valley of Haukadalur. Geysir has existed for approximately 10,000 years – it was the first recorded spring of its kind and was named after the Nordic phrase "geyser", which means "to gush". The English word for these springs geyser was later adapted from the name of this first documented phenomenon.
This valley is also the home of the iconic Strokkur geyser (approximately 50 meters south of Geysir) which can erupt every 4-8 minutes and can shoot boiling water to heights of up to 40m. This is a much more reliable geyser for photographers hoping to catch a snap of the erupting springs as Geysir has become increasingly inactive over the years.
Those hoping to visit Geysir and Strokkur will face a fee of ISK600 from 10th March 2014 if they are over the age of 17.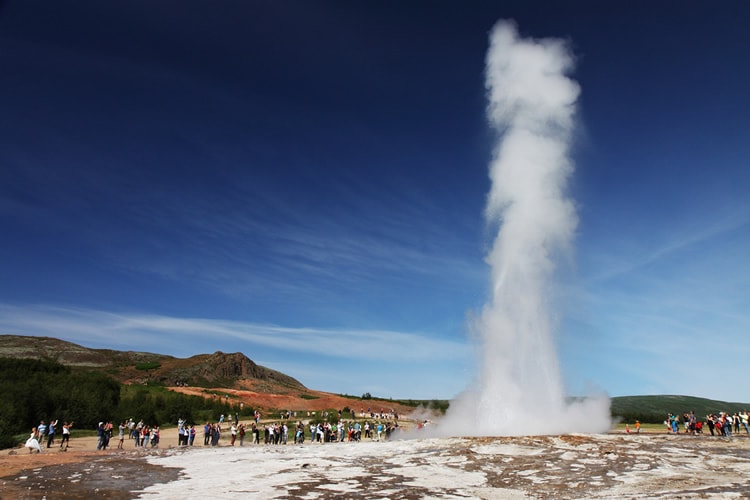 Where is it? The Haukadalur valley is approximately a 1 hour 25 minute journey from Reykjavik in southern Iceland.
Gullfoss
A magnificent, thundering two-tiered waterfall – Gullfoss crashes over a 32m drop before plunging down again into a mile long gorge.
Gullfoss is Icelandic for "golden falls", and this stunning example of natural beauty was awarded this name because when the sun catches the glacial sediments carried in the water on a sunny day, the staggering crevice into which the water tumbles glows with a golden hue.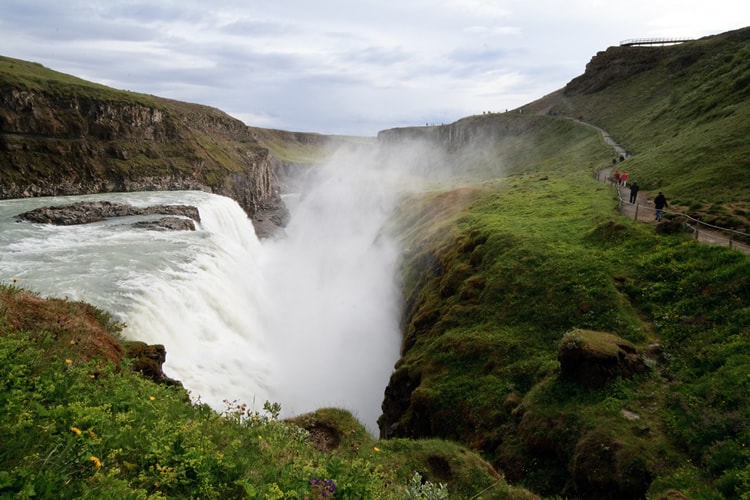 Where is it? The Gullfoss can be found at the end of the Golden Circle route in southern Iceland, about an hour and a half away from Reykjavik.
Seljalandsfoss
Considered as one of Iceland's most beautiful and famous waterfalls, Seljalandsfoss cascades 200ft over a former sea-cliff before running down to meet the shore. Due to the unique formation of Seljalandsfoss, visitors can walk on a path behind the picturesque waterfall, creating not only a perfect photo opportunity but a completely unique experience.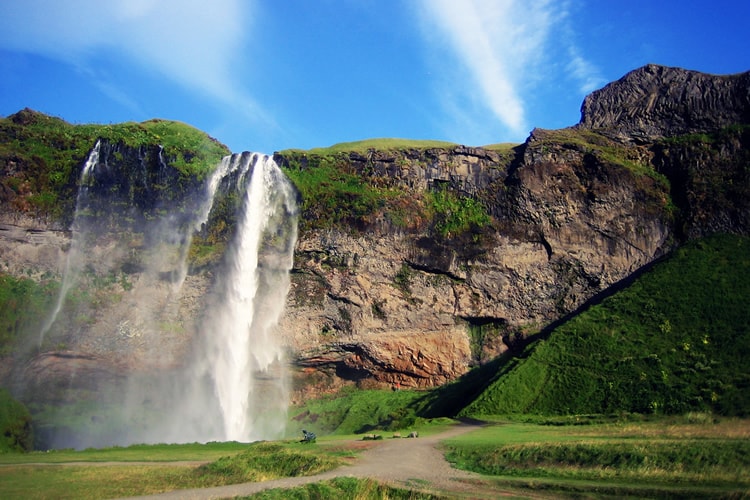 Where is it? Seljalandsfoss is on the south coast of Iceland and is approximately a 1 hour 37 minute journey from Reykjavik.
Jokulsarlon Iceberg Lagoon
The Jökulsárlón lagoon, on the edge of Vatnajökull National Park, was created due to the effects of climate change and is named after the Icelandic phrase for literally "glacial river lagoon". The lagoon earned this name because the stunning slow moving lagoon is studded with bright blue and white icebergs that break off from the surrounding glacier and glide across the still surface of the water
Jokulsarlon is known as one of the natural wonders of Iceland, therefore making it a must-see for photographers. Those who prefer to stay on dry land can snap icebergs from shore, or can get up close to the big, beautiful icebergs which calve from the Breiðamerkurjökull glacier in an amphibious craft.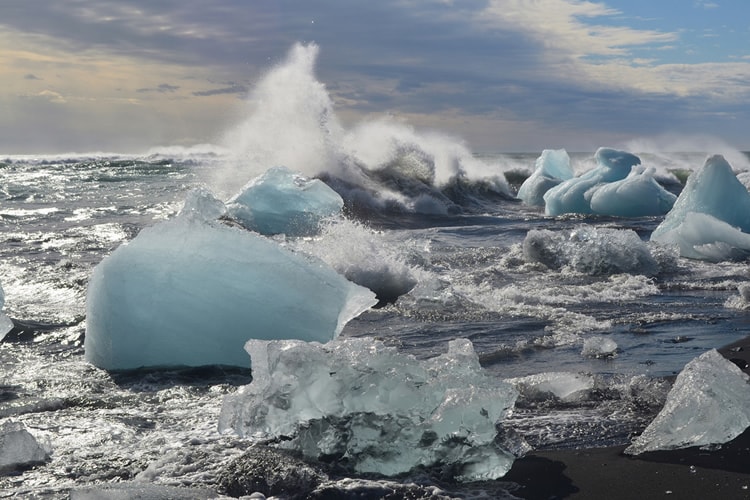 Where is it? Located in close proximity to highway number 1 in west Iceland, Jokulsarlon is a long drive from Reykjavik at approximately 4 and a half hours.
Midnight Sun over Vik
Although Iceland is renowned for its natural beauty, the village of Vík is a particularly special slice of serenity found at the most southern part of Iceland. The area is relatively secluded and quite in comparison to the bustling cities of the country which means photographers can capture the tranquil surroundings and revel in the wildlife that gather there.
Due to its southern location, Vík also plays host to the natural phenomenon of the midnight sun, where during the solstice the sun is visible for 24 hours. Photographers couldn't ask for a much more magical moment to capture.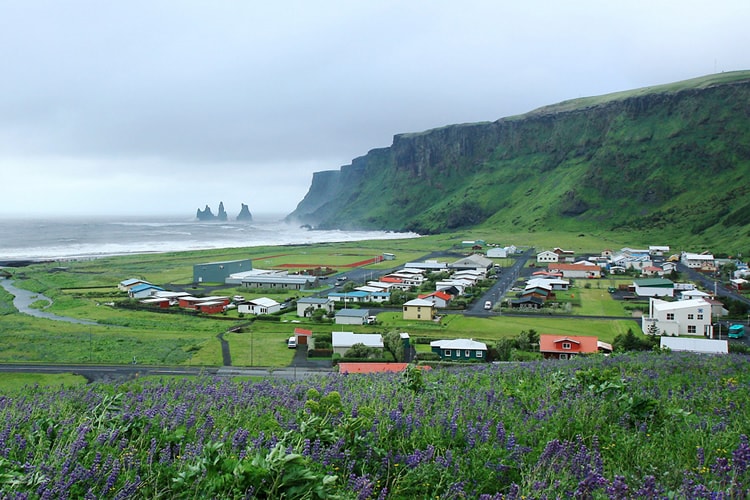 Where is it? Vík can be found on the very south coast tucked in amongst volcanic landscapes and neighbours the Myrdalsjokull icecap. Vik can be reached from Reykjavik in about 2 hours 17 minutes.
I hope you enjoyed this post about Iceland and its natural beauty. Have you ever visited and photographed Iceland? Please share your experience and thoughts via Twitter or Facebook!