Post-Processing Software Review: Zoner Photo Studio X
It might very well be a bit vulgar even to discuss this. Perhaps slightly uncouth. A little inappropriate… like talking about the paintings on opening night at an art show. Still, someone has to do it, don't they?
For the better part of the last decade, some of, if not the most widely used digital photography post-processing platforms have been brought to you by Adobe. Whether it be Lightroom (one of its many iterations) Photoshop or Adobe Camera RAW, the chances are fairly sizeable that you or someone you know uses a version of post-processing software produced by the good folks at Adobe.
Of course, that's technically only gleaned from this author's opinion as current statistics from that realm are increasingly difficult to come by.
That being said… there is a conspicuously large elephant in the room when it comes to photo processing platforms. Until the last few years, photographers haven't had that many (relatively) options other than Adobe to process their digital images.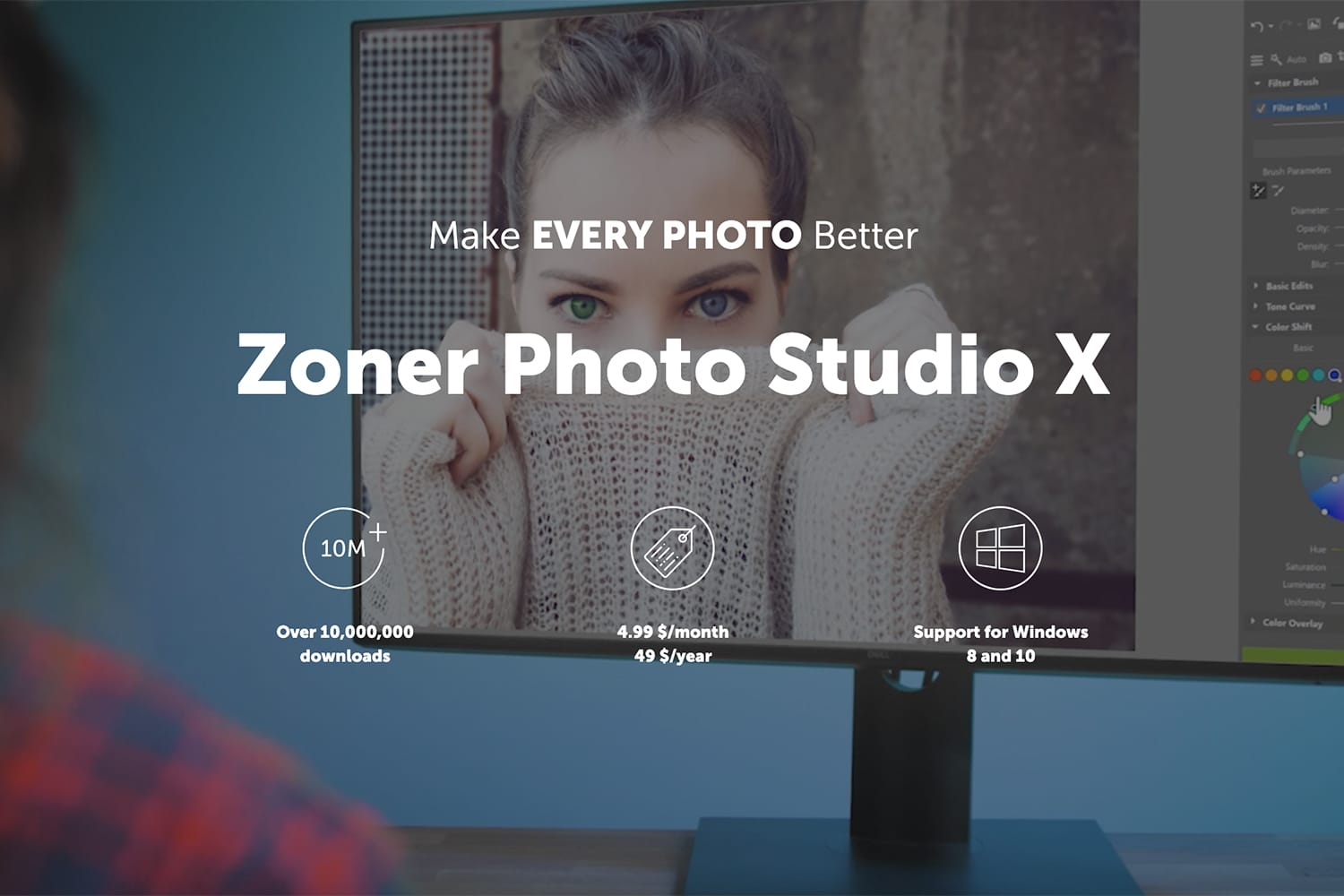 Changing Times
"But the times, they are a-changin'." Bob Dylan said that.
The times are indeed changing as more and more non-Adobematic (making up words is fun) applications are becoming available to photographers who feel like stretching their creative legs and branching out into other platforms to process their digital images. In fact, we've reviewed some of these other programs thoroughly right here on Contrastly.
Today, I want to introduce you to a new piece of post-processing software (note: it's Windows only!), Zoner Photo Studio X.
Make sure you get Zoner's Black Friday offer now before it goes away!
In truth, perhaps I shouldn't call Zoner "new" as the company has been around since 1993; making it technically a living entity fourteen years before the introduction of Adobe Photoshop Lightroom Version 1 in 2006.
The Zoner Photo Studio X software seeks to combine the functionality and intuitive navigation of Lightroom Classic while providing the advanced power of a layers-based ecosystem similar to Photoshop.
Simply put, Zoner is striving to produce a literal "all-in-one" digital photo editing solution.
There have been quite a few others to attempt this, and Zoner Photo Studio X (ZPS X) seems to rank high on the list of those who have succeeded. Not only does ZPS X successfully provide basic post-processing adjustments for exposure, white balance, and color correction, but it also brings into the fold a host of other capabilities for both local and global photo adjustments. This includes an incredible AI engine for making extremely clean results when retouching portraits and tweaking your photos.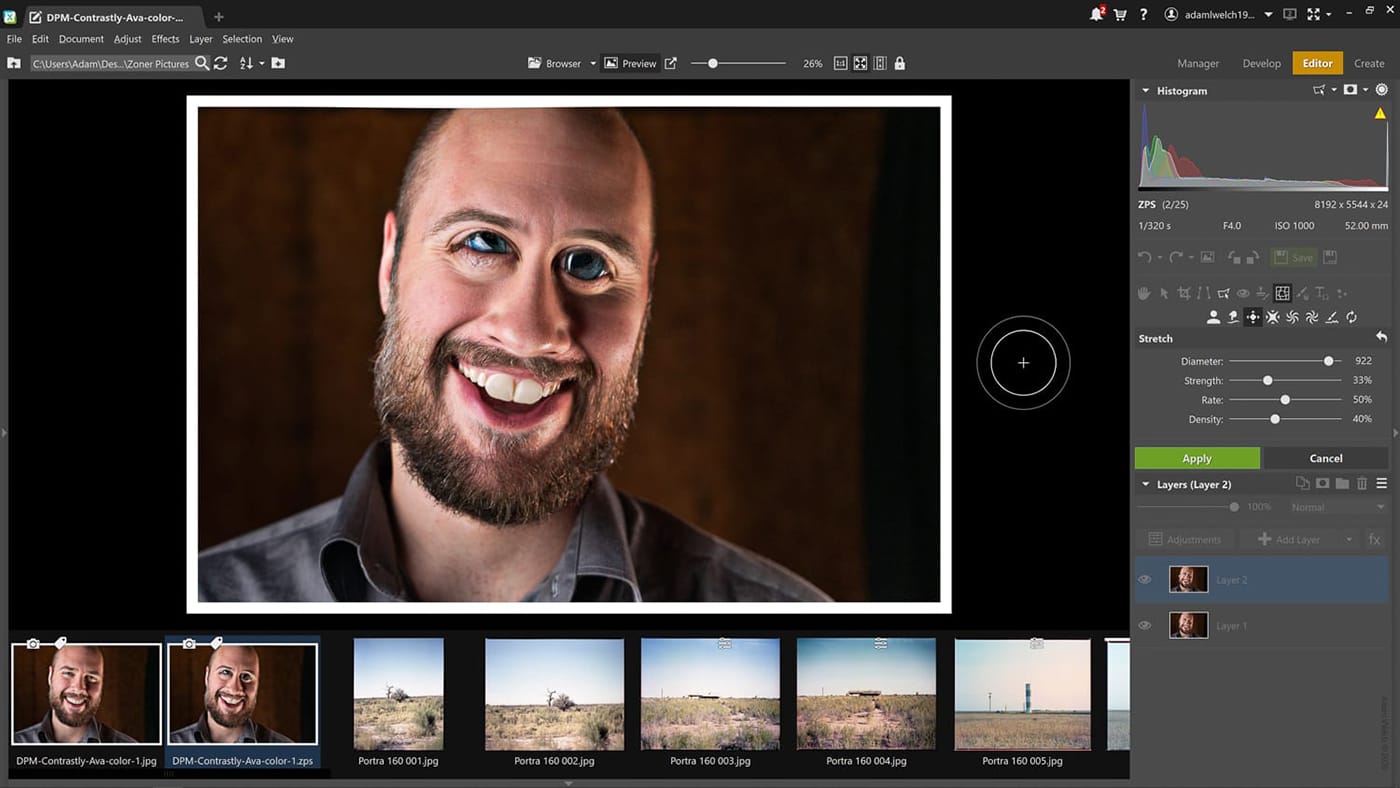 And did I mention an in-program "Create" module that essentially allows you to produce prints, calendars, postcards, canvases, and even photo books directly from within the software?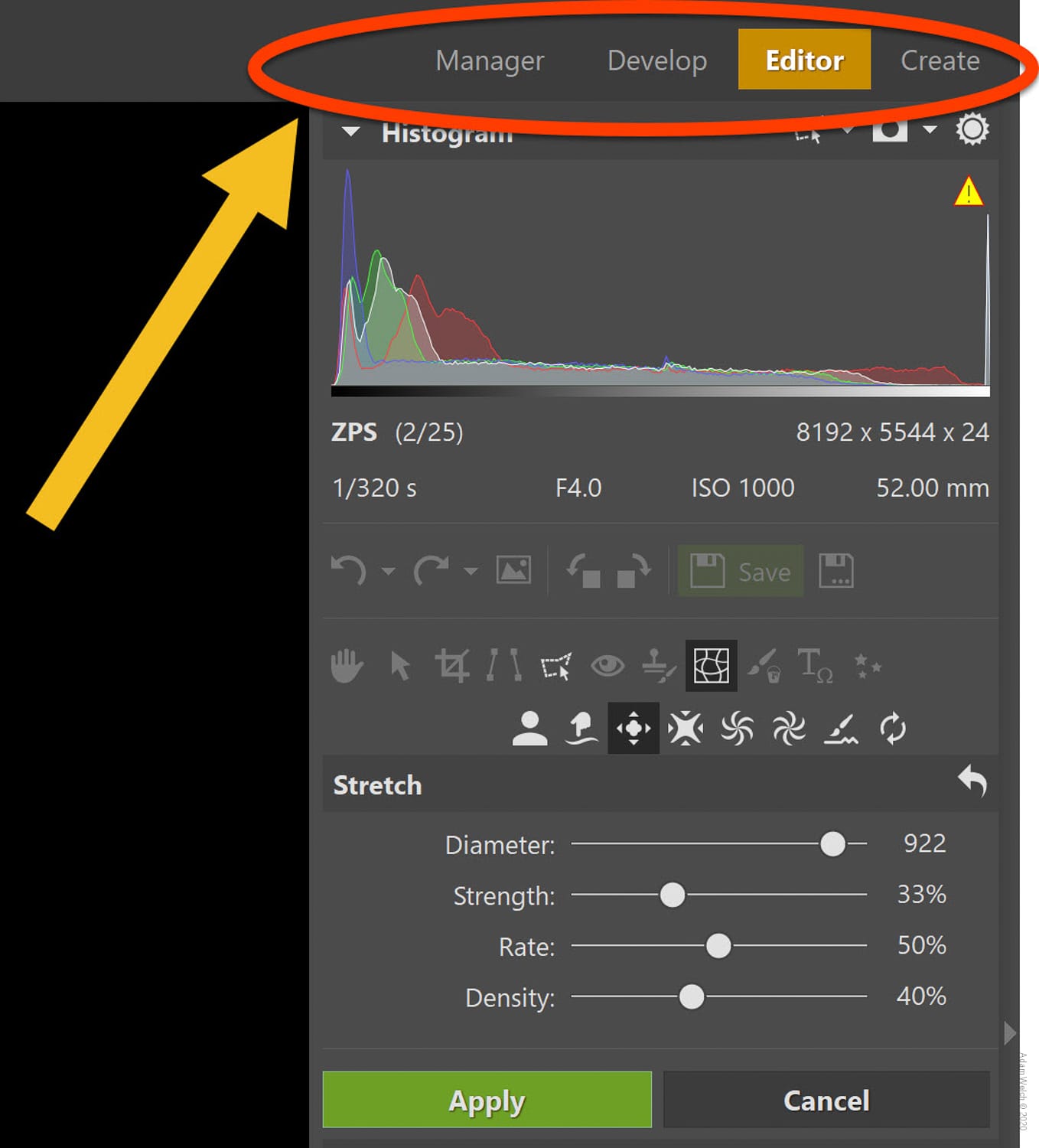 It's always better to "see" than to "read," so I've attempted to show you all that I can with this comprehensive video on Zoner Photo Studio X. Feel free to skip around the video using the table of contents in the video description.
After you're finished, head back here for a more in-depth commentary on my experience using ZPS X for the past few weeks.
The Good, The Bad, and The Not So Terrible
So. Let's talk about this. What does Zoner Photo Studio X bring to the table? First, the good.
1. An incredible number of features.
ZPS X provides an enormous toolbox of basic and advanced processing features such as basic adjustments and color grading. At the same time, you have the power of layers and layer mask editing right inside the program, which rivals, if not surpassing those available in Photoshop, in my opinion. Not to mention that incredibly cool AI-driven liquify tool.
2. So familiar… only… not.
Let's face it; the chances are that you are considering Zoner as an alternative to other photo editing programs. Whether it's for the lower price (more on this in a moment) or maybe you want to try something new. The good news is that no matter which post-processing program you have been using, there will likely be less of a learning curve simply because the ecosystem in ZPS X resembles so many other popular applications.
3. Opacity control for presets.
This was an enormous plus that I wasn't expecting when I first began using Zoner. The ability to control the strength of your develop presets within the program without requiring a third-party plugin is incredibly convenient.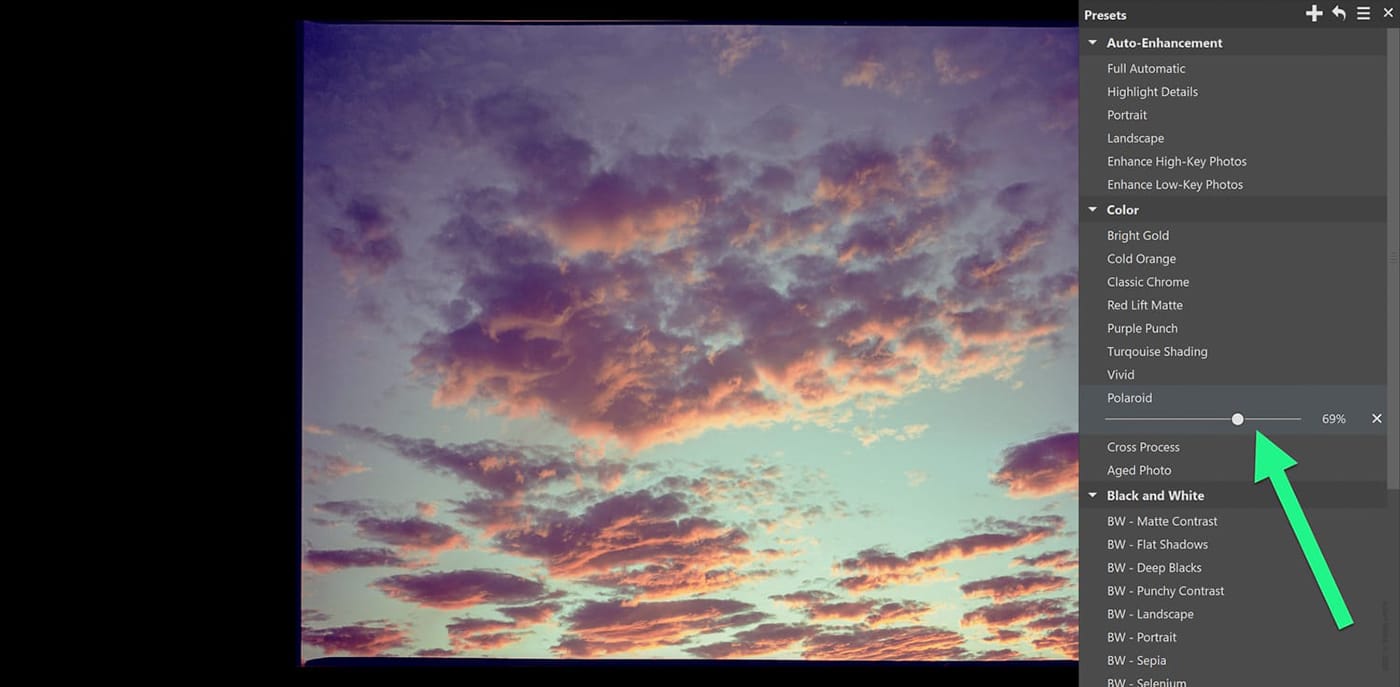 Furthermore, I've just been informed by the team at Zoner that a free pack of presets is included each month with your subscription.
4. In-App photo products.
Much like Adobe Lightroom, Zoner offers a rather impressive inventory of highly customizable photo products available without even leaving the program. It's a breeze to design your photo books, calendars, postcards, and more. And of course, there are many options for printing your photos as well.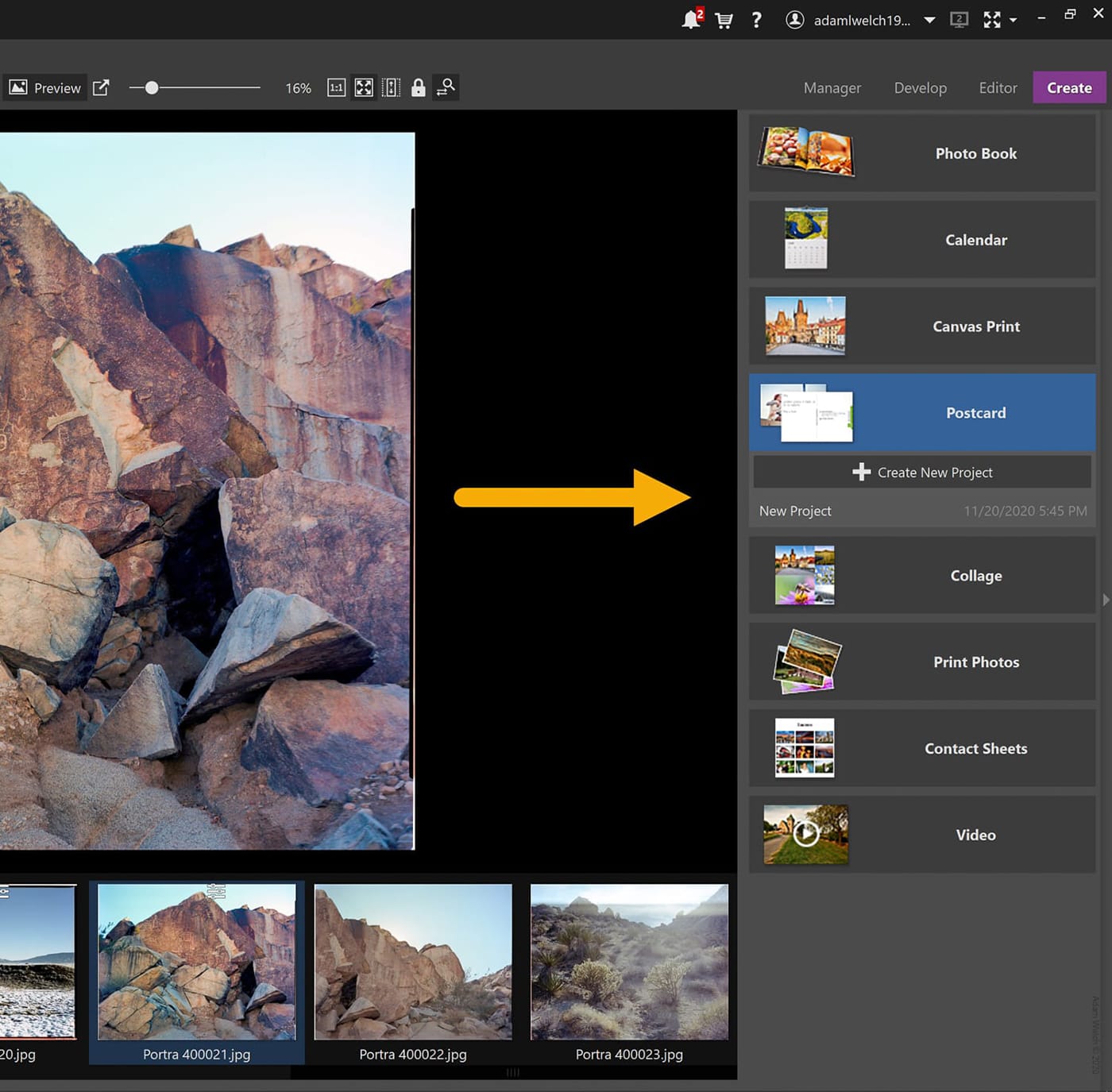 5. Import images from any of the four processing modules.
No need to exit from the Develop, Editor, or Create modules to bring additional images into Zoner.
6. Tabular ecosystem.
This is a handy way to work with multiple photos. Create a new tab and go to work.
7. The price.
A year subscription to Zoner Photo Studio X is only $49US per year. Suppose you're the type who doesn't like commitment; you can also opt for a monthly plan for $4.99US per month. This makes ZPS X more or less half the price of some other subscription-based photo processing programs…
Zoner isn't without its quirks, however.
Fortunately, there were few hiccups during my time using the program, but here are some examples of the minor issues I experienced:
1. It's a subscription service.
I know, I know… this is a large area of contention amongst photographers. You can't actually "buy" the software, but rather, you are "renting it," which is the common gripe. While it's true that Zoner operates on a subscription-based platform, I don't see this as a downside.
You'll receive free updates, free presets, free prints, free storage, and if you do decide to cancel the subscription, you won't lose access to your images. Still, I felt it was worth mentioning this point should it be a major concern for you.
2. Cumbersome direct-scan import.
I briefly mentioned this feature in the video but allow me to go into a bit more detail here. Zoner allows image importation from various sources, including directly from your scanner. This is great news for my fellow film shooters!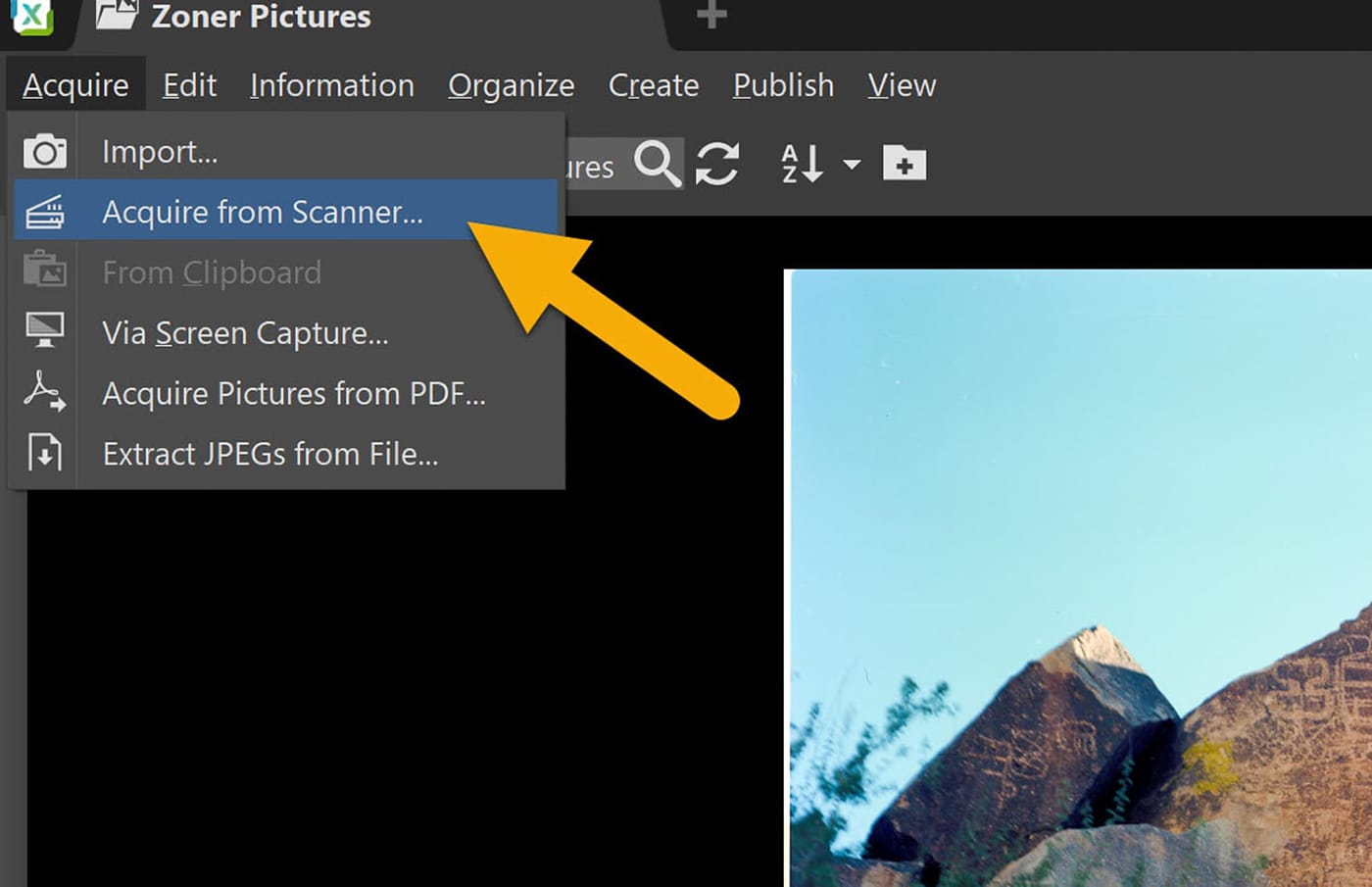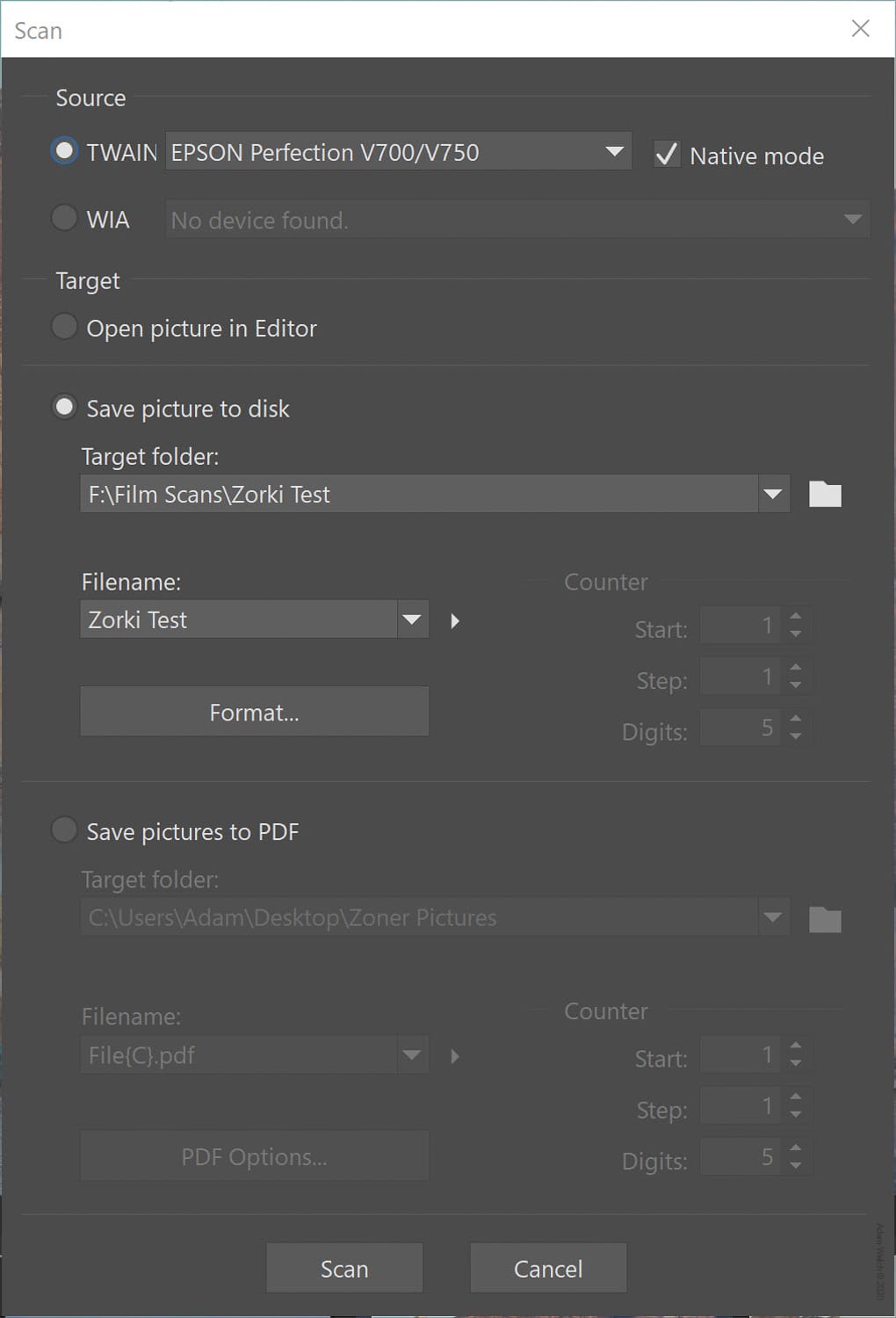 However, when scanning with my Epson V700, Zoner simply opened the Epson Scan Utility instead of a proprietary scan utility. In my use, I found the entire process to be somewhat laggy and the scan settings on the Zoner side to be somewhat confusing.
3. Feature overload.
Yes, as strange as it sounds, one of the greatest strengths of ZPS X is also one of its weaknesses; at least it could be for some users. There are simply so many tools packed into Zoner that it can be somewhat overwhelming if you don't have at least some experience in post-processing digital photos. While Zoner has handled the user interface generally quite well, there still is a lot to digest. Luckily, if you only plan on performing basic adjustments to your images, you can simply choose not to stray from the Development Module and feel comfortably at home.
Some Final Thoughts on Zoner Photo Studio X
When the team at Zoner reached out to me about reviewing their all-in-one image processor, they informed me that I would be pleasantly surprised with its capabilities. Was I? Absolutely.
Zoner does everything that I need my image processor to do. Being primarily a Lightroom Classic user (I wrote a whole book on it after all!) and a Photoshop user, it was refreshing to have all of the tools I frequently use housed under one roof. I can do all my basic edits in the Develop Module, then simply click over into the Editor Module to perform more advanced retouching and layer-based adjustments.
But please… even after reading this and watching the video review, I beg you to take advantage of Zoner's free 30 day trial of Photo Studio X. Like me, I think you will be pleasantly surprised.