Review of Colorado Tripod Company's 4-Series Centennial Tripod
Maybe the boat truly is getting too crowded. Perhaps that's a good thing for photographers. For better or ill, the past few years have seen an influx of cameras, lenses, filters, and tripods, unlike anything I've ever witnessed—gear… literally to no end.
So, you'll understand why I stand before you (sitting really) to tell you about yet another new tripod. And however, this one is different; The Colorado Tripod Company's 4-Series Centennial.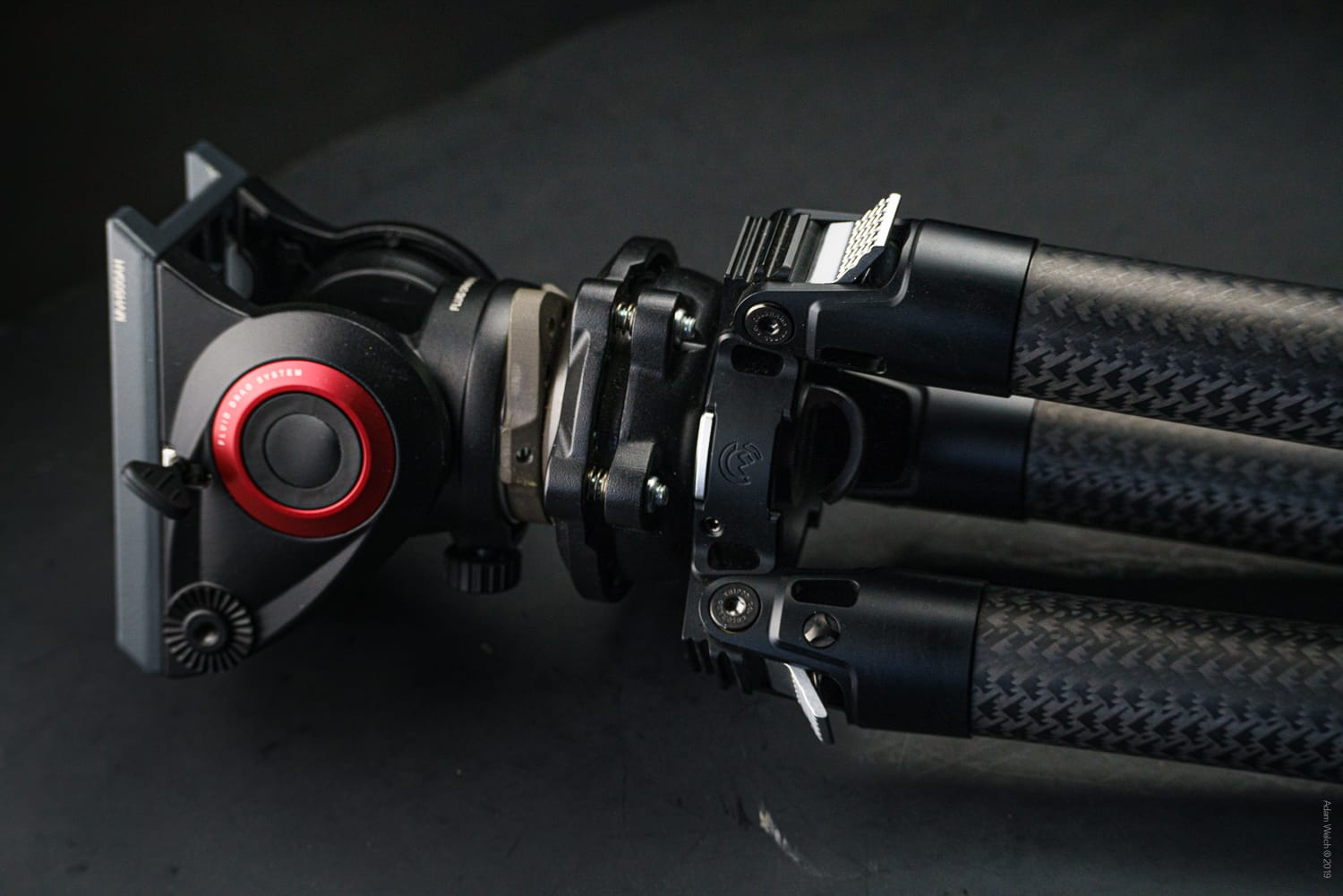 I'm no stranger to tripods. I've long been securely pitched in the "I'd rather have it and not need it than to need it and not have it." camp.
Just now, I estimated the tally of my tripods to number around ten—each with their own use and merits and each with their own special uses.
Often I pull out a quote relayed by Richard Boulware concerning the ideal tripod when he said of a conversation with Ansel Adams (yes, that one) that "The perfect tripod is a cubic yard of solid concrete with a 1/4″ x #20 bolt head sticking out of the top." I couldn't think of a better way to describe my experience with the 4-Series tripod from COTC. No… it's not made of concrete.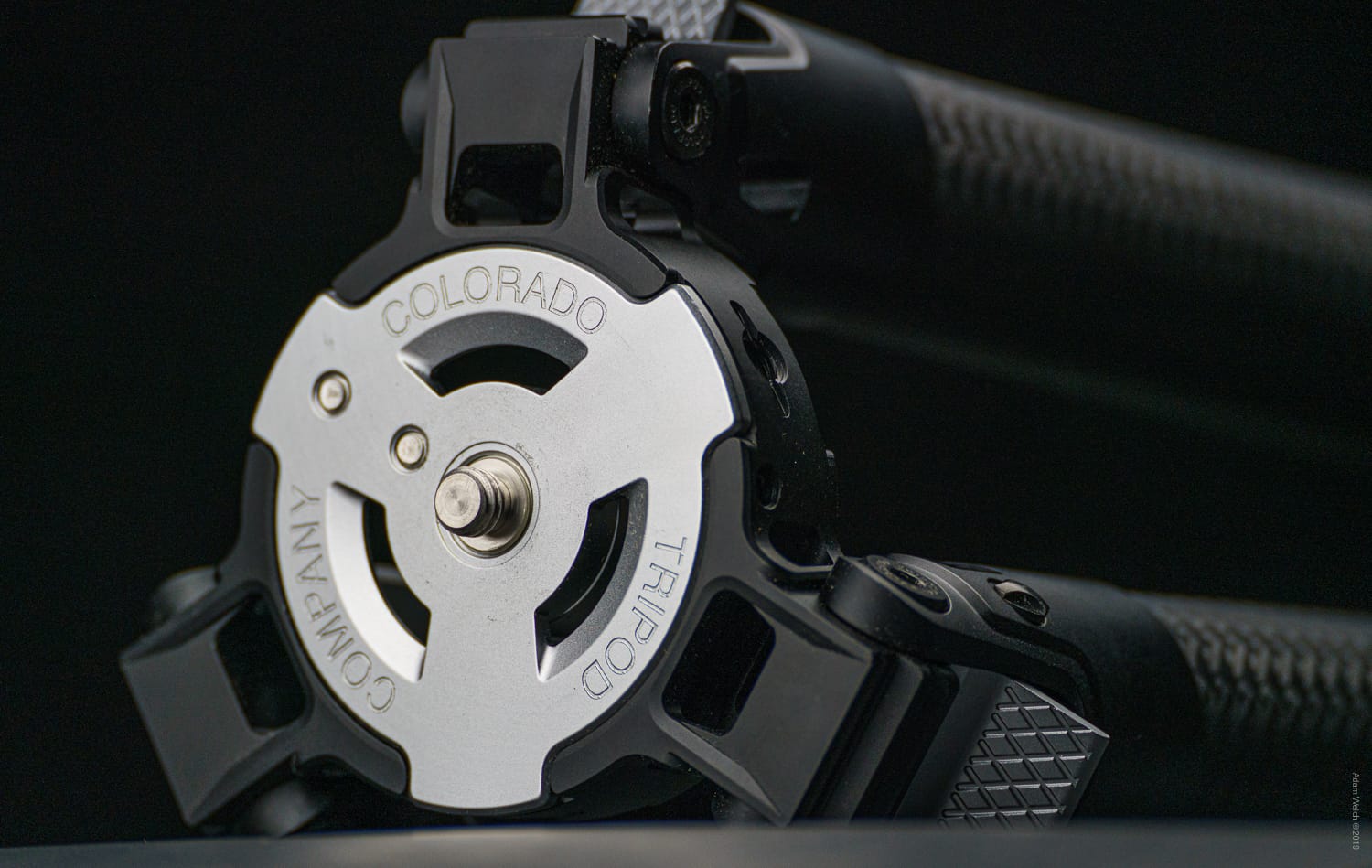 Have no illusions. The 4-Series Centennial certainly isn't a tripod for every situation, nor is it for every photographer. At the same time, if you're looking for a camera support system that is closing in on the stability of Ansel's concrete block… the 4-Series might be for you.
Let me tell you about it to gain some perspective from my experience and from widely varied situations I've tested it in over the past month.
Out of the Box
Before I even sliced open the package, the first thing I immediately noticed was the weight or rather the relative lack thereof. I knew the specifications of the 4-Series before taking receipt. It's not small; weighing in at just under 5lbs(2.3kg) and measuring 24 inches(61cm) collapsed.
So, you could understand why I was taken aback at the box's perceived lightness and smallness.
I was expecting some behemoth. A massive tripod. Something that could hold up the world if I could source a baseplate large enough for the job. Was I sent the wrong tripod? Could I have been incorrect in my expectations?
Then I opened the box…
No, I was correct. Aside from my beloved ash-legged Berlbach, I immediately knew this was going to be the largest tripod I had personally ever used.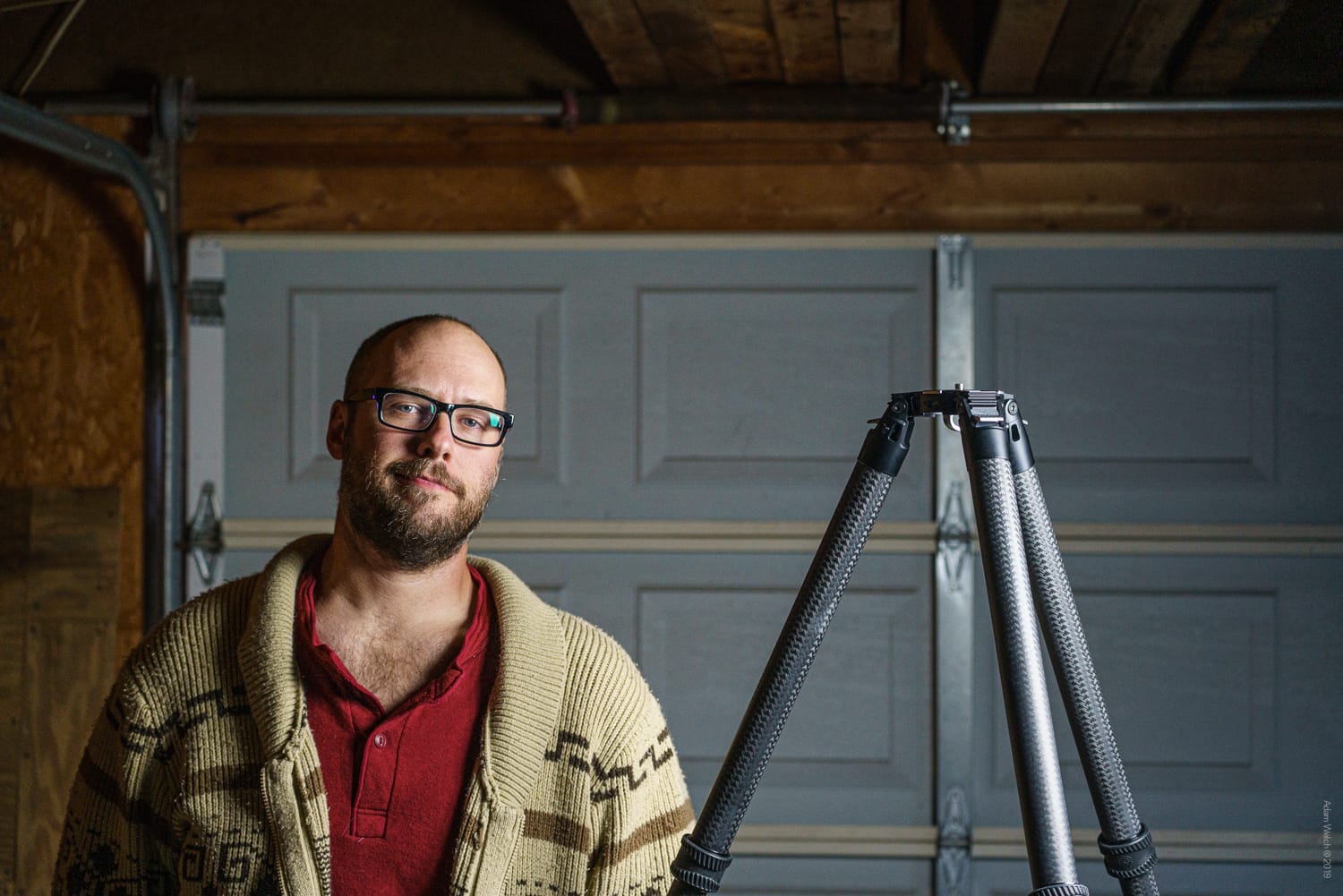 If you're used to more standard tripod fair, the type intended for mirrorless cameras, smaller DSLR bodies, or the compact tripods which lately have been classified as "travel tripods," then you likely will find the 4-Series to be visually shocking in terms of its general size.
Here is the CTCO 4-Series compared to my current 2-Series model, which we've reviewed here at Contrastly as well.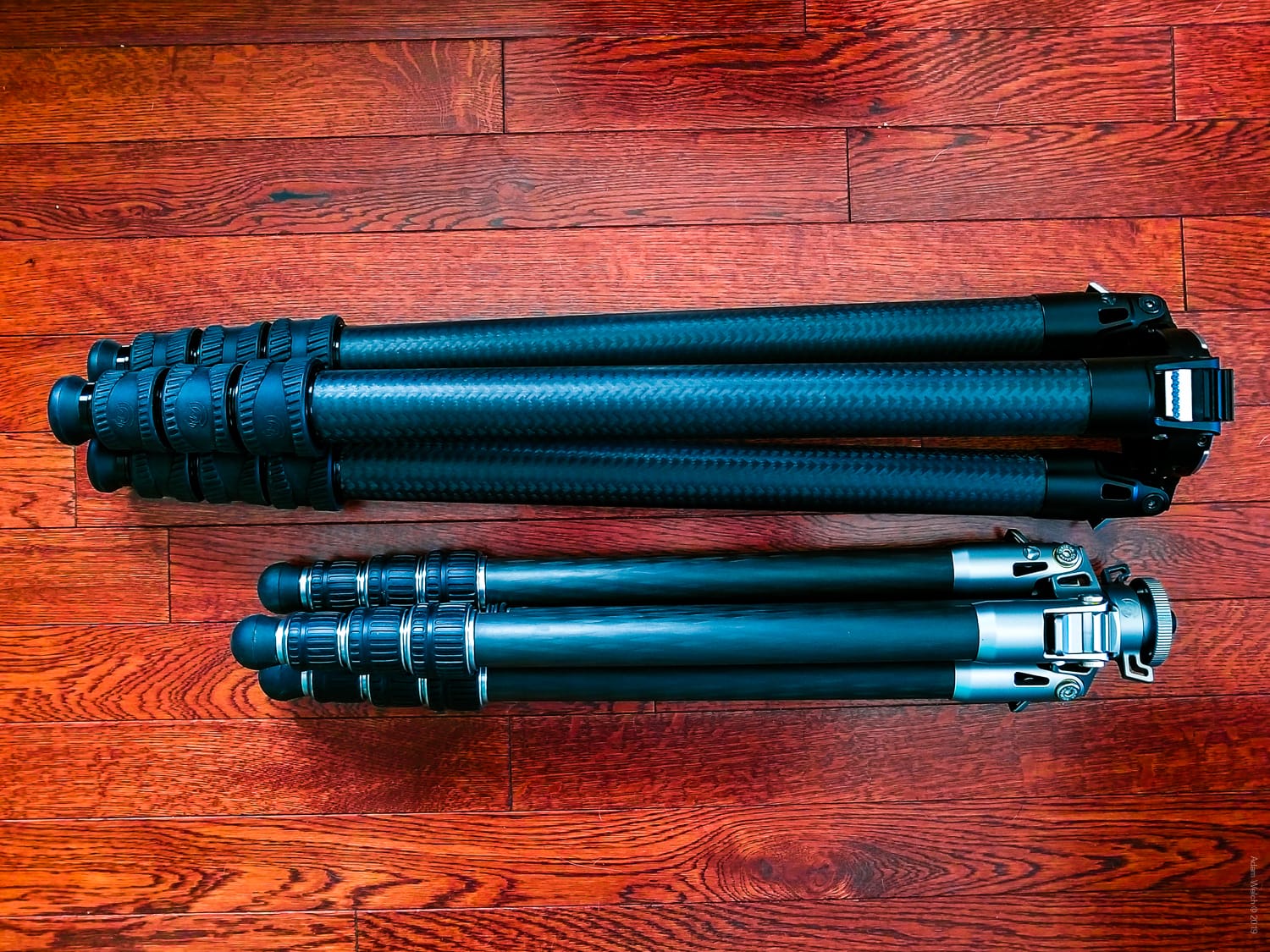 The reason I bring all this to your attention is that, for all its initial "wow factor," the 4-Series turned out to be incredibly manageable in more scenarios than I ever could have imagined. It turned out to be one of, if not my favorite tripod tested to date.
Aside from the obvious size, what struck me next about the 4-Series was just how inexplicably beautiful this tripod is, at least to my eyes. I had requested the matte black version with gunmetal accents (there is a plain gunmetal model as well), and aesthetically it is a marvel.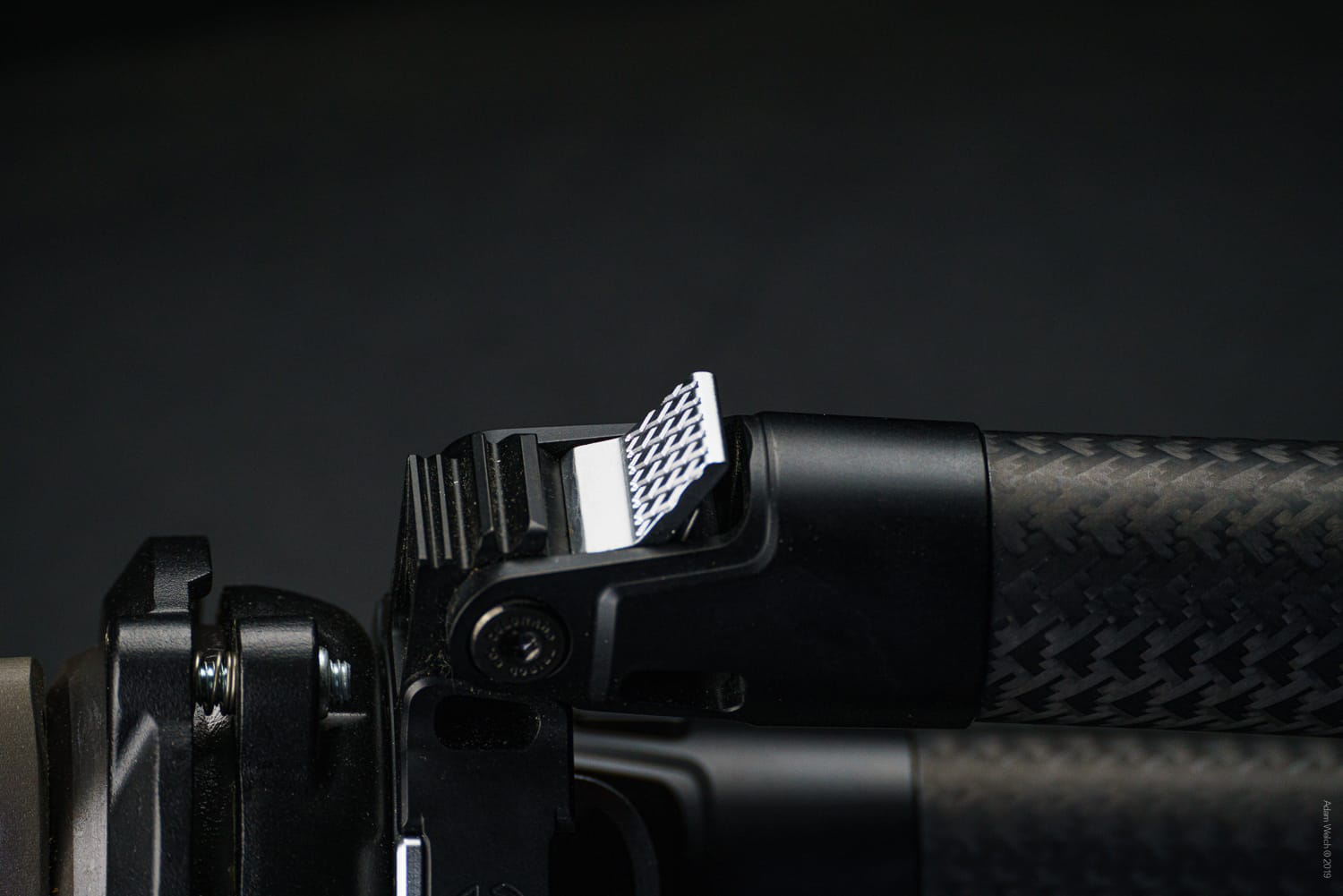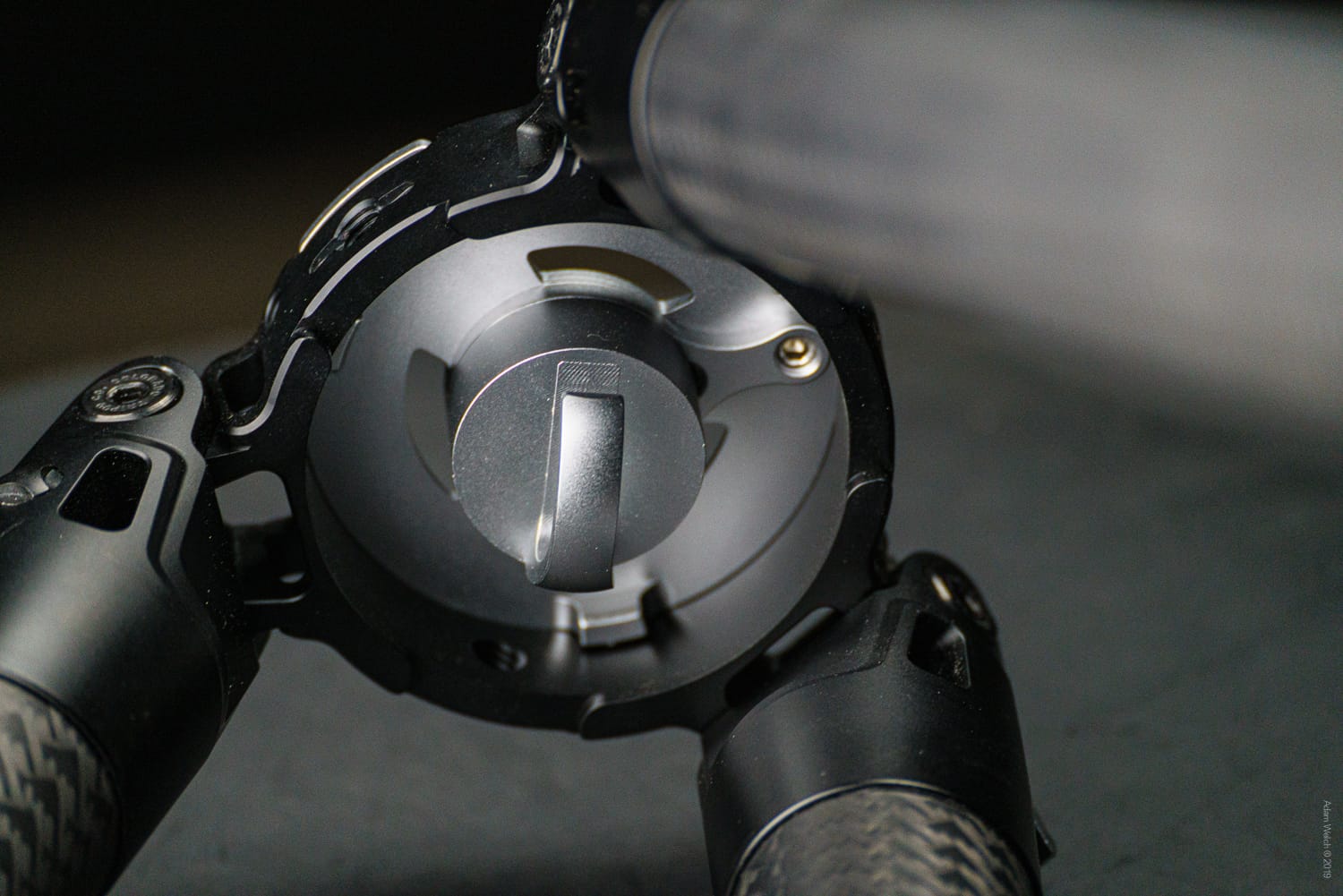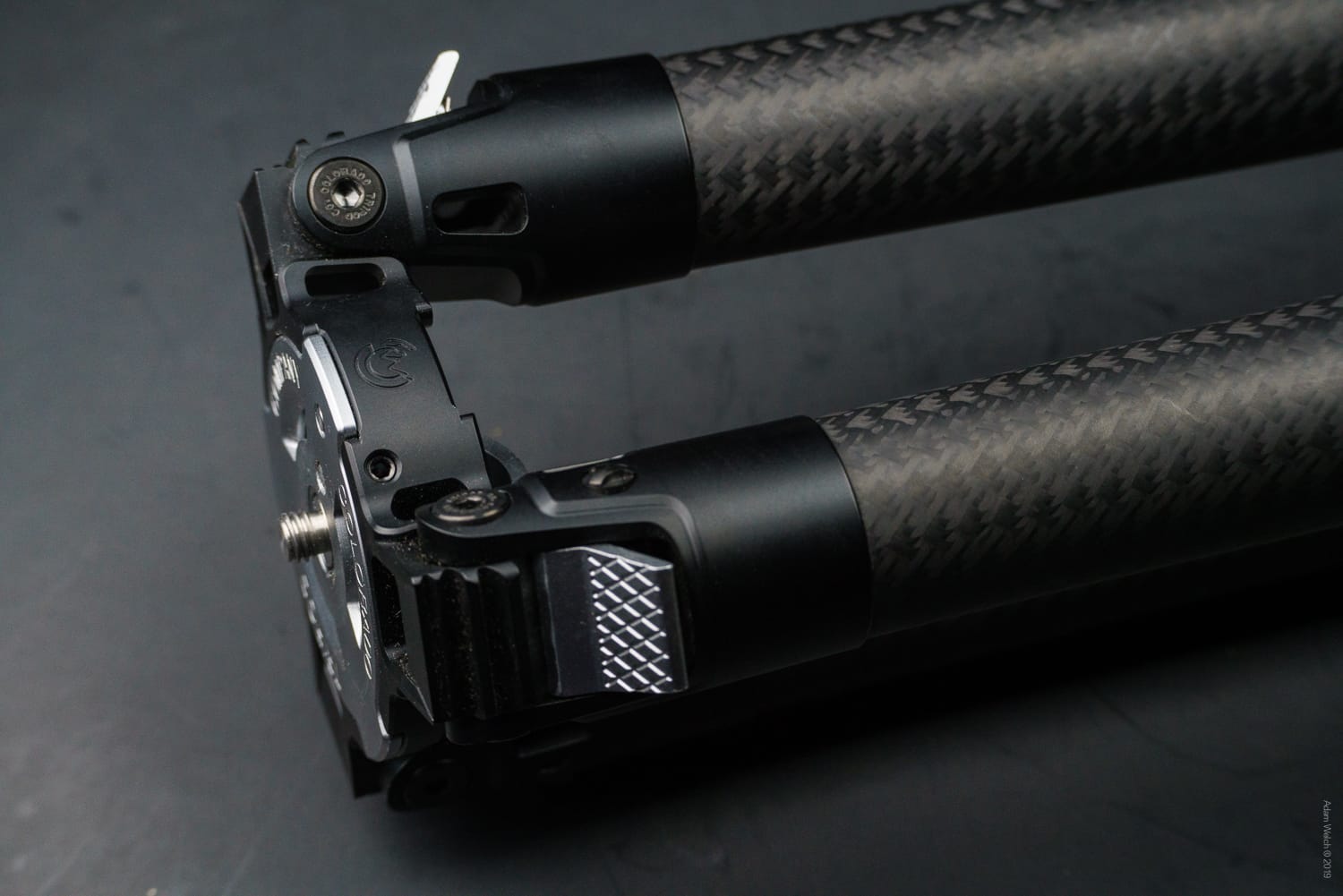 Four-section carbon fiber legs, delightfully grippy leg locks, expertly finished in virtually every possible way. For lack of a better word, the 4-Series was visually "perfect." It also was shipped with three proportionately large, detachable spiked feet.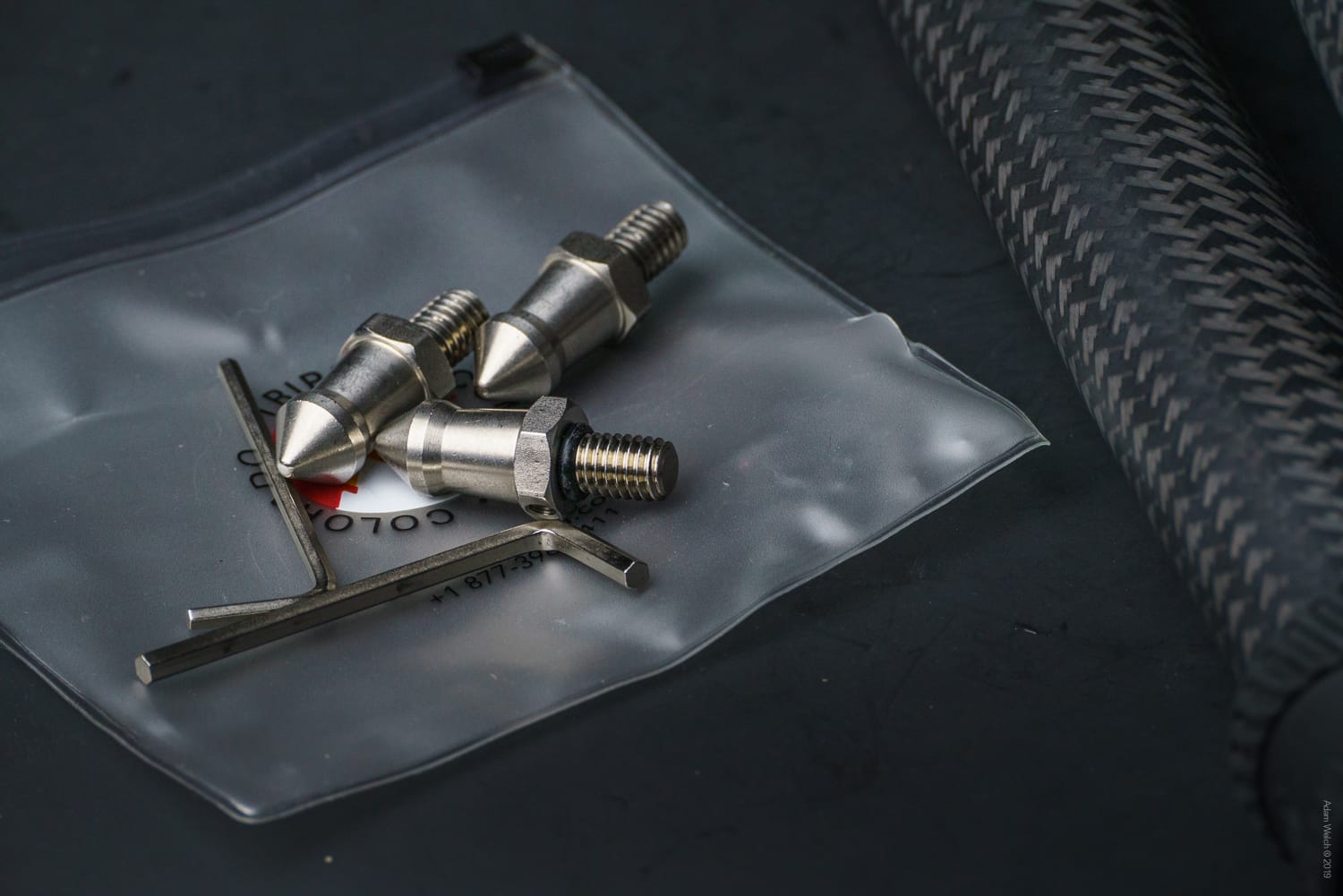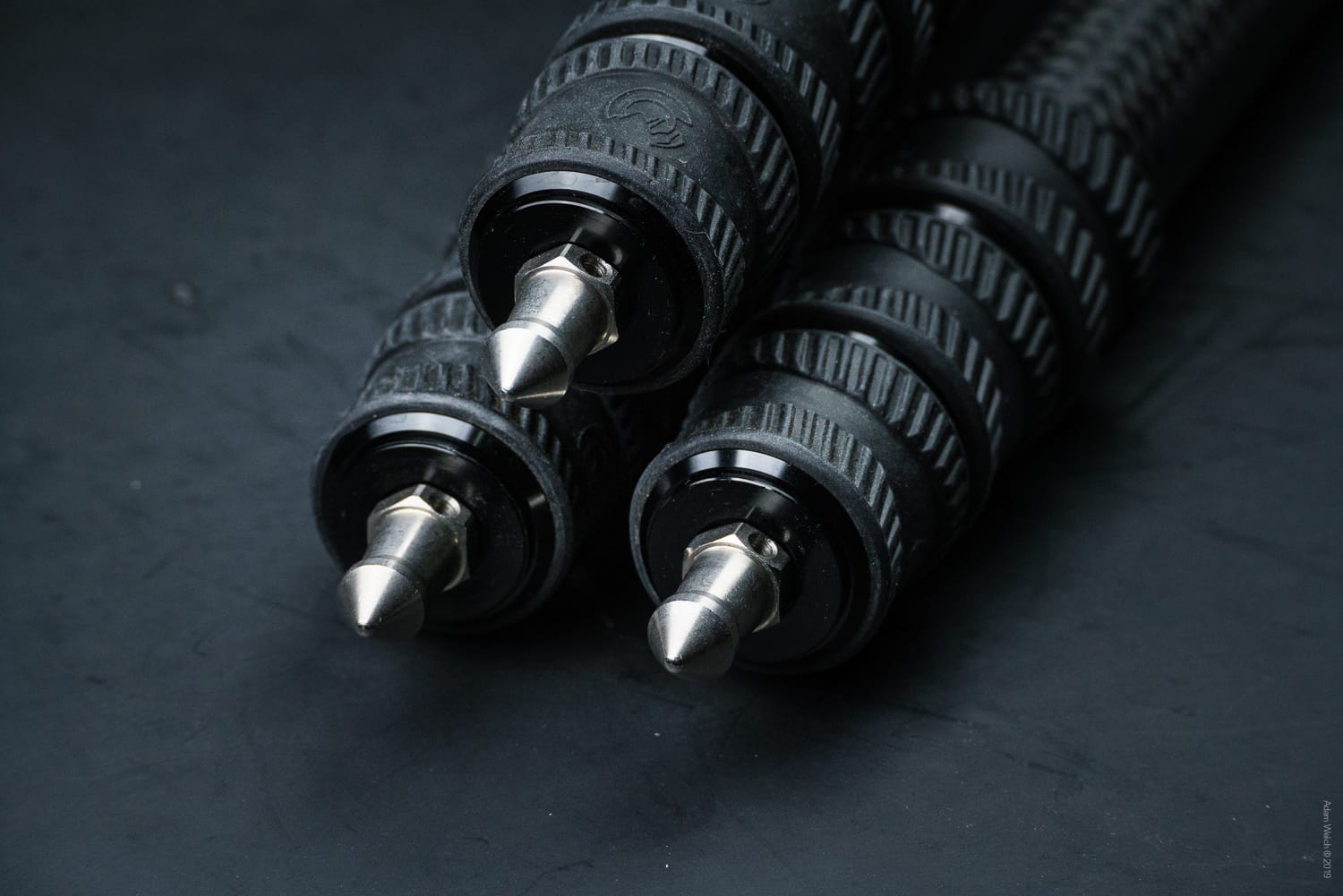 Suppose you're new to using tripods that lack a center column (I prefer this configuration). In that case, you'll be pleasantly surprised with how low of a perspective is obtainable even with larger tripods. The 4-Series can get low… real low.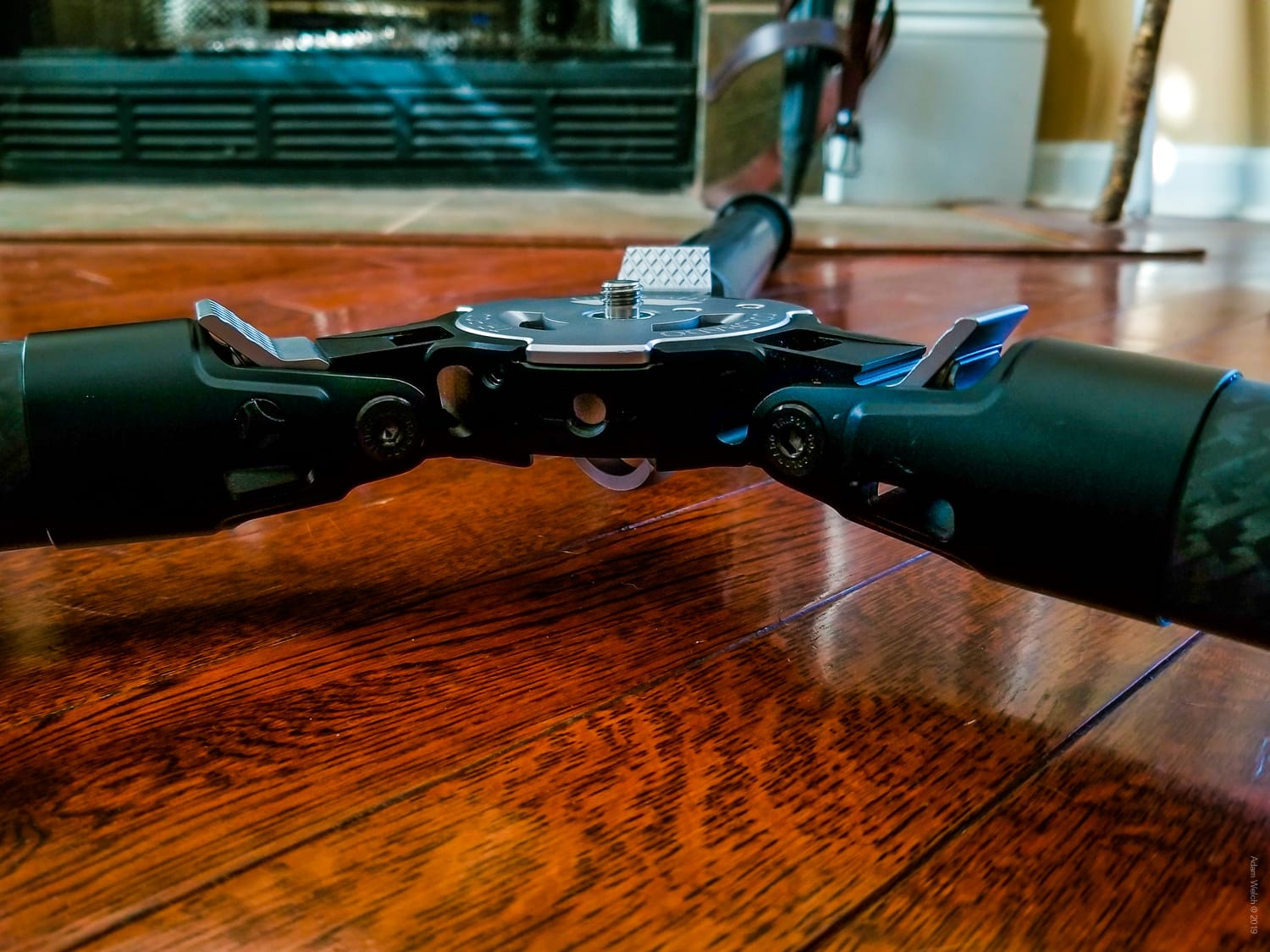 Purpose-Built
I feel I should pause here for a moment and lay down a few lines concerning who I think will and will not consider the 4-Series useful. As I mentioned earlier, this tripod isn't for every photographer.
But first, have a look at this list of important specs to put things into technical context, courtesy of The Colorado Tripod Company.
Collapsed Length: 24 inches (61cm)
Maximum Extended Height: 70 inches (178cm)
Weight: 5lbs (2.3kg) with rubber feet
Maximum Load Capacity: Unknown
3/8inch (9.25mm) head mount thread
It's interesting to note that I honestly am uncertain about the overall load capacity of the 4-Series tripod. I can find no information from the Colorado Tripod Companies website or in my research. I can supply my personal experience based on the camera setups I was running during my tests. The heaviest of these being the fluid head and leveling head I used, the MVH500AH and 438 Leveling Head, both from Manfrotto.
Combined, these heads weigh in at around 3.5lbs (1.59kg). Add to that the weight of the heaviest camera I shot with the 4-Series, my Graflex Speedgraphic Pacemaker (call him Marcus), which weighs just under 5lbs (2.3kg), and you're looking at roughly 8.5lbs (3.9kg) of total carry weight perched on top of the tripod.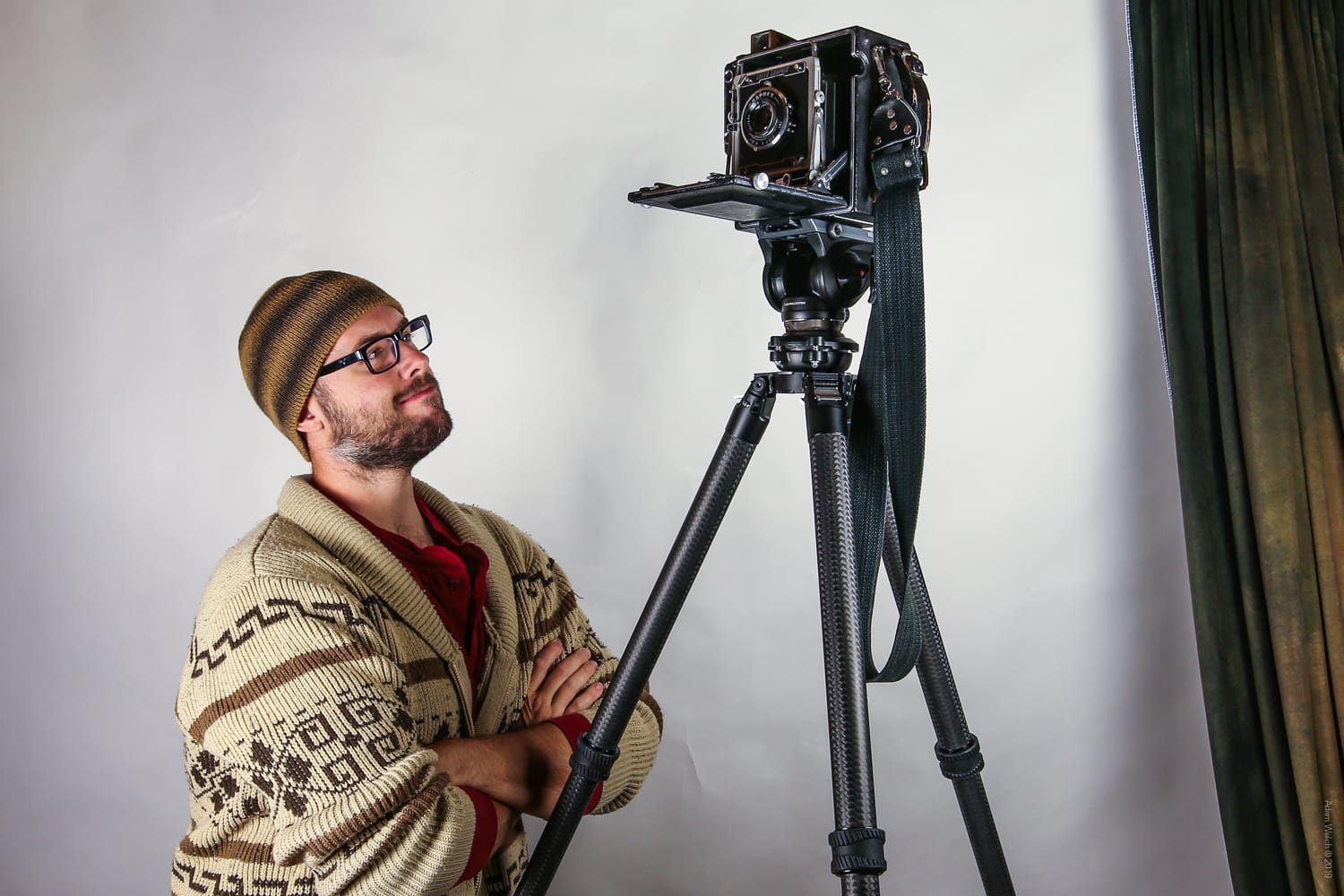 While this is admittedly a modest weight compared to some video editor rigs, it still represents the upper end of even the largest of DSLR telephoto setups. All this to say that I would not hesitate to run camera systems that are double or even triple the mass of the setups that I was shooting at the time.
Purpose-built indeed. While the 4-Series is certainly capable of supporting smaller SLR, DSLR, and full-frame or crop sensor (or medium format) mirrorless cameras, it remains, in my opinion, a tool intended for those among us who prefer to shoot with big cameras in larger formats.
Performance in the Field
It isn't easy to quantify the 4-Series Centennial tripod's performance outside of what I've already stated here. I shot with the 4-Series across the United States. In sand and sun, wet and dry. I experienced zero problems during my tests.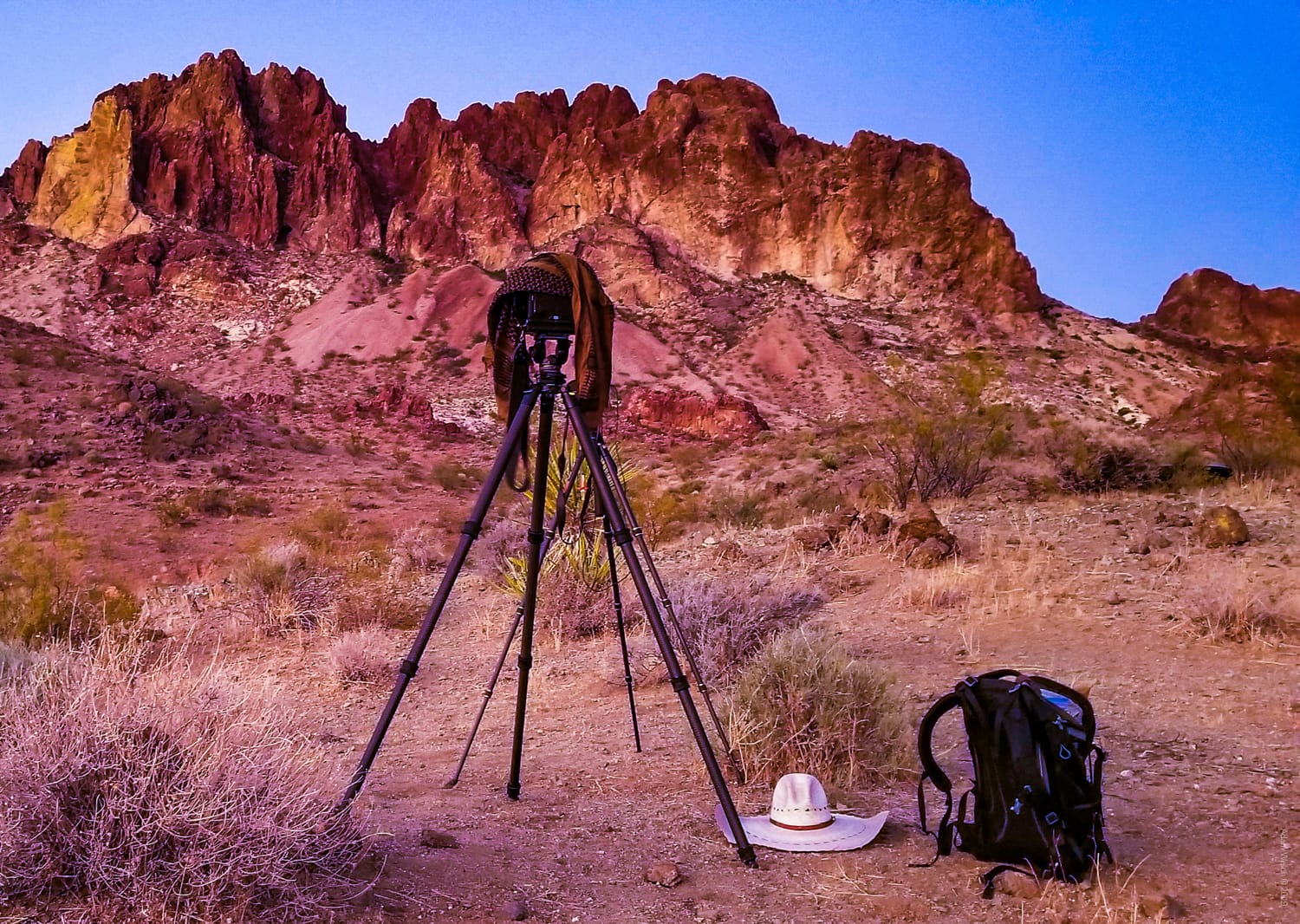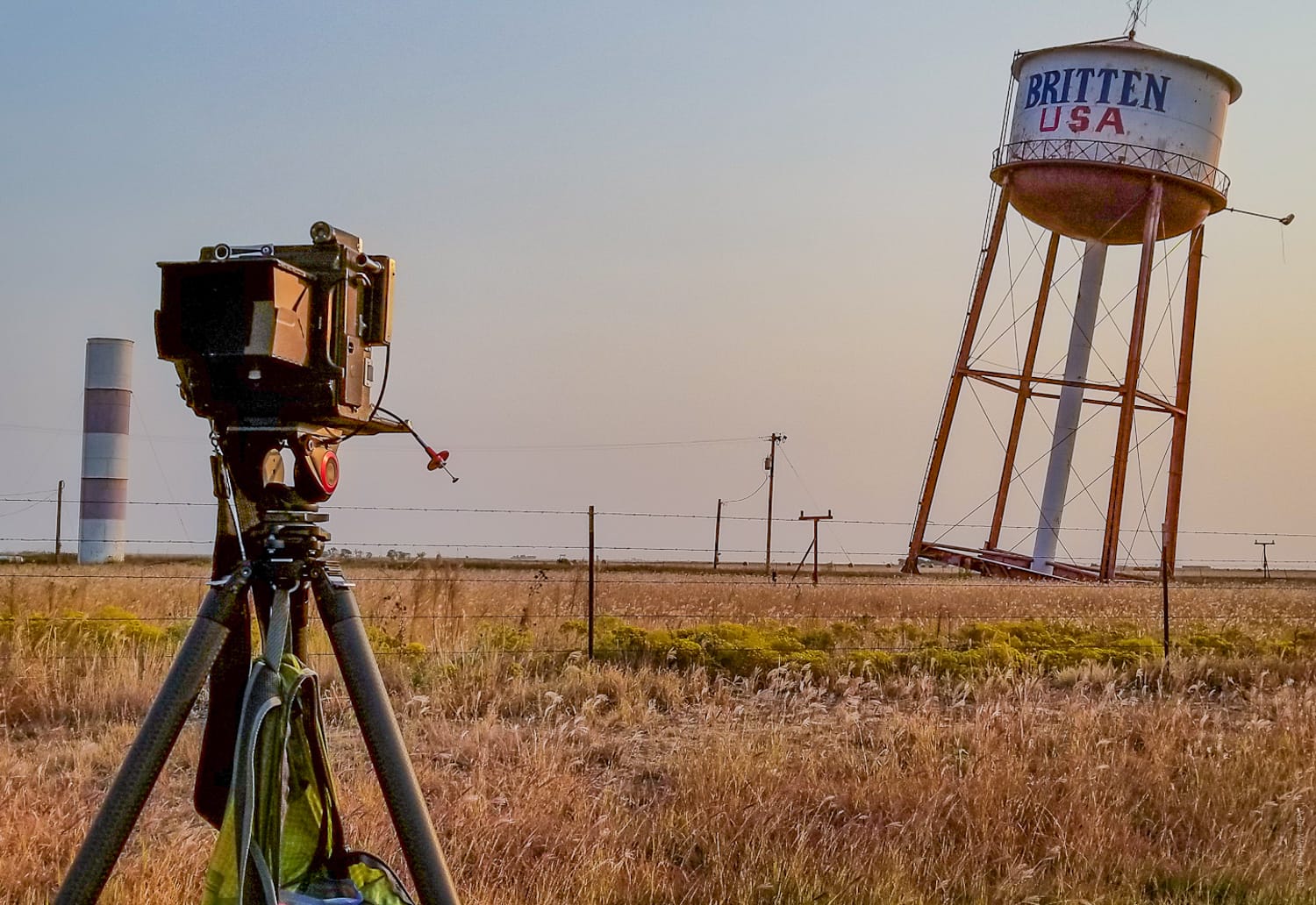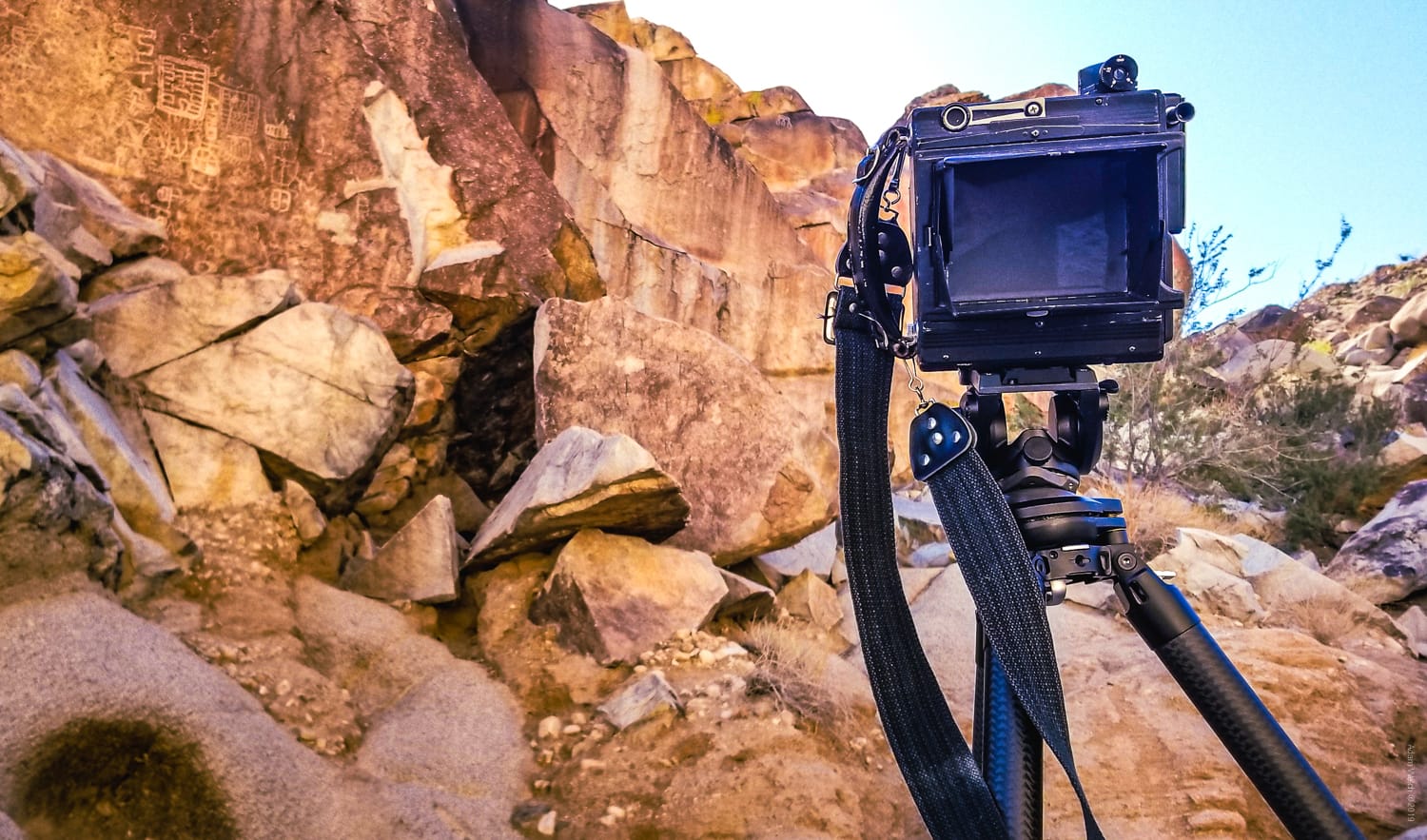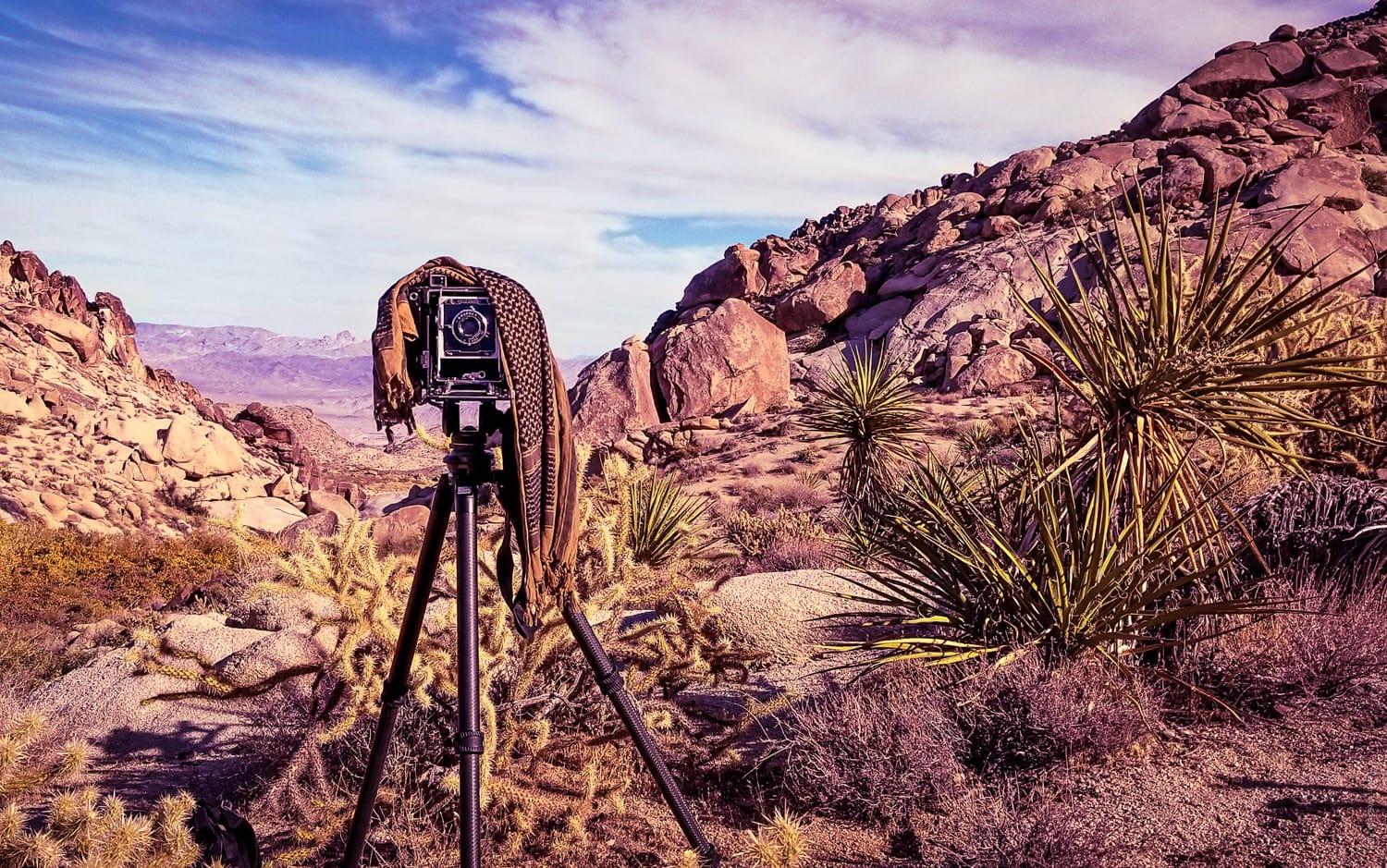 Have a look at this video for my thoughts on the performance of the 4-Series Centennial.
Final Thoughts on the 4-Series Centennial Tripod
I hesitate to assume that if you're interested in purchasing a tripod in the class of 4-Series Centennial, then you likely already have some idea of the gear you truly need. The 4-Series is not a tripod intended for "mild shooting."
It's sizeable (have I mentioned that already?), extremely sturdy, and would be considered more or less "overkill" except for the larger camera setups.
While I would advise for practicality sake that most shooters opt for a smaller tripod system, the 4-Series offers an incredible value for those who truly need a rock-solid platform for their still photography or videography needs.
As of this review's writing, the 4-Series Centennial from The Colorado Tripod Company sells for $499 USD (currently on pre-order). Considering its impressive build and usability, this makes it a superb option for those needing a relatively budget-friendly support solution for heavy rig camera setups.