Tamron 10-24mm f3.5-4.5 Di II VC HLD – Lens Review
I remember a few years ago when I was getting ready to upgrade my main camera body so I decided to sell off some lenses to lessen the blow. The first one I put up on eBay was the Tamron 10-24mm f/3.5-5.6… almost immediately I regretted letting that gem of a lens go.
So when Tamron released the updated version of the 10-24mm I jumped at the opportunity to review the newest generation of one of my favorite lenses. The 10-24mm f/3.5-4.5 Di II VC HLD is Tamron's latest solution for those seeking a short focal length zoom lens for APS-C (cropped sensor) cameras. The idea to provide a best in class wide angle lens which can operate in a variety of environments without breaking the bank.
First Impressions
Except for a welcomed update in design the overall feel of the second generation 10-24mm is similar to the first model. The size and weight is very manageable boarding on light at (15.5 oz).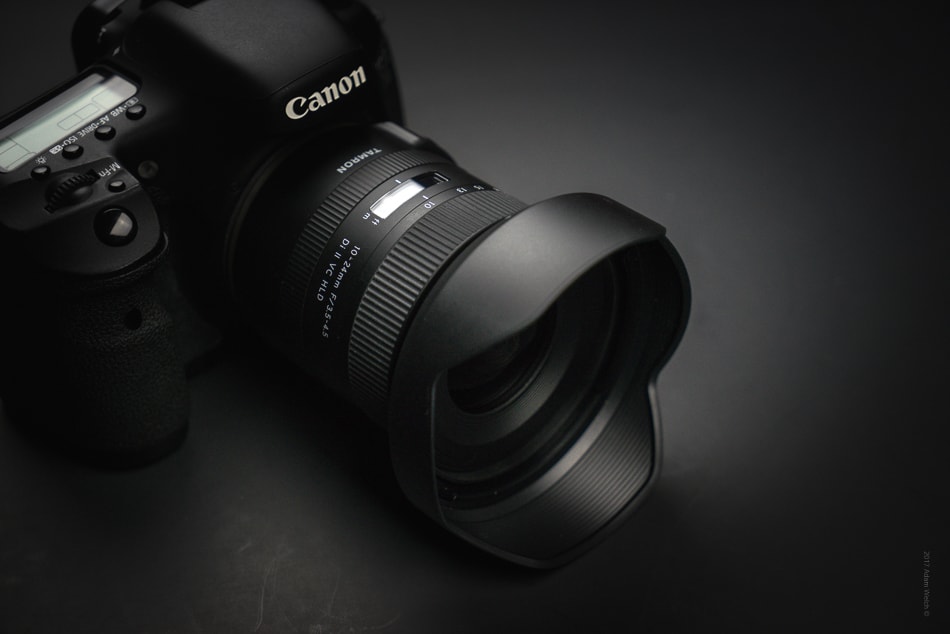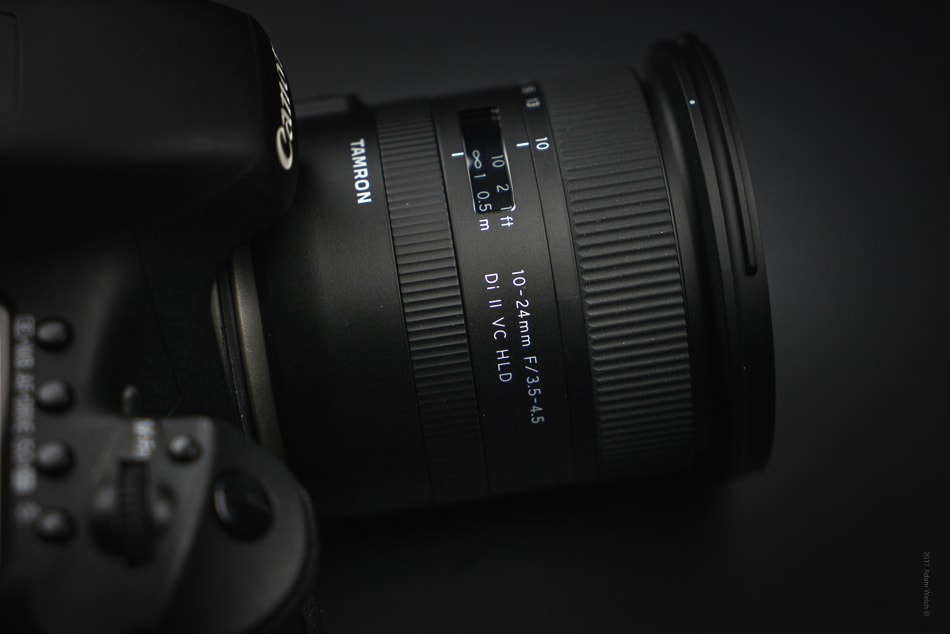 All the markings are well executed and the general feel of the lens is user friendly. A petal-type lens hood is also included which is equally well made. Aesthetically, everything about the 10-24mm f/3.5-4.5 is representative of the new direction of Tamrons reimagined SP line.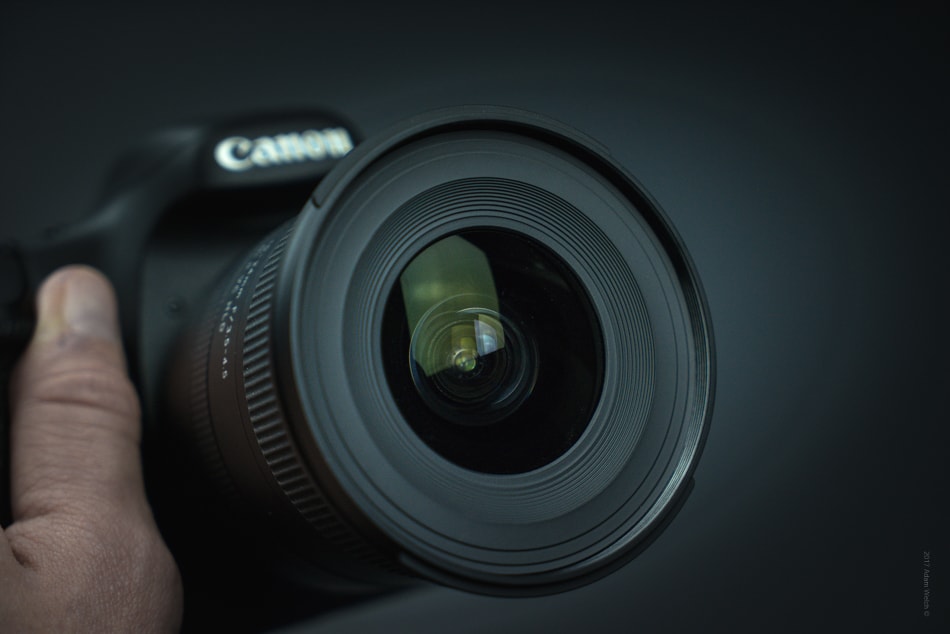 The lens weighs in at just under a pound and 15.5 oz (440g) which is feathery to say the least for a lens with this amount elements (16). The aperture diaphragm is consists of 7 rounded blades which make for some pleasing bokeh for a piece of glass at this focal range.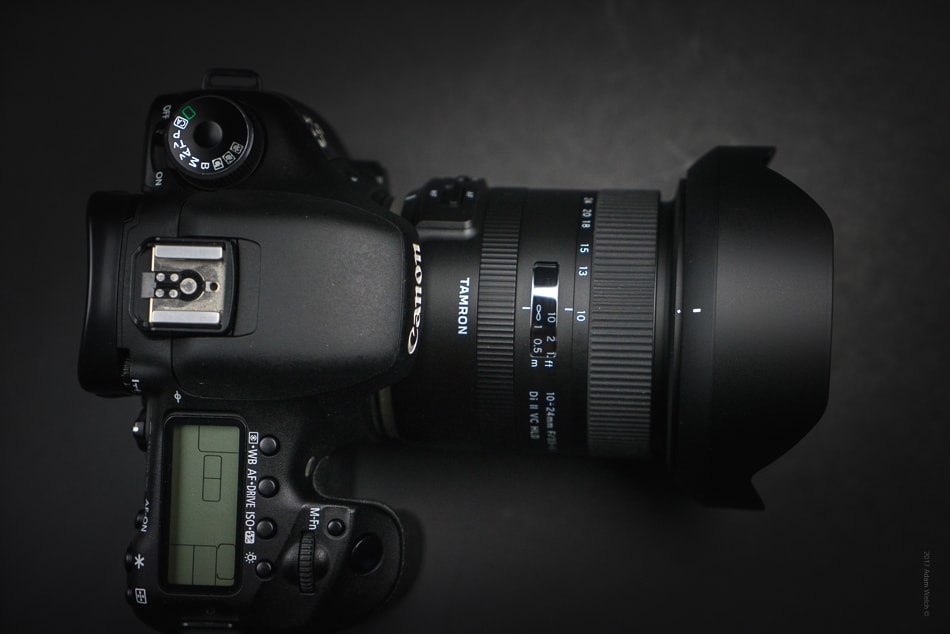 Here's the full spec sheet courtesy of Tamron…
| Information | Values |
| --- | --- |
| Focal Length | 10-24mm |
| Maximum Aperture | f/3.5-4.5 |
| Diameter | Φ80.4mm |
| Angle of View (diagonal) | 108°44′-60°2′(for APS-C format) |
| Optical Construction | 16 elements in 11 groups |
| Minimum Object Distance | 0.24m (9.4 in) |
| Maximum Magnification Ratio | 1:5.3 |
| Filter Size | Φ77mm |
| Maximum Diameter | Φ83.6 |
| Length* | 84.6mm (3.3 in) Canon, 82.1mm (3.2 in) Nikon |
| Weight | 440g (15.5 oz) Canon, 440g (15.5 oz) Nikon |
| Aperture Blades | 7 (circular diaphragm) |
| Minimum Aperture | f/22-29 |
| Image Stabilization Performance | 4 Stops |
| Standard Accessories | Front Cap, Lens hood |
| Compatible Mounts | Canon, Nikon |
Build Quality
The construction of the lens is solid. Not "I can hammer nails with this thing" solid… but for this price point the build is quite satisfactory and leaves no question about its capacity to be an everyday workhorse. The zoom ring turns smoothly and firmly. As for the focusing ring, it also is manipulated smoothly but is less considerably less firm and has short travel, meaning a small amount of turning results in substantial focus adjustment. This is not to say that the focusing ring is an issue but if you happen to be more accustomed to longer travel when in manual focus mode as I am this could be a point of consideration for you.
As with all the new SP lineup the weather sealing is exceptional.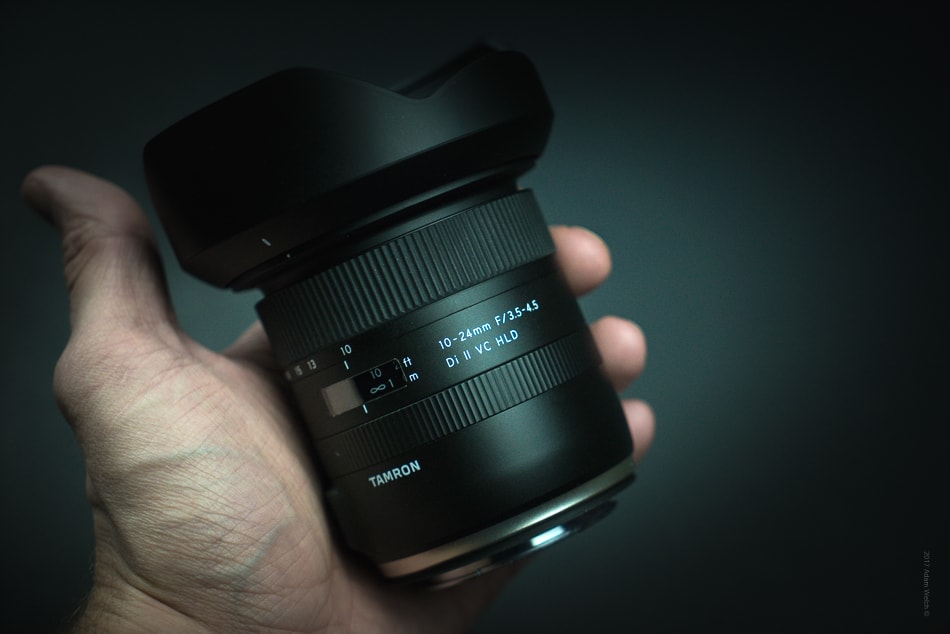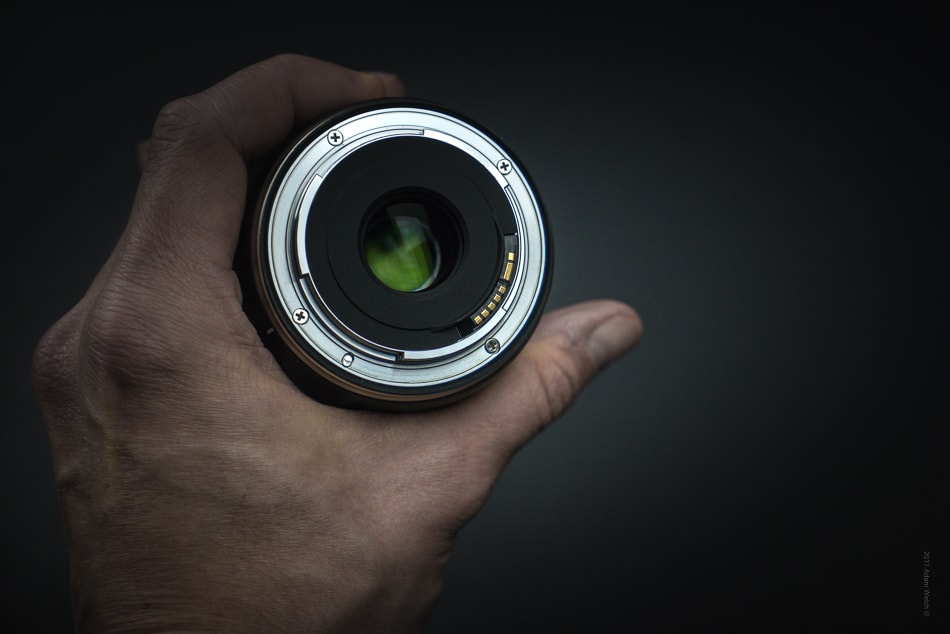 The Tamron 10-24mm f/3.5-4.5 II sports excellent sealing at all ring and button junctions as well as the mount. Both the image stabilization and AF/manual focus selector switches are large, crisp, and well placed. I had no problems operating both of the controls without taking my eye off the viewfinder.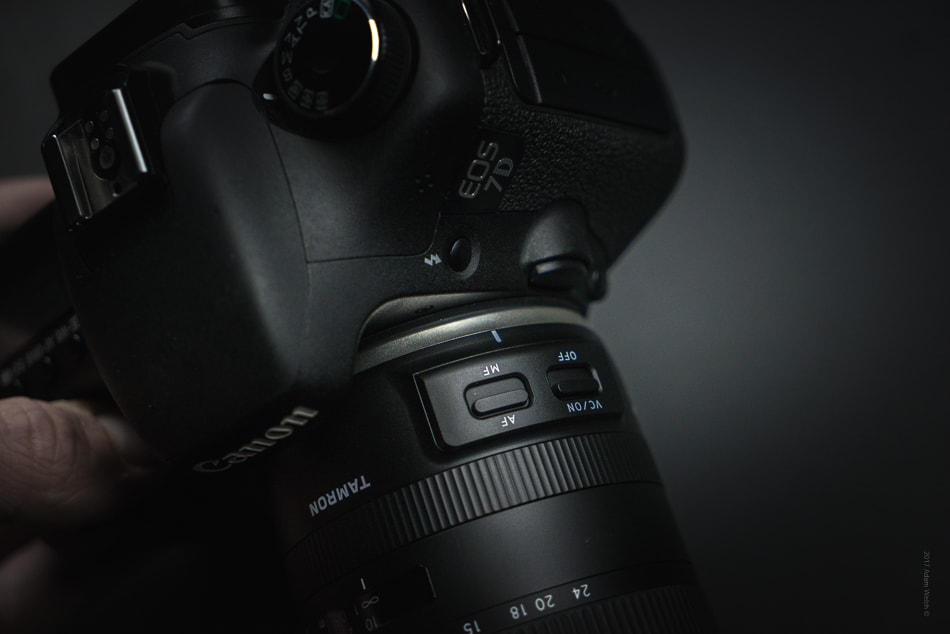 Sharpness and Image Quality
The overall sharpness is more than adequate for all apertures with softening being noticed, especially at the corners, once aperture widens to f/4 and larger. Once the aperture reaches f/5.6 and beyond the sharpness evens out and is superb for a lens of this price.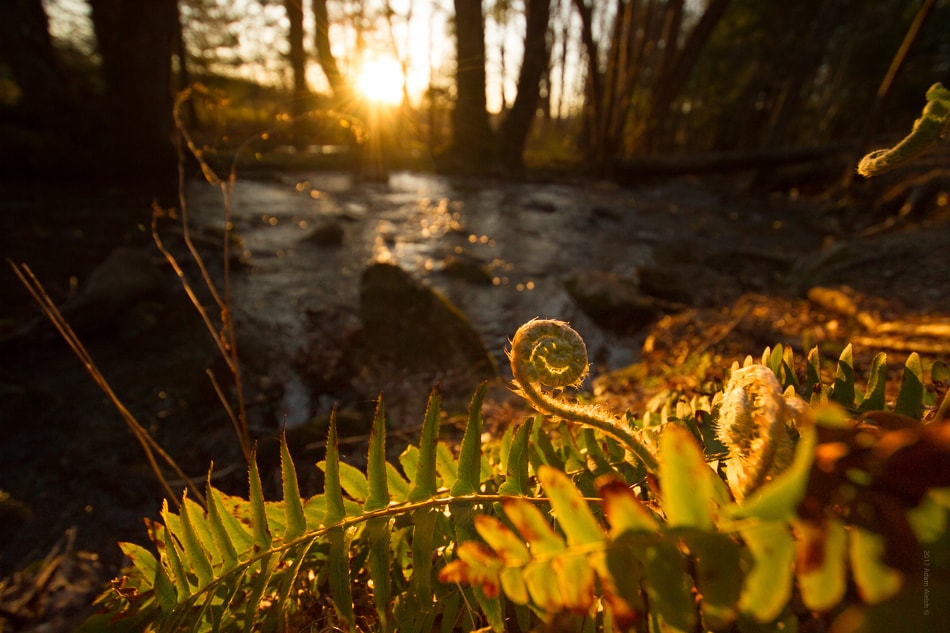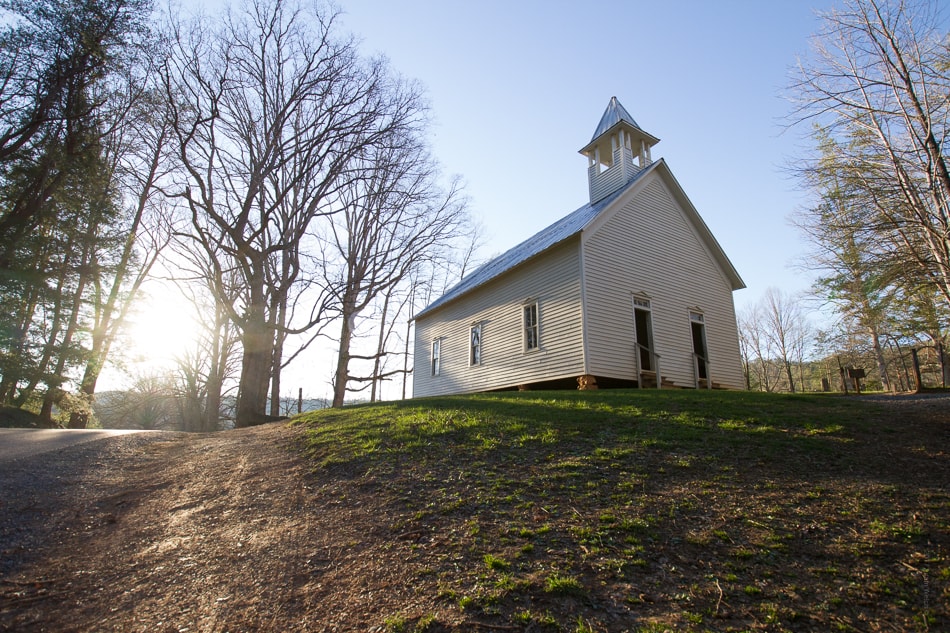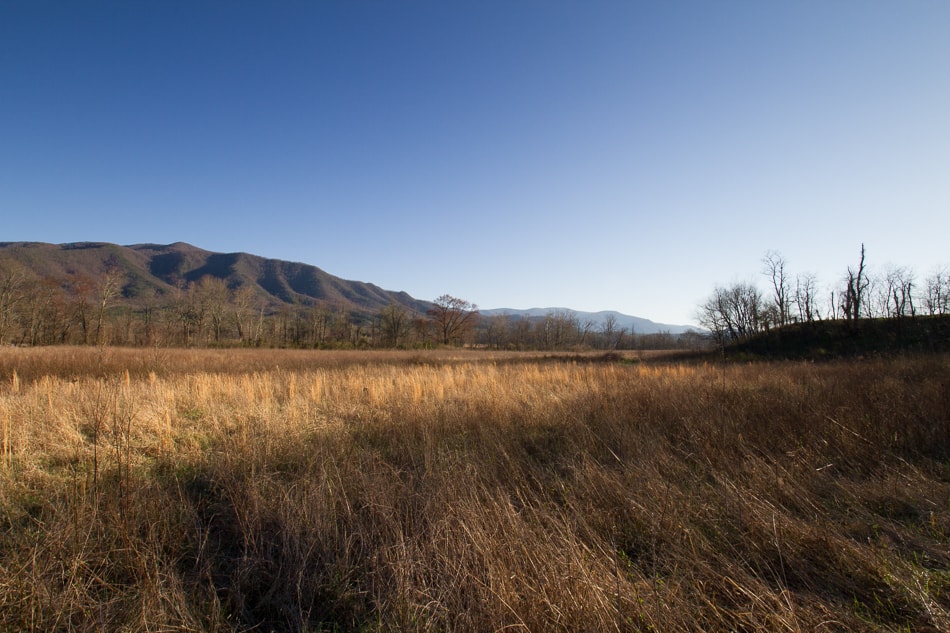 Distortion even at 10mm is extremely low to nearly imperceivable which makes this lens a real gem for ultra wide angle landscape scenes. Chromatic aberration, as with the decrease in sharpness, become noticeable when zoomed to 1:1 magnification in larger apertures (around f/5.6 and larger) but reduced dramatically at smaller apertures.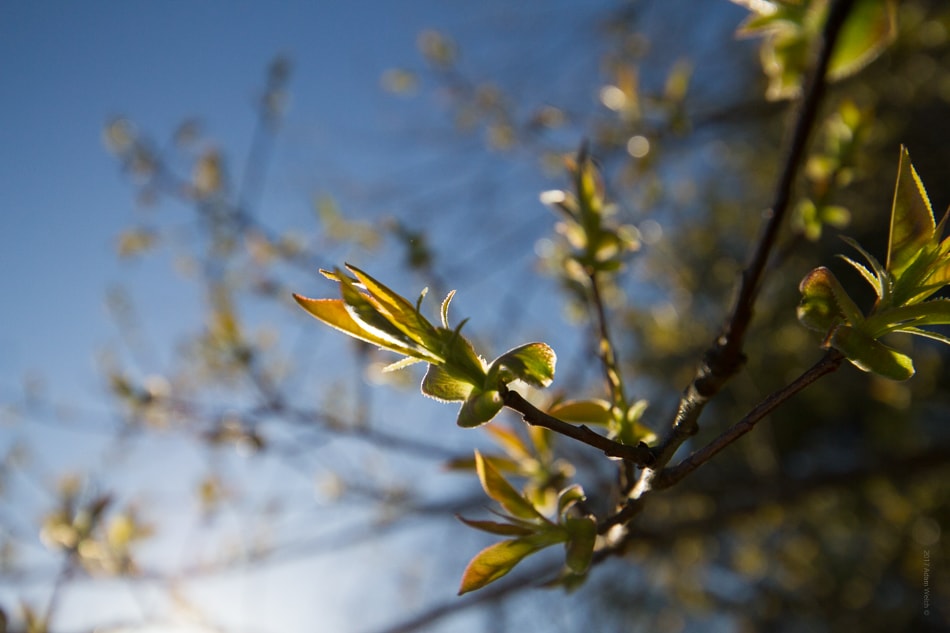 Vignetting was also remarkably low even at wide apertures. Contrast is excellent and so was color reproduction. The vibrant colors produced with this lens, in my opinion, is one of it's strongest attributes and will serve landscapers quite well.
Autofocusing and Vibration Compensation
One of the first things I noticed about the 10-24mm was the impressive speed and quietness of the autofocusing mechanism. The AF worked accurately even when shooting at the shortest focal length of 10mm. Most users of this lens will most likely be shooting landscapes, cityscapes, or other types of scenes where autofocusing isn't always a paramount concern. However, considering that the lens can zoom all the way up to 24mm, which is approaching "normal" focal length, the autofocus performance of this piece of glass is not wasted.
If you like shooting wide angle street life the speedy autofocusing will definitely come in handy.
Another interesting aspect of the 10-24mm f/3.5-4.5 which is worth mentioning is the inclusion of vibration compensation. Optically, shorter focal length lenses are less apt to betray the shooter when it comes to image blur due to camera shake. Wide angle's just are more forgiving that way… Still, Tamron has included their top-notch vibration control option on this lens anyway. The inclusion of this extra stabilization allows shooter to reduce image blur when utilizing longer shutter speeds if going hand held.
Final Thoughts
Yes, I'll admit it… I'm somewhat nostalgic over Tamron's 10-24mm. It reminds me of one of my first pieces of glass from the early days. Noticed, I said "nostalgic" not "biased". This new version is a great rebuild and is an excellent lens in it's own right. Here are a few more test images from the Tamron 10-24mm f/3.5-4.5 Di II VC HLD…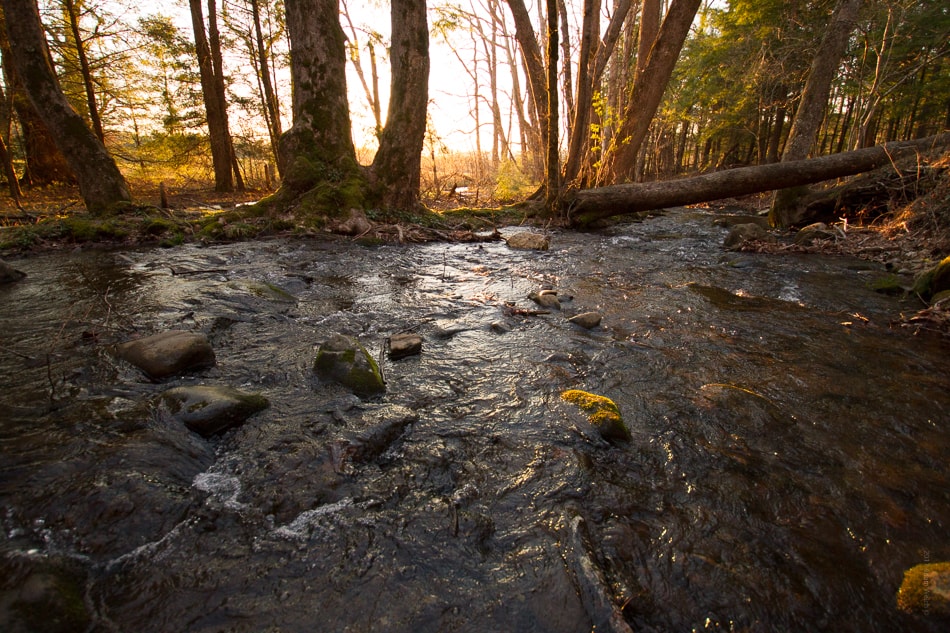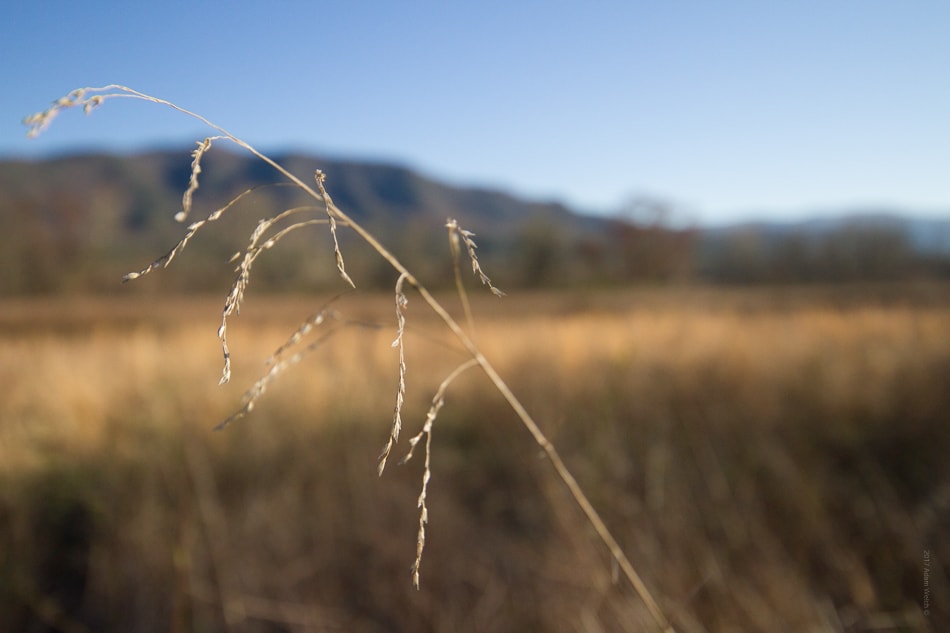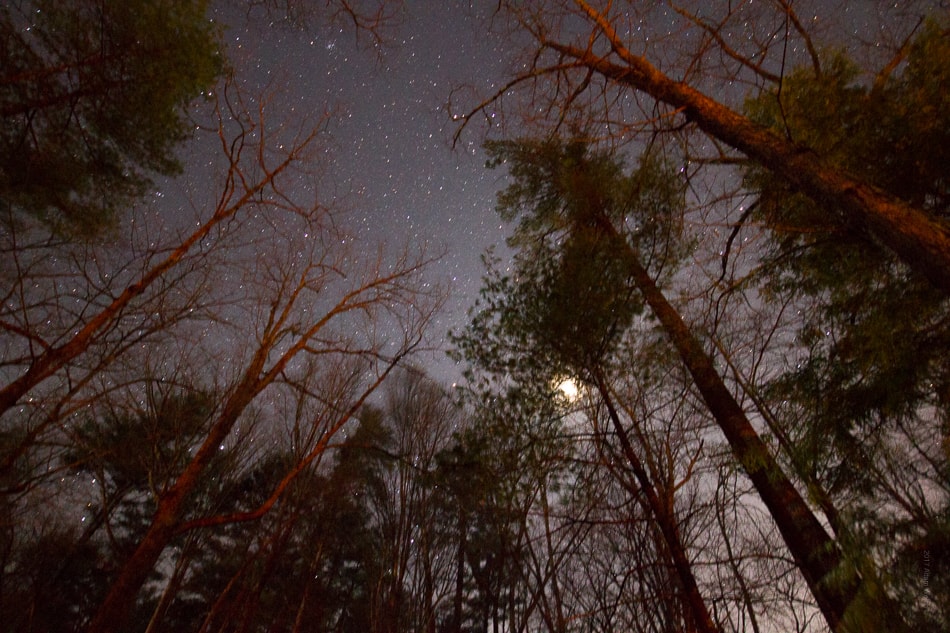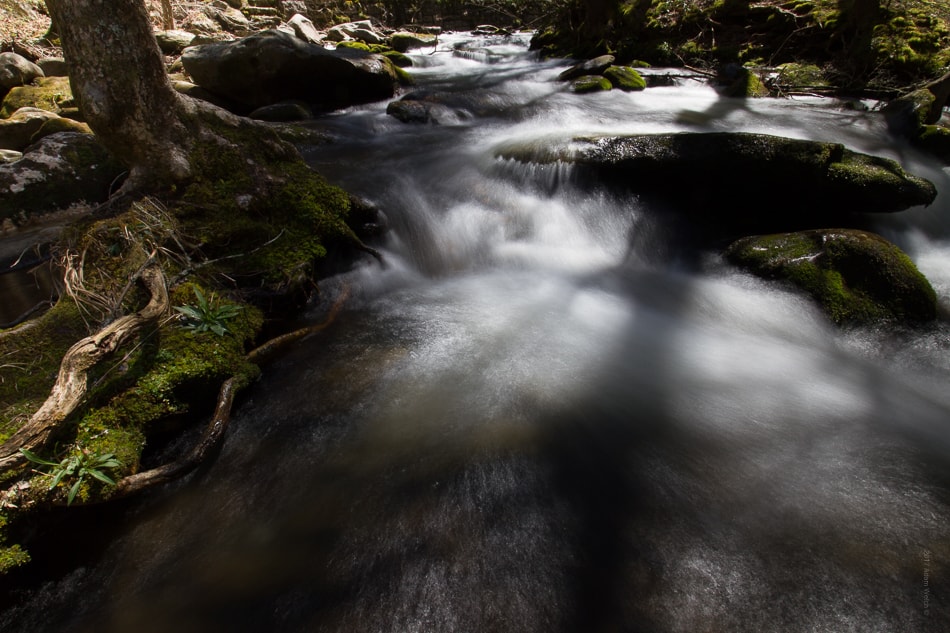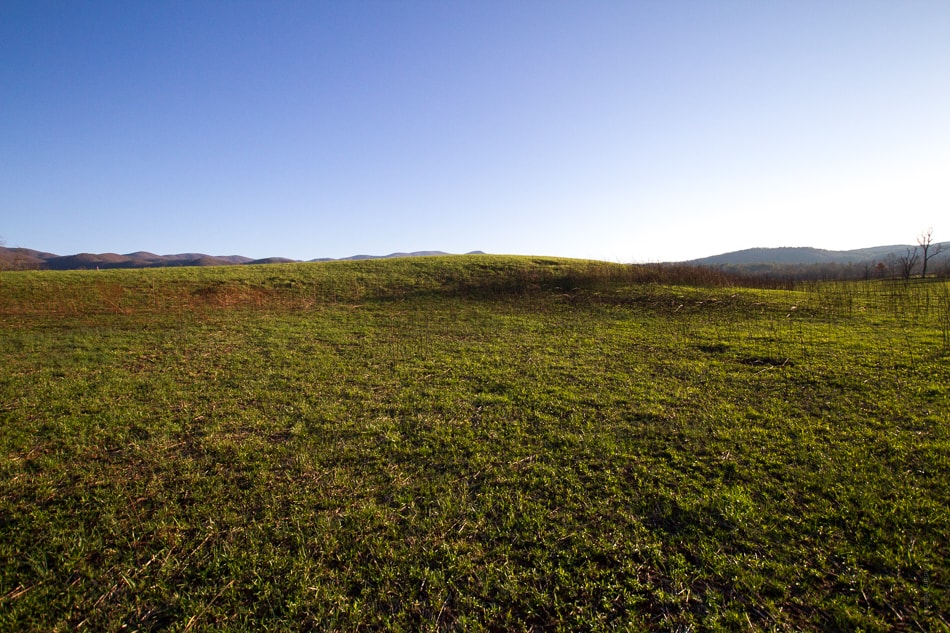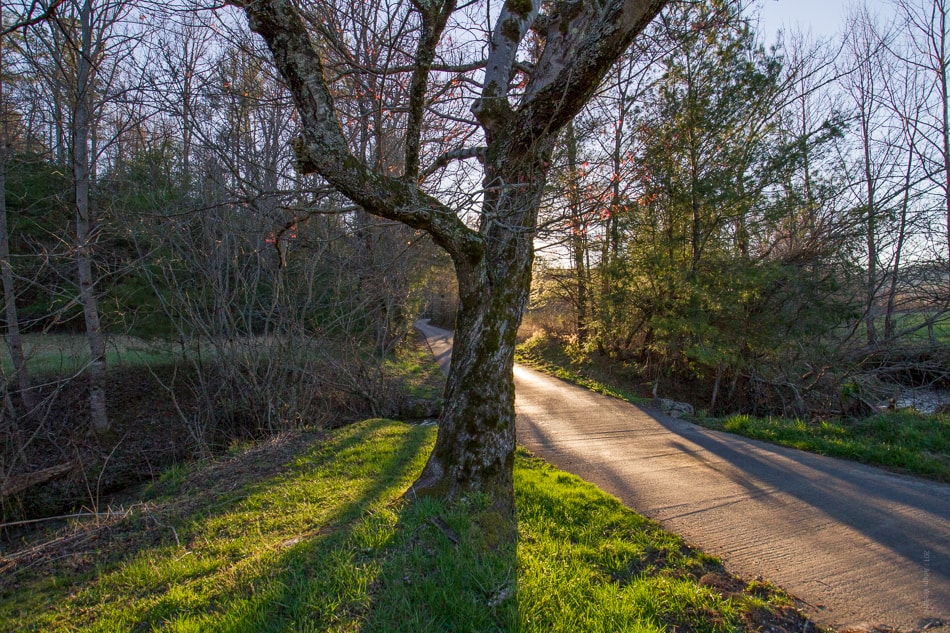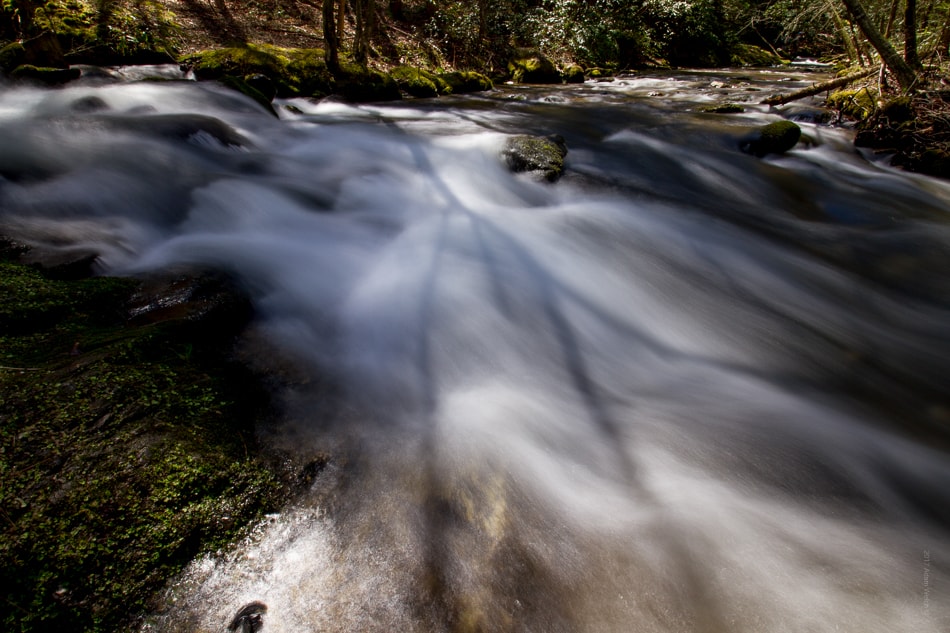 Landscape shooters will love it's wonderful sharpness at smaller apertures and the outstanding color rendition. The weather sealing, build, and compact size makes it a solid hitter if you are searching for a relatively low priced (around $499 USD at the time of writing) variable wide angle lens.
You can find the Tamron 10-24mm f3.5-4.5 Di II VC HLD lens on Amazon as well as via Tamron's website.