Detailed Review of the Tamron 28-200mm f/2.8-5.6 Di III RXD Full-Frame E-Mount Lens
After a brief count and through a hazy recollection, it turns out I've tested, evaluated, and otherwise been fortunate enough to review nearly eighty different pieces of photography gear over the last five years.
Eighteen of those eighty or so items have been Tamron lenses. With the nineteenth lens I've tested from Tamron, I freely admit that I have never been more conflicted.
Perhaps "conflicted" isn't the correct word for describing my experience with Tamron's long-awaited and latest addition to their growing line of glass made for full-frame Sony mirrorless (E-Mount) cameras: the 28-200mm F/2.8-5.6 Di III RXD.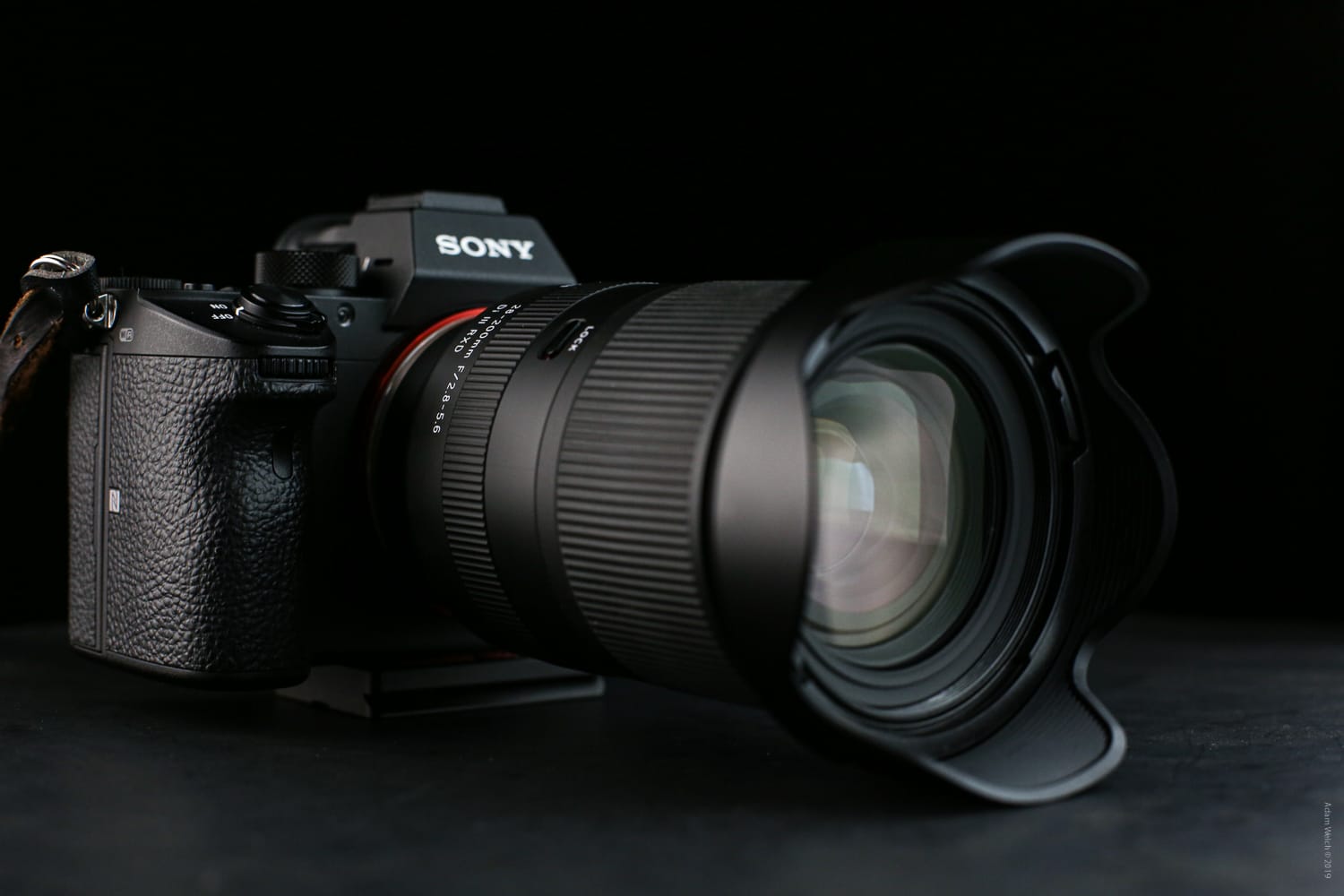 I could very well be the victim of my own research. Virtually all of the other reviews I've encountered of the 28-200mm extol it on almost every level of performance.
From sharpness to autofocus, contrast, and color, most everything you'll find on the internet about this lens presents nothing but glowing remarks.
Honestly, aside from a few preliminary observations which might have been overly criticized on my part, I can't find much contradictory evidence to disprove the opinions of all the other competent reviewers who evaluated the very same lens that I was lucky enough to test.
This, dear friends, is why I'm left confused and confounded to report that I simply did not connect with the 28-200mm F/2.8-5.6 Di III RXD.
Hold on! Hold on! Wait. Before I get into why I was left feeling so flat with the 28-200mm, let's look at its obvious strong points.
The images and specs will speak for themselves. Let's take a look at the essential aspects you'll want to know about this lens so you can draw your own conclusions, which in the end is all that I can ever hope to achieve through my reviews… Then we'll talk more about my weird thoughts on my personal experience with the lens itself.
Out of the Box
Tamron's 28-200mm f/2.8-5.6 is a beautiful lens.
As soon as it's removed from the box, you know it's going to look great on a Sony camera. Another thing you will notice is just how small this lens is in hand.
In truth, it's form factor is what immediately drew my attention.
It's virtually identical in dimensions and weight as Tamron's mid-range telephoto for Sony E-Mount, the 28-75mm f/2.8 Di III RXD.
We've tested out that lens here at Contrastly as well.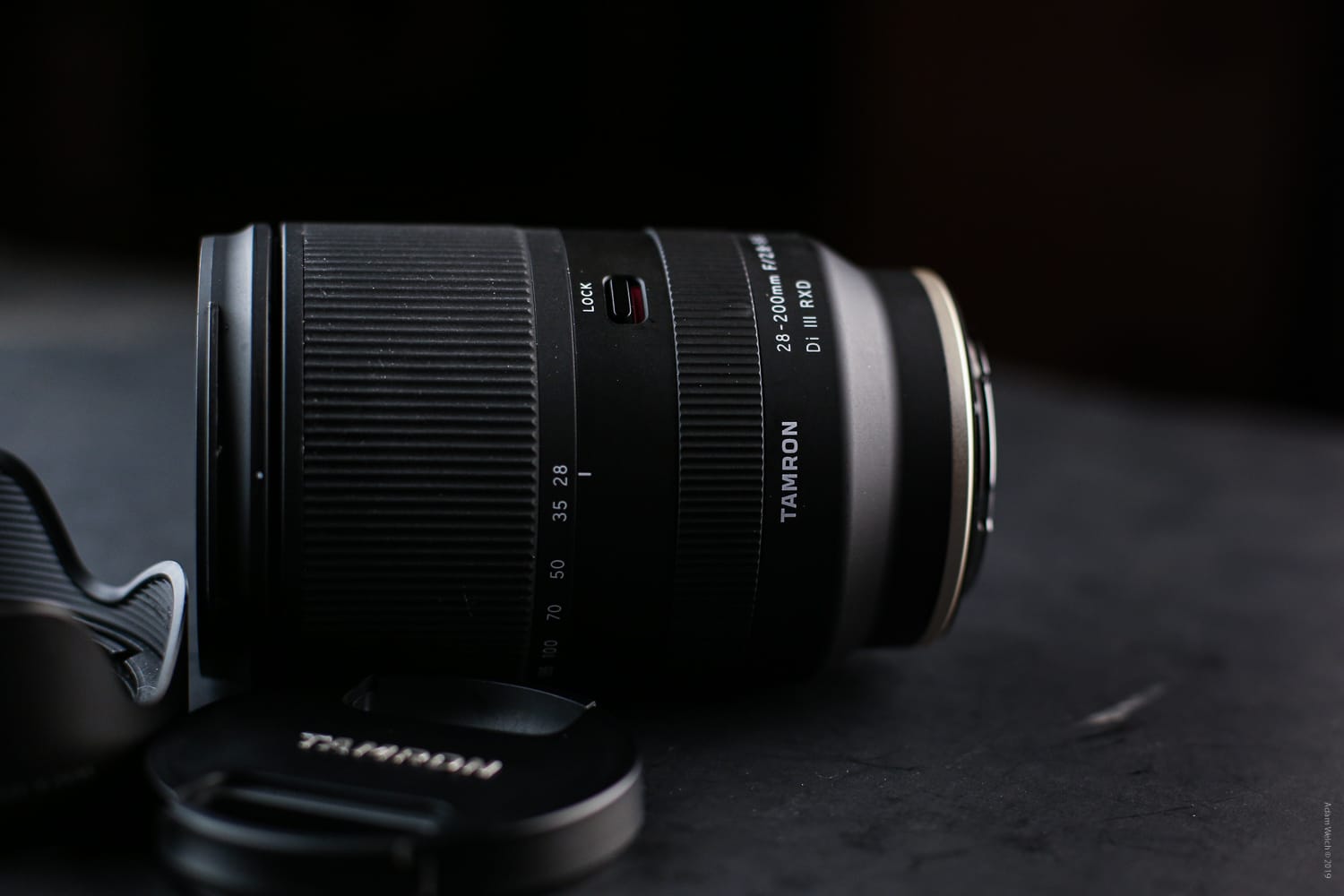 The lens itself is finished in matte black with Tamron's distinctive silver band base, a predominant feature of their estimable SP lens line (for DSLR), setting off the aesthetics. All the lettering is pleasantly presented in bright white without being overly overt in its execution.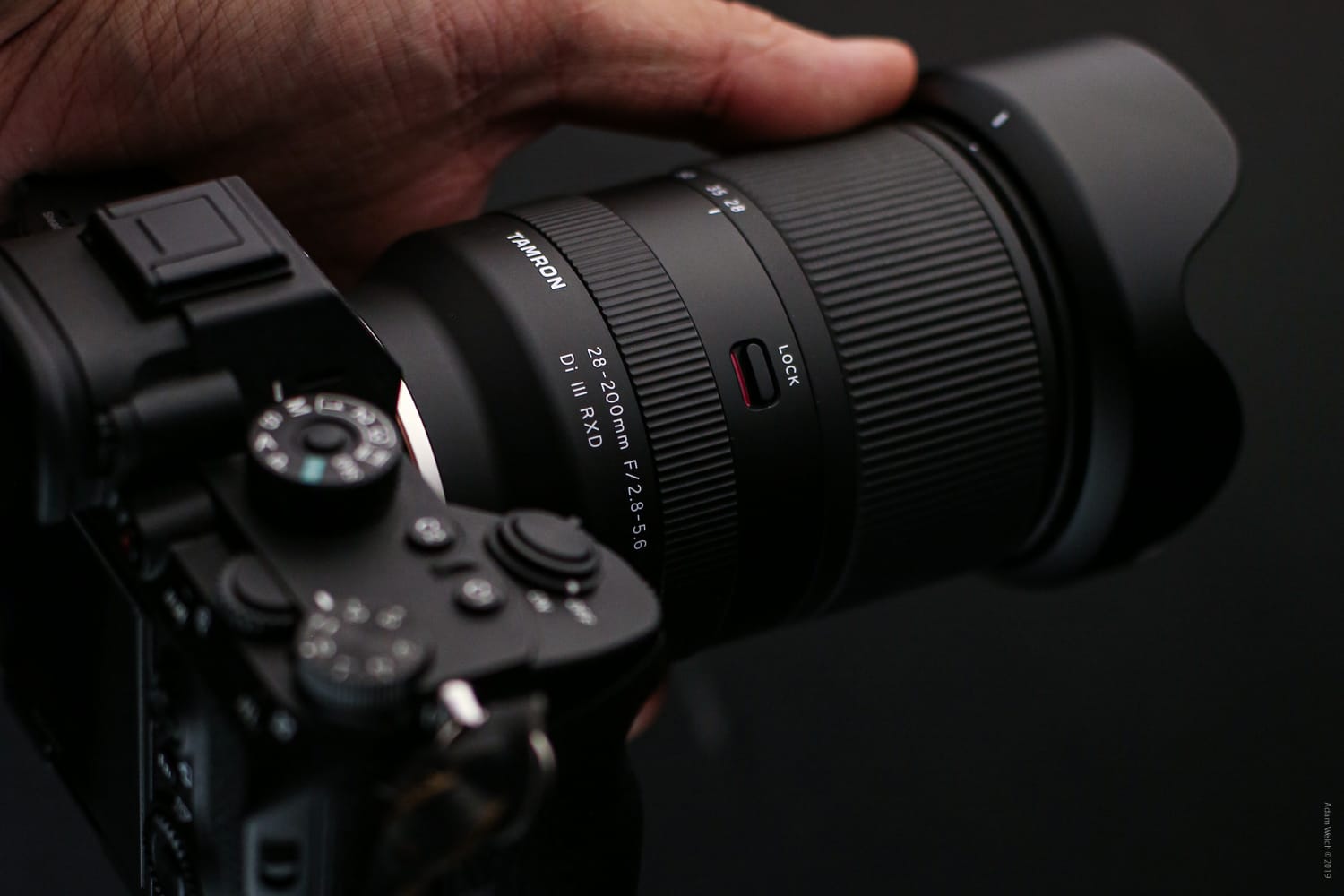 After a quick test run, the great balance of the lens is readily apparent. Being so relatively small compared to some other "all-in-one" lenses I've tested, it balanced remarkably well when mated to my Sony A7R MK3. Even when fully extended to its maximum 200mm focal length, the 28-200mm doesn't become nose heavy.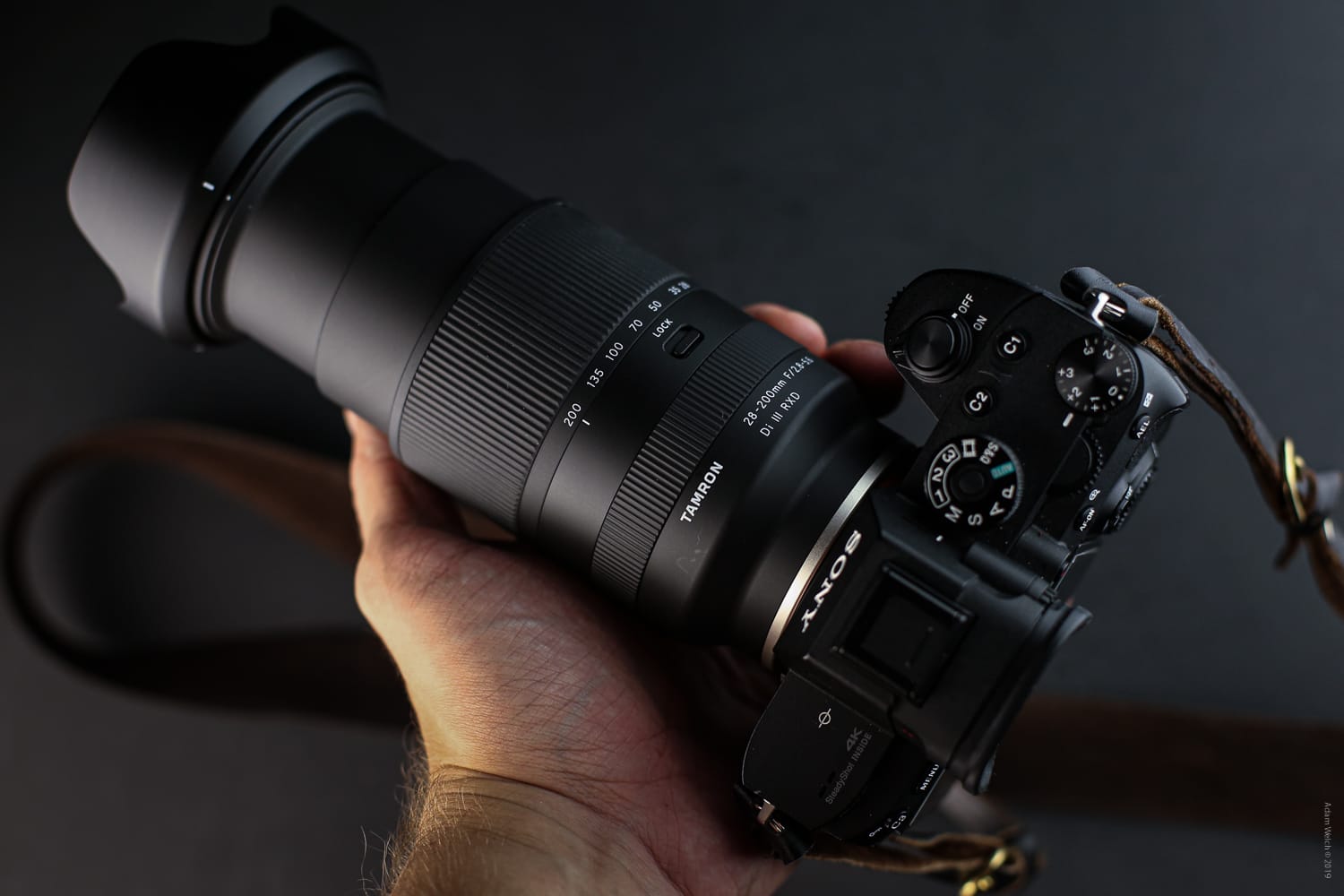 The zoom and focusing ring are both rubberized and feel silky smooth. You'll also notice a zoom-lock that is incredibly handy if you intend to carry this lens around on a strap for a few hours.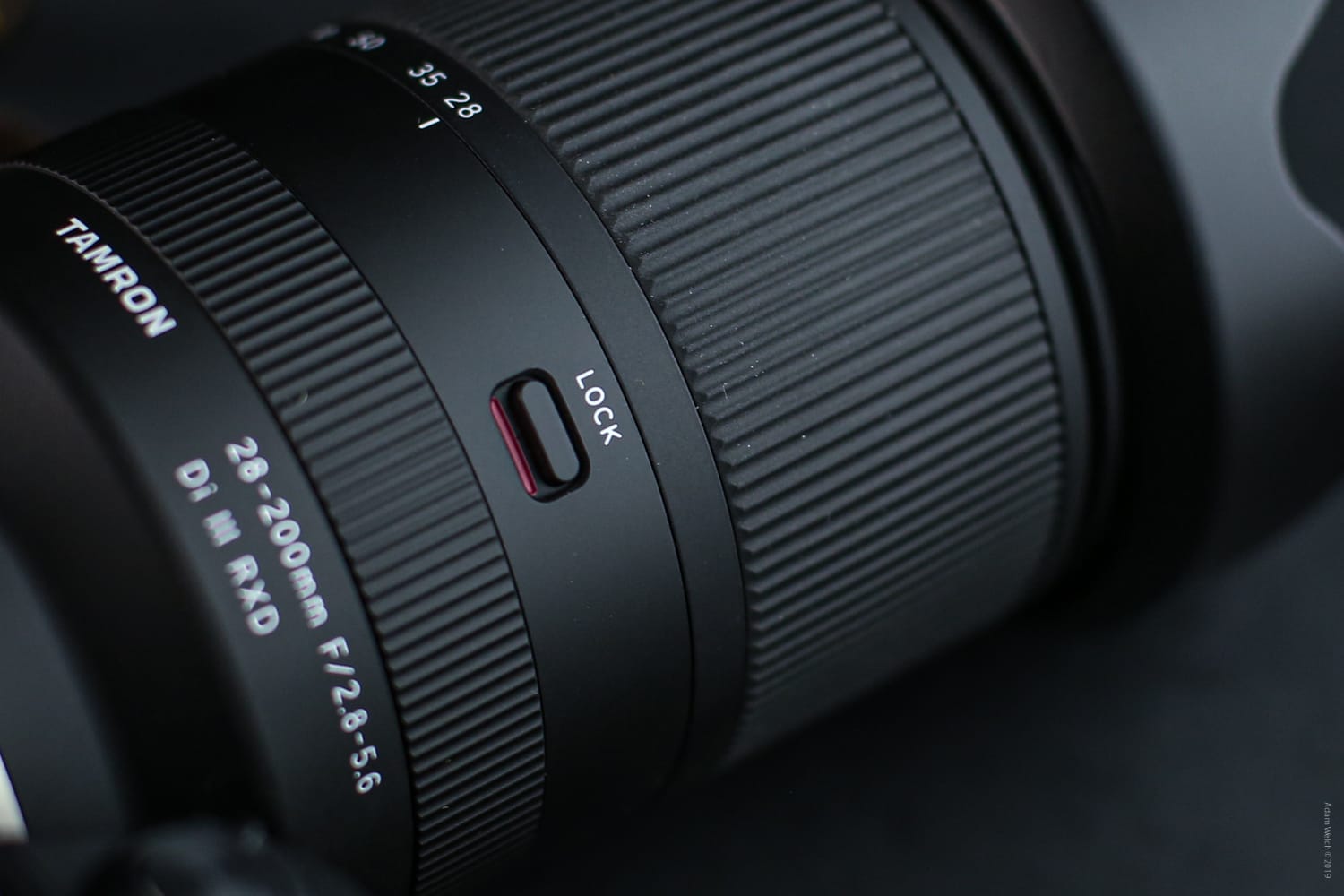 In the box, you'll also find both front and end caps and a petal-style lens hood.
Build Quality
The Tamron 28-200mm f/2.8-5.6 Di III RXD is an absolute tank in terms of its ruggedness. We'll talk more about its resilience (especially moisture resistance) later in the performance section. Before we get into the build quality, here are a few important specs you'll want to know about this lens sourced directly from the Tamron USA website:
| Information | Values |
| --- | --- |
| Weight | 20.3 oz (575g) |
| Length at 28mm (without hood) | 4.6 in (117mm) |
| Length at 200mm(without hood) | approx 6.75 in (171mm) |
| Maximum Diameter | 2.9 in (74mm) |
| Optical Construction | 18 elements, 14 groups |
| Aperture Blades | 7 blades-circular |
| Filter Size | Φ67mm |
Pay special attention to the weight and length specifications of the 28-200mm. If you've read our review of Tamron's mid-range telephoto for Sony full-frame mirrorless cameras, the 28-75mm f/28 Di III RXD, you'll notice that this lens is virtually the same size. This means that Tamron has managed to pack in an incredible amount of additional zoom power while keeping the entire package remarkable compact.
This makes the 28-200mm only nominally larger than my favorite "walk-around" lenses for Sony full-frame, the Zeiss Vario-Tessar 24-70mm F/4, which is only a few ounces lighter and just under an inch shorter.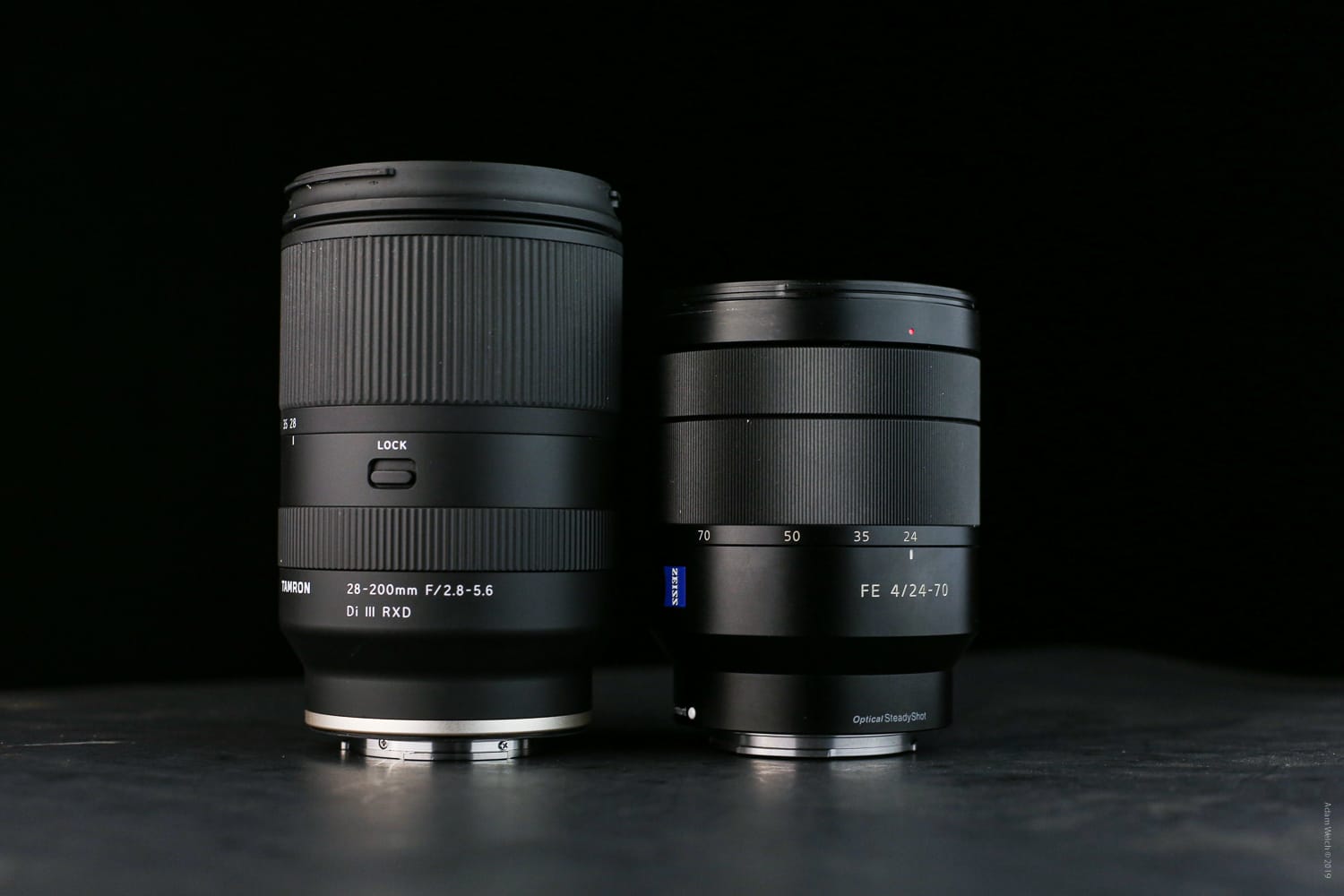 In short, the build quality of the Tamron 28-200 f/2.8-5.6 is top-notch with no rattles or looseness of any components. The fit and finish of the lens hood and caps are perfect, and the lens itself attaches firmly with no play at the mount.
Performance in the Field
I shot with the 28-200mm f/2.8-5.6 Di III RXD up and down the Atlantic coast in the Outer Banks of North Carolina. Then, moving inward to the lush, green hills just east of the Appalachian mountains. The lens held up beautifully in wildly varied shooting situations, from blowing rain and sea spray to the ridiculously oppressive summer heat of the Southeastern United States.
It was in the Outer Banks where the weather sealing of this lens indeed showed it's worth. Caught in an unavoidable downpour on the beach, the 28-200mm never flinched. Not once.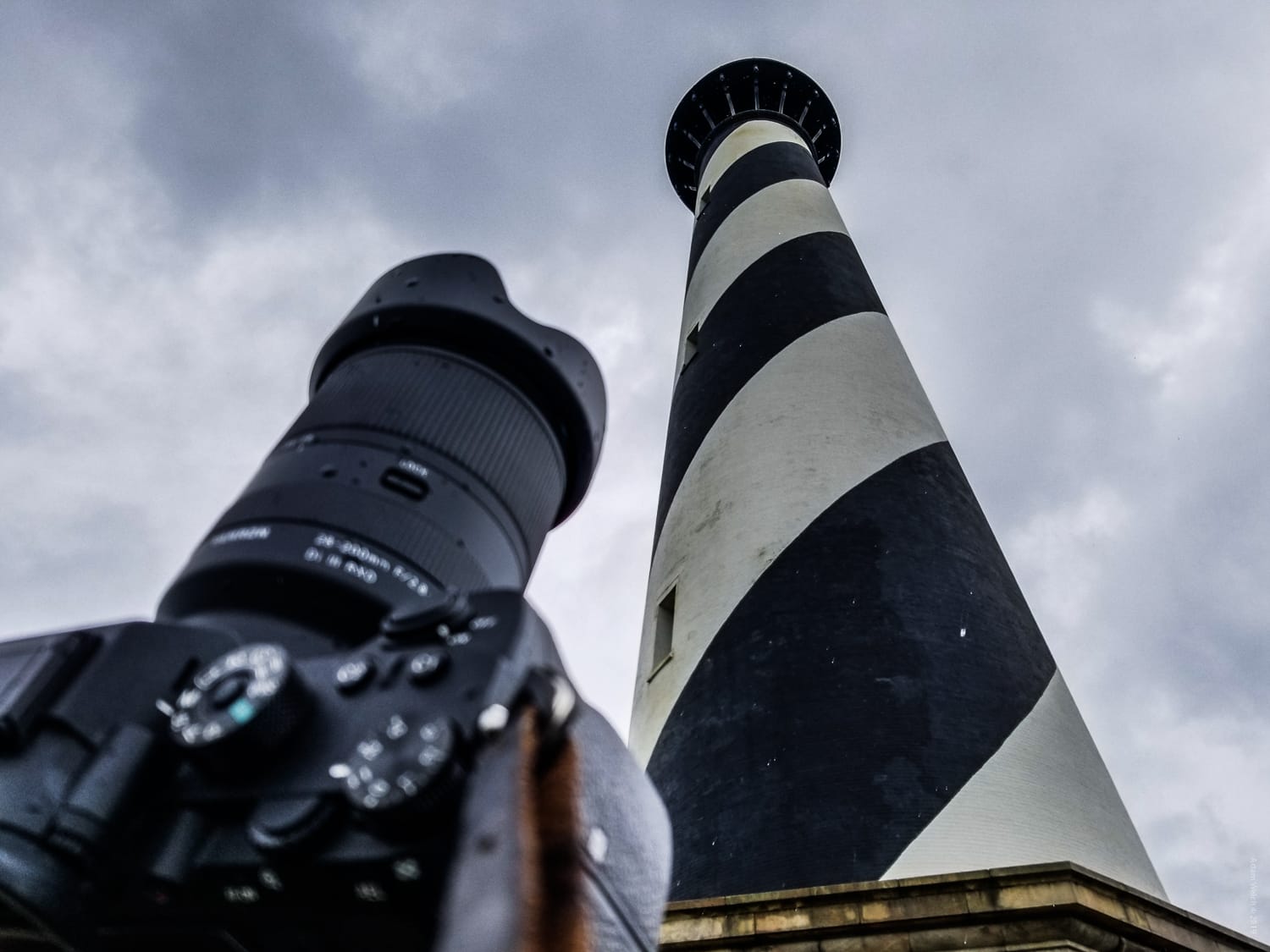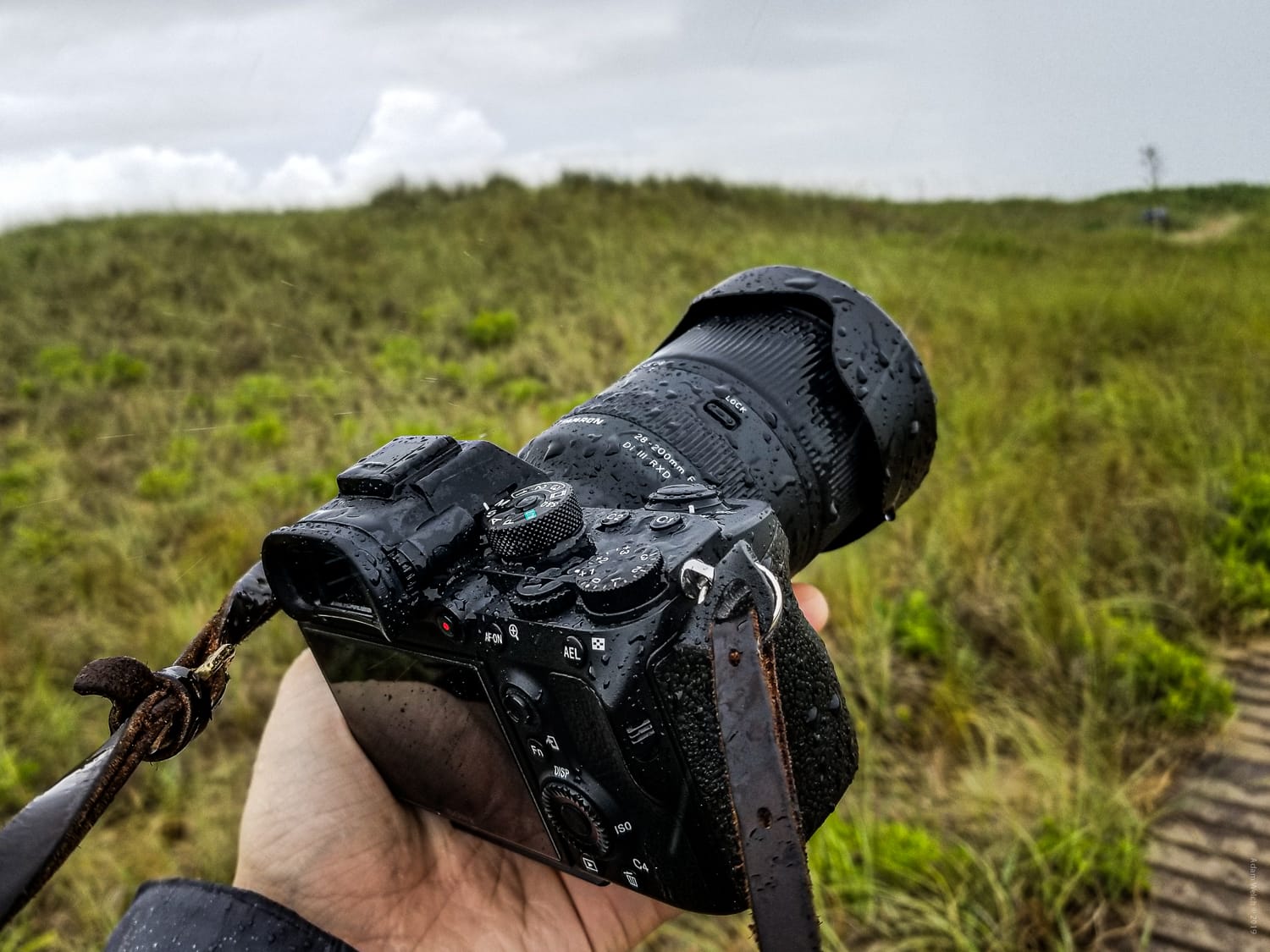 The RXD autofocus, which you'll find in all of Tamron's full-frame Sony lenses (except for the 70-180mm f/2.8 Di III VXD), performed quite well. I shot primarily in flexible spot mode with my Sony A7R MK3, and the AF locked on quickly and, for the most part, accurately. There were a few instances where the results would lead me to believe that my particular test model might have been front-focusing slightly, but the verdict is still out on that point.
In any case, it is not uncommon for a lens to occasionally require in-camera micro-AF adjustments. You can read more about micro-adjusting AF here.
Also of note is the compatibility of the 28-200mm with Sony's in-camera lens corrections and stabilization. Distortion, vignetting, and chromatic aberration control, are handled by your camera should it be so equipped. More in this in the next section.
Image Quality
The image quality of the 28-200mm was certainly adequate in all areas, although not remarkably so. Every single lens I've tested from Tamron's line of Sony mirrorless camera line has presented beautiful contrast and color with passable to extraordinary sharpness. The sharpness of the 28-200mm f/2.8-5.6 would be what I consider "middling" between good and very good, not great.
It seemed that sharpness at the short end of the focal length range was good and improved to very good as you approach the 200mm mark.
Here are few RAW image samples at various exposure and focal length settings; corrected for white balance and exposure.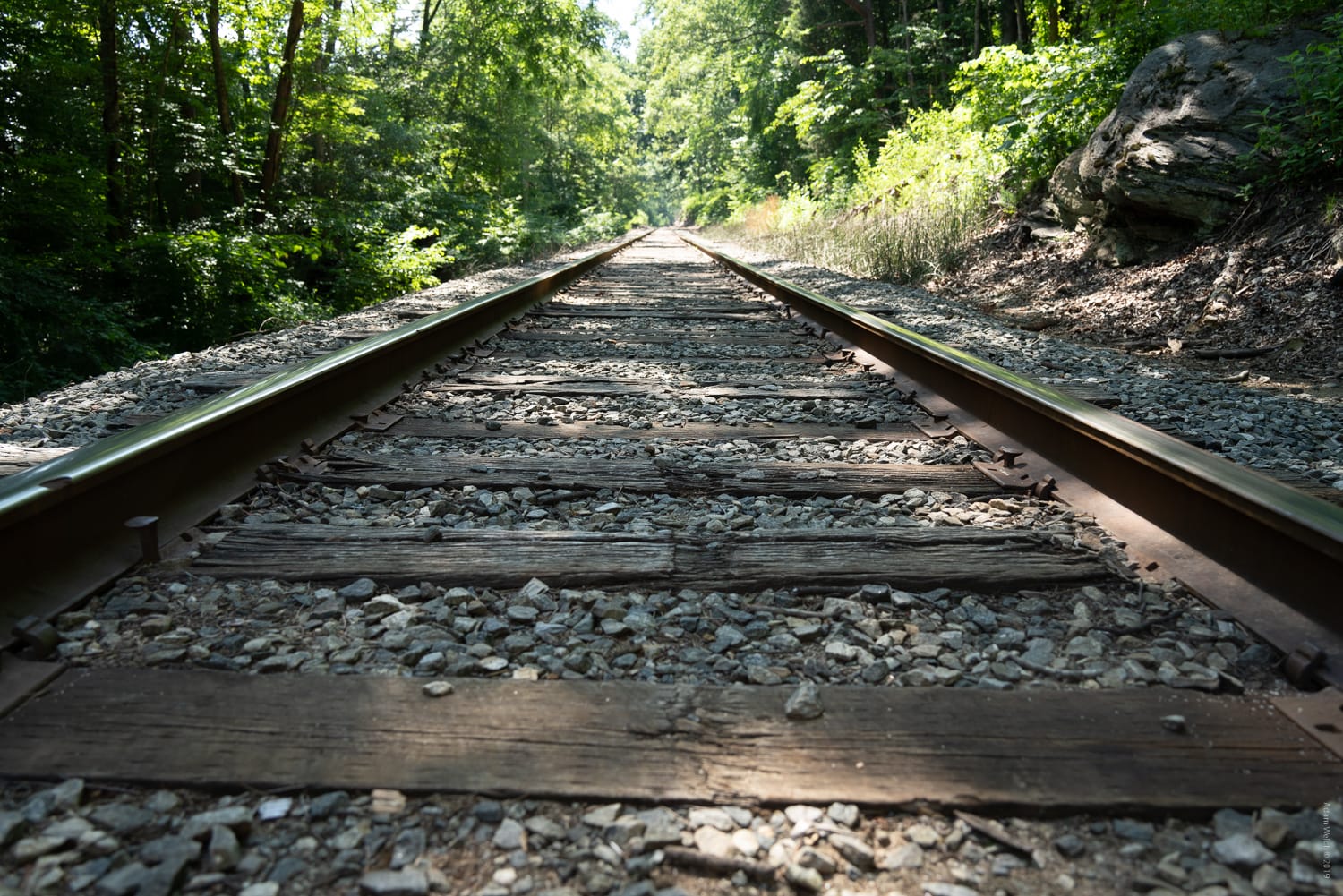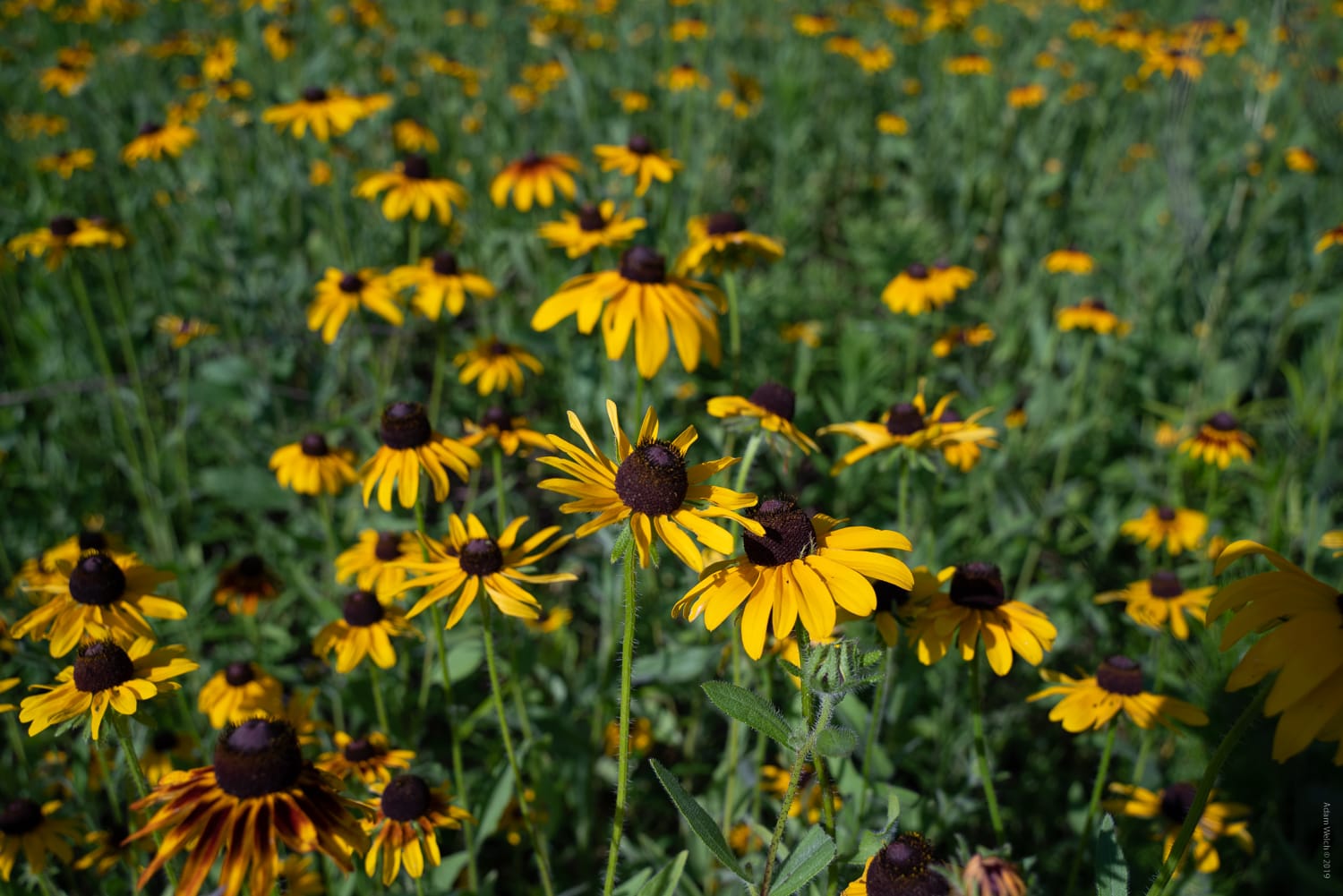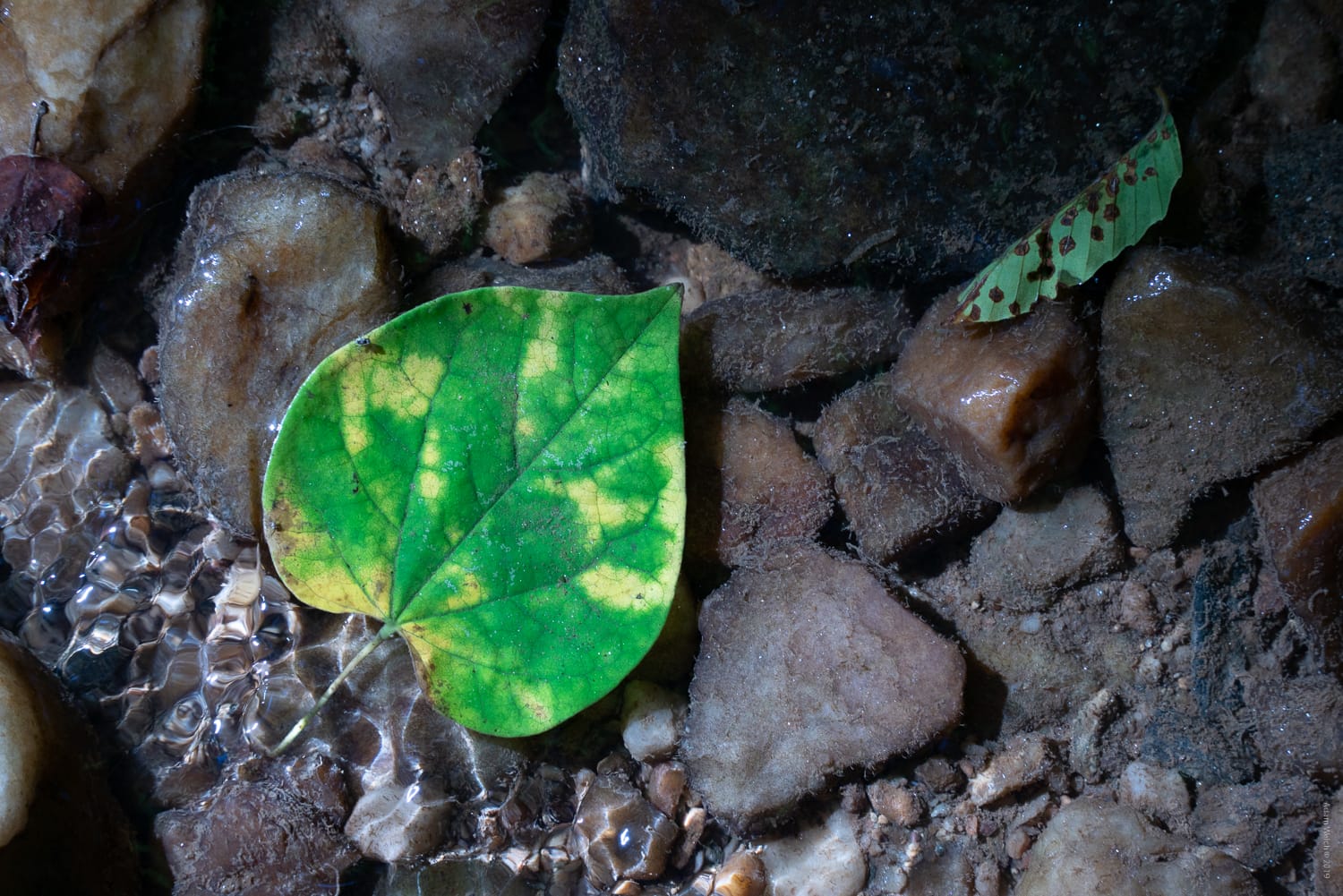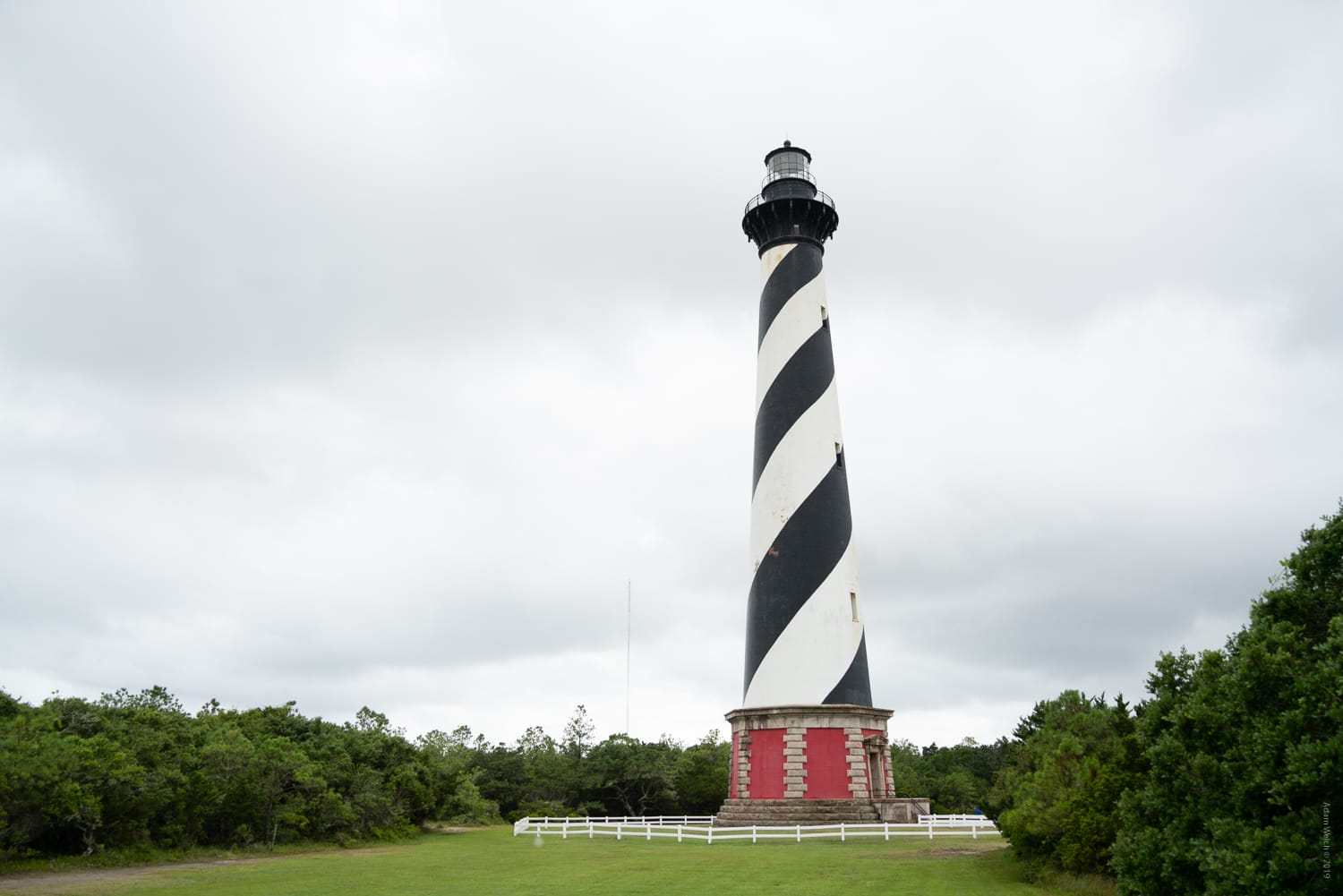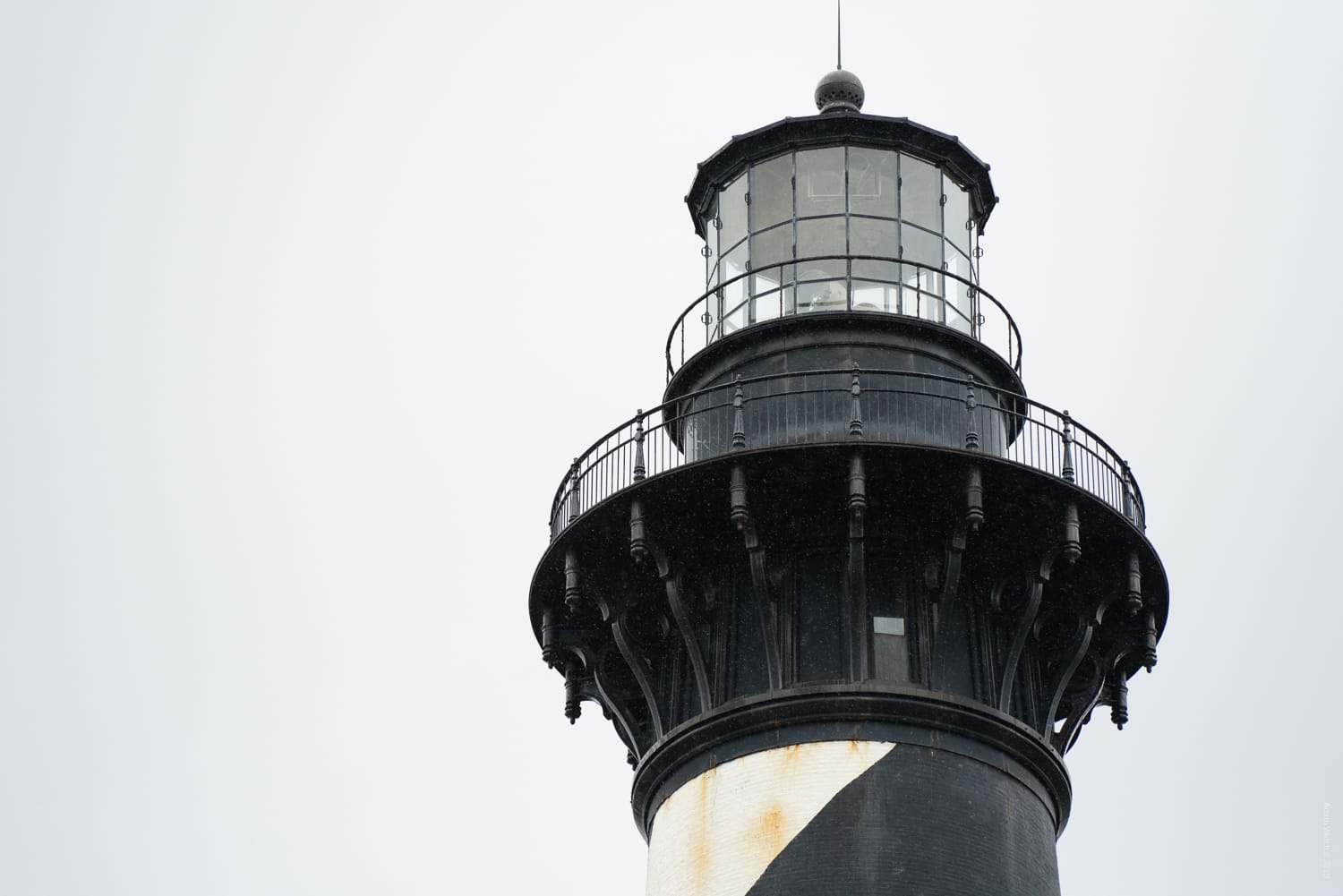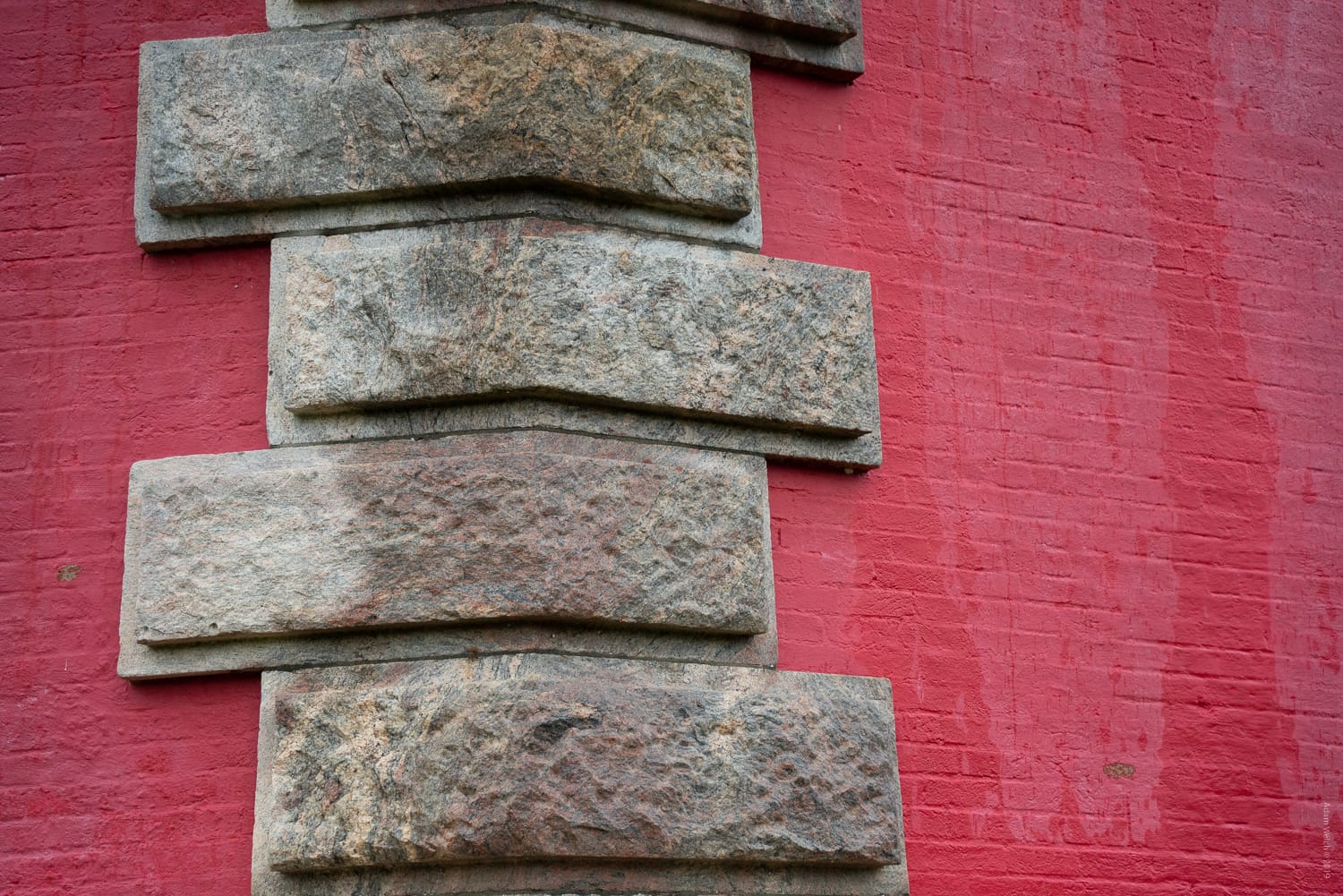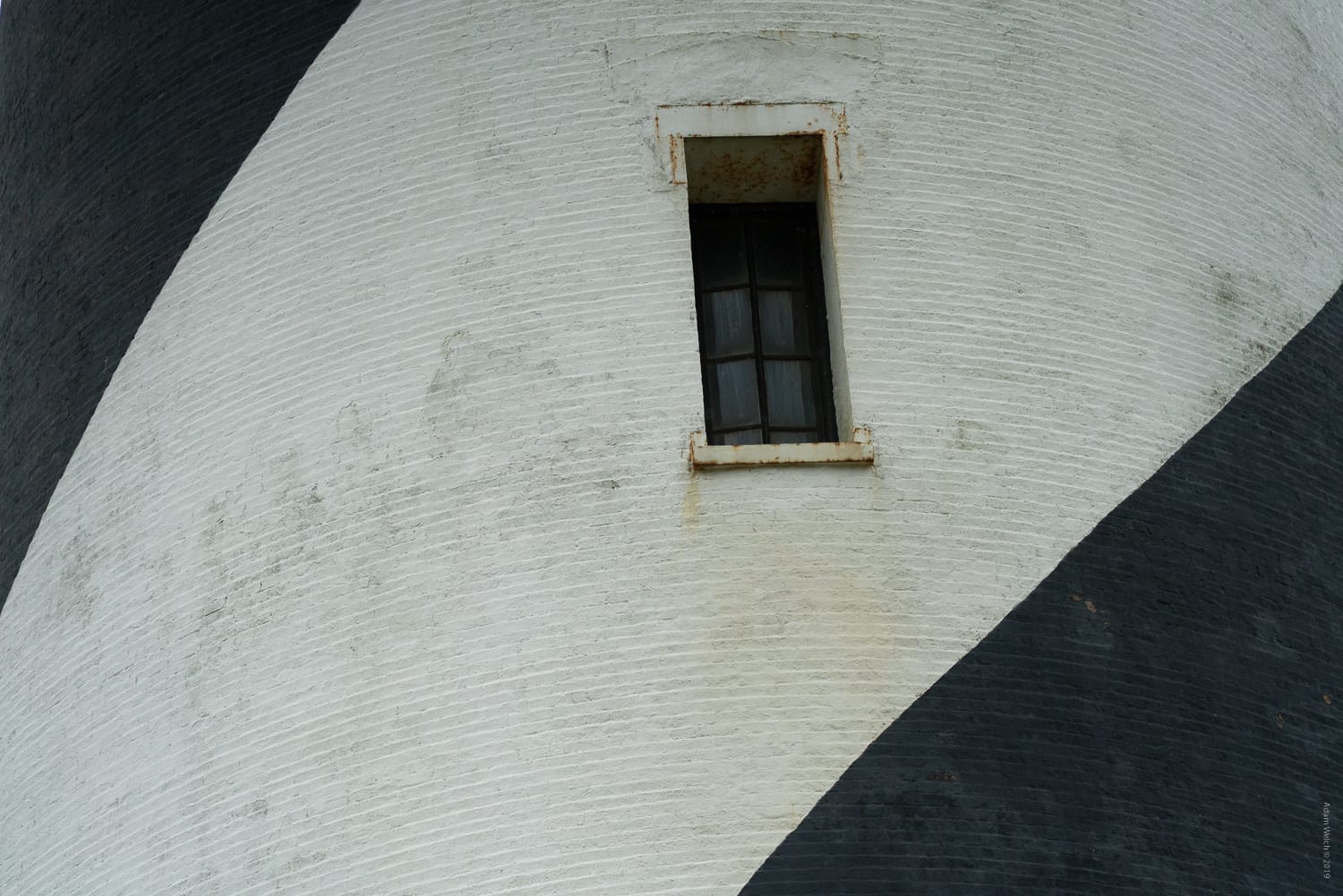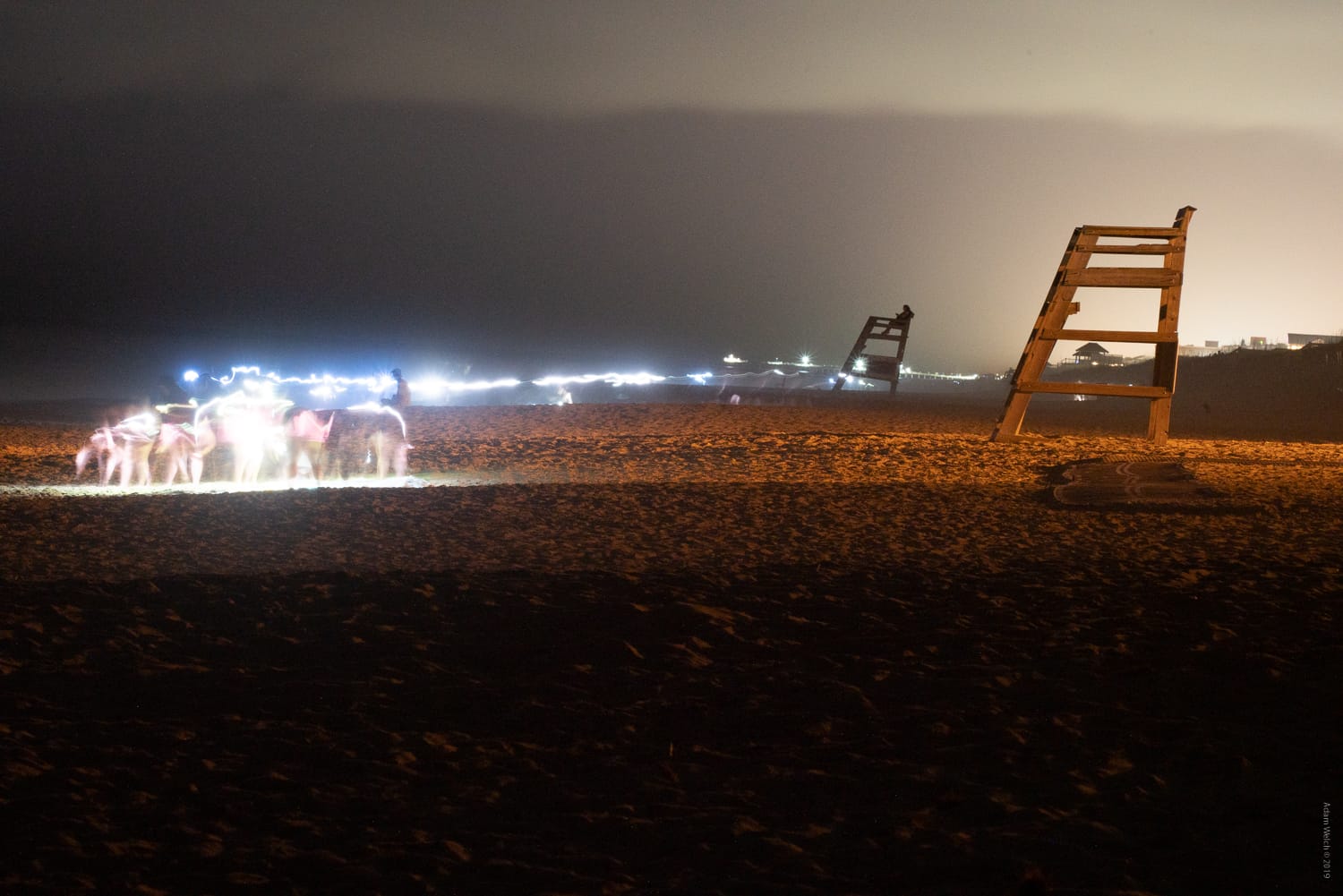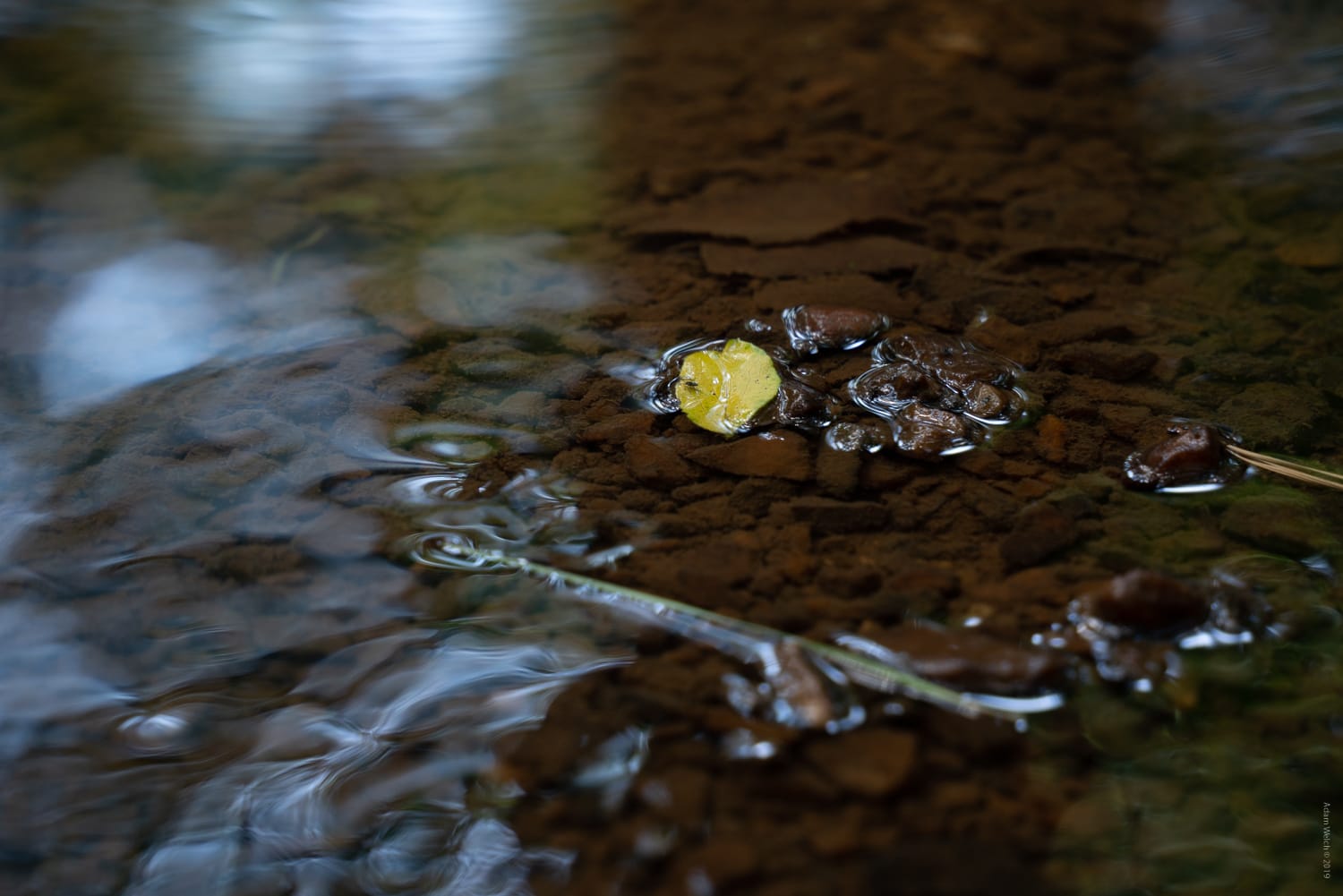 If you're the "pixel peeper" type (so am I), you'll want to look at our incredibly in-depth video review of the 28-200mm, where I examine RAW, JPEG, and fully processed image samples plus a dedicated vignetting experiment. Use the table of contents to skip around to the image sample sections.
An Overly Introspective Opinion
At this point, you might be feeling curious as to why I profess to have such an apathetic opinion of Tamron's 28-200mm f/2.8-5.6 Di III RXD. After all, virtually everything I've presented here about the lens has been positive or, at the very least, not overly critical based on the results of my tests. The lens is well built. It possesses excellent weather sealing (obviously) and with appreciably capable autofocus performance.
The images it produces are considerably sharp, and the out of camera color and contrast are wonderful. It offers an enormous range of focal length possibilities and apertures. So why don't I love it?
I feel the reason I'm not gushing over the 28-200mm as so many others have is that as a collective whole, the photography world is in the midst of an optical renaissance. Not more than eight or ten years ago, lenses with the capabilities of the 28-200mm would have seemed like some sort of wizardry, at least at this price point. It's not that this lens isn't a solid performer… it is!
But, taken in the context of our present time, it simply doesn't wow me. Or perhaps, as I mentioned at the beginning of this review, could I have inadvertently set my expectations a bit too high?
Should I have encountered this particular lens prior to evaluating Tamron's 70-180mm f/2.8 Di III or even their 35-150mm f/2.8-4 (for Canon), you would have heard me singing the same song of glory like so many others.
The 70-180mm f/2.8 has been my favorite lens for Sony mirrorless to date. It is insanely sharp, built like a proverbial tank, and its incorporation of Tamron's blazingly fast new VXD AF system sealed the deal. Granted, it carries a price tag to match.
So, in a way, I consider myself fortunate to be making photos today using a lens that only marginally impresses me due to its coexistence among so many other exceptional lenses on the market. An all-in-one optic for full-frame cameras with f/2.8 speed under $800? That prospect would have left me dumbfounded five years ago.
Yet, now, I see it as simply a good lens that would have been phenomenal to a previous version of myself. Again, this is why I have been, and remain, so miserably conflicted about the 28-200mm f/2.8-5.6 Di III RXD from Tamron.
Final Thoughts…
Who will get the most out of the 28-200mm f/2.8-5.6 from Tamron? Sports and wildlife shooters will love it for its reach and AF ability. Landscape shooters will enjoy the extreme flexibility of the 28-200mm focal length options and contrast and that seemingly bullet-proof weather sealing. With that f/2.8 aperture on the wide end, it could even serve as a passable option for night sky work.
Of course, all this is tied together with that attractive price tag, which, at the time this review was written, is set at a remarkable $729 USD.
I hope the information presented here represents the merits of the 28-200mm F/2.8-5.6 in the light, which I intended. Has this been my favorite lens from Tamron? Well, no. Is it an excellent budget-friendly option for those looking for a well-rounded all-in-one telephoto for their full-frame Sony cameras? Absolutely.