In-Depth Review of On1 Photo 10 Software
Last April, Contrastly took an in-depth look at OnOne Perfect Photo Suite 9.5. You can find that review here. The software scored high and was packed with features geared toward photographers of all skill levels.
Six months later, OnOne is back with an updated offering of their already very capable Perfect Photo Suite 9.5. The update brings some heavy hitting improvements that deserve some attention. You spoke up about what you liked and didn't like about the 9.5 build and the developers at OnOne were listening. In this review, we'll take a close look at version 10 and show you some key features you might or might not like in this latest offering from On1.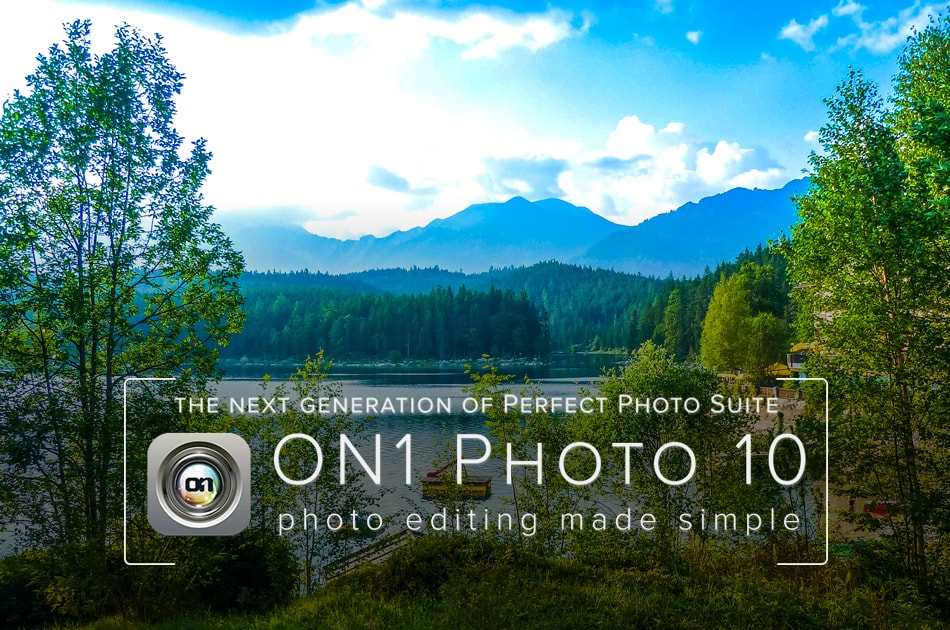 The new software is named On1 Photo 10. The folks over at On1 haven't set out to necessarily re-design their software from the ground up, but there have been some major improvements made over the last build. Even the name of the software has been shortened, made simpler… more streamlined. "Streamlined"… that's the word that would work well to describe Photo 10. So, let's start from the beginning.
User interface
The layout of Photo 10 has been refined considerably. It looks very clean and professional with good text/background contrast when compared to 9.5. Overall, the aesthetics look professional and very well done with a lot of thought being placed on increasing the visibility of the entire user interface. Key features such adjustment modules and tools are now very easily located in the program.
Not only has the appearance been upgraded but so too have the locations of key functions such as the module selection palette which has packed up and moved from the top right to right side. These changes are very strategic and are geared to maximize the real estate on your computer monitor.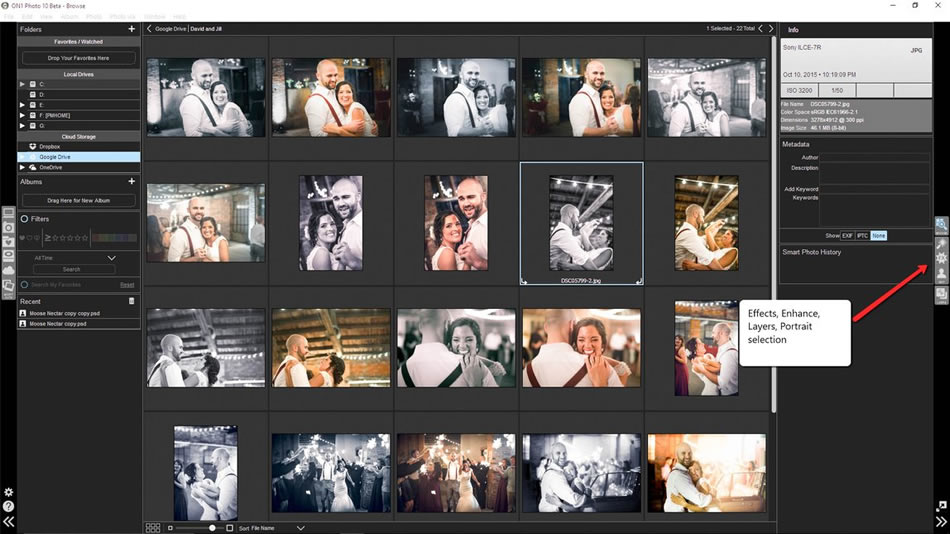 The engineers at On1 really seem to have payed attention to the feedback from their users and addressed some important concerns with the software. The entire program now has increased usability and is much more friendly to those who aren't familiar with image processing. Adjustment sliders have been reworked to ramp up the responsiveness of your edits while at the same time the entire program consumes less memory. The algorithms have been updated to increase tonal ranges of colors and to give more breathing room for recovering those lost details from shadows and highlights.
Photo Organization
The appearance of the user interface isn't the only aspect of Photo 10 to receive an overhaul. Browsing through your images has now become easier, faster, and more intuitive. There is a completely redesigned panel to house all your folders. A smart album system has been introduced which allows you to categorize and search for you photos based on a wide range of search options such as aperture, ISO, ratings, keywords,and device type… just to name a few. This is great news to those coming from a Lightroom background who are used to the collections-type of organization in Adobe.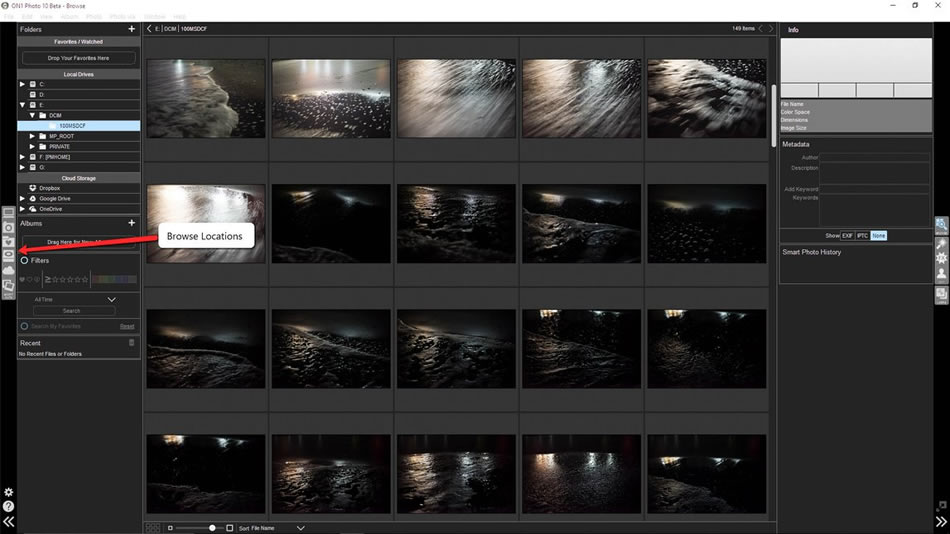 Another nice feature to be added to the browsing functionality of Photo 10 is the incorporation of On1's Photo Via image sharing software. Photo Via allows users to sync all their photos from their Photo 10 albums and folders to their iOS (iPhone, iPad)* for viewing on the go. Synched photos can be viewed and reorganized remotely from your device. More good news for Apple and Mac users is the fresh integration of social media outlets into the interface of the software. Now you can share all of your favorite photos directly to Facebook, Twitter, Instagram, and others (Mac users only).
*Take heart Android users, support for all of your devices is currently in the works and should be available next year if there is enough interest from consumers.
Enhancements Module
Let's talk about some of the features to be found in the "Enhancements" module of Photo 10. If this is your first time using the On1 software, the Enhancements module contains all of the core processing options such as color adjustments, saturation, dynamic contrast, and new to Photo 10… vibrance and exposure sliders. The exposure slider was formerly the brightness slider but has now been updated to provide more range in exposure adjustments. As we mentioned earlier, all of the adjustment options have now been revised with updated algorithms to add faster and more complete editing possibilities.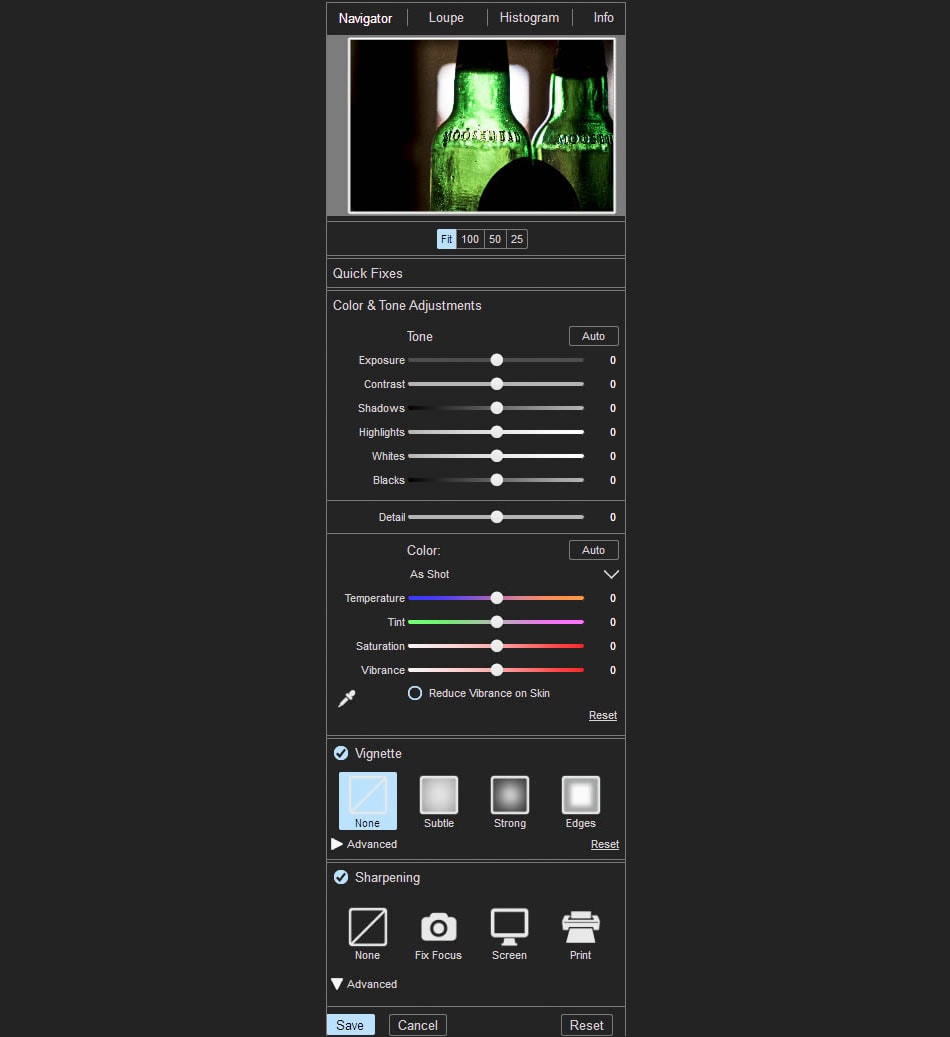 Another great addition to the Enhancement module is the exposure clipping warning. Just like in Lightroom, simply hit the "J" key to highlight areas of over or underexposure where detail has been lost. This really helps to ensure your image will include all the information that you intended.
Effects Module
The On1 Effects module brings the power of some of the best presets on the market right to your doorstep… or computer step rather, but that's not where the power of this module stops. Not only are the presets themselves outstanding, but the developers at On1 have really improved their rendering speed and enhanced their functionality.
Presets are now organized by category (landscape, blur, portrait, black and white, ect.) and still include the quick view browser so you can see exactly how all of the presets will change your photo.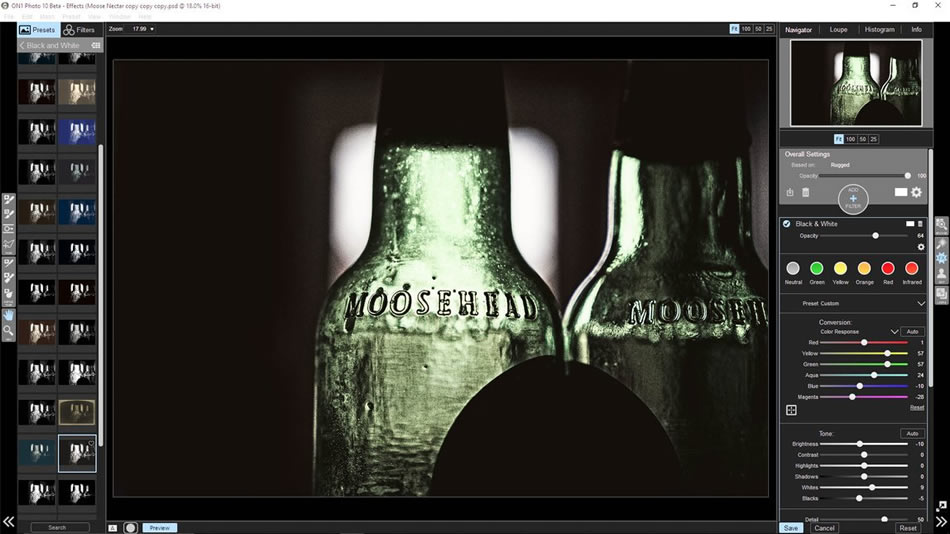 Stacking different presets is still possible and all of the presets are customizable. Does the preset you really like have too much contrast or brightness? Now you can simply change what you don't like and keep just the options you do.
In addition to their highly customizable nature, On1 now allows you to apply the editing selection only to certain areas of the image using the masking brush. Add or subtract the preset edits and select the strength of the processing locally. This new versatility of the the Effects module really combines the power of Photoshop-style layer masks with the ease of Lightroom-style presets. Here is the newly re-designed Layer's module for more advanced editing.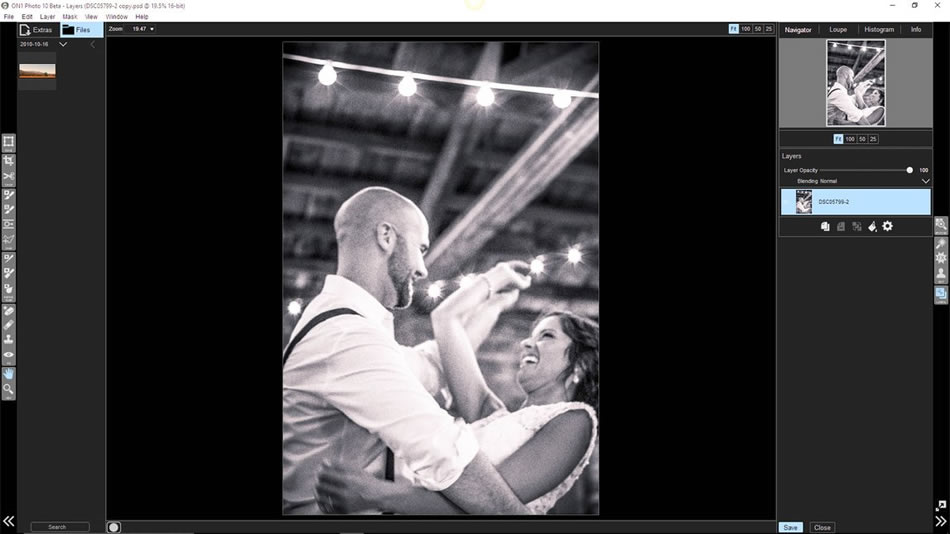 I am thoroughly impressed with the work On1 has put into this area of Photo 10. Stacking of presets is now made simple.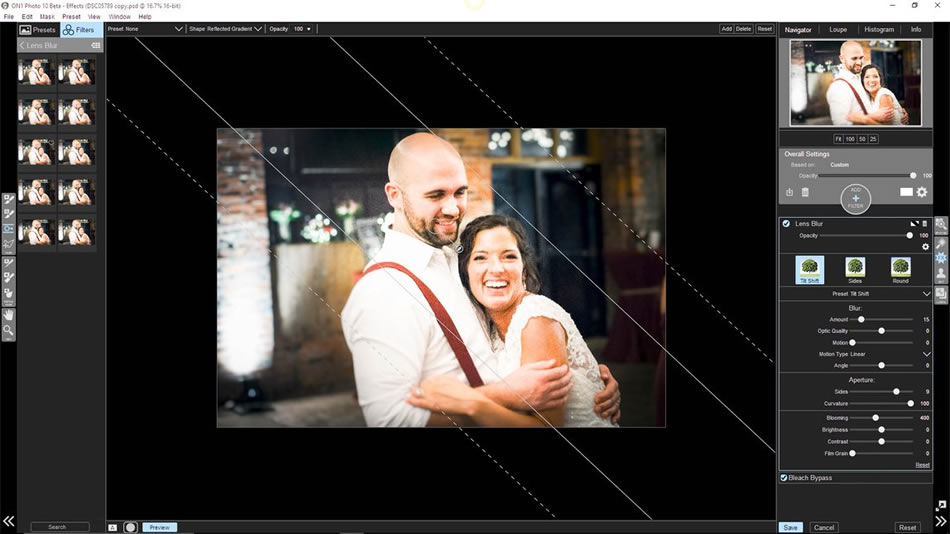 Are you a black & white photography fan like me? If you are, you might have noticed the omission of the Perfect Black and White module in the Photo 10 release. Don't worry! It's still there and has just found a new home right here in the Effects module.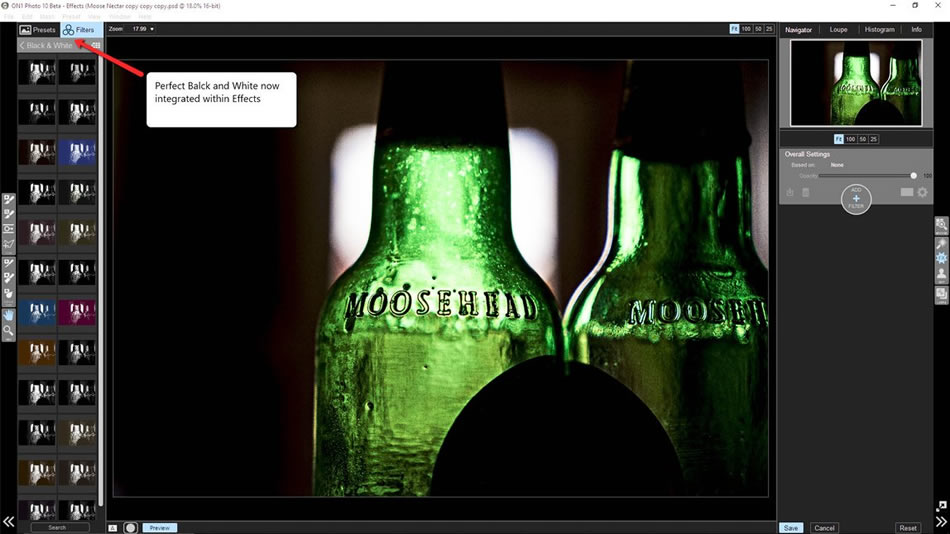 This falls into line with the newfound usability of Photo 10. Now you don't have to move into a different module just to work in black and white. All your black and white presets, filters, and editing tools (including that great dynamic contrast option) are now right where you can easily access them without changing modules.
On1 Portrait
The portrait enhancement module of Photo 10 has got to be one of the hottest things in the photo processing industry today. If you're a portrait photographer who's looking to really step up your workflow this is something worth giving a spin. The portrait retouching in 9.5 was good… not great. Photo 10, however, has vastly improved portrait processing power. Literally all the options from the previous build have been made faster and more user friendly. The eye and mouth locater tools work better at detecting the areas they should and there is much less manual adjusting required. The software even walks you through the steps of the process.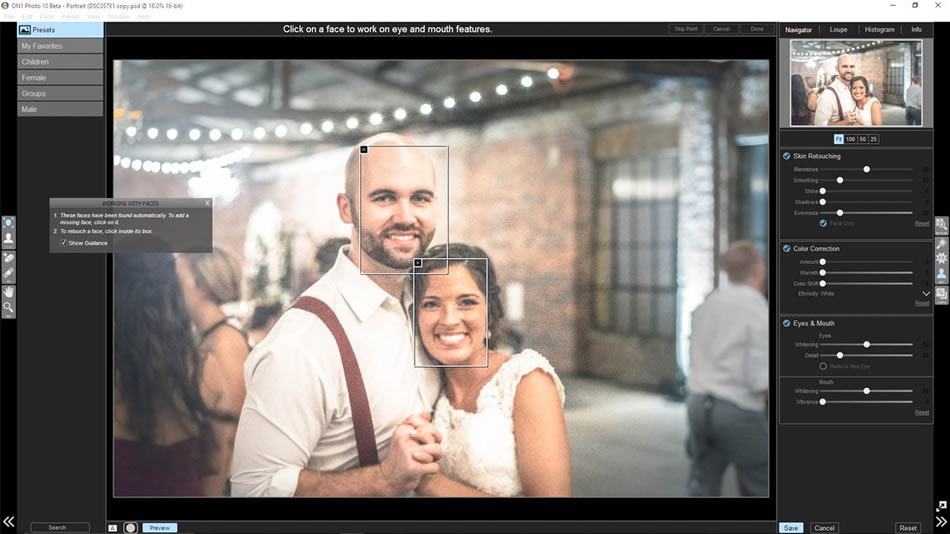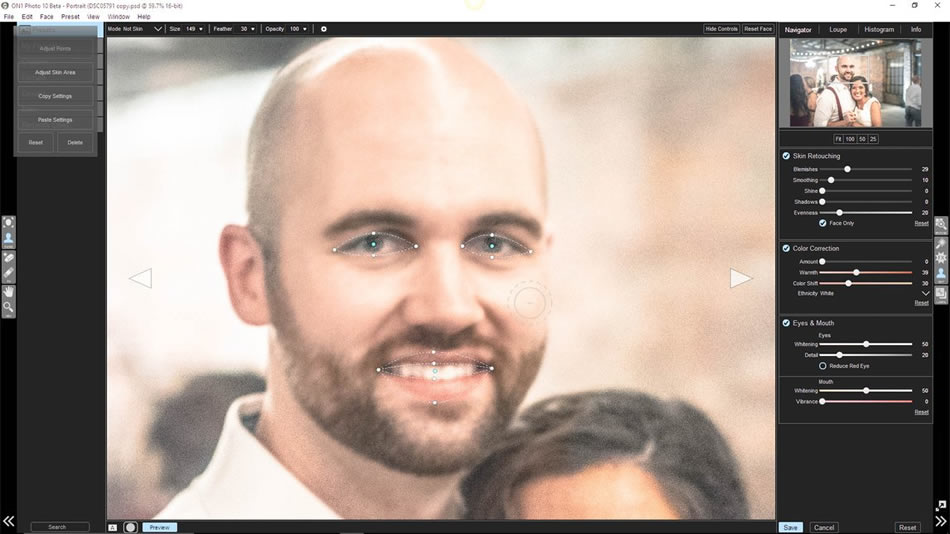 Are your subjects lying down or in a non traditional pose? On1 Portrait can now detect rotated or inverted facial features and lock onto them with ease. The skin retouching has also now become much more versatile. The user can select or deselect areas to have the portrait retouching applied. This not only helps to avoid over smoothing of skin but also gives much more control over what areas the edits are put to work.
What you might like
The On1 Photo 10 photo editing software is a refreshingly welcomed addition to the world of post processing. The development team at On1 have obviously put a lot of work into making their software meet all the needs of their customers. Let's sum up some of the high points of Photo 10:
Greatly enhanced image loading speed.
Newly refined photo browsing and viewing makes finding and cataloging images painless.
Fresh new look of the user interface
Photo Via integration (Mac users) let's you view and share your photos on the go.
More powerful editing options in the Enhancements and Effects modules.
All the versatility of working with layers has been maintained.
On1 Portrait module has been given a complete facelift (get it) and is now a great tool for serious portrait shooters.
Presets are easy to find, high quality, and incredibly versatile.
Also worth mentioning is that previous versions of On1's photo processing soft do not have to be removed from your system in order to obtain the newest version of Photo 10. All your presets from previous versions will come with your when you update. All pre-order customers will also receive On1's Photo 10 tutorial package which includes great instructions on how to get the most out of your editing.
What you might not like
As with anything, there are also areas that are somewhat lacking. Luckily, On1 Photo 10 has very few weak spots.
Support for Android-based mobile users is currently limited.
Windows-based social media sharing is currently limited but forthcoming.
No support for Kindle devices
Bottom Line
The pre-order price tag for the late October release of On1 Photo 10 is $119.99 USD and $89.99 USD for those who are upgrading from Perfect Photo Suite 9.5.
For that price you'll get an outstanding offering of powerful photo processing tools that will compliment any photographer's workflow whether you specialize in portraits, landscapes, or anything in between. The tools available in Photo 10 are highly useful and easily mastered even for those who aren't post processing wizards. The team at On1 have really outdone themselves with Photo 10. I highly recommend adding their software to your photo editing arsenal.
If you are looking for a great companion to Adobe Lightroom, or to use it as a standalone tool, On1 Photo 10 will surely be a great addition to your arsenal. Click here to order On1 Photo 10 now →