10 of the Best Lightroom Classic Plugins & Tools You Must Try
If you've spent much time in the world of photography, you're likely familiar with Adobe's Lightroom Classic, a favorite post-production photo editing software amongst both beginning and expert photographers.
However, you may not be aware that Lightroom's capabilities expand far beyond the software itself.
Lightroom Classic is particularly unique because of its capability to integrate with plugins developed by other users and companies. These additions vastly increase Lightroom Classic's functionality and provide more custom options for individual use.
How to Install Plugins
Installing Lightroom plugins is a breeze, but we'll briefly run you through the steps so that you're ready to try out the plugins on our list.
First, download your plugin(s) and open up Lightroom Classic. Make sure that you've unzipped any .zip files. In Lightroom Classic, navigate to File > Plug-in Manager and select "Add" in the dialog box. You'll then be prompted to browse your files for the downloaded plugin.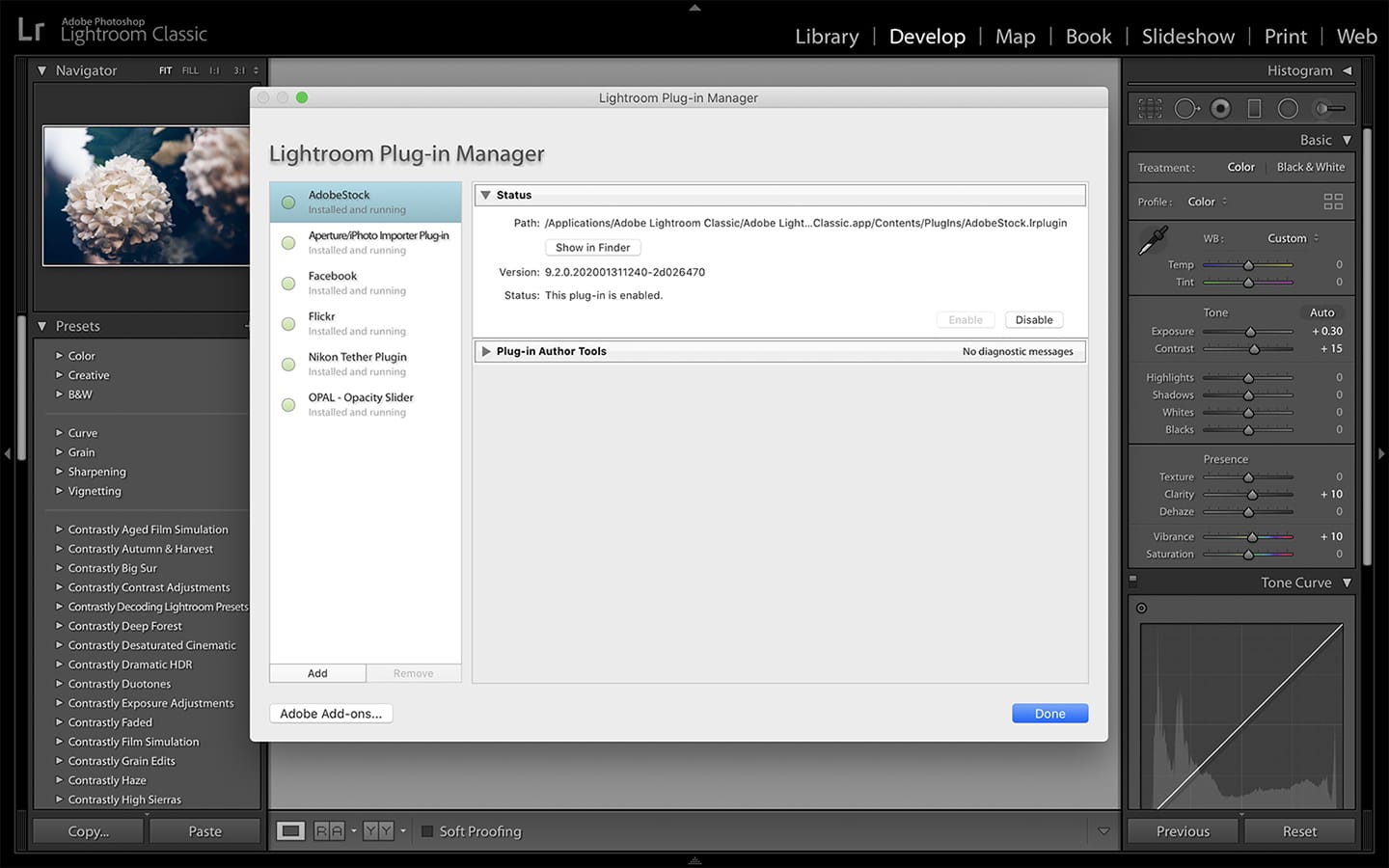 Select your desired plugin, follow any special instructions provided by the plugin's creator (if any), and then restart Lightroom Classic!
Note that some tools and plugins have a slightly different installation method. Some of them don't run natively within Lightroom Classic. Instead, they integrate with Lightroom via the "Photo > Edit In" option in Lightroom (similar to how you would open an image from Lightroom Classic inside Photoshop.) Please refer to the installation guidelines from the creator of the tool or plugin you'd like to use.
Highlighting Lightroom Classic's Best Plugins & Tools
We get it – finding the right plugins for your photography style and workflow could take ages, and trying each of them out could get expensive, too.
Not to worry. We've done the hard work for you!
We've gathered ten of the best Lightroom plugins from around the web to get you started so that you can use your time and money (some of your most valuable resources) to get out in the field or set up the studio for some shots rather than aimlessly browsing the net or wasting money on plugins that may not suit your needs.
Please note that the plugins listed here are for Lightroom Classic (the desktop-based flavor of Lightroom). Alright. Let's dive right in!
1. Opal – Opacity Slider Plugin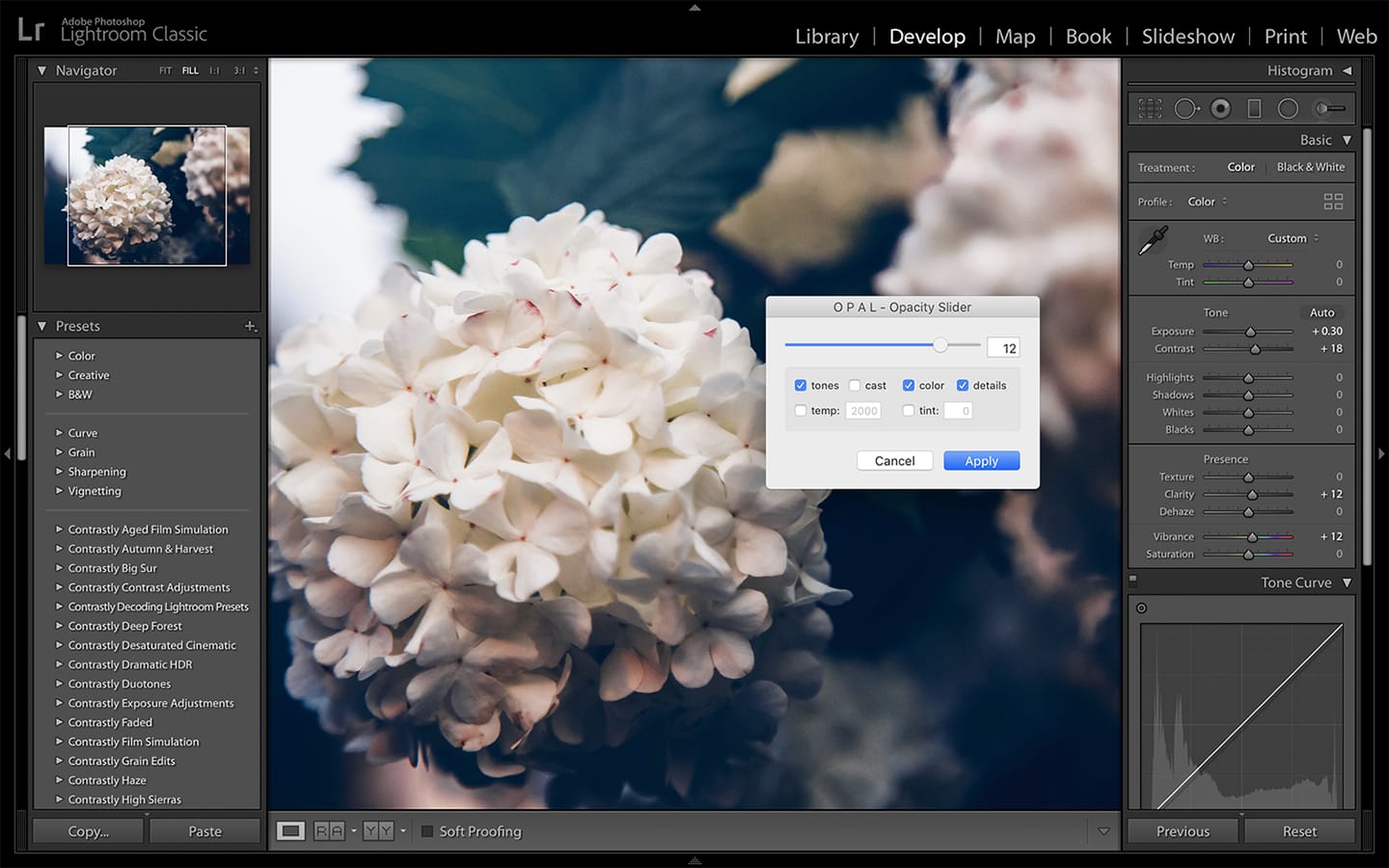 The concept behind the Opal plugin may be simple. Still, it's an incredibly powerful tool for photographers who want an added touch of convenience and flexibility during their photo editing process.
We particularly love Opal because of how it encourages us to utilize another one of Lightroom Classic's stellar features: presets. Creating your own presets or downloading presets online can not only save you time during your post-production workflow, but it can also open up new realms of possibilities for your final products.
Unfortunately, some Lightroom presets create an effect that's too dramatic, and users may be stuck slogging through a preset's complex setup to make the adjustments they need. With Opal, you essentially gain a new "opacity slider" specifically for your presets.
At only $15 at the time of writing, Opal is definitely worth the investment, particularly if you find yourself often using Lightroom presets or if you're interested in experimenting with new tones and moods for your work.
2. Creative Kit – 6 apps!
You might say that the Creative Kit from Skylum is like downloading multiple new tools at once because that's exactly what you're getting with this collection of six apps in a single package!
The power of these apps is truly immense. From removing unwanted tourists in your travel shots with Snapheal or creating impressive lens effects directly in Lightroom with Focus, you can save both time and money out in the field.
You won't need tons of equipment or to stake out places to find the perfect, distraction-free shot – a lot of this can be done directly in Lightroom Classic. Creative filters, noise reduction tools, and professional presets are only a few more of the myriad of tools that Creative Kit has to offer.
It really is like an all-in-one tool for the best possible photo editing capabilities. Windows users are unfortunately out of luck, though, since this Creative Kit is made exclusively for Mac.
3. Color Efex Pro – Nik Collection 2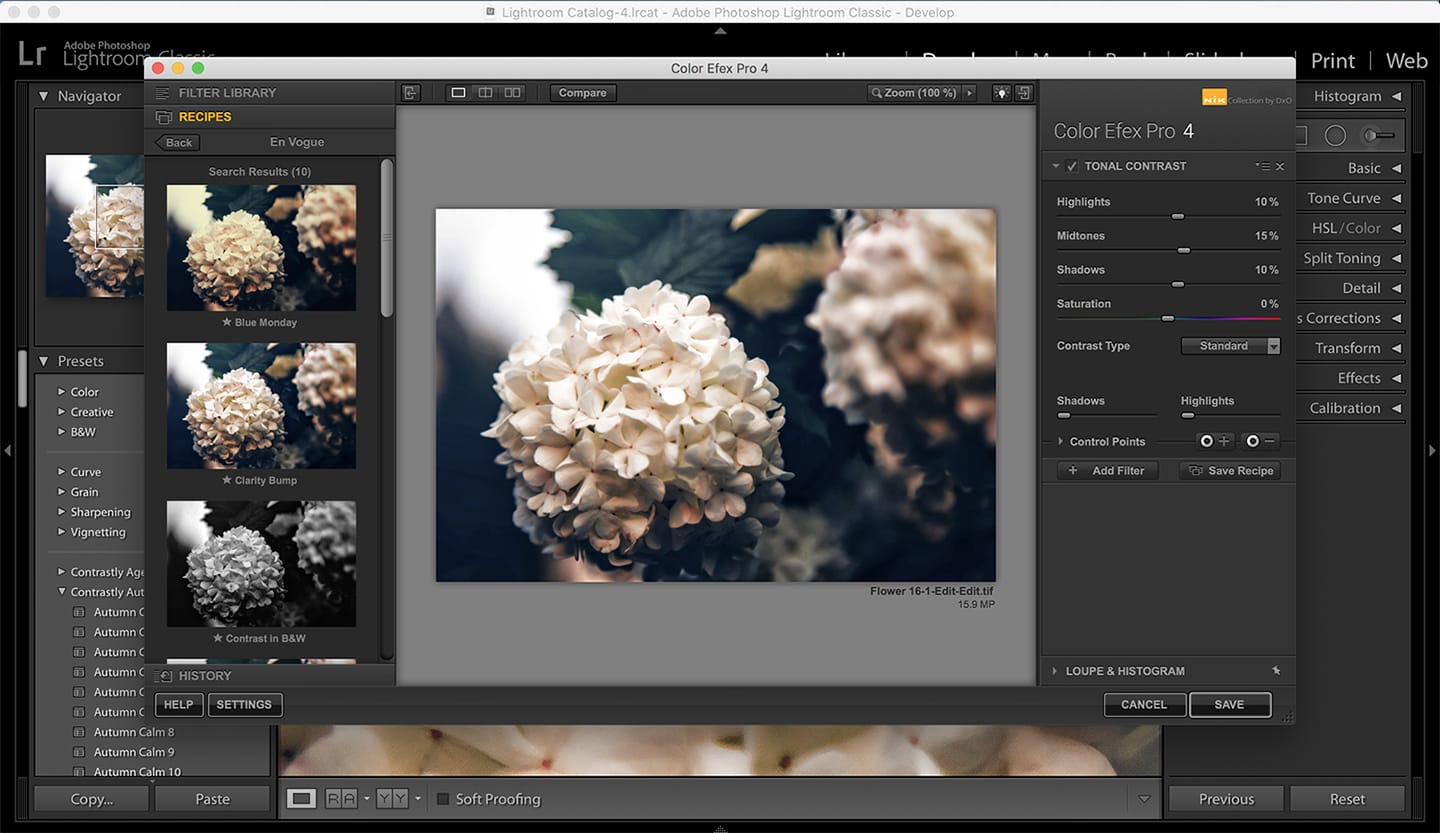 Whether you're hoping only to retouch an image or dramatize it with intense, creative effects, Color Efex Pro (part of Nik Collection 2 from DxO) is one of the best Lightroom plugins available.
It's an incredibly flexible plugin, boasting 55 filters and 20 image recipes. Plus, each filter has as many as six additional variations, offering an ideal balance between ease of use and flexibility.
Plus, we love its real-time previews that save time and headache during your editing workflow. No more "undo" and "redo" chains to compare results!
Give Color Efex Pro a shot with its free trial. If you like what you see, you can purchase the entire Nik Collection 2 set of plugins, plus DxO PhotoLab, for a one-time payment of $149.
Considering the number of tools you receive for a single price, we'd say it's a good investment. Plus, there's no subscription fee, removing the stress of added costs down the line.
4. LR Backup Plugin – Matt Dawson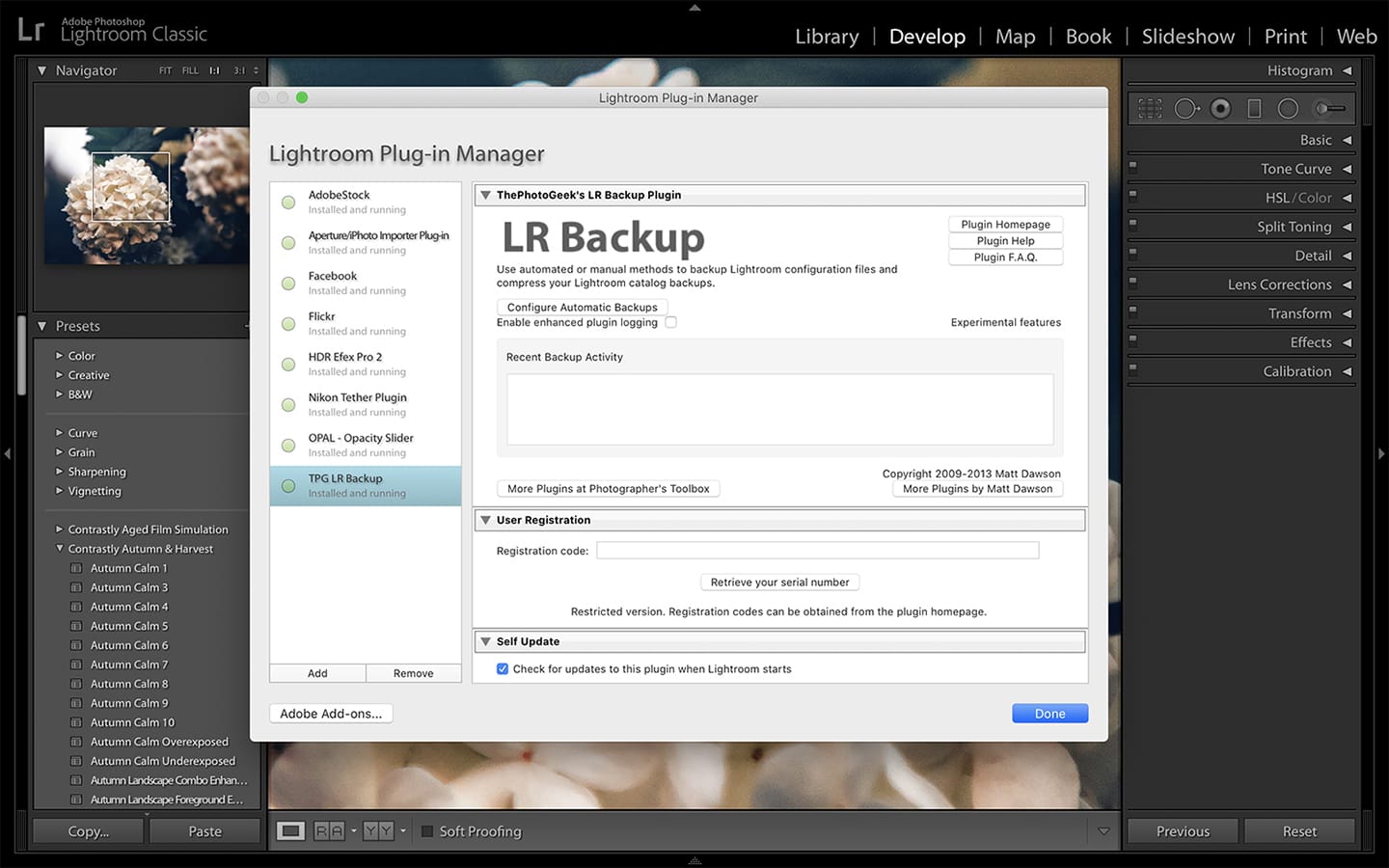 The LR Backup plugin is an extremely useful piece of software that simplifies backing up your Lightroom environment.
If you've been using Lightroom Classic for any length of time, you probably know that your preferences, presets, and other settings are all stored in various places on your computer. Sure, Lightroom Classic has a built-in feature to backup your catalog, but it can be annoying to backup all of your other preferences manually.
With the LR Backup plugin, you can schedule automatic backups, and it will backup all of your preferences, presets, templates, profiles, and other setting files and provide you with a single compressed backup file you can then import back into Lightroom Classic when you need.
5. LR/Enfuse – Timothy Armes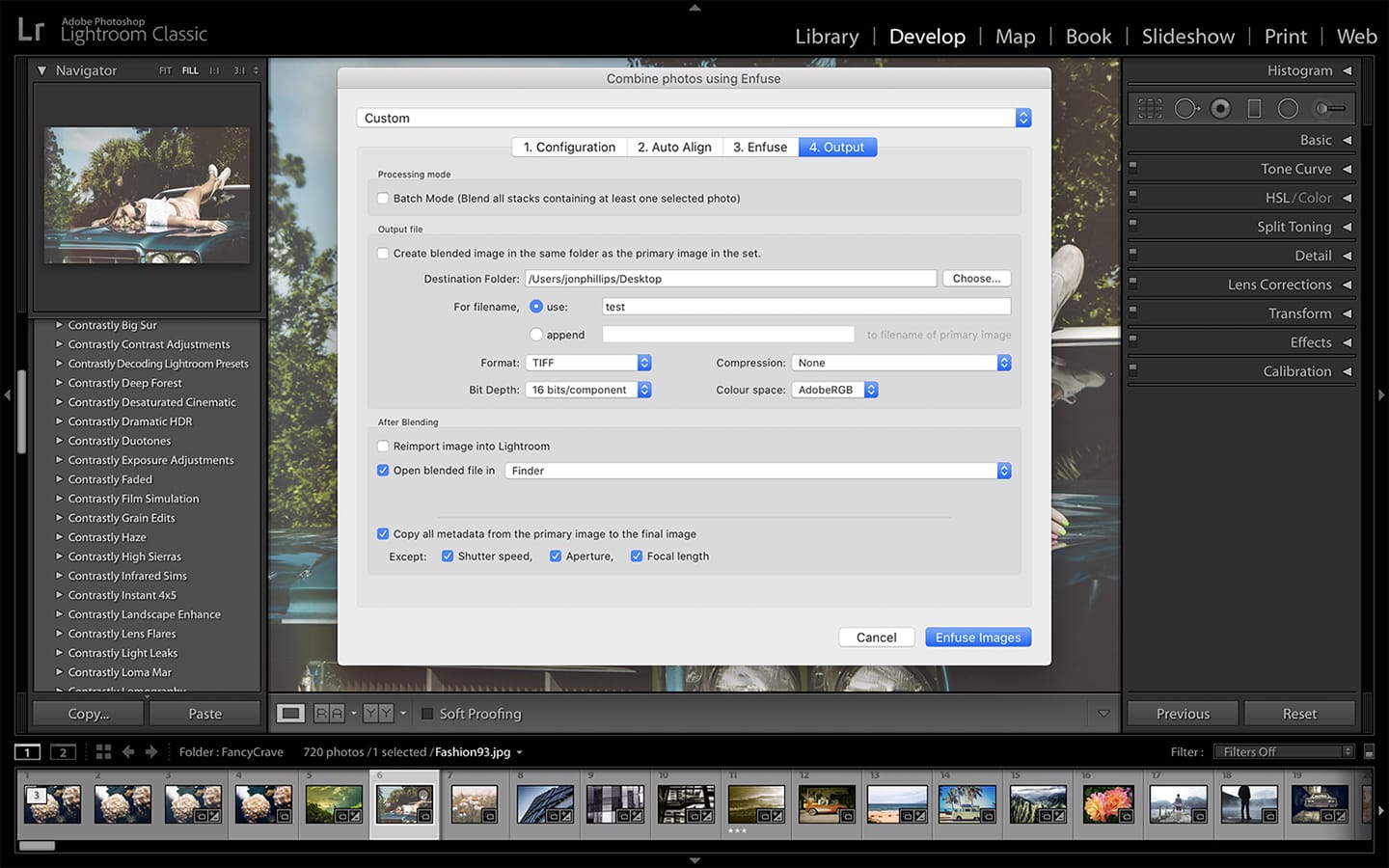 As photographers, we use image stacking all the time to improve our photography or create unique effects in post-production. LR/Enfuse makes this process a simple one.
Exposure can be a photographer's worst nightmare, particularly when we're struggling to achieve a high dynamic range or when our exposure values vary widely from photo to photo. However, there are ways around this predicament with plugins like LR/Enfuse that allow us to blend photos with different exposures. The resulting image appears more natural and will have a higher dynamic range.
This tool is equally beneficial when shooting night photography or star trail photography, as it allows users to blend images and create a longer overall exposure than what was achieved in any single photo. The same tools can also bring a dark interior to life.
Technically, LR/Enfuse is free. However, a one-time donation will allow you to bypass the initial output limit of 500px.
6. Topaz Studio 2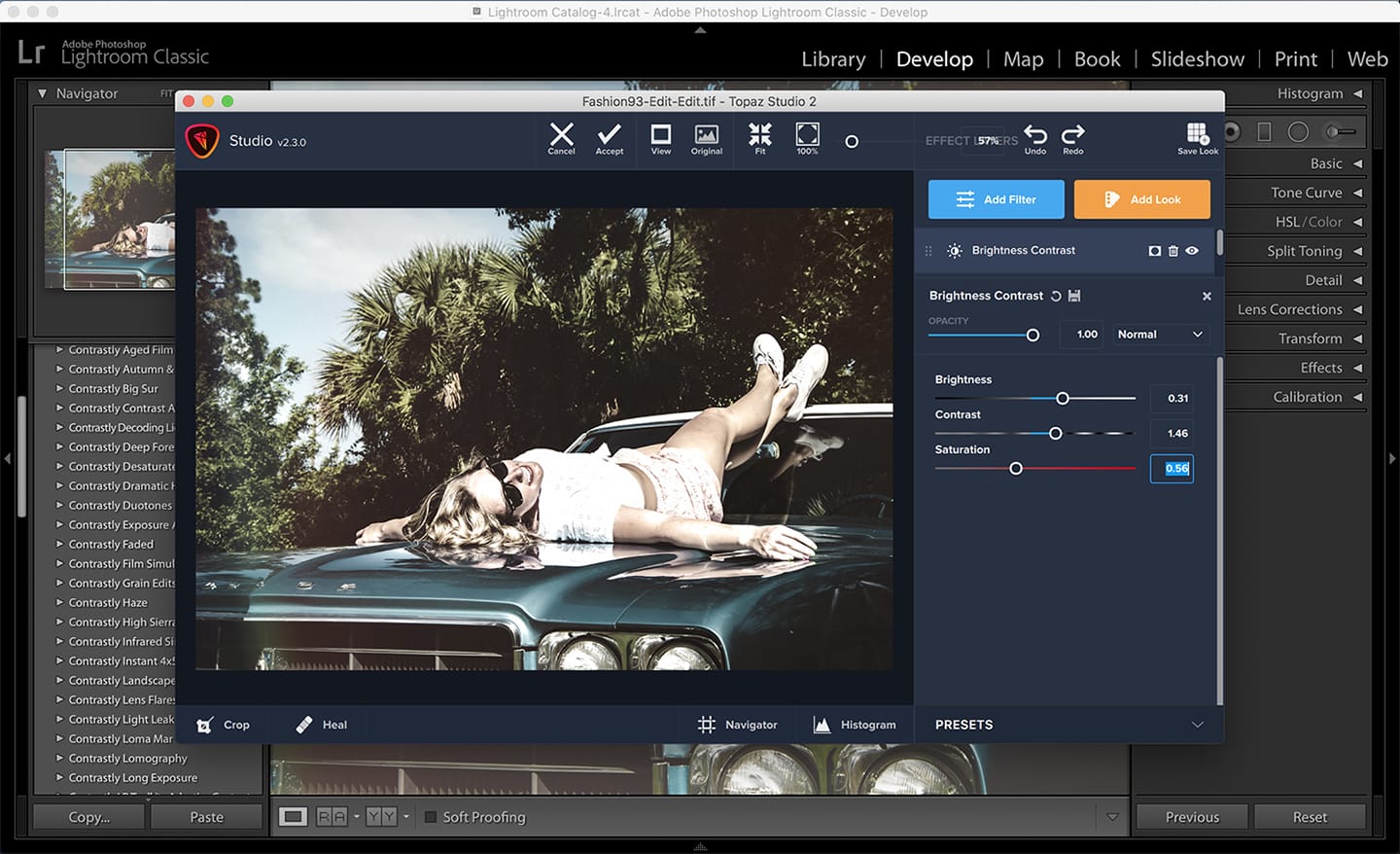 There are plenty of creative photo editing applications and plugins out there, but we think that Topaz Studio 2 is one of the best. Directly from Topaz Labs, Topaz Studio 2 focuses on three crucial tenets:
Providing filters that are the best of the best and not available with any other programs
Offering the most effective selection and masking tools for the best in selective editing capability
Utilizing non-destructive layers to maximize editing ability and flexibility, so that users can continue to edit and adjust as much as they need
Topaz Studio 2 is an incredibly streamlined plugin that's dedicated only to these principles and the creative photo editing process, which is great for minimizing distractions and helping you to make the most of every shot.
Topaz Studio 2 offers a free trial for you to whet your appetite, and the full plugin can be purchased for $99.99. You can also find more installation instructions here.
7. Aurora HDR – Skylum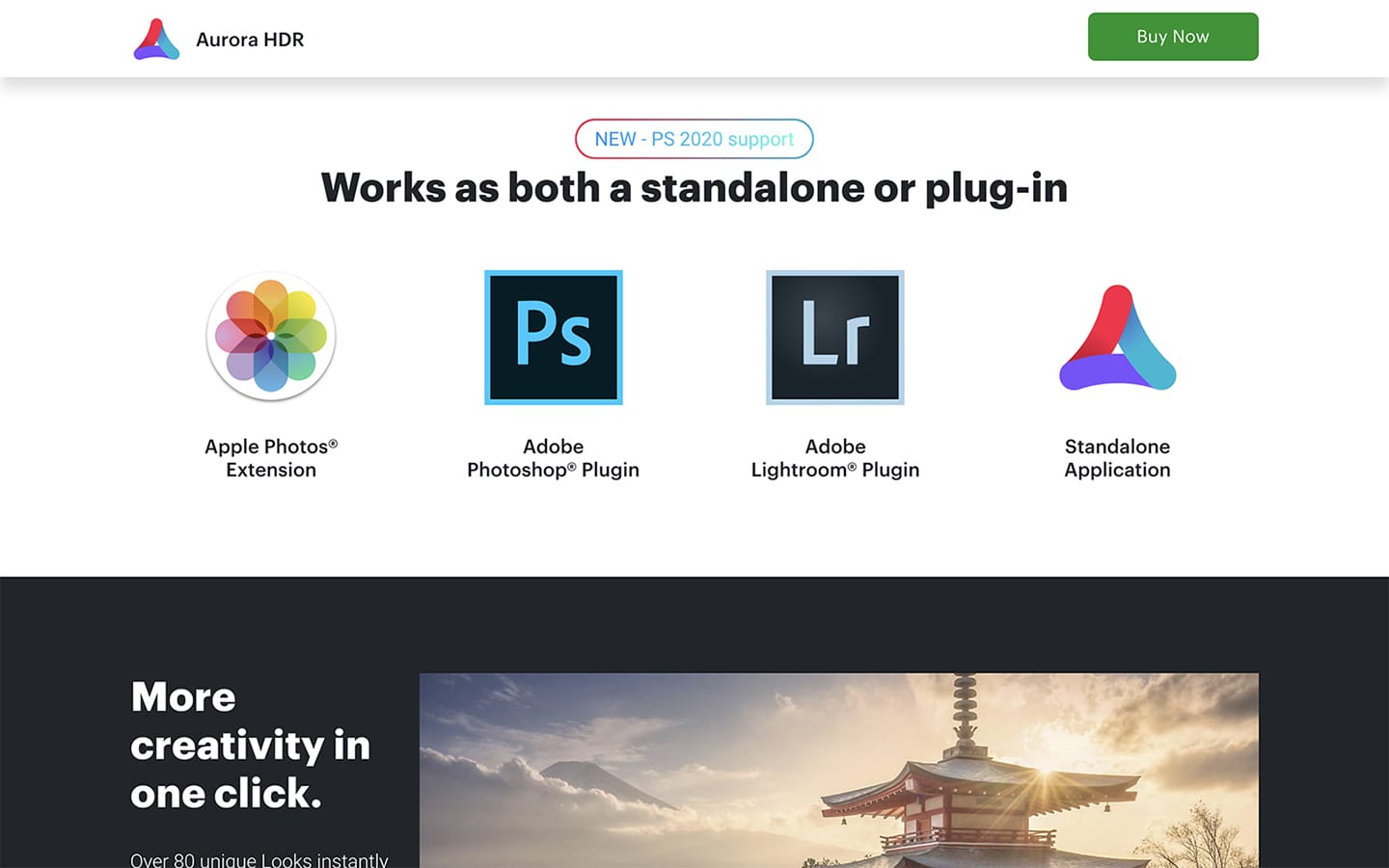 Available for both Mac and Windows, Aurora HDR is a $99 plugin (it also works as standalone software) that has won awards for being one of the best HDR photo editors available.
Noted photographers swear by this plugin that makes HDR photography a breeze by eliminating common problems such as artifacts, halos, and chromatic aberration. Merge bracketed images, enhance colors, and utilize more than twenty tools, including HDR Denoise, creative LUT mapping, detail enhancement tools, color toning, and more.
Layers, masking, batch processing, and support for RAW photo format are all available, so it's no wonder that the pros love this plugin.
If it doesn't suit your needs, Skylum also offers a 30-day, money-back guarantee, so you don't have to feel guilty about dropping some cash for this excellent program and giving it a try. There are detailed instructions on how to install Aurora HDR into Lightroom.
8. Luminar 4 – Skylum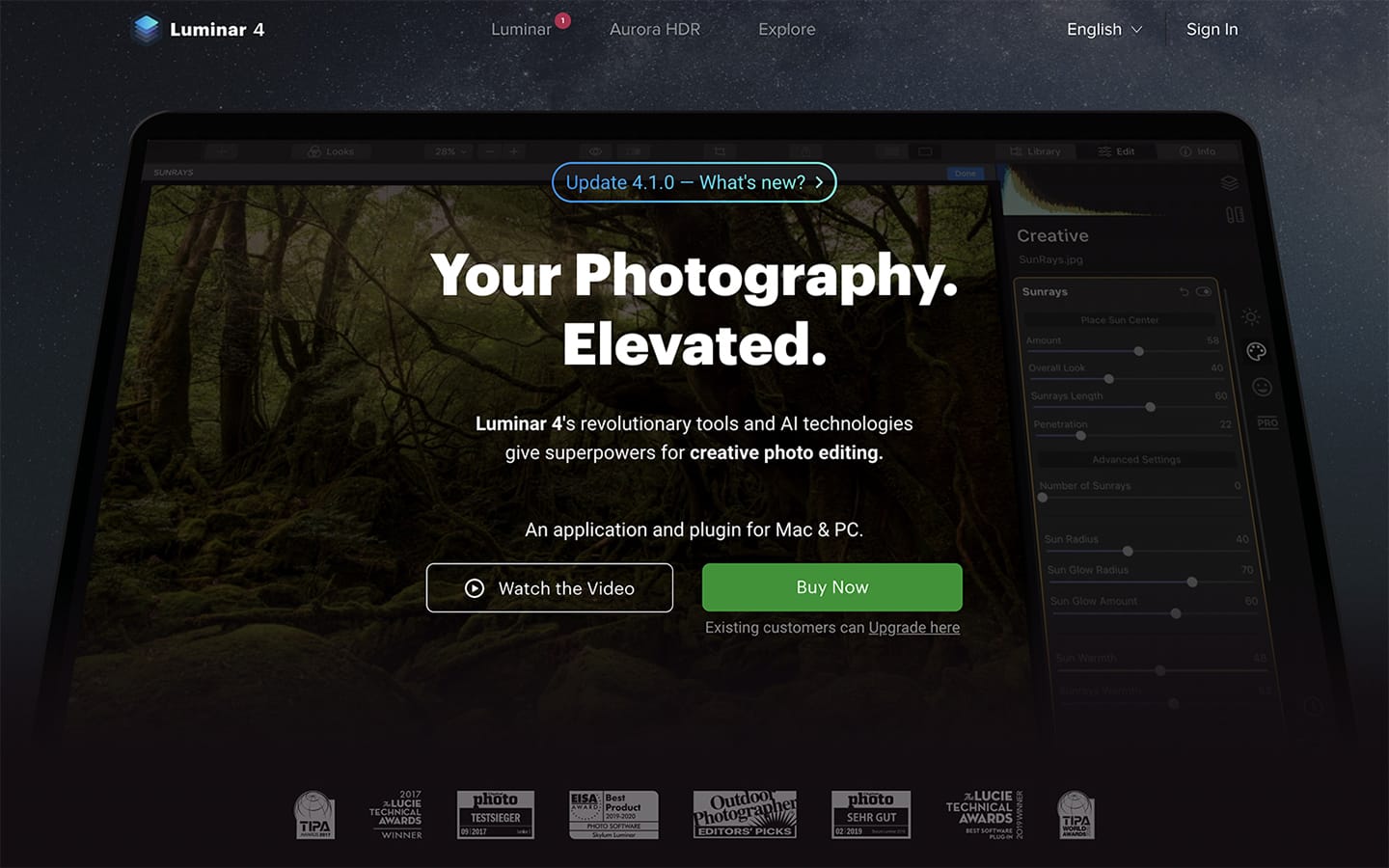 Luminar 4
has been praised by several photography press sites and magazines, and with good reason! Its powerful AI technology allows you to replace the sky in your photos for dramatic mood shifts, automatically enhance portraits, add enriching light to your shots, create smart contrast, erase objects, and so much more.
If you checked out the previous plugin on this list, Aurora HDR, you'll be happy to know that you can purchase both Aurora HDR and Luminar 4 as a bundle for $149, a nice discount from the $188 price tag that would come with purchasing the plugins separately.
Just like Aurora HDR, Luminar works both as a plugin in Lightroom Classic and as a standalone app. You can also find installation instructions on this page.
9. ON1 Photo RAW 2020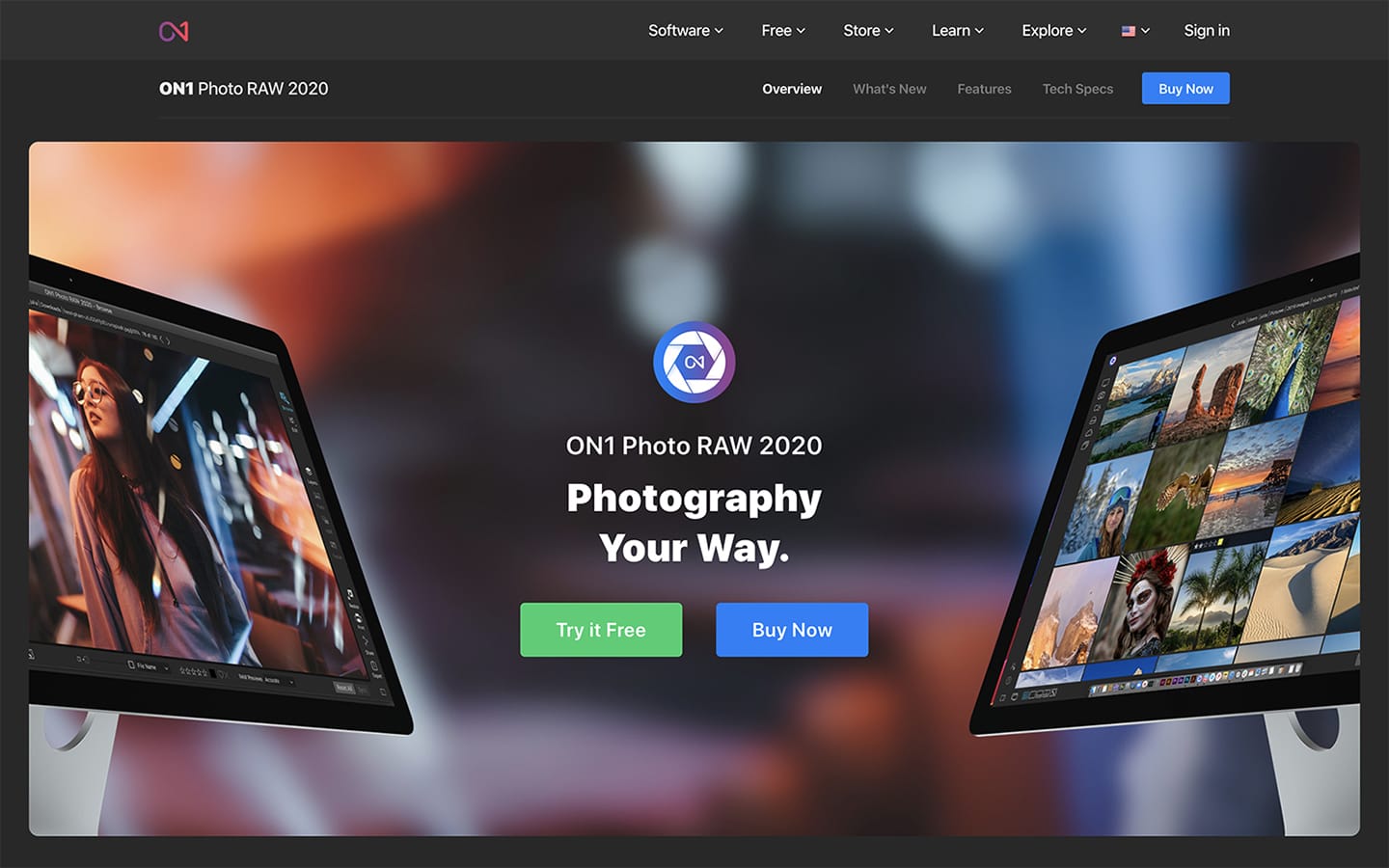 Photo RAW 2020 by ON1 is an all-in-one photo editing application and plugin for photographers of all kinds. It's been designed specifically to improve workflow efficiency without skimping on the importance of the creative photo editing process.
Unlike some of the other plugins we've mentioned, Photo RAW 2020 not only helps photographers to edit their photos but also to organize and process them.
Give it a shot for free or purchase the full version for $99.99, a standard price that's more than fair for the power and quality of this plugin.
10. Exposure X5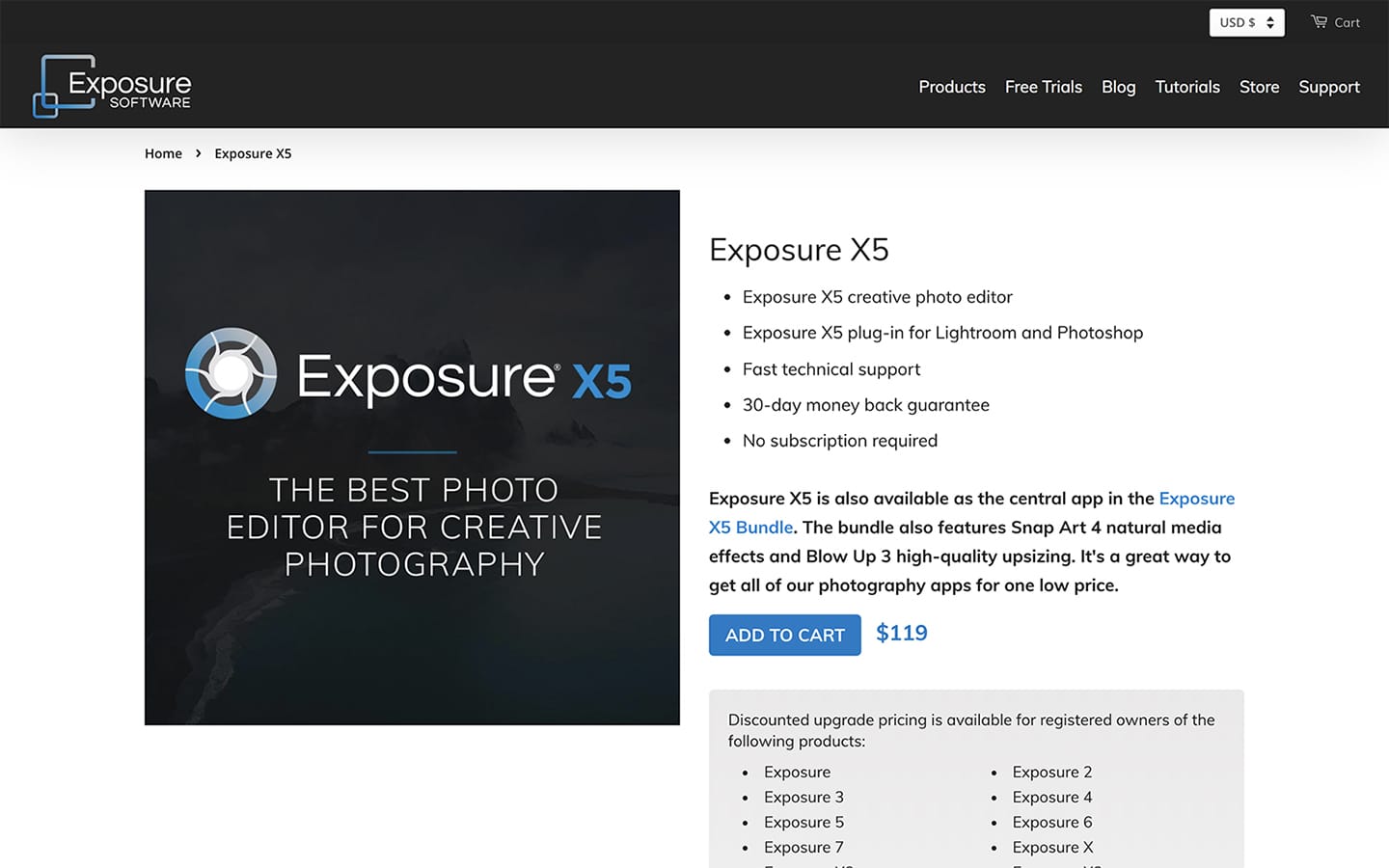 A bundle of hundreds of great presets and some unique creative tools that aren't available in any other plugins are enough to land Exposure X5 as the last (but not least) Lightroom Classic plugin on our list. Users are fond of the intuitive layout that keeps the focus on the creative process rather than complex settings or other distracting elements.
Like many of the plugins we've mentioned, Exposure X5 does offer a free trial, so it's certainly worth a shot to see what you think for yourself before making an investment.
Afterward, you can purchase Exposure X5 for $119 or spend $30 more on a bundle package. A 30-day, money-back guarantee and the fact that this is a one-time purchase rather than a subscription makes it a competitive option. You can find more installation instructions here.
---
With these plugins, which we think are some of the best out there, you'll be able to experience Lightroom Classic like never before – maybe even discover a few apps that can make your experience better.
If you're like us, you'll be addicted to the new functionality and improved user experience that those plugins, tools, and apps can provide.