Review of the DJI Osmo Pocket Stabilized Handheld Camera
Bigger is always better, right? When it comes to tacos – yes. But with cameras size can become a liability. And while I don't mind larger cameras, it's always nice to encounter one that squeezes some incredibly big features into an oh so small package.
I'd heard about the Osmo Pocket from DJI and seeing as I've had quite a bit of experience with some of their other products the idea of a 3-axis gimbal camera that quite literally fits in your pocket absolutely intrigued me.
This is the Osmo Pocket.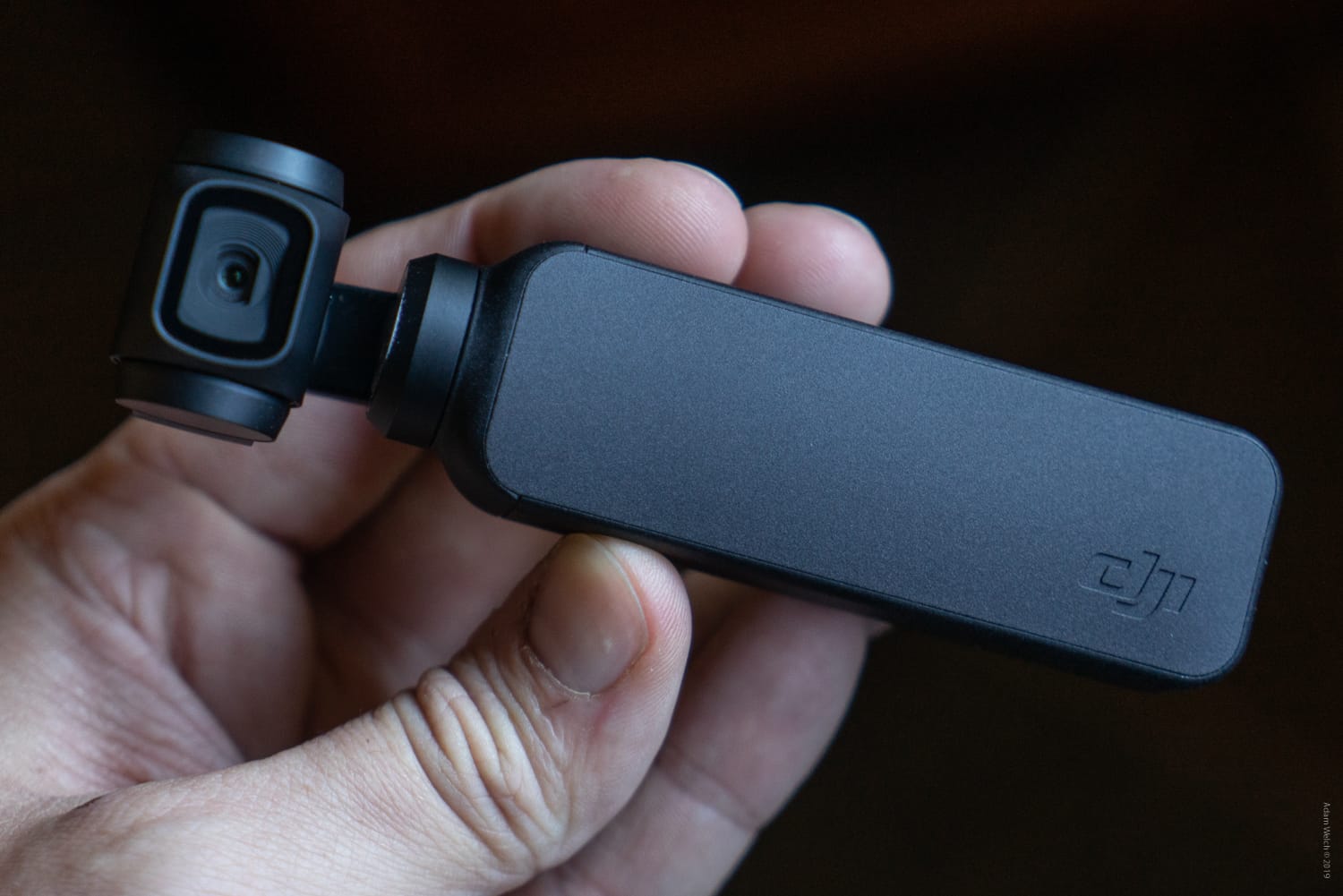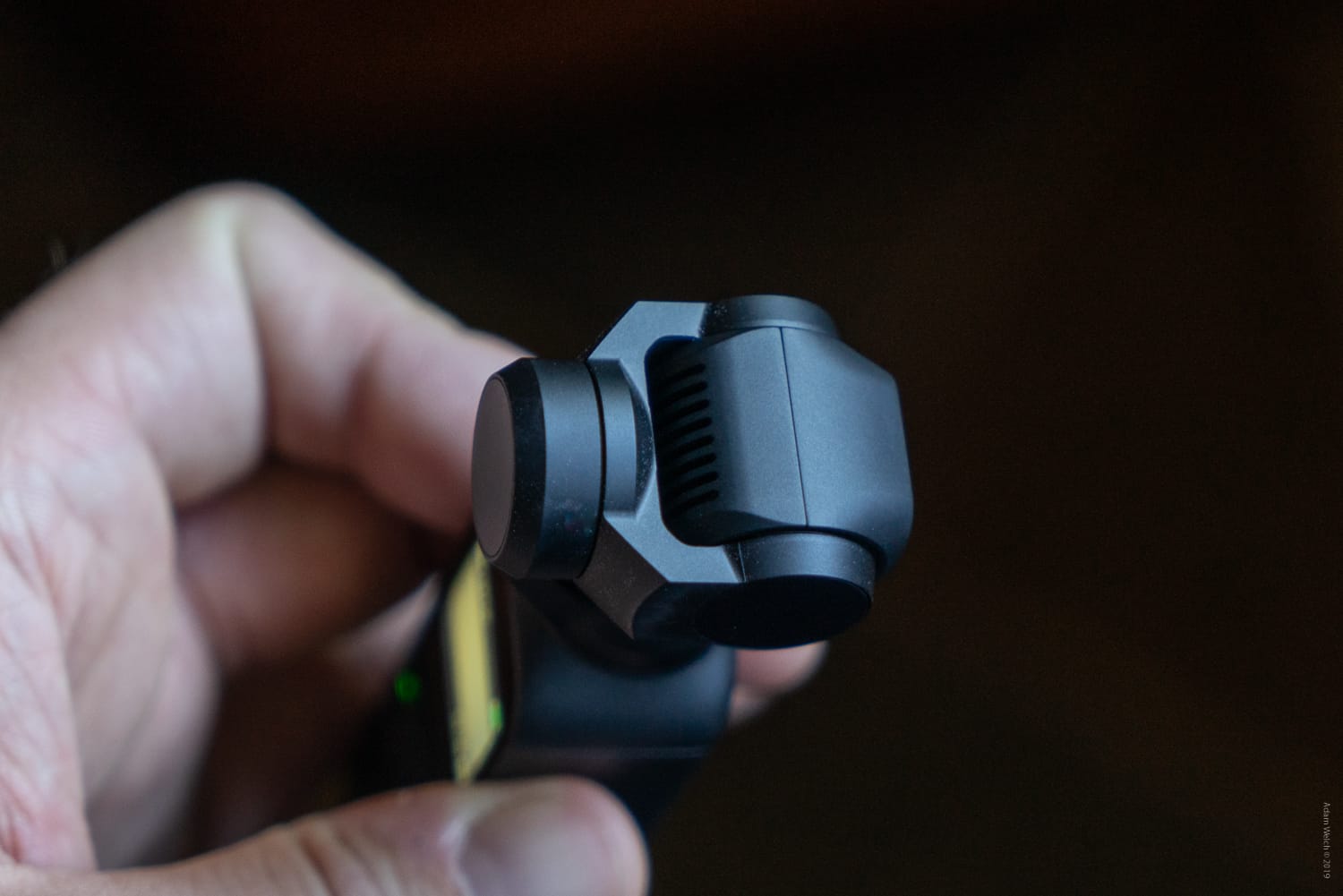 And this is the Osmo Pocket next to a standard SD memory card.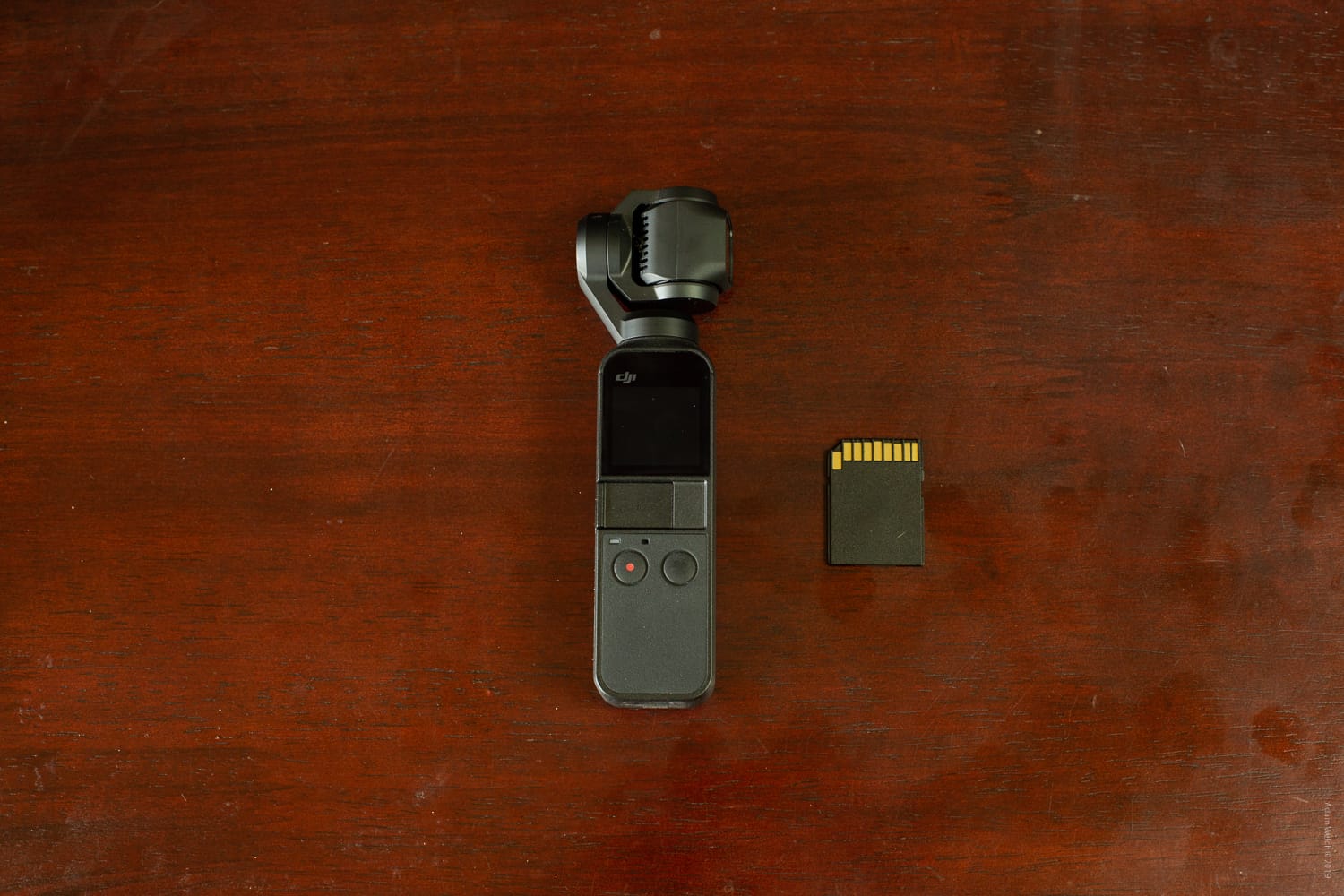 Yes, it truly is that small. So small in fact that one literally might not believe it offers up some incredibly up-scale photography and videography features that quite frankly blew me away.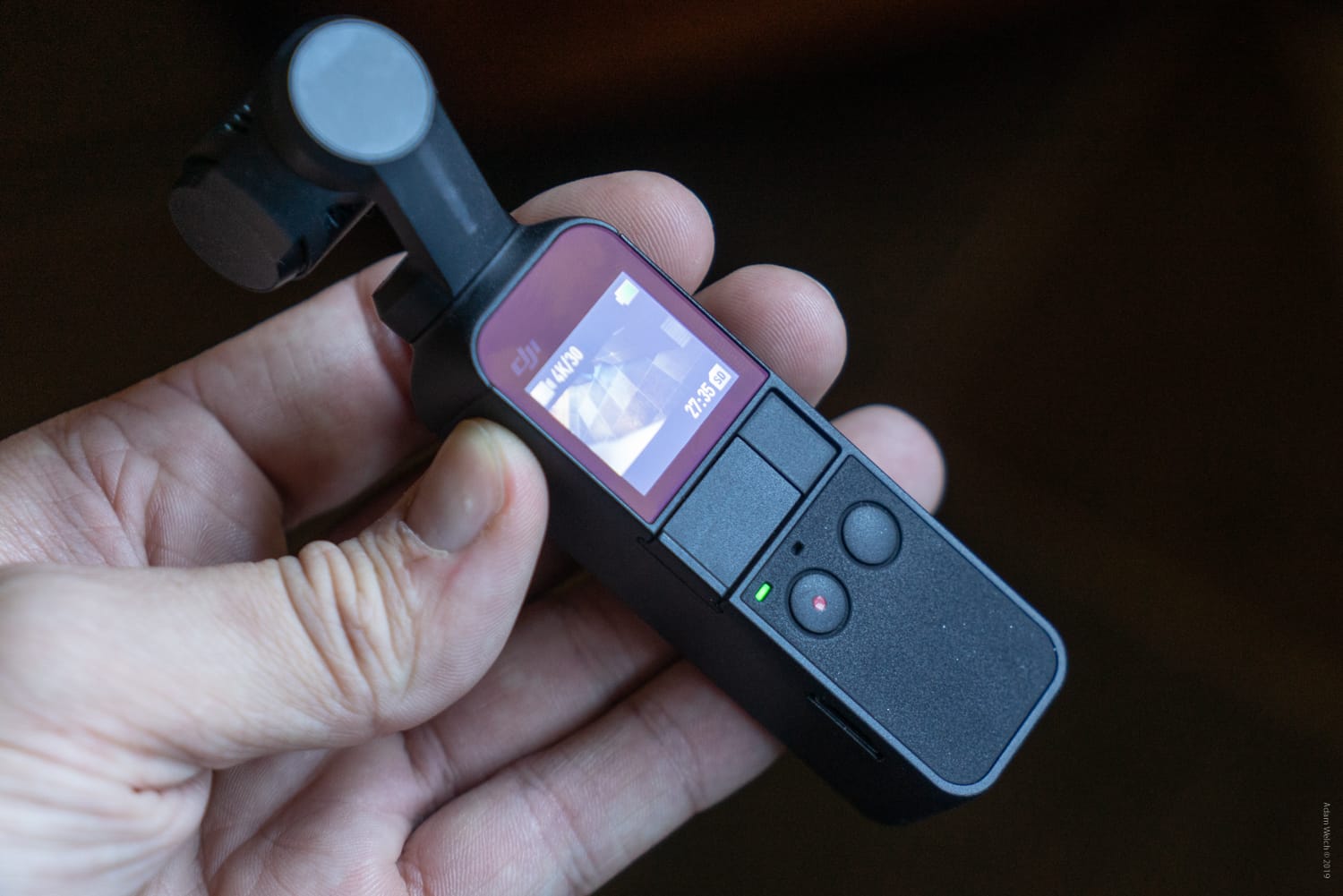 First, let's look at a few of the nitty gritty specifications of the Osmo Pocket.
Information
Values
Dimensions
4.8×1.45×1.13 inches (121.9×36.9×28.6mm)
Weight
4 ounces (116g) yes… really!
Sensor
1/2.3" CMOS, 12 megapixels
Lens
26mm f/2
ISO Range
Photo 100-3200 · Video 100-3200
Shutter Speed
8s-1/8000s
Photo Formats
JPEG / JPEG+DNG
Video Formats
MP4 / MOV (MPEG-4 AVC / H.264)
Video Resolution
4K Ultra HD 3840×2160 24/25/30/48/50/60p
FHD 1920×1080 24/25/30/48/50/60/120p
Memory Storage
MicroSD
Battery Operating Time
140 mins (shooting 1080p/30fps video)
I need "Mode" Power!
By far, the best aspect of the Osmo Pocket isn't just the size of the camera itself or the excellent stabilization. For me, the enormous amount of shooting and gimbal modes that are built right into this little device makes it one of the most capable cameras for location vlogging and it absolutely excels in producing wonderful B-roll footage and images.
Here are the shooting modes that are built right into the Osmo Pocket:
Single Shot
The basic shooting mode for still photos. Nothing to see here, just some relatively outstanding captures for such a small sensor.
Panorama
The built-in photo stitch mode for the Osmo Pocket. It's a panning type of pano capture. If you've ever used the panorama mode on your iPhone or Android phone you'll feel right at home.
Timelapse
DJI lumps together some customizable timelapse options into the Osmo Pocket including variable interval time-lapse capabilities which include motion lapse function which allows the user to set up to four predetermined interest points for the gimbal to pan through. There is also a hyperlapse mode which makes use of the awesome Activetrack to constantly follow a subject throughout the time lapse.
Slow Motion
Probably my favorite feature of the DJI Osmo Pocket… slow motion. In slow motion mode you get a 4x reduced playback speed which makes for some extremely cool footage. Unfortunately, there's only one speed but I wouldn't be surprised if this changed with future updates. *fingers crossed*
That Gimbal Though…
Of course what makes the Osmo Pocket so, well… Osmosome (I tried) and unique is that 3-axis gimbal which works to stabilize your content. Having reviewed multiple drones from DJI as well as their silky smooth full sized Ronin-S gimbal, I was already optimistic in the pre-game about the performance of the Osmo Pocket's stabilization.
I wasn't disappointed. Not only did the gimbal soften virtually all normal camera shake when shooting handheld but it also work beautifully in more "vibrational" conditions.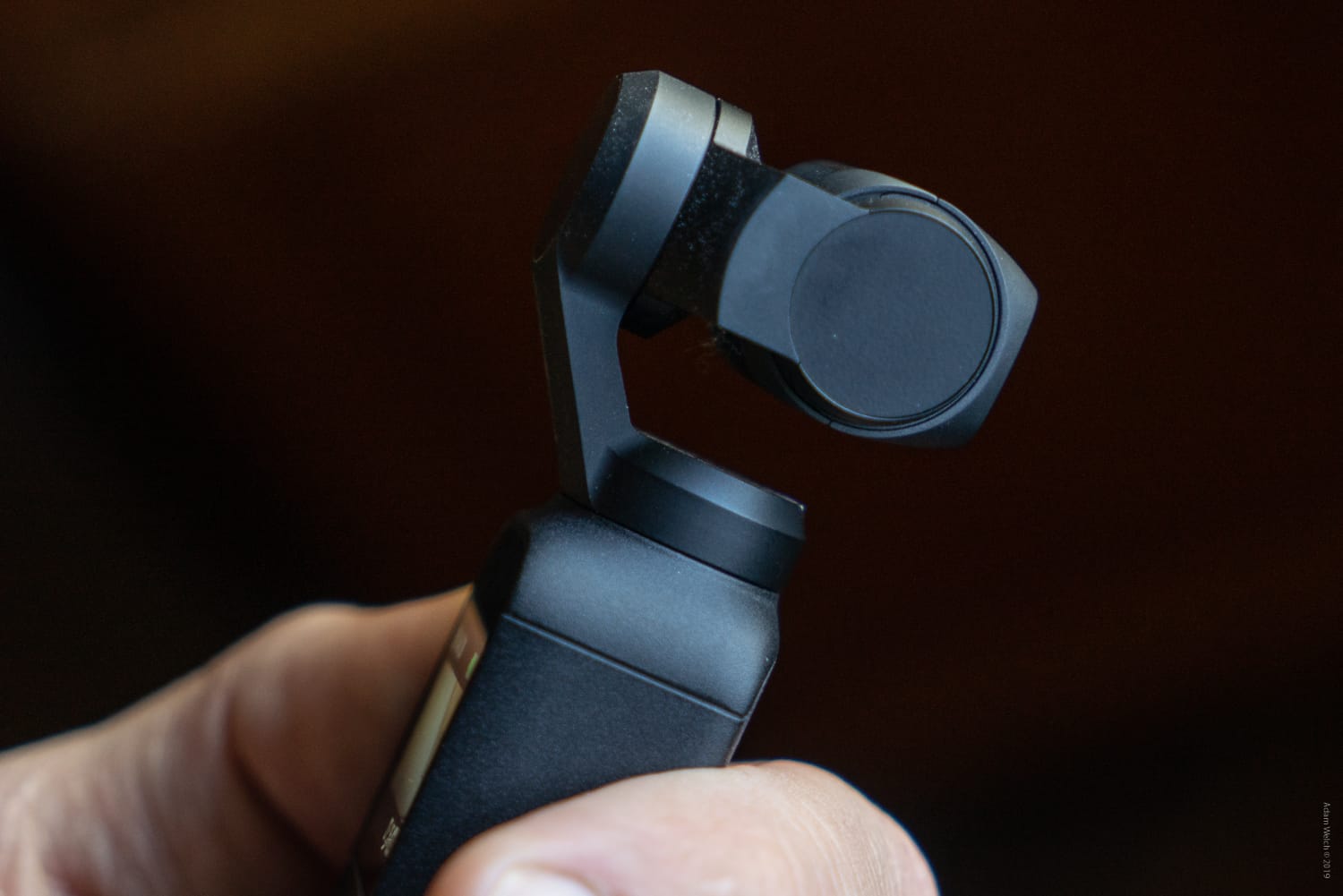 The Osmo Pocket sports three gimbal modes which work to accommodate a wide range of shooting situations.
Follow Mode
In Follow Mode, the camera will literally follow a selected subject using ActiveTrack or lock onto your face while in selfie mode. The speed sensitivity for the tracking is also customizable.
Tilt Lock
Tilt Lock arrests the gimbal movement limiting it to panning motion only. This essentially means that the gimbal will remain facing straight ahead which aids considerable in maintaining composition while walking or running. Tilt lock also allows the Osmo Pocket to achieve that brilliant "flashlight mode".
FPV
Feeling a little crazy? Switching the Osmo Pocket into FPV (first person view?) unlocks the gimbal so that the viewer can experience the full motion of the camera. This is great for when you want to impart a true first-person feel to your footage.*
*I'm not responsible for motion sickness. You've been warned.
DJI Mimo App and Controller Wheel
As with virtually all other DJI products, the Osmo Pocket is built to pair with DJI application software; namely the DJI Mimo app. With Mimo, you unlock a host of capabilities with the Osmo Pocket included enhanced story modes, easier setting selections and of course more useful real-time viewing and playback of your work. Your device attaches by way of an adapter dongle which feels secure but at the same time slightly awkward.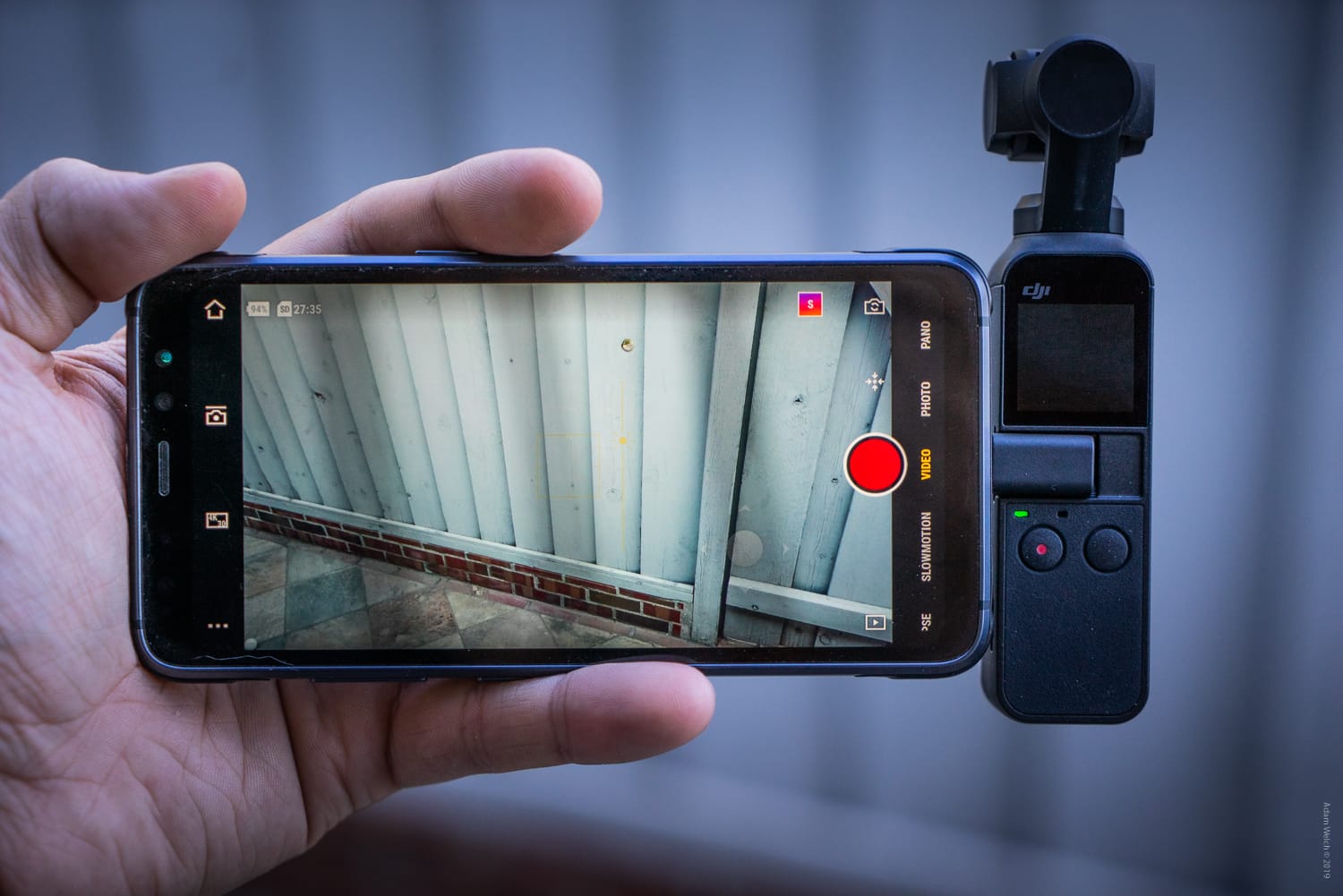 Speaking of easier control, there is an optional accessory that makes the Osmo Pocket much, much easier to wield even when not connected to the Mimo app. Their controller wheel makes tilt and panning much more controllable using a physical dial. There are also two dedicated buttons for switching between shooting modes and gimbal orientation.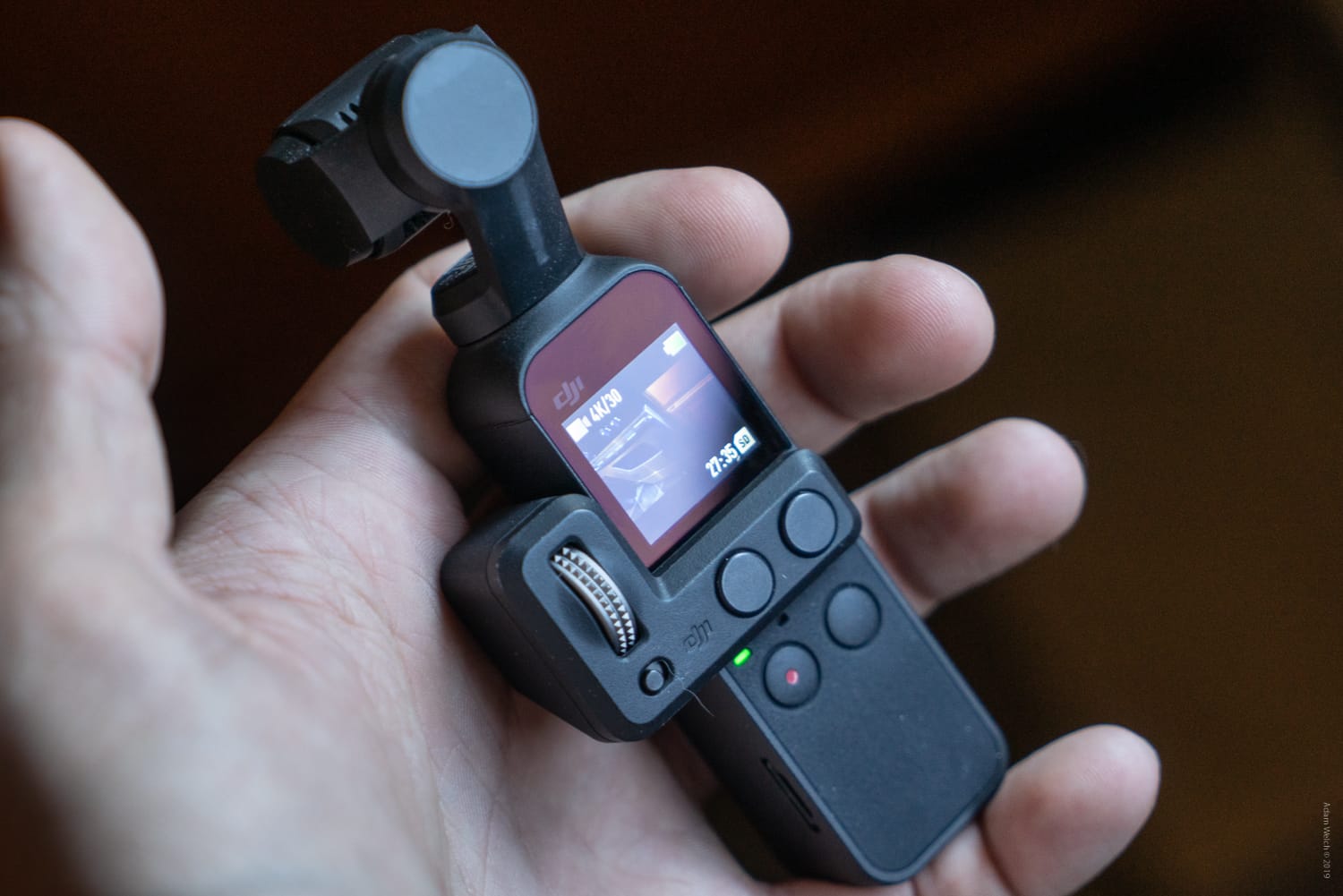 If you plan on doing a lot of shooting with Osmo Pocket without a mobile device I would highly recommend the controller wheel. It changes the entire feel of the Osmo Pocket experience…
In the Real World
I'm well aware that words only go so far when attempting to review something like the Osmo Pocket. That's why I've put together a full review video over at my YouTube channel Straight Talk on Photography to better demonstrate some of this nifty little gadgets high points that you'll want to know more about.
In Conclusion…
I've wanted to test out the Osmo Pocket from DJI for some time now. For my purposes, I was after a compact "all in one" system that I could use for my YouTube videos so that I wouldn't be as bogged down with camera gear. Honestly, I wasn't sure what to expect.
Would it offer the stabilization I hoped? Would the image quality be up to par? Happily the answers to both of these is a resounding yes. While it's true that I was impressed with the Osmo Pocket in terms of build and performance what truly won me over was it's versatility in everyday situations.
The shooting modes simply make the Osmo Pocket a powerhouse for personal… borderline professional recording. I do wish there were more options for slow motion capture, a small amount of internal memory and it would be nice to be able to use the controller wheel alongside other accessories. That being said, it's difficult to fathom me being any more pleased during my time working with the DJI Osmo Pocket.