Picture-Taking Tips for All Kinds of Christmas Situations
As December rolls around, we all know what's just around the corner: Christmas. Yeah, that means breaking out the Christmas lights, singing some carols and hitting the eggnog, but, if you're a photographer, it also means an almost limitless number of shooting opportunities that only come around once a year.
If you think that Christmas is a boring time of year for photographs, then have we got a surprise for you today!
This is a time of year that presents unexpected places, setups and ideas for you and your camera. So put on that Santa Claus hat and start singing some Bing Crosby tunes because here are some killer tips for capturing the essence of the holidays.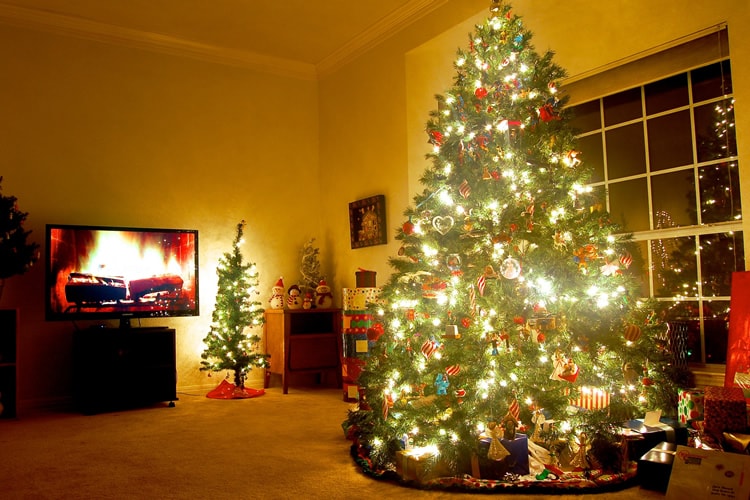 Set up Your Own Photo Booth
For something highly creative and unexpected during a Christmas party or gathering, set up your own photo booth right in your own home. Save the money you would've spent on an "actual" photo booth, and enjoy the fun of operating your own. All you need is a spot in your living room or perhaps even near the entryway of your home. Think of it as a self-portrait zone, if you will.
Set up your camera on a tripod, right in front of a solid-colored background, like an orange curtain. Encourage people to shoot themselves by setting up the camera with a short self-timer.
Play up to the Christmas season by leaving things like Santa hats and tinsel around your photo booth, so that your guests can adorn themselves with these decorations while shooting themselves. You'll be surprised at the booth's popularity all throughout any party.
Photograph the Preparation Stages
Sure, the big payoff is always the actual Christmas party or big dinner, but you may want to capture what the preparation was like, too. Lots of picture-taking opportunities will present themselves during the course of the day, leading up to the big gathering or celebration. Some of these moments will include basics such as wrapping presents, preparing the food, decorating the home, setting the table, small children getting rowdy while getting dressed up, etc.
These preparation shots offer a somewhat candid look at people and the environment before the big get-together. This makes them really interesting for when you're looking back on that particular event and wanting to get a better sense of what really happened.
Try a Time-Lapse Series of Shots
For a totally different look at how your Christmas celebration unfolds, try some time-lapse photography. All you really require is something as straightforward as a web cam on your desktop or laptop in some far corner of the room, as it's trained directly on your dining table.
Program the web cam to go off at set intervals throughout the day. Say, having it go off every 5 to 10 minutes would suffice. At the end of the day, after everyone's gone home, review this time-lapse series and relive the whole special celebration and gathering from a distinct point of view that you'll not soon forget.
Find That Awesome Focal Point
Make a commitment to that one, Christmas focal point in each shot—and stick to it. The problem with a lot of photos is that, often, there are just too many focal points in the same shot that compete with each other. This type of counterproductive picture-taking is just ridiculous and creates some chaotic shots.
Instead, isolate just one focal point per photo during the holidays. It can be a spectacular plate of food, someone's great outfit or, in a most traditional and predictable sense, the Christmas tree. Whatever you choose… make sure that it's limited to just one per photo!
Take a Much Better Group Photo
The group photo is sort of the unofficial tradition of the Christmas season, and it usually takes place near the end of a party, gathering or dinner. In short, it usually takes place when everyone looks rather worn down and tired already! There's a simple way to correct this unfortunate situation and make everyone in a Christmas group photo still seem fresh: Take the group shot when everyone has just arrived for the festivities.
That way, everyone from your Uncle Joe to your co-workers (and everyone in between) will still look very presentable in the group shot. And isn't that what the true meaning of Christmas comes down to?
Use Continuous Mode for Opening Presents
Opening presents is the moment when everyone becomes a kid again and can't wait to experience both the thrill and excitement of seeing what it is that they got. Sure, taking pictures of people opening—and then showing off—their brand-spanking new presents is a common Christmas tradition. However, using continuous mode for this occasion is not… though it well should be.
Continuous mode—sometimes referred to as burst mode—lends itself exceptionally well to the excitement and unpredictable facial expressions of this moment. While you're shooting the reactions of those getting presents, we want to remind you that it can also be just as rewarding to shoot the reactions of the people giving presents in this moment.
Switch to Macro Mode
This tip is sort of the ace up our sleeve. Macro mode is finding itself into more and more cameras. If yours has it, switch to that mode and then let loose by shooting all of the tinier things around your Christmas environment.
Everything's fair game: ornaments, gingerbread cookies, mistletoe hanging in a doorway, the nativity scene on your mantle, and table decorations. Just remember that it might also take some practice time to really get good at macro photography.
O Come All Ye Faithful…
Though Christmas photography may seem somewhat limiting to some, it really isn't, as the above tips illustrated. It all really depends on how you think of this occasion and season. With the right creativity and effort, you can turn the Christmas season into a season of giving… you really awesome shots, that is!
If you want to take a little extra time to set things up, coach guests at your photo booth or for the group shot, and play around with various modes, you'll soon see that the holiday season is full of photographic moments beyond what you already expected.
From the whole team at Contrastly, we wish you a Merry Christmas and a Happy New Year! :)